Just like your favorite Greek takeout, but 10x more fresh and flavorful! These slow cooker lemon-garlic chicken gyros with cool cucumber tzatziki sauce make a healthy, delicious and easy meal.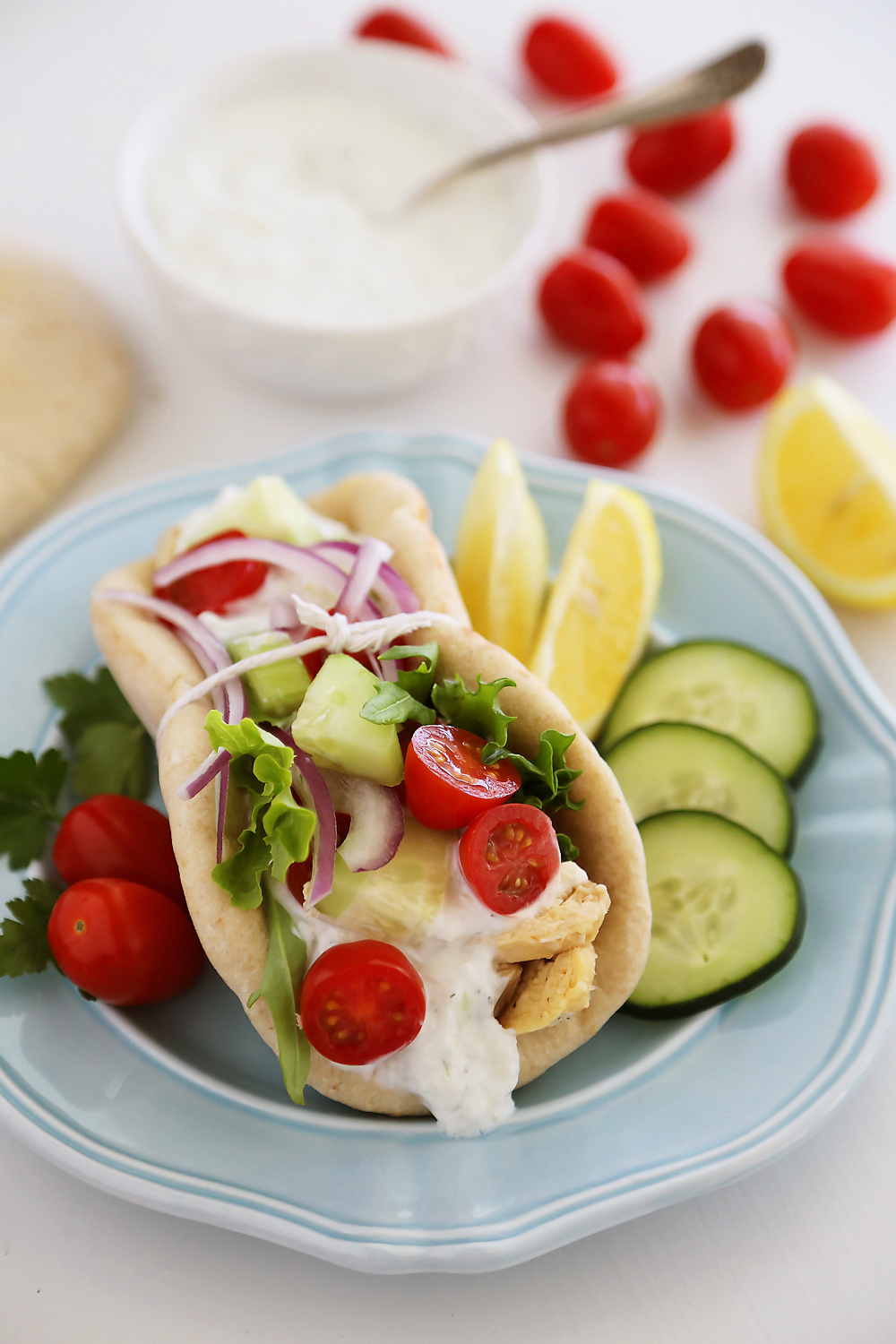 Throughout my pregnancy, and now almost a year later, I have had an insatiable taste for Greek cuisine. I have never loved the combination of fresh veggies, tangy lemon, salty olives and slow cooked meats more. Like most Mediterranean cooking, Greek food emphasizes fewer, quality ingredients and simple seasonings like a squeeze of citrus, a sprinkle of oregano, and a buncha garlic.
Every time the hubby and I grab Greek from our local place, he orders lamb gyros with hummus, and I scarf a salad with chicken, tomatoes, cucumber, cool tzatziki and warm pitas. So, what would make us happier than a delicious combination of our two favorites… made easily at home!
The chicken breasts in these gyros are slow-cooked in a tangy, tenderizing mixture of lemon juice, garlic, olive oil and red wine vinegar. So, to keep the clean up quick and easy, I used one of my must-have kitchen staples, the Reynolds Slow Cooker Liners. Washing the giant insert of my slow cooker is the only thing that keeps me from using it on a daily basis. However, these heat-resistant, leak-proof liners make cleanup as easy as grab and toss! Just wrap the pot of your slow cooker in a liner, simmer your favorite slow cooker recipe, and discard the liner. It's heavy enough to handle the heartiest ingredients, and leaves no mess behind. No soaking, scrubbing or anything left to do but enjoy your meal. These liners make us love our slow cooker again!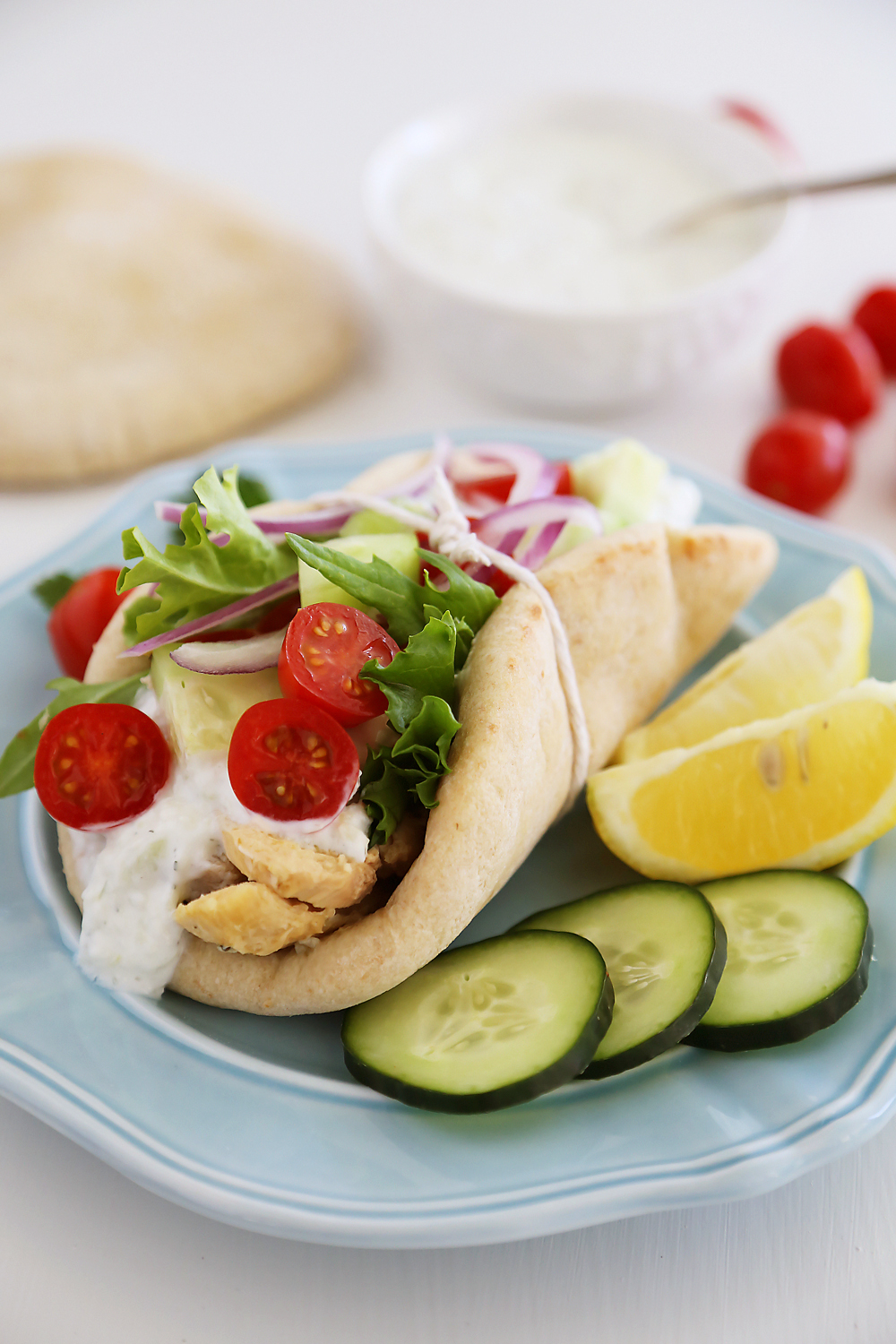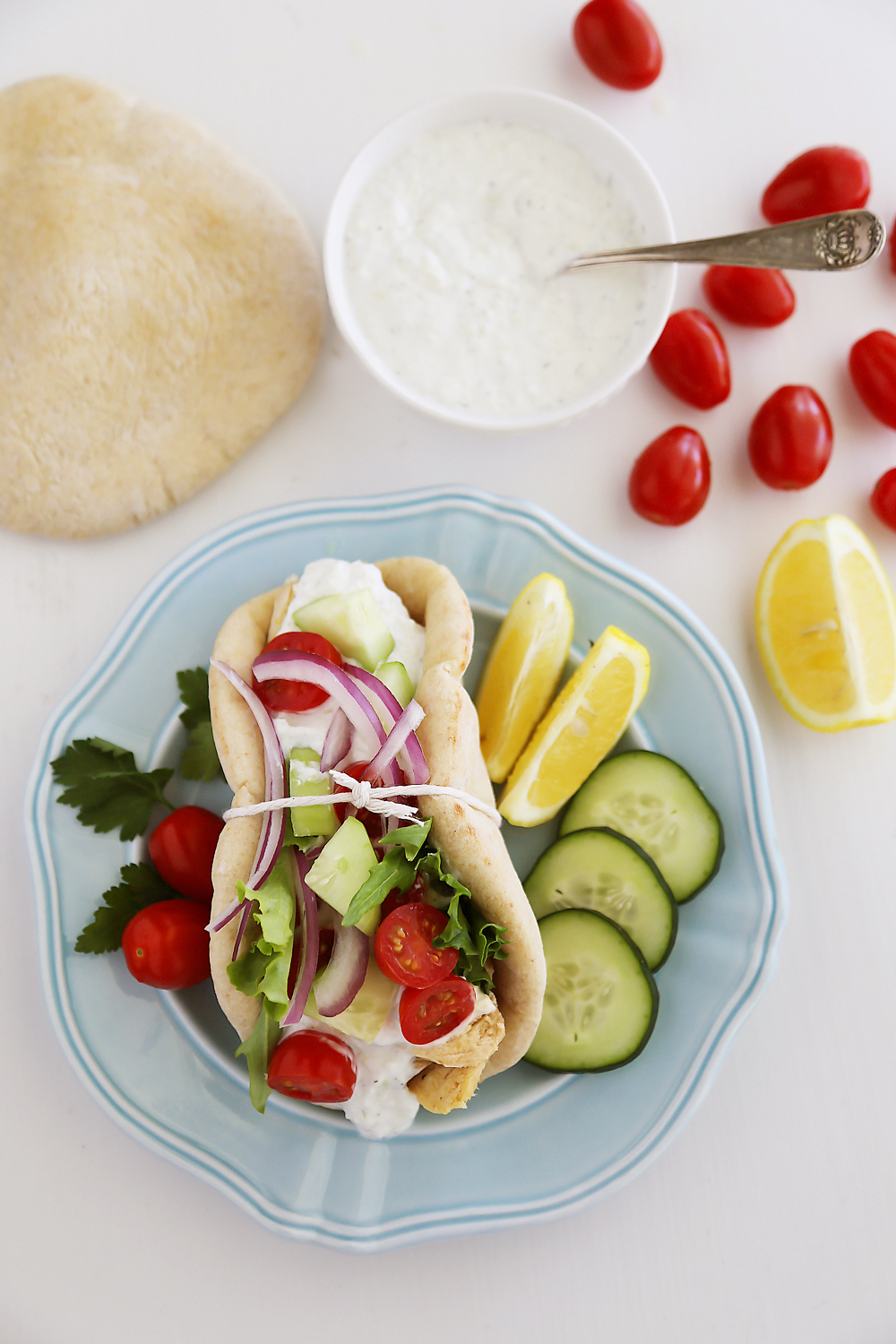 The tzatziki has to be the best part of this meal, truly! It's our favorite summertime sauce – we put it on everything from kebabs to burgers, salads and sandwiches. And while it may have a complicated sounding name, it's anything but. All you need is Greek yogurt, garlic, cucumber, red wine vinegar and a lemon for this life changing sauce. You will love it!
After my chicken is cooked, I simply slice it up and pop it back into the pot while preparing my pitas and toppings. To heat your pitas, you can wrap 1-2 at a time in damp paper towels and microwave, or toss them on a broiler or grill for a couple minutes. Either way, a bit of toastiness to your pita makes them so tasty! And there's nothing better than a warm pita stuffed with juicy chicken and fresh, crunchy veggies.
So, pile them on! I like to layer the chicken, tzatziki, and heaps of crisp veggies like tomatoes, cucumber, red onion and lettuce. Serve with a few lemon wedges and enjoy this healthy, hearty and fresh Greek favorite!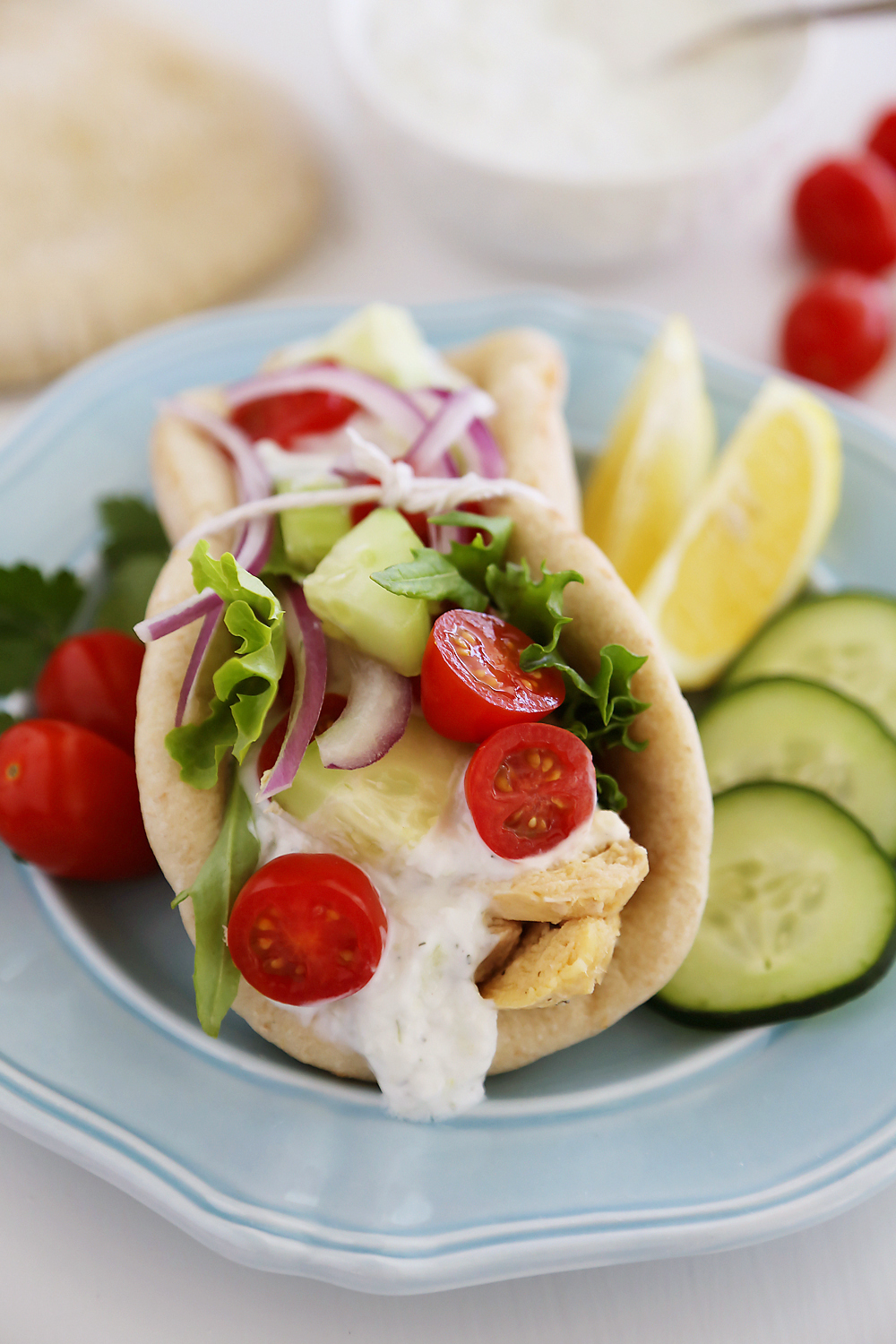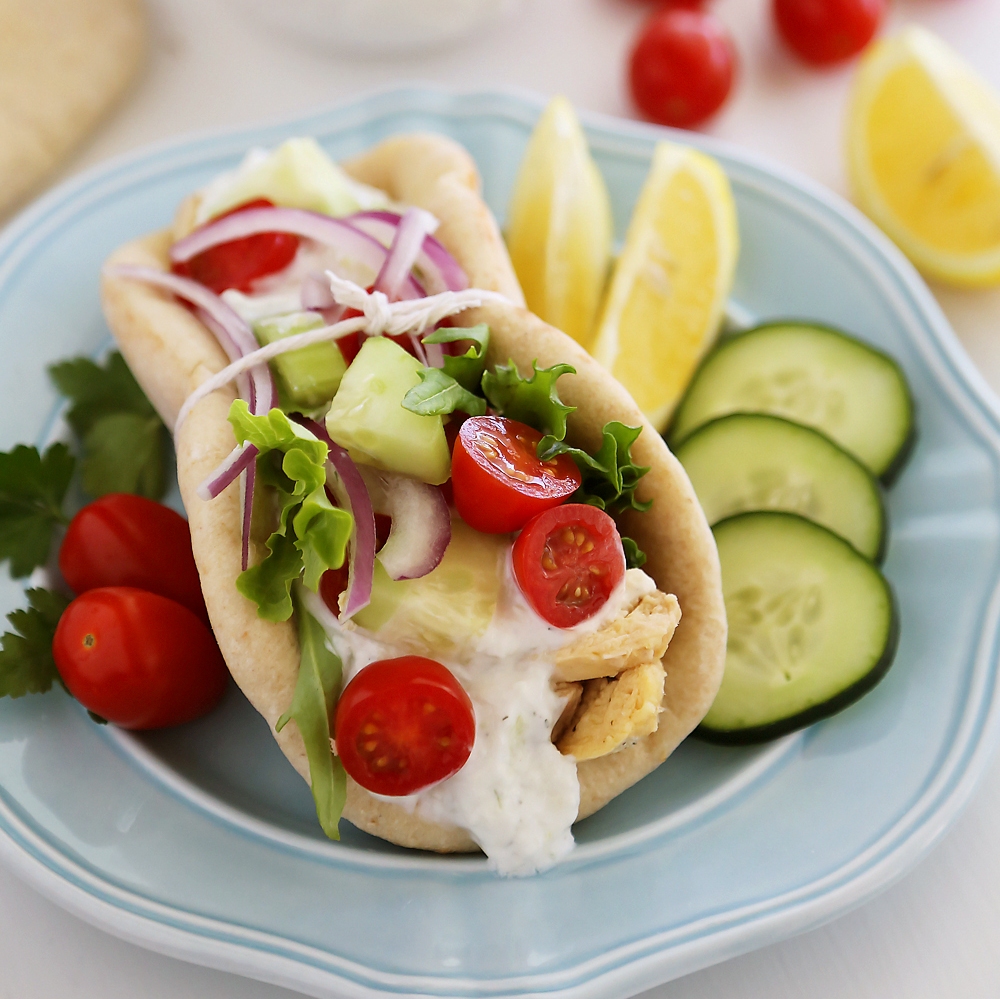 Slow Cooker Chicken Gyros with Tzatziki Sauce
Ingredients
For the Chicken Gyros:
1 lb. about 2 boneless skinless chicken breasts
4 cloves garlic, minced
1 lemon, juiced
2 Tablespoons olive oil
2 teaspoons red wine vinegar
1 1/2 teaspoons Greek seasoning, or you can just use 1 tsp. oregano
1 teaspoon kosher salt
For the Tzatziki Sauce:
1 medium cucumber, peeled and seeded
16 oz. about 2 cups Greek yogurt
2 cloves garlic, minced
2 teaspoons red wine vinegar
Juice of 1/2 lemon
1/2 teaspoon dried dill weed
Kosher salt and freshly cracked black pepper, to taste
Serving suggestions:
Warm pita bread
Tzatziki sauce
Leafy greens, lettuce, spinach, mixed greens
Sliced tomatoes, Roma, cherry, grape, etc.
Sliced red onion
Sliced cucumber
Lemon wedges
Instructions
For the Chicken Gyros:
Place a slow cooker liner into your 3- to 6-quart slow cooker, letting the liner hang over the edges of the slow cooker.
Add garlic, lemon juice, oil, vinegar, seasoning and salt, whisking until well blended. Add chicken breasts. Cover and cook on LOW heat for 4-6 hours. Remove chicken and cut into slices. Place slices into remaining cooking liquid before serving.
For the Tzatziki Sauce:
Shred or grate cucumber, then place grated cucumber on top of several paper towels. Squeeze to rid of as much excess moisture as possible. In a medium bowl, combine yogurt, shredded cucumbers, garlic, vinegar, lemon juice and dill. Add salt and pepper, to taste. Refrigerate at least 30 minutes before serving.
For serving:
Top warm pitas with chicken, tzatziki, greens, tomatoes, red onion and cucumbers. Serve with lemon wedges, if desired.