Today, my family is flying from Florida to visit us in our new home in Austin, and I couldn't be more excited! Now that we have our first house, pay our bills and mow our lawns, I hope they'll think we're good little grown ups… Even if we still like to make funny faces randomly and eat peanut butter and jelly for dinner once in a while. Grown up, yes. Acting our age, only sometimes.
In preparation for their landing in the red-meat-eatin', live-music-tootin', all around wonderful city of Austin, I've been whirring around the kitchen whipping up a variety of vegetarian-friendly snacks for them. On the menu is this delicious dip, roasted tomato salsa, eggplant parmigiana, vegetarian chili with honey cornbread, and hopefully these mouthwatering, meatless portobello sliders. Vegetarians sure can eat decadently!
But anyway, onto the dip. This tasty combination of roasted red peppers, white beans, garlic, cream cheese, and spices may not win any beauty contests, but it tastes unbelievable. As in, I-can't-believe-I-didn't-eat-the-whole-bowl-for-lunch unbelievable. With your favorite chips or crackers, I dare you to stop at one. Nom nom nom….
All you do is this: Roast your red peppers (here's an easy guide from Ina Garten), or buy them jarred, and toss them into a food processor with cannellini beans, cream cheese, a few spices, garlic cloves, olive oil and balsamic vinegar. Give it all a couples pulses until smooth, and remember to taste as you go, since the flavors may need a little tweaking. If there's too much spice, add a bit more cream cheese. Not enough, maybe add more red pepper flakes or chili powder. That's all there is to it, so have fun with it!
This is a very simple, straightforward recipe for a delicious dip with unique flavors. The creamy white beans and cream cheese along with the smokey red peppers, garlic and zesty spices is a crowd-pleasing combination that I know you, and anyone you make this for, will love!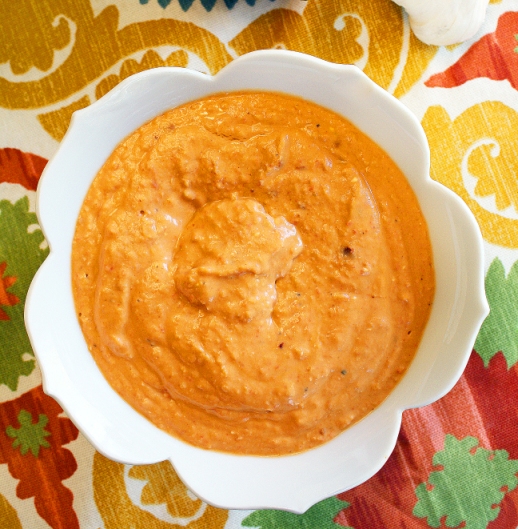 Spicy White Bean and Roasted Red Pepper Dip
Ingredients
1 15 ounce can cannellini beans, drained and rinsed
½ cup chopped roasted red peppers, pat dry
¼ cup cream cheese, softened
½ teaspoon coarse salt
¼ teaspoon freshly ground pepper
¾ teaspoon ground cumin
½ teaspoon chili powder
¼ teaspoon smoked paprika
2 garlic cloves
½ teaspoon red pepper flakes
2 tablespoons extra virgin olive oil
1 teaspoon balsamic vinegar
Instructions
Place the beans, red peppers, cream cheese, salt, pepper, cumin, chili powder, paprika, garlic cloves, red pepper flakes, olive oil, and vinegar in a food processor. Pulse until smooth and adjust seasonings to taste.
Serve as is or refrigerate until later.
Enjoy!