These creamy, lemony zucchini noodles are low-carb, fun to make, and absolutely delicious for a light lunch or dinner!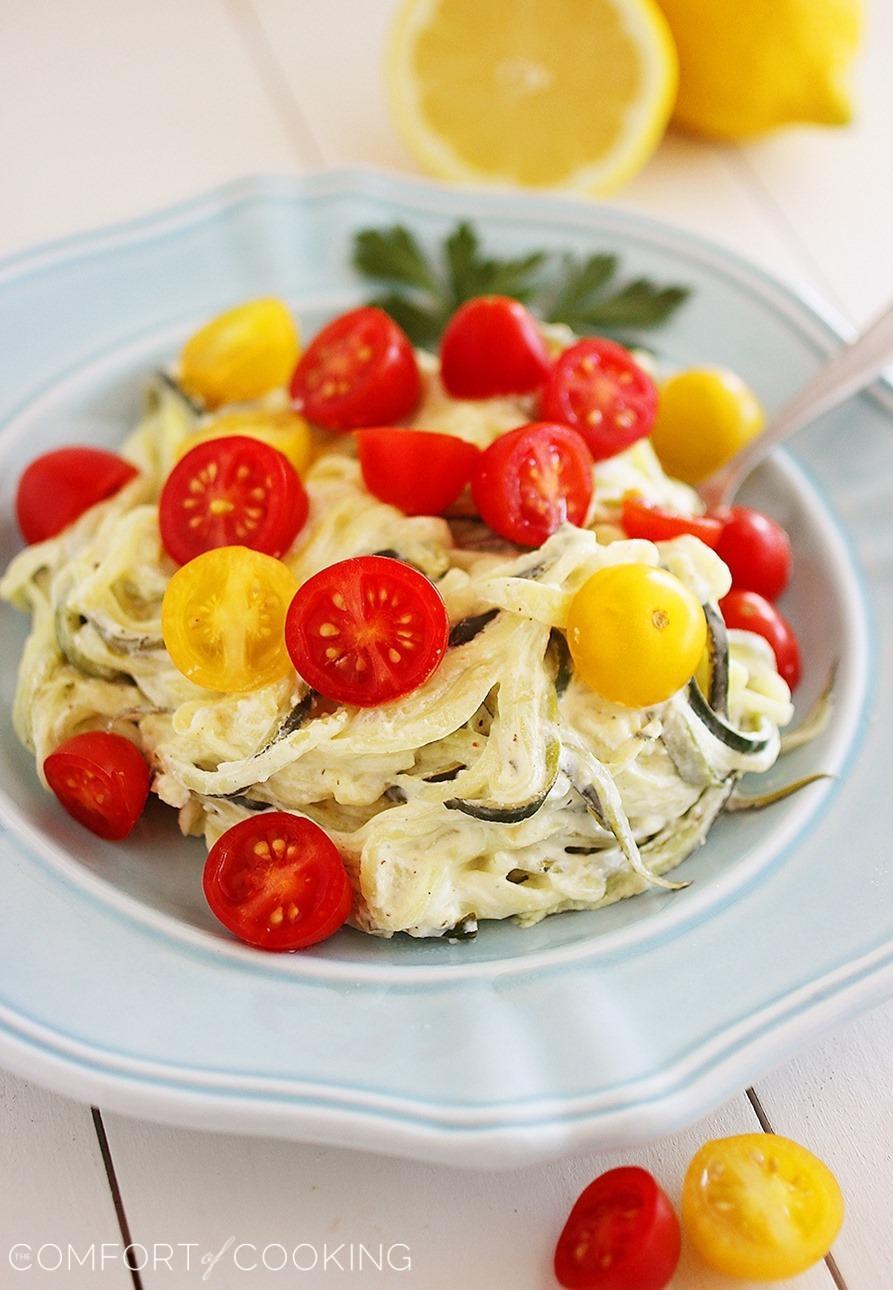 Here's something you may not know: For a few months, I've been eating pretty strictly low-carb meals and snacks. Yea, you may see some deliciously doughy, sugary and bready treats here on my blog once in a while, but having a "bite" or two (or three) is both keeping me sane and on track! I don't eat the whole batch of brownies or bowl-full of pasta, as much as I want to. To be honest, I've never felt better and I'm not craving cakes, potatoes, pizza and donuts like I used to.
Well, okay… maybe the donut craving hasn't subsided yet.
But, now for a little something that I didn't even know until recently… low-carb living can be incredibly delicious! When I saw this recipe from my pal Jessica at The Novice Chef, I nearly fell out of my chair. Then I shared it with you in my August Links I Love post, and now I'm sharing it with you here because… well, zucchini noodles just can't be shared enough!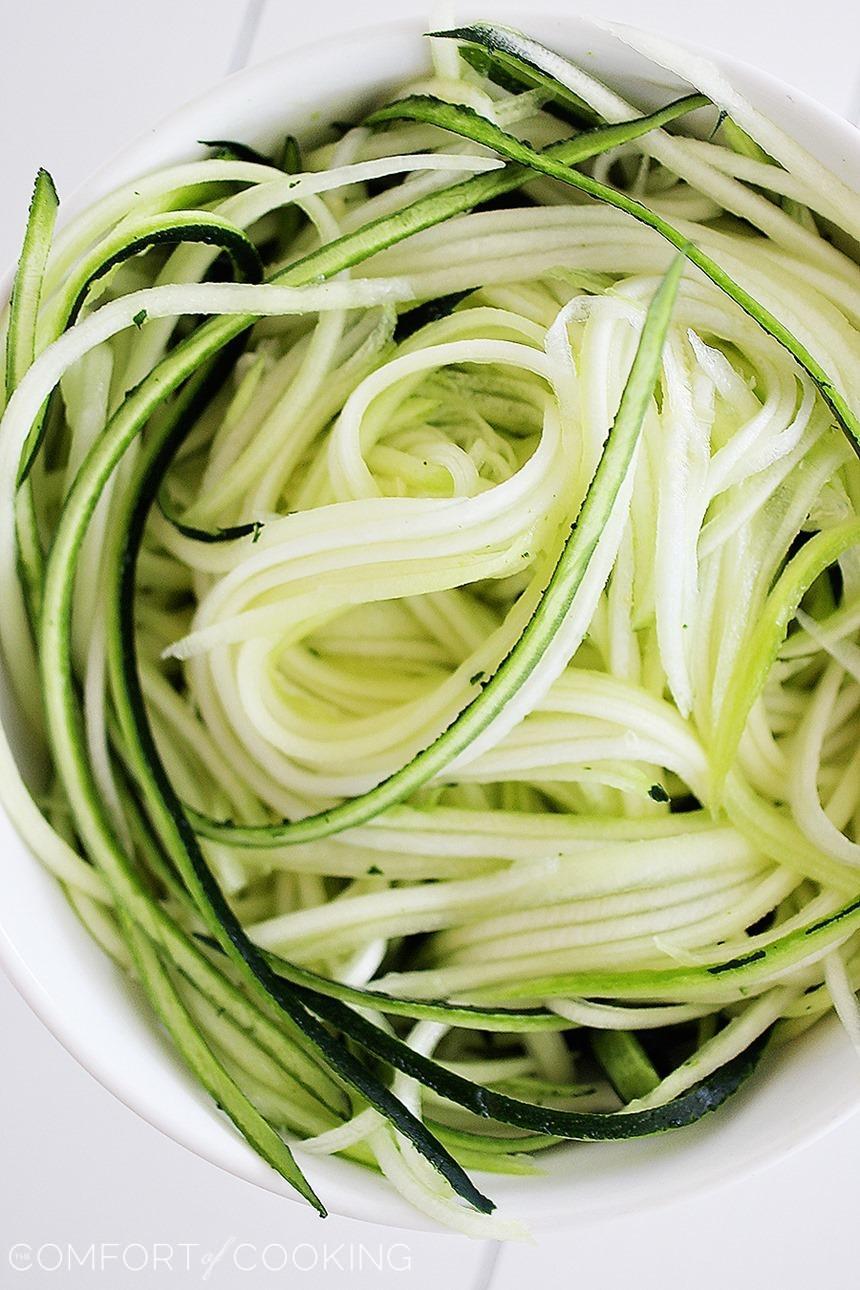 That's right, I said zucchini. noodles. It's a thing. And it's gonna knock your socks off!
With a julienne peeler or the julienne blade of a mandoline, you can make these thin, luscious little zucchini "noodles" just begging to be coated in a creamy lemon sauce. Next time I'm topping off my plate with cooked shrimp or grilled chicken!
These zucchini noodles would also be delicious mixed with pesto, tomato sauce, or even guacamole. Oh, the possibilities…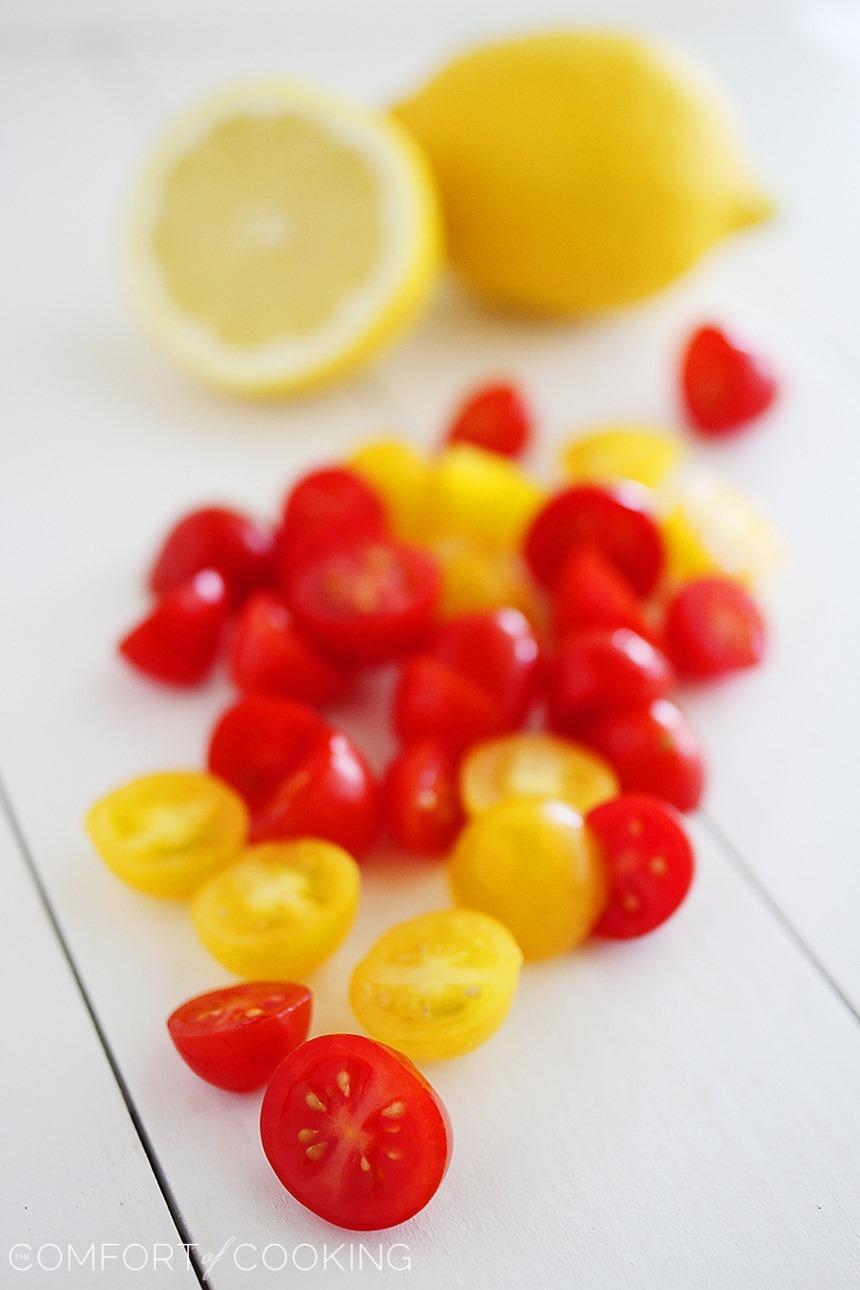 I couldn't resist these savory noodles all smothered in a cream sauce with sweet summer tomatoes, but the flavor pairings are endless. If you want to really use your "noodle" (har. I crack myself up.) and get creative, here are some scrumptious ideas for zucchini noodles.
Personally, I think Jess hit it outta the park with a simple mixture of cream cheese, lemon, garlic and tomatoes to create a mouthwatering meal. That girl, I tell ya!
So, you're wary of the texture and taste, right? I gotcha. The texture of cooked zucchini noodles is slippery and soft, with a slight chew. You really just want to "wilt" the zucchini until it can be twirled around your fork. Like so!
The taste? It's no pasta, but it is really good. Since raw zucchini doesn't have as much innate flavor as pasta, it needs a little boost, and these flavors really make it sing! Four small servings clock in at under 150 calories and 10 grams of carbs each, so have some garlic bread on the side if you'd like!
Try these tasty, low-carb zucchini noodles for dinner, or on the side of your next meal, and I guarantee you'll agree that they're a healthy and delicious change from the usual!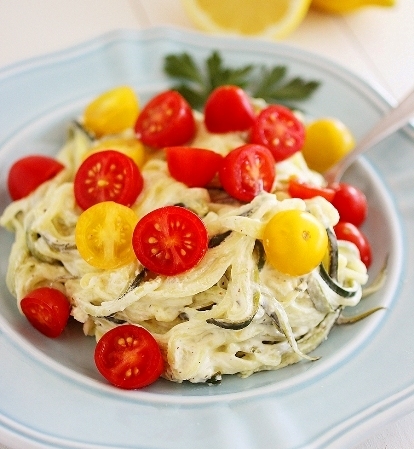 Creamy Lemon Zucchini Noodles with Tomatoes
Yield:
2 large servings / 4 side dish servings
Ingredients
1 Tablespoon olive oil
2 cloves garlic, minced
4 oz. reduced-fat, Neufchatel or regular cream cheese
1 lemon, juiced
Kosher salt & freshly ground black pepper, to taste
4 medium zucchini, ends trimmed and peeled with a julienne peeler into "noodles"
1 heaping cup cherry or grape tomatoes, halved
Freshly grated Parmesan cheese, optional
Instructions
In a large nonstick skillet set to medium heat, add olive oil. Once hot, add garlic and cook for 1 minute. Add cream cheese and lemon juice, stirring until cream cheese has melted into a thick sauce. Season with salt and pepper.
Add zucchini noodles, tossing to coat in sauce, and cook for 4-5 minutes. Be careful not to overcook the zucchini noodles – They should be mostly soft but maintain a little crispness.
Top with cherry tomatoes and sprinkle with freshly grated Parmesan, if desired. Serve warm.
Enjoy!