For game day or any casual parties in between, these crispy, cheesy loaded baked potato chips are the perfect savory snack!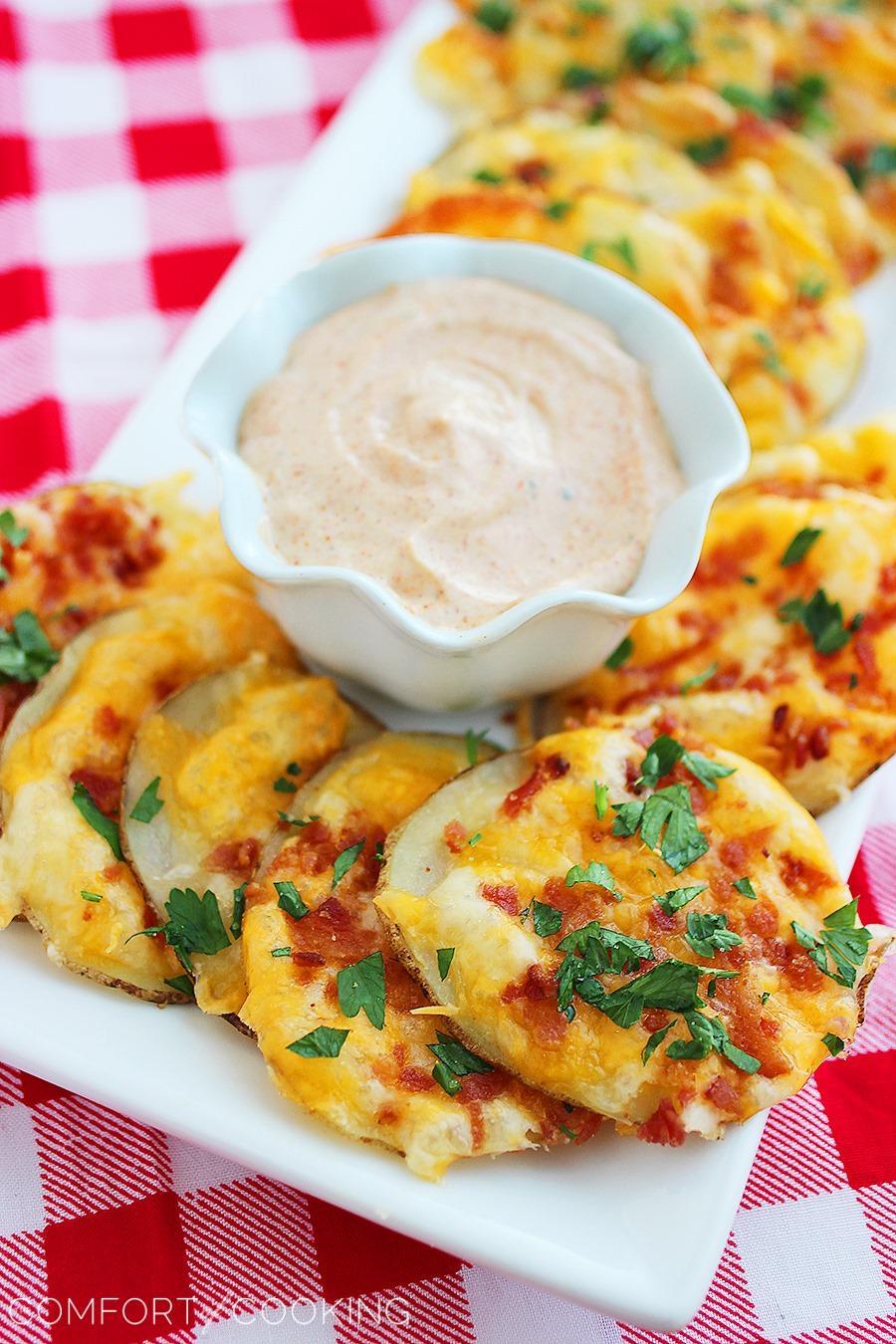 Kick a soccer ball my way, and I'll find a way to trip over it. Chuck a football my way and I'll probably drop it. But, what I do lack in any knowledge whatsoever about ANY sports, I make up for in knowing how to whip you up a damn good appetizer to eat while watching them!
Try as they might, the men in my life break down sports into baby steps to help me understand, but I tend to tune out. No, let's be honest. I do tune out… my mind mostly likely going to a cute bracelet I found, or a great hand soap sale at Bath and Body Works. Man, I love that stuff.
Typical girl, party of 1!
I do, however, have appreciation for a good 'n hearty, down home snack to munch on while laughing at the guys cheer away! These cheesy oven chips are just that – an easy and absolutely delicious game day snack perfect for your sports-lovin' pals!
I'm telling you, I must have eaten a dozen hot out of the oven. Burning my fingers, tongue and mouth, obviously. These are just the hazards of working with good food!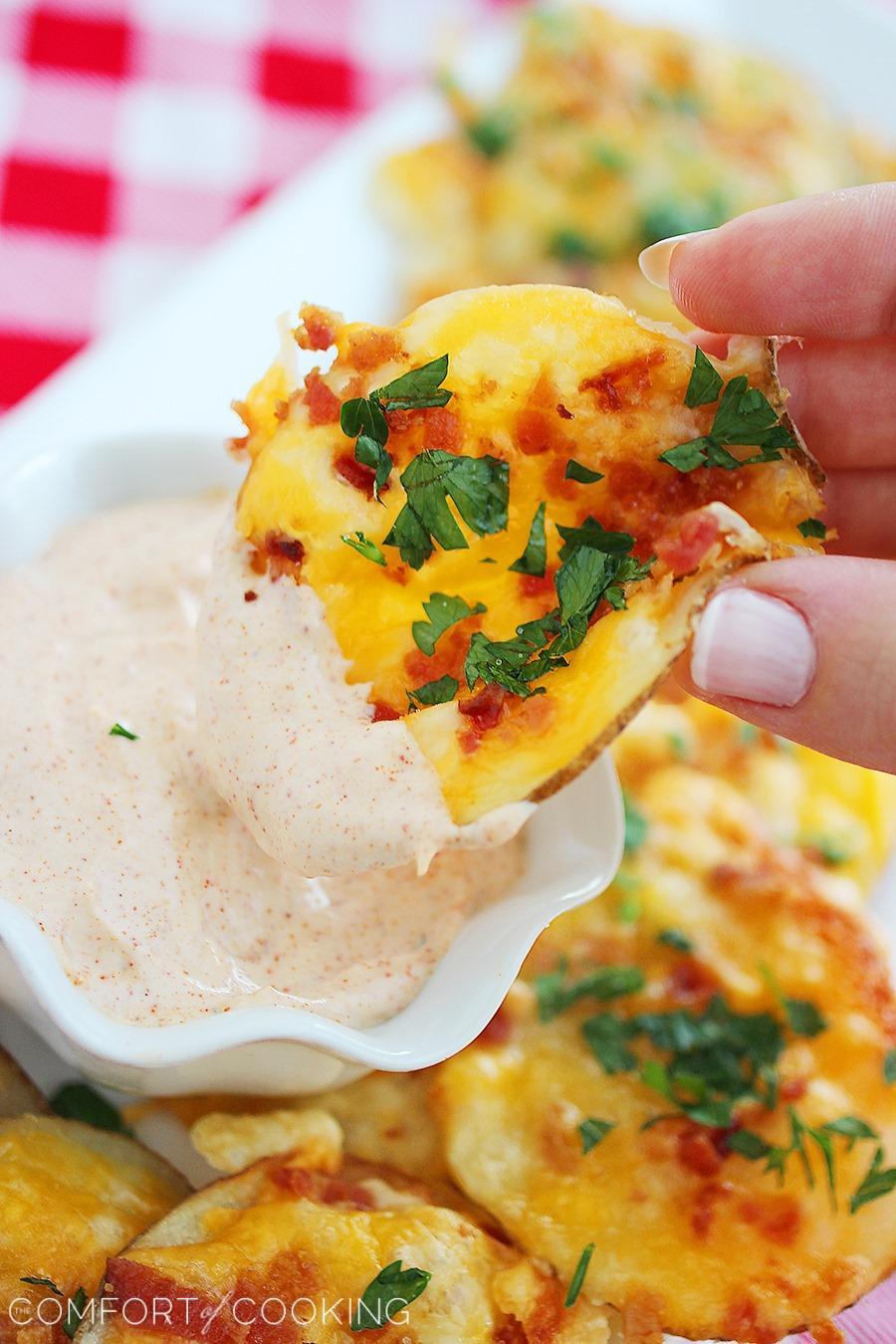 These toasty hot oven chips are crispy, salty and totally addictive, with a thinly sliced potato as the canvas for crumbled bacon, ooey-gooey melted cheddar and a sprinkle of parsley, chives or scallions. Dipped in a sinfully good spicy Ranch sauce, it's just unreal how good these are. I dare you to try and stop at one!
For football season or any party, anyone would be lucky to enjoy these amazing loaded potato chips. Try them for your next casual get-together and indulge your friends in something delish!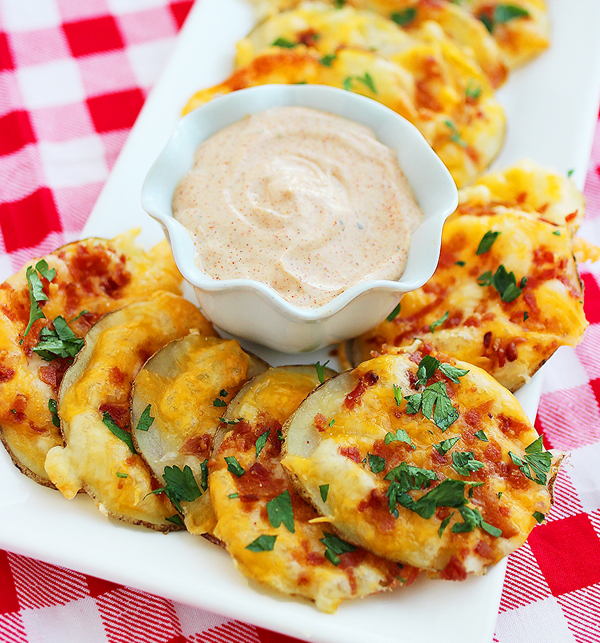 Cheesy Bacon Oven Chips with Chipotle Ranch Dipping Sauce
Yield:
25 chips and 1/4 cup dipping sauce
Ingredients
For Cheesy Bacon Oven Chips:
1 large russet potato, scrubbed and sliced into 1/8" rounds*
Nonstick cooking spray
8 oz. 2 cups shredded Colby jack, cheddar cheese or Mexican cheese blend
6 slices bacon, cooked and chopped into bits
1/4 cup chopped parsley, chives or scallions, optional
Salt, to taste
For Chipotle Ranch Dipping Sauce:
1 Tablespoon Ranch dressing
3 Tablespoons sour cream
1/4 teaspoon chipotle chili powder
1/8 teaspoon cayenne pepper
1/8 teaspoon salt
1/8 teaspoon garlic powder
Instructions
For Cheesy Bacon Oven Chips:
Preheat oven to 400 degrees F. Arrange oven rack to middle of oven.
Lay out individual potato slices on a paper-towel lined surface. Pat slices dry with another layer of paper towels (The drier the potato slices, the crispier chips they'll make!). Line a large baking sheet with aluminum foil and lightly coat with cooking spray. Lay out potato slices about 1/2 inch from each other (not overlapping) and lightly coat with additional cooking spray. Sprinkle each slice with pinches of shredded cheese and crumbled bacon.
Bake 8-10 minutes, or until cheese is melted and bubbly. Remove from oven and immediately sprinkle with parsley and salt. Transfer chips to a cooling rack and let cool for 5 minutes.
Serve with Chipotle Ranch Dipping Sauce (recipe below).
For Chipotle Ranch Dipping Sauce:
Place all ingredients in a small bowl and stir to combine. Cover and refrigerate until ready to use.