This easy, scrumptious vegetarian pasta dish is packed with nutritious veggies and a whole lotta love! So healthy and comforting.
Happy Friday, little lovebirds! I hope you had a delicious, indulgent Valentines Day. I spent mine stretching out my stresses at yoga, tackling all my to-do's, and capping off the day with tasty Spanish tapas for dinner in downtown Austin. It was a fabulous day with good food and great company!
Now that the day of love is over and winter is winding down, it's time to start loving your body again! I, for one, am committed to a fit, healthy start to spring through smarter eating and more movin' and shakin'!
This vegetarian whole wheat pasta dish is packed with fiber-rich eggplant and artichokes, which are loaded with antioxidants and help lower cholesterol! Smothered in pasta sauce (here's my favorite marinara) and sprinkled with a bit of Sargento mozzarella, this baked penne with eggplant is mouthwatering comfort food heaven!
Try it as an easy weeknight dinner or to ease into healthier, yet still hearty, eating this season. This meatless meal is even manivore-approved!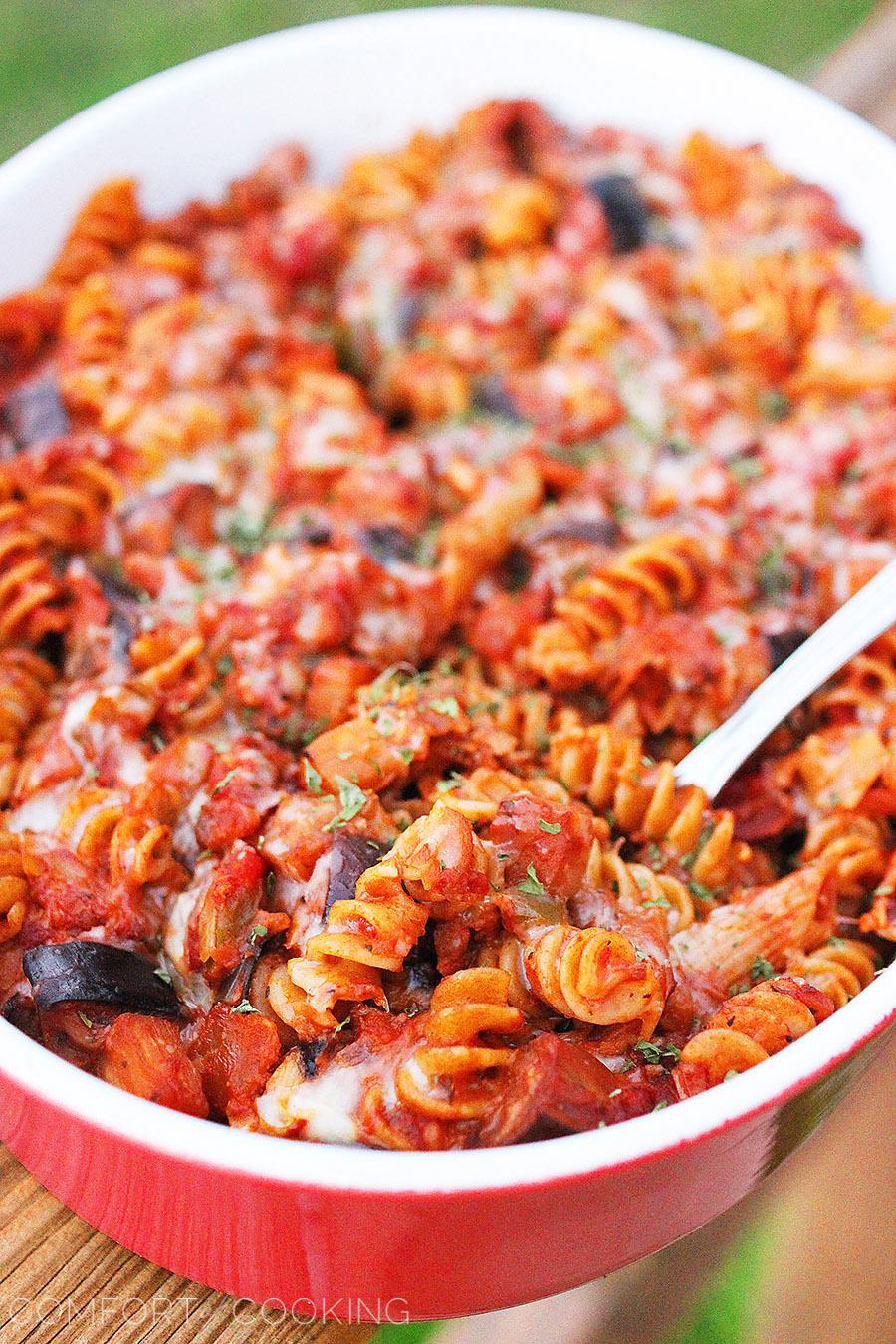 Cheesy Baked Pasta with Eggplant and Artichokes
Ingredients
Nonstick cooking spray
5 Tbsp. extra-virgin olive oil
1/2 medium eggplant, cut into cubes
1 cup 8 oz. whole wheat pasta, (rotini, penne, farfalle or ziti work best)
1/2 medium yellow onion, diced
3 garlic cloves, minced
1 jar, about 6 oz. artichoke hearts, roughly chopped
2 cups 24 oz. pasta sauce
1/2 tsp. dried oregano, chopped
1/4 tsp. crushed red pepper flakes
1/4 tsp. kosher salt
1/4 tsp. freshly ground pepper
1 1/2 cups Sargento® Shredded Mozzarella & Provolone Cheese, divided
Instructions
Preheat oven to 350 degrees F. Lightly coat a large casserole dish with nonstick cooking spray.
In large, heavy skillet set to medium heat, add olive oil. Once oil is hot, add eggplant and cook 10-12 minutes, or until eggplant has mostly softened.
Meanwhile, cook pasta in boiling salted water according to package instructions for al dente. Drain and set aside.
To the skillet with softened eggplant, add onion, garlic, artichoke, pasta sauce and seasonings. Simmer for about 8 minutes on medium heat, stirring occasionally. Remove from heat.
Stir pasta into vegetable mixture. Fold in 1 cup cheese and transfer to prepared casserole dish. Sprinkle with remaining 1/2 cup cheese and cover with aluminum foil. Bake 20 minutes. Remove foil and bake about 10 minutes more, until cheese begins to brown.
Enjoy!