These crispy parmesan chicken cutlets topped with sweet, juicy balsamic tomatoes is one of our favorite easy weeknight meals!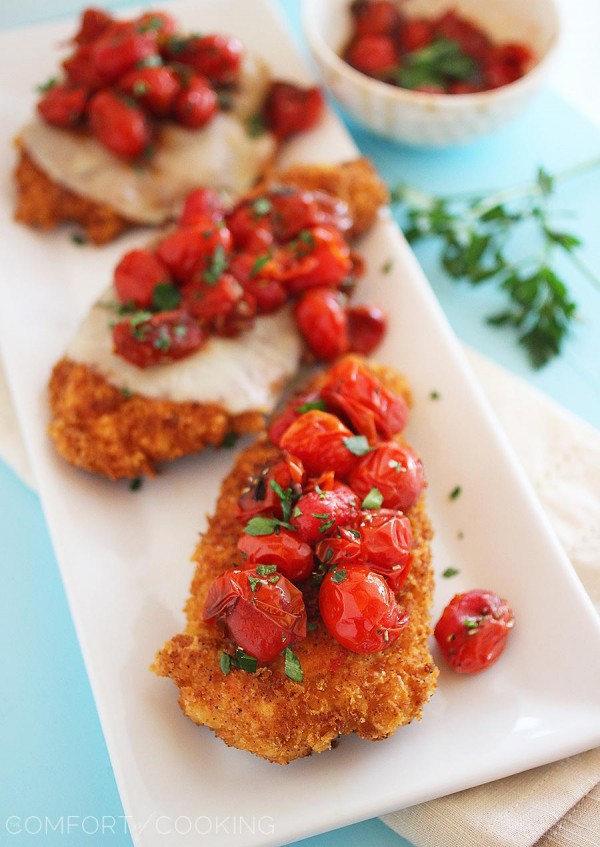 These days, I've been needing easy-does-it on the weeknights. My mom readers are no strangers to struggling to get dinner on the table some nights, and I've definitely had practice in that arena lately! Nevermind the holiday rush. Gifts are bought, our home is twinkling with Christmas cheer, and I'm ready to enjoy the beauty of the season before it hurries near. Just as soon as I tackle all these looming deadlines and projects due before year-end!
But, let's be real. I get to do my job in my pajamas (if you could see me now), so that's a plus.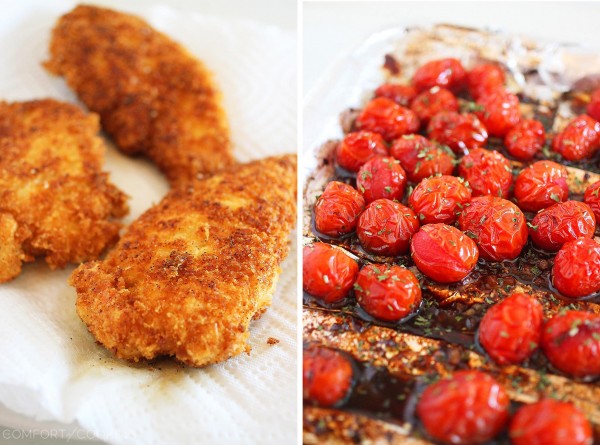 It's dinners like these that are SO comforting and simple for me to whip up with what's on hand. And they really, truly help on busy weeknights that still call for something homemade.
Now, we also have nights, like last Sunday for instance, that call for spicy mac 'n cheese, hot dogs and movies on the couch! Ohhh, how wonderful that is. But, since those are few and far between, I try to get a delish (and healthy) dinner on the table, where we can sit and chat about our days. Even if it's in cozy pajamas.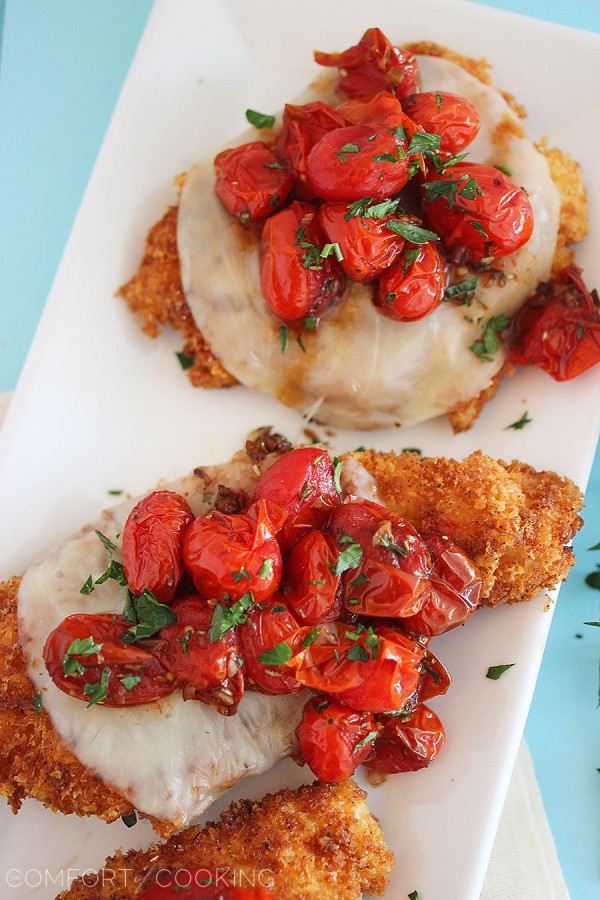 The sweet-salty flavors in this fresh and delicious meal are reminiscent of summer to me, which I'm learning to love in Austin. Since we can still find juicy grape tomatoes, I decided to take advantage and toss them with balsamic vinegar and garlic, pop 'em in the oven to roast, and fry up a few parmesan chicken cutlets to compliment their flavors!
After all, this dish is all about the tomatoes.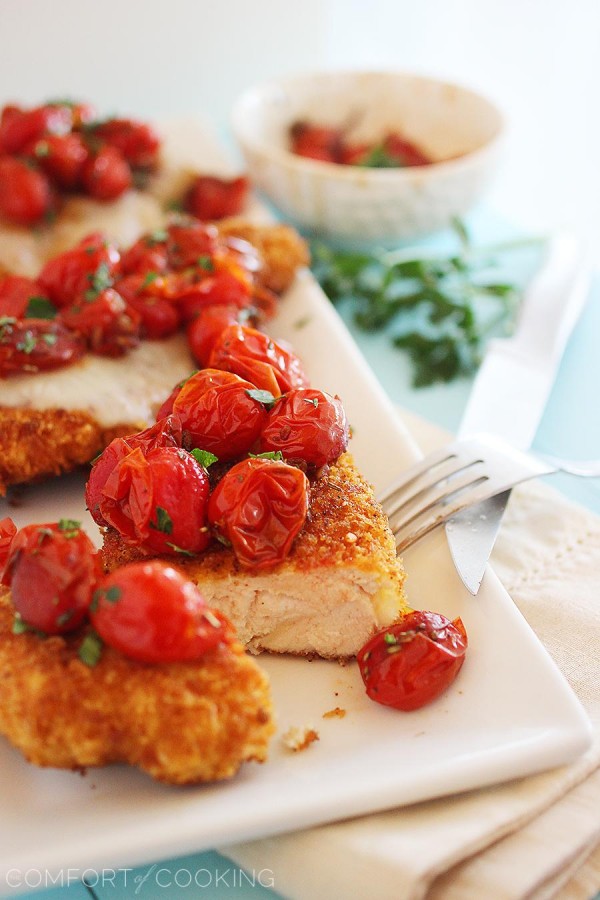 This is one of my absolute favorite ways to cook chicken, and a recipe I crave on a weekly basis. I can't quite tell if hubby is really on board with it, or just smiling through his second plate of it in one week! The man tolerates so much, I tell ya. Heh.
You're really going to love this dish, and I bet even more than we do. The crispy, tender chicken has so much flavor on its own, but add a slice of provolone or mozzarella if you wanna cheese it up! Topped with the soft, sweet balsamic roasted tomatoes, this is one delicious dinner that falls into the "dreamy" category in my book. It makes great leftovers the next day, too!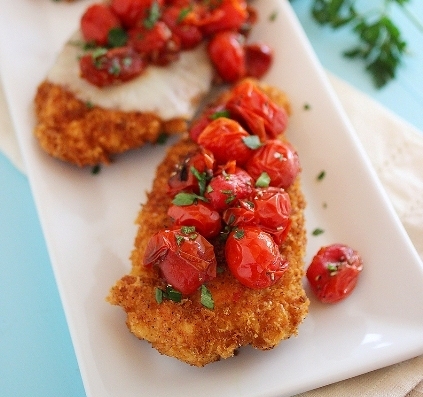 Crispy Parmesan Chicken with Balsamic Roasted Tomatoes
Ingredients
For Crispy Parmesan Chicken:
1/2 cup all purpose flour
2 large eggs
1 cup panko breadcrumbs
1/2 cup shredded Parmesan cheese
4 4 ounce chicken cutlets, 1/2 inch thick, trimmed of fat
Salt and pepper
7 Tablespoons olive oil, divided
4 slices provolone or mozzarella cheese, optional
2 Tbsp. chopped fresh parsley
For Balsamic Roasted Tomatoes:
1 1/2 cups cherry or grape tomatoes
2 garlic cloves, minced
1 Tablespoon balsamic vinegar
1 Tablespoon olive oil
Kosher salt
Freshly ground black pepper
Pinch of Italian seasoning
Instructions
For Crispy Parmesan Chicken:
Spread flour in a shallow dish. Beat eggs in a second shallow dish. Combine panko and Parmesan in a third shallow dish. Pat chicken dry with paper towels and season with salt and pepper. Working 1 cutlet at a time, dredge cutlets in flour, dip in egg, then coat with panko mixture, pressing gently to adhere.
Heat 3 Tablespoons oil in a 12-inch nonstick skillet set to medium heat. Once hot, cook 2 cutlets at a time until golden brown and crisp, about 4-5 minutes per side. Transfer to a paper towel-lined plate and place in a warm oven (170-200 degrees) to keep warm. Repeat with 3 Tablespoons oil and remaining cutlets.
If desired, place sliced cheese on top of chicken cutlets before placing in warm oven.
Before serving, top with warm balsamic roasted tomatoes and chopped fresh parsley.
For Balsamic Roasted Tomatoes:
Preheat oven to 400 degrees F. Toss together tomatoes, garlic, vinegar and olive oil on a medium baking sheet. Season with salt and pepper. Roast for 20 minutes, until the tomatoes are tender. Halfway through cooking, give the pan a gentle shake to coat tomatoes in balsamic mixture. Remove from oven and sprinkle with Italian seasoning. Serve warm over chicken cutlets.
Enjoy!