Try this fresh spinach cobb salad loaded with avocado, bacon, chicken and feta for a delicious dinner or next-day lunch. A perfect recipe for using leftover chicken or turkey!
I'm not a major salad girl, but I always make the mistake of ordering them at the wrong places! Pizza joint? Salad, please. Steakhouse? Bowl of greens for one. They're never good and I always end up salivating over hubby's cheesy slice or juicy steak. But I feel good about myself as it's going down, no matter how awful it tastes!
That's why I love making salad at home – It's easy, cheap and I can unload all my favorite ingredients on it… so it will definitely be delish! Ehhh, maybe not entirely healthy, but there are greens in there…
I like to use spinach instead of Romaine for my cobb salads because it's much more flavorful and chock full o' good vitamins and nutrients. Also, instead of blue cheese I opt for feta, but use blue if it calls to you!
… Just DO NOT skimp on the avocado! Look at this one… So perfectly green and buttery smooth you could dive right in!
Round up a bunch of basic ingredients to make this spectacular salad some night. It packs up nicely for a next-day lunch too, but I prefer mine freshly made and in my belly as quickly as possible! You'll love all the delicious flavors in this cobb salad and since it's so easy, hopefully keep coming back to it again and again!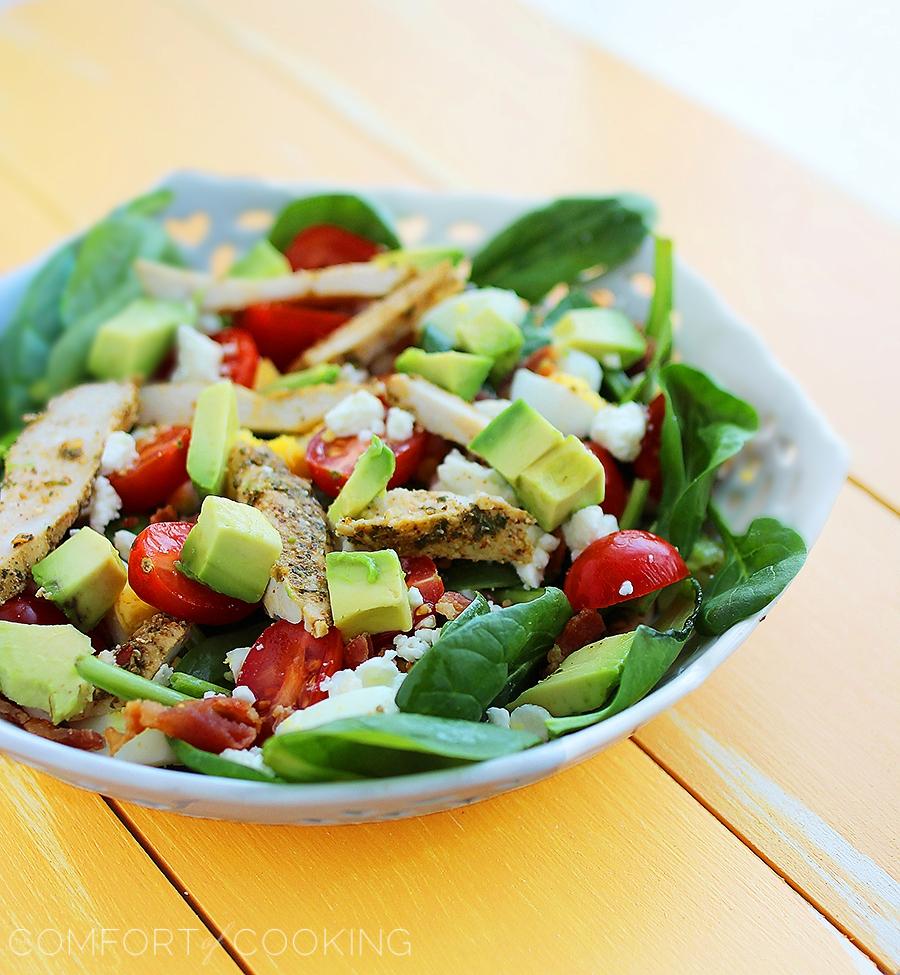 California Cobb Salad
Ingredients
4 slices low-sodium bacon
3 large eggs
10 ounces baby spinach, rinsed and pat dry
2 Tbsp. extra-virgin olive oil
1 1/2 Tbsp. lemon juice
2 cups cooked chicken, cut into bite-sized pieces
1 cup chopped plum tomatoes or halved grape tomatoes
2 avocados, chopped into bite-sized pieces
1/3 cup crumbled feta or blue cheese
Salt and pepper, to taste
Instructions
In a large skillet over medium-high heat, fry bacon until crisp. Remove to a paper towel lined plate to soak up excess grease. Roughly chop into small pieces and set aside.
In a small pot, add eggs and cover with cold water. Bring to a rolling boil over high heat. Reduce heat to medium-low and cook 10-12 minutes. Drain, rinse eggs with cold water, carefully remove shells, and chop into small pieces. Set aside.
Just before serving, toss spinach with olive oil and lemon juice in a large bowl. Add bacon, eggs, chicken, tomatoes, avocado, and crumbled cheese. Season lightly with salt and pepper. Serve immediately.
Enjoy!