Easy, super crispy, and freezer friendly, these tender chicken nuggets (with sweet and spicy dipping sauces) taste 10x better than store bought!
Chicken nuggets bring out the kid in all of us! They're crispy, tender, and absolutely delish dunked in tangy honey mustard or spicy ketchup sauce. Coated in crunchy panko breadcrumbs and fresh Parmesan, these little nuggets are almost too adorable to eat!
Almost…
They're freezer-friendly, too! Bake them up, place in a resealable bag and freeze. Pop 'em in the microwave for a few minutes to warm them up. Kids will love 'em, and adults will gobble 'em up right alongside the kiddos! You can also make the sauces a few days ahead of time.
Need some tips for keeping weeknight meals quick and easy? Read on!
• Make a list of meals to make in the coming week! Consider 1-2 days for leftovers, if you think there will be any. Feeling uninspired for ideas? I've got you covered.
• Take stock of what you already have in your pantry, fridge and freezer. Whatever you need for each recipe, write it down, organize foods by category (Fruits, Dairy, Frozen, etc.), and get shopping!
• Fast meals are made slowly… as in with your slow cooker! That electric workhorse isn't just for hearty winter stews… it's great for pulled pork, chili, pot roast, baked potatoes and roast chicken!
• Prep, package and freeze as many ingredients as you can for the coming week. Or, cook your meals ahead of time, freeze and pop in the oven before dinnertime!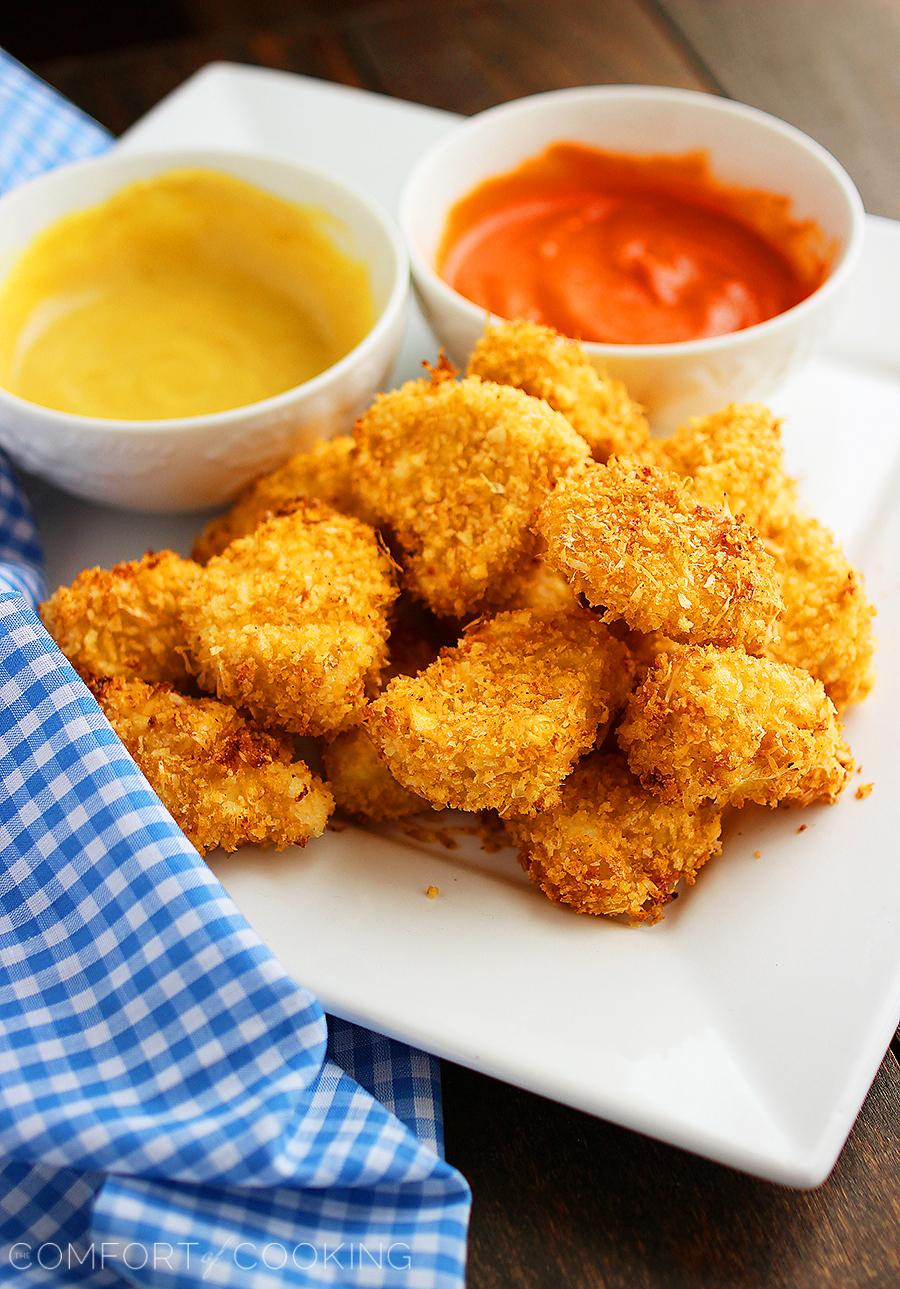 Crispy Baked Chicken Nuggets
Ingredients
1 cup panko breadcrumbs
1/3 cup grated Parmesan cheese
1/2 teaspoon salt
1 tablespoon vegetable or olive oil
2 boneless, skinless chicken breasts
1/2 cup all-purpose flour
2 large eggs, lightly beaten
Nonstick cooking spray
Honey Mustard or Spicy Ketchup, recipes below, for serving
Instructions
Preheat oven to 450 degrees F. Spread breadcrumbs on a rimmed baking sheet and bake until golden brown, 5-6 minutes. Once mostly cooled, transfer crumbs to a shallow dish. Stir in Parmesan, salt and oil; mix well.
Set a wire rack on the baking sheet; lightly coat rack with cooking spray.
Cut chicken into 1 1/2-inch pieces. Place flour and eggs in separate shallow dishes. In batches, coat chicken in flour, shaking off excess, dip in egg, then coat with breadcrumbs. Place on rack.
Bake until chicken is cooked through, 10 minutes, flipping halfway through. Serve nuggets with sauces, if desired.
Enjoy!
Honey Mustard: Combine 3 tablespoons Dijon mustard and 2 tablespoons each mayonnaise and honey.
Spicy Ketchup: Combine 1/4 cup ketchup, 3 tablespoons spicy chili sauce (such as Sriracha), and 2 tablespoons mayonnaise.