Homemade whole wheat-cinnamon pancake mix like this one is a wonderful gift idea, or nice just to pull from your own pantry. Pancake mix made with whole wheat flour is fiber-rich and nutritious, chock full of calcium and iron, and guaranteed to keep you fuller longer.

The mix isn't entirely made of whole wheat flour, since without white flour the pancakes would be very dense and, well, fluff-less. And I think we can all agree that a world without fluffy pancakes is not a world worth living in. Can I get an amen?

What you end up with, rather, is a light-as-air perfect stack of pancakes sent from heaven. With homemade apple cider syrup, you've just about died and gone there yourself.
The pancakes this mix produces are simply magical, so whip up this wholesome whole wheat pancake mix some morning for yourself! Or, do a good deed and do it for your neighbor. Then, of course, invite yourself over for breakfast. She'll have to say yes.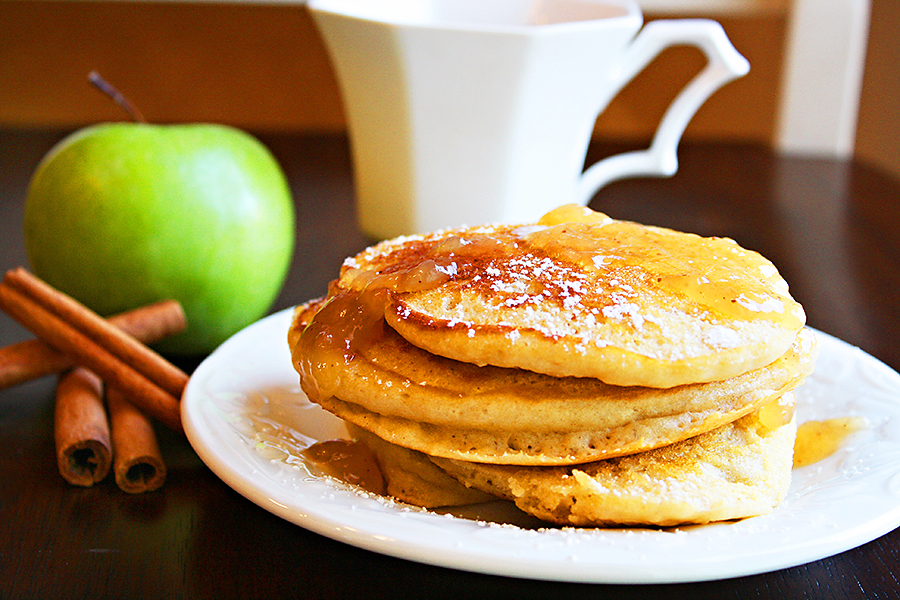 Homemade Whole Wheat Pancake Mix
Ingredients
2 cups all-purpose flour
1 cup whole wheat flour
1/4 cup sugar
1 teaspoon baking soda
1 teaspoon salt
1 teaspoon ground cinnamon
Additional ingredients for pancakes:
1 egg
3/4 cup milk
1 tsp. vanilla extract
Instructions
In a large bowl, combine the first six ingredients. Blend thoroughly. Store in an airtight container in a cool, dry place for up to 3 months. This mix makes approximately 3 servings (serving: 6 pancakes per 1 cup of mix).
To prepare pancakes: In a small bowl, whisk egg, milk and vanilla. Whisk in 1 cup pancake mix.
Pour batter by 1/4 cupfuls onto a lightly greased pan. Set to low heat. Turn when bubbles form on top of pancakes. Cook until second side is golden brown. Makes about 6 pancakes per batch.
Enjoy!