Start your holiday mornings right with these super soft, sweet and tart cranberry-orange muffins with an orange glaze!
First of all, I just wanted to extend my most heartfelt, big-grandma-squeeze of a "thanks" to the lovely readers who shared in our cheer over Friday's big announcement! Your congratulations and kind words made both Mark and I smile 'til it hurt! We couldn't be more excited and glad to have you along for the ride. You really are the sweetest readers ever!
Oh god. I think this is where the "hormonal" part kicks in! *Sob*
Let's move on to the muffins, shall we…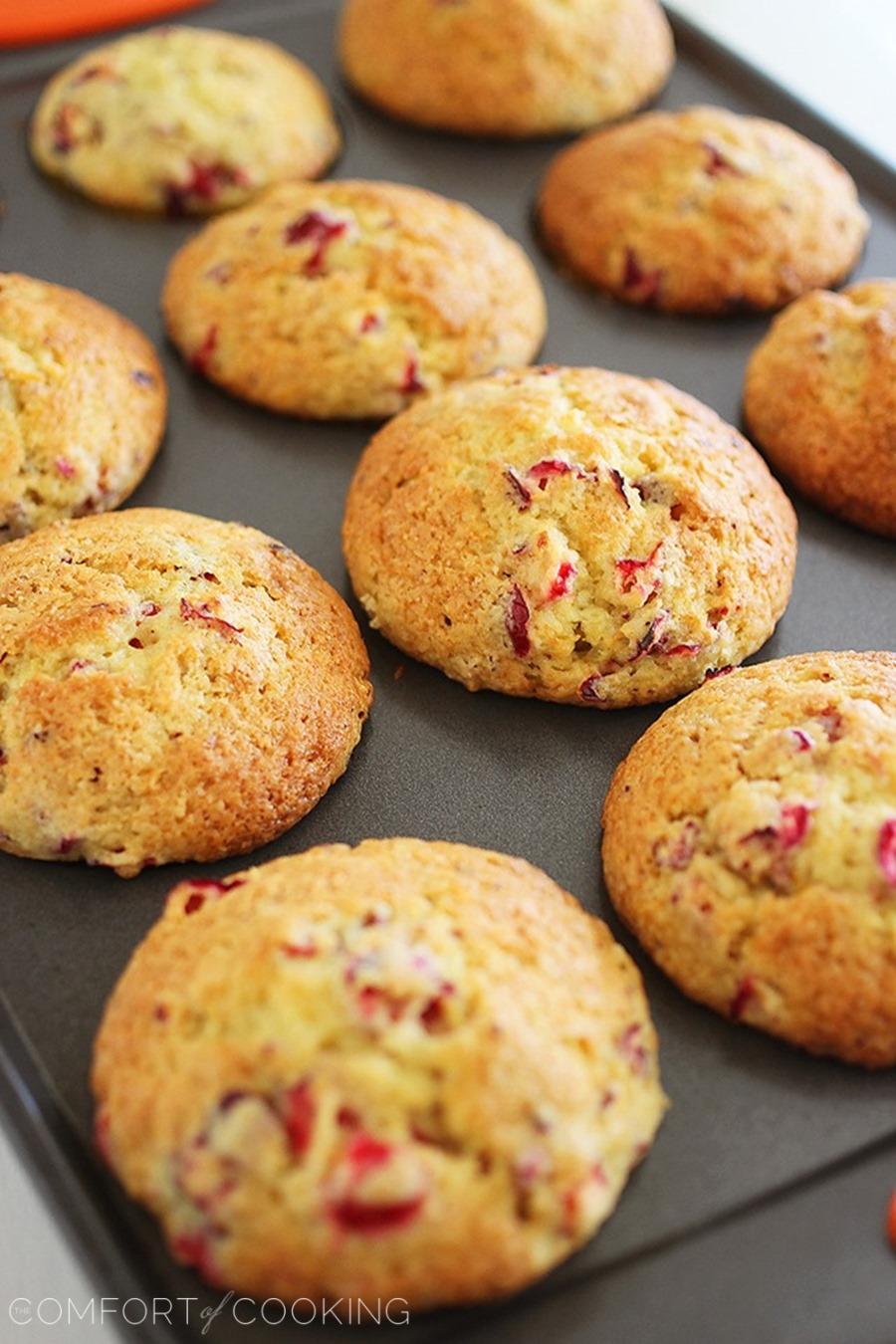 Though I've been lucky that baby hasn't hit me with a stomach bug (knock on all the wood surfaces EVERYWHERE), I've definitely been bit by the baking bug! Something about this little one has reignited the love for sweets in me, and my friends certainly aren't complaining. They're getting regular goodie bags of pie, muffins and cookies left on their doorsteps!
Yup, I'm a regular Santa Claus. Bearing lots of sugar.
Maybe it's the whole "nesting" thing, or that I just want everyone to go down with me if I'm bound to get round – ha! Kidding. Kinda.
But truly, 'tis the season of giving, and it's my mission to churn out some really irresistible baked goodies for you. And my friends. And this baby that seems possessed by the need for flour, butter and sugar. And piles and piles of dishes.
One of the REASONS that I cook is because I love to share. From an idea on paper to a mixing bowl to the oven to your family and friends, creating a recipe is an addictive cycle… and I can't get enough!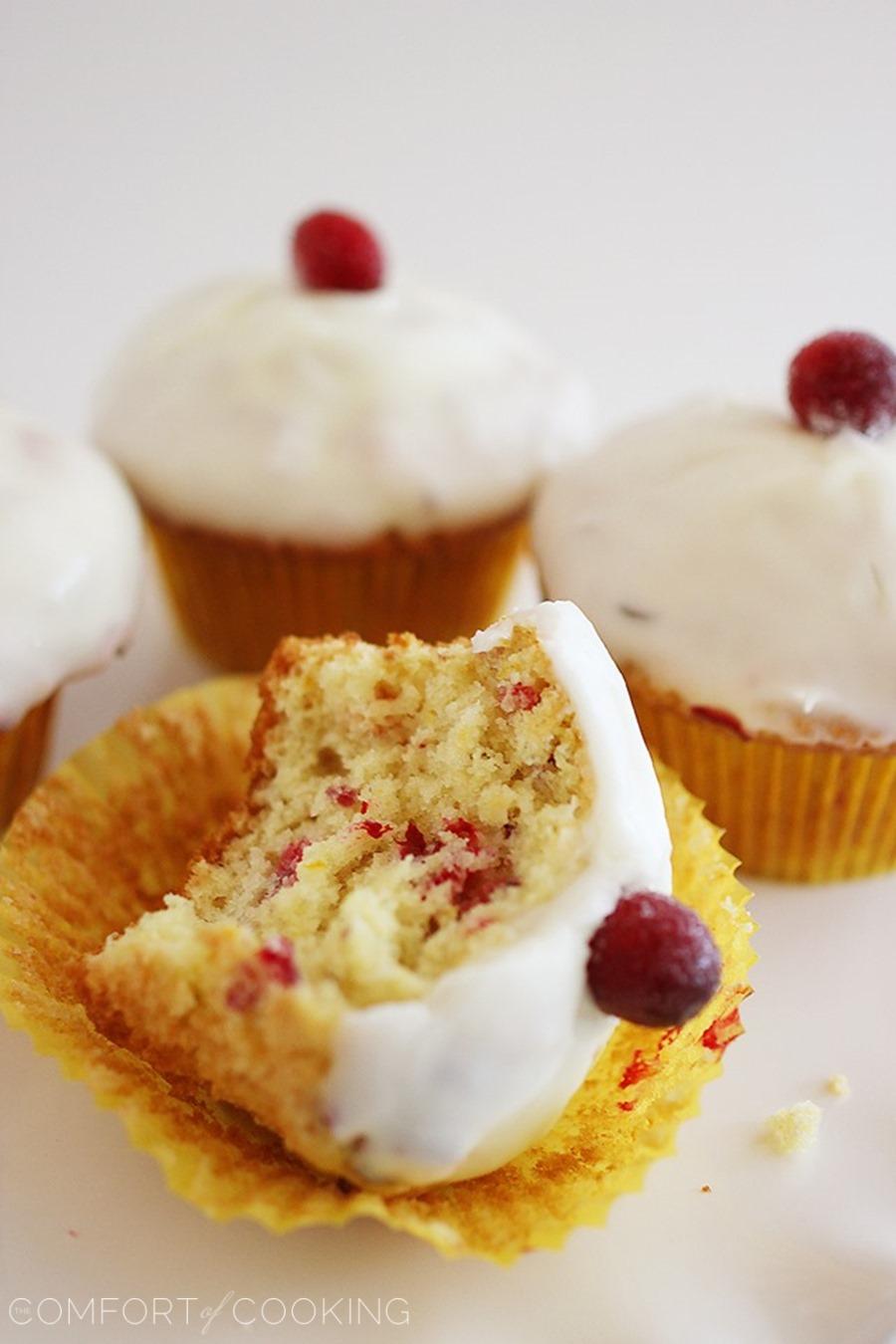 To give to those you love as little reminders of how special they are, or just for breakfast on a lazy, cozy winter morning, these cranberry orange muffins will hit the spot! They're super simple to make, full of juicy cranberries and orange zest, and the perfect crumbly treat alongside a hot coffee. Tart and sweet, these muffins are made even better with a 3-ingredient orange glaze, but omit it if you'd like.
If you're hosting family for Thanksgiving, or any upcoming occasion, treat them to these easy and absolutely delicious cranberry orange muffins. One bite will get any morning started off right!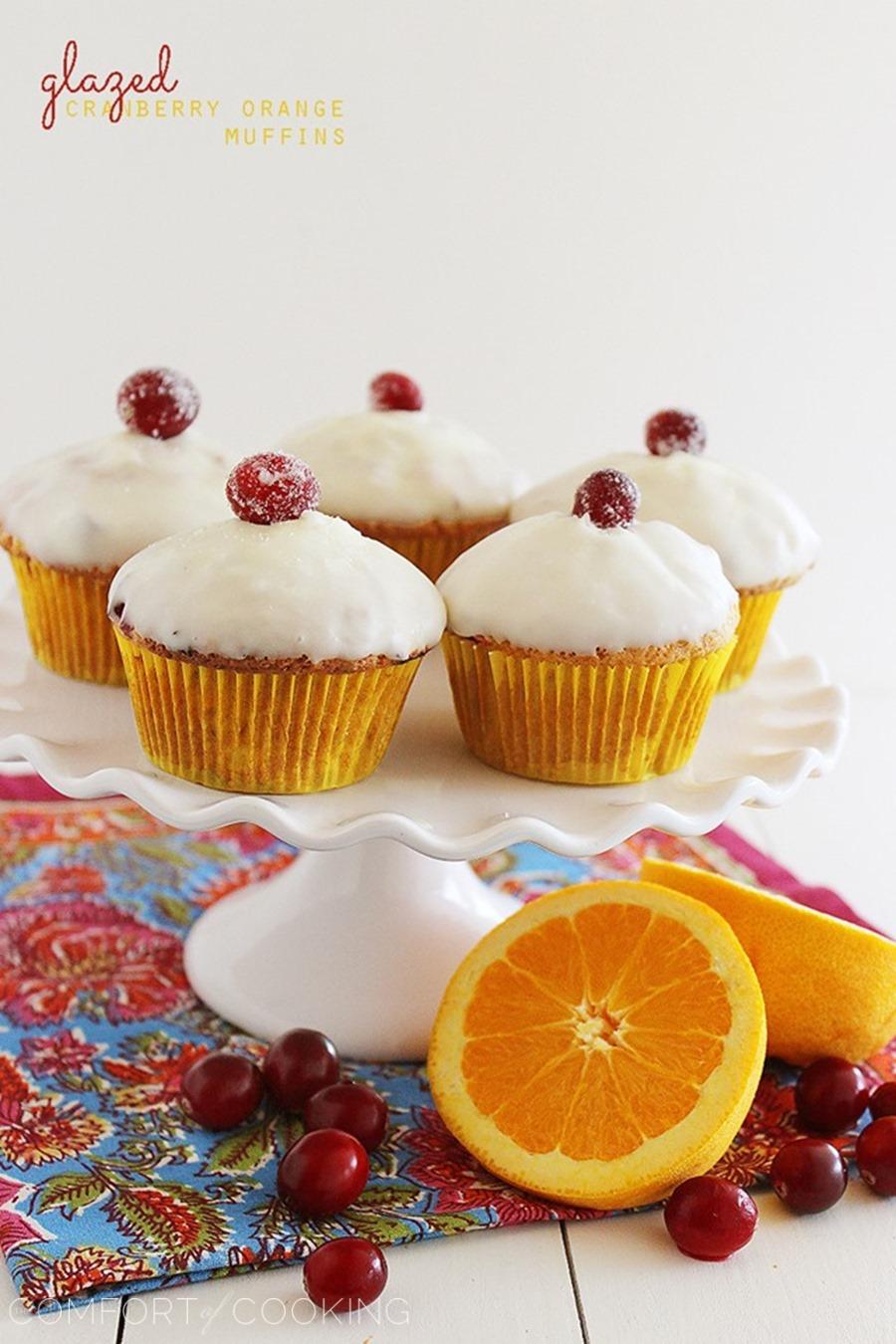 Glazed Cranberry Orange Muffins
Ingredients
For Cranberry Orange Muffins:
2 cups all-purpose flour
1 cup granulated sugar
1 teaspoon baking powder
1/2 teaspoon baking soda
1/2 teaspoon salt
1 large egg, lightly beaten
1/4 cup vegetable or canola oil
2/3 cup orange juice
2 teaspoons grated orange zest
1 cup fresh/frozen cranberries, chopped*
For Glaze:
1 cup powdered sugar
1 1/2 teaspoons orange juice
1/4 cup heavy cream or half-and-half
Instructions
Preheat oven to 375 degrees F. Line a 12-cup muffin pan with paper muffin cups and spray lightly with nonstick cooking spray.
In a large bowl, whisk flour, sugar, baking powder, baking soda and salt. In a separate small bowl, lightly beat egg and add oil, orange juice and zest; blend well. Stir wet ingredients into dry ingredients, just until moist; do not to over-mix. Fold in chopped cranberries. Evenly divide batter between muffin cups.
Bake for 25 minutes, until muffins are golden and a toothpick inserted into a muffin comes out clean.
To prepare glaze, mix all ingredients in a medium bowl. If you prefer a thinner glaze, add more milk. Dip tops of cooled muffins into glaze and set on a wire rack.
Store muffins in an re-sealable container at room temperature or in your refrigerator.
Enjoy!