When we lived in Los Angeles, my husband and I used to frequent this bustling little French bakery on the West side. It's called La Dijonaise and they make a croque madame (and monsieur!) that's so good it will make your croissant-loving head spin.
Never had one before? You're in for a treat.
This fancy looking but oh-so easy French treat is traditionally made with butter, ham, French bread, eggs and thinly sliced Gruyère cheese, but you can substitute in Swiss. I promise it will deliver just as much melty, mouthwatering, gooey goodness as the real thing.
Skip the egg for an authentic croque monsieur, but if you want the real deal, here's your key…
Two thick slices of French bread are slathered on one side with butter. One slice is pan-fried and topped with ham and Swiss (or Gruyère), then topped with the other piece of bread and flipped over to fry for just a few minutes more. Place the sandwich on a plate, smooth on a bit of mayonnaise, and into a 400 degree oven it goes while you fry an egg. Take out the plate – slide the egg on top, and voila! You've just created a fancy French breakfast in five minutes. Ooh la la!
Make these as a delicious, quick 'n easy Easter morning breakfast or brunch and your guests will be singing your high praises!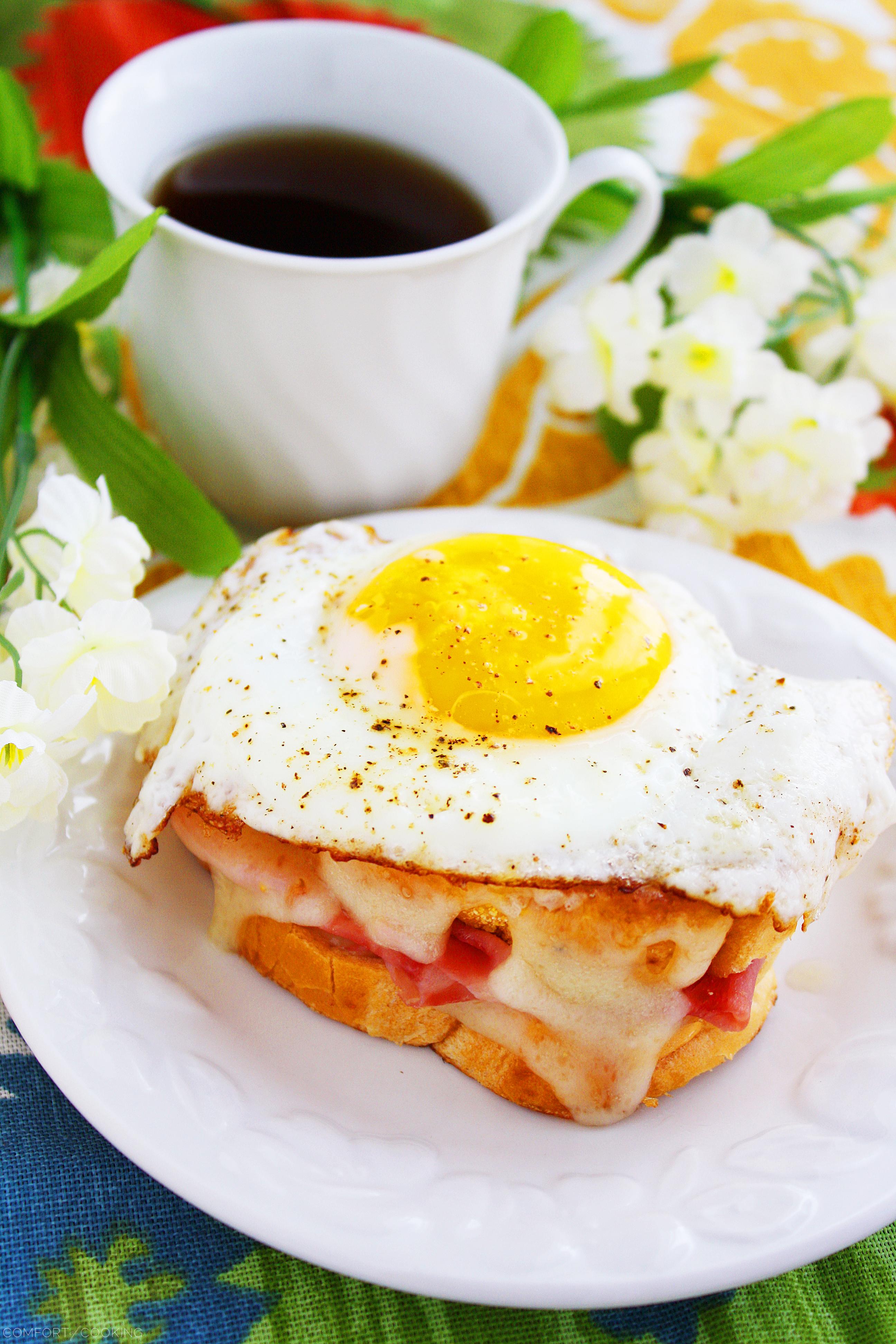 Croque Madame & Monsieur
Ingredients
3 tablespoons unsalted butter
4 slices French bread
4 thin slices Gruyere or Swiss cheese
6 thin slices ham
1-2 tablespoons mayonnaise
Add these ingredients to make croque madame…
2 large eggs
Salt and pepper
Instructions
Preheat oven to 400 degrees F.
Butter 1 side of each bread slice.
Set both slices bread, buttered side down, in a large skillet set to medium-high heat. Cover each piece of bread with 1 slice cheese, 3 slices ham, and top slice of bread, buttered side up. Cook sandwiches until bottom is golden brown and cheese is melted, about 2 minutes per side.
Place sandwiches on an oven-safe plate. Spread a thin layer of mayonnaise on the top of each sandwich, and then place a slice of cheese on top. (This is a croque monsieur. To make a croque madame, read on!)
Melt 1 tablespoon butter in same skillet over medium-high heat. Cook each egg sunny side up. Turn egg over and cook 1 minute longer for a soft-cooked egg, or 3 minutes longer for a hard-cooked egg.
Place 1 fried egg atop each sandwich. Season egg, to taste, with salt and pepper. Serve sandwich immediately.
Enjoy!