Try this twist on classic Mediterranean cooking with a delicious low-carb stuffed zucchini! Piled with Italian sausage, tomatoes and mushrooms, weeknight meals don't get more scrumptious than this!

Before he followed his nose and peeked under the foil, just as dinner was going in the oven, I was convinced I had him on the aroma alone. Hearty tomatoes, meaty mushrooms and savory, woodsy spices nestled together in hollowed out zucchini halves surely meant that Italian sausage was also joining the fun, right?
"Is this a… meatless meal?" he asked with an eyebrow cocked.
Not this time, my love.
"This is a mouthwatering meatless meal and you're gonna love it!" I challenged.

And he did. Besides, what's not to love about this delicious stuffed zucchini recipe?
It includes some of my favorite Mediterranean flavors and spices, and since I think every man-ivore like my husband Mark should put down the forkful of meat once in a while, it's dang good for ya too!

With freshly grated Parmesan cheese, these scrumptious, spicy Italian zucchini boats were full of melty cheesy, veggie goodness in just half an hour. They were absolutely delicious with the slightly crisp zucchini and tender baked vegetables. All that gives these a little tang is the crushed red pepper flakes, but you can leave them out if you prefer. No judgment here!

I served mine with saucy tortellini and a spinach salad, but for a mega low-carb meal just eat these alone or include some roasted veggies or your favorite fresh greens. Also, I didn't have any on hand, but cannellini beans would add even more hearty texture to this tasty, healthy dinner!
Enjoy these vegetarian zucchini boats with your family or friends sometime, and I know you'll love them as much as we did. If you're not used to going meatless, this recipe will open your eyes to all the delicious options!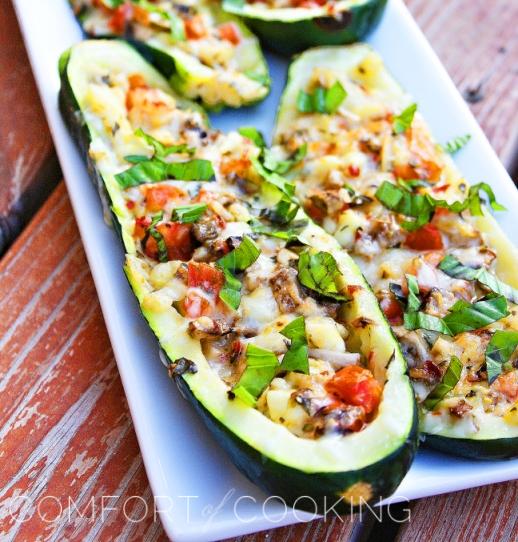 Spicy Italian Stuffed Zucchini Boats
Ingredients
2 medium zucchini
2 garlic cloves, minced
1 medium tomato, seeded and finely chopped
1/2 cup finely chopped fresh mushrooms
1/2 tsp. dried basil
1/2 tsp. dried oregano
1/4 tsp. crushed red pepper flakes
2 Tbsp. olive oil
3/4 cups shredded Parmesan cheese, divided
2 tsp. fresh basil, chopped
Instructions
Preheat oven to 400° degrees F.
Cut zucchini in half lengthwise; scoop out pulp and seeds, leaving 1/4-inch shell (use a small spoon for this). Reserve pulp from two zucchini and chop. Combine zucchini pulp, garlic, tomato, mushrooms, basil, oregano, crushed red pepper flakes, olive oil and 1/2 cup cheese in a medium bowl. Divide mixture among zucchini shells.
Place stuffed zucchini in a 13 x 9 baking dish; cover with foil. Bake for 25 minutes or until zucchini is tender. Sprinkle with remaining cheese. Bake uncovered 5 minutes more or until cheese is melted. Top with fresh basil.
Enjoy!