I'm usually not one to celebrate holidays that have nothing to do with me. Canada Day? Eh. Mardi Gras? Throw your beads at someone else. But Cinco de Mayo? Well, slap a sombrero on me and call me señorita! I will never pass up a chance to drink an ice cold margarita (or six) and scarf down plenty of spicy food!
This chicken fajita pizza may look involved, but in fact it couldn't be an easier or more delicious way to celebrate next Saturday's Mexican-American holiday!
Just toss some cut-up chicken in a marinade of olive oil, lime juice and spices, pan fry it, and plop it on a pizza crust with your favorite salsa as the sauce. Top with chopped bell peppers, red onion and black beans, and sprinkle some Sargento® Fancy Shredded 4 Cheese Mexican Cheese over top. Set it to sizzle in the oven for 15 minutes and savor the spicy, pizza-licious scent! Then, sprinkle your beautiful, bubbling hot pizza with green onions or cilantro.
Repeat after me: Yuuuummmm.
For a scrumptious, simple pizza that can feed a crowd this Cinco de Mayo, or just as a new dinner idea to dazzle your palates, I know you'll enjoy this pizza SO. MUCH. It's delicious with a dollop of sour cream, hot sauce or salsa, and makes even better leftovers the day after! That is, if you're lucky to have any left.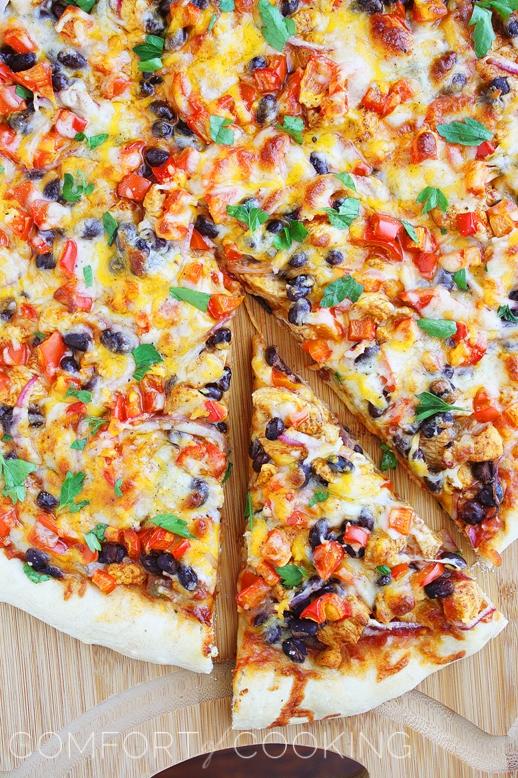 Chicken Fajita Pizza
Ingredients
1/4 cup fresh lime juice
2 Tbsp. olive oil
1 tsp. minced garlic
1 tsp. chili powder
1/4 tsp. cayenne pepper
1/2 tsp. garlic powder
1 tsp. kosher salt
1/4 tsp. freshly ground black pepper
1 lb. 2 boneless, skinless chicken breasts, cut into 1/2-inch pieces
1 12-inch prepared pizza crust
2 cups chunky-style salsa
2 cups 8 oz. Sargento® Fancy Shredded 4 Cheese Mexican Cheese
1/2 cup chopped red bell pepper
1 15 oz. can black beans, drained
1/2 red onion, cut into thin slices
2 Tbsp. sliced green onion or minced cilantro
Sour cream, optional
Instructions
Combine lime juice, oil, garlic and spices in a large bowl. Add chicken and toss to coat. Marinate 15 minutes, or up to one day, covered in the refrigerator.
Cook chicken in large preheated skillet over medium-high heat 5-7 minutes, or until no longer pink; drain if necessary.
Place crust on baking sheet or pizza pan. Spread salsa over crust; top with chicken, cheese, bell pepper, black beans and red onion. Bake in preheated 400°F oven 15 minutes, or until cheese is melted. Sprinkle with green onions or cilantro. Serve with sour cream, if desired.
Enjoy!