Olé! The Comfort of Cooking is spicing up lately with a week full of delicious dishes – and on Friday, an icy cold cocktail – to ring you into Cinco de Mayo! These creamy, cheesy chicken taquitos are the newest addition to our dinner menu that doesn't last longer than a day in the house. Given how quick, easy and delicious they are, I think you'll find the same can be true for you!
Just wrap up a mixture of shredded chicken, cheese, salsa, cream cheese, lime juice and spices in a warm tortilla, and bake. You can add corn, black beans or chopped green chiles to the mix. Use ground beef or turkey instead of chicken, or a mix of cheeses instead of just cheddar. The options are endless!
Good news for you foodies who like to make and freeze in advance, too. Prepare these ahead of time, cover and freeze 'em up to two days. Bake according to the same directions, but they may need to keep cooking for a little longer than 15 minutes. Oh, the agony!
Though I made these for dinner originally, I also made them with smaller (4-inch) tortillas, which you can find at Target, as appetizers for a get-together. These tasty chicken taquitos are super versatile and va-va-voom DELISH for a weeknight dinner where you wanna change things up, or to celebrate Cinco de Mayo this weekend with a scrumptious treat!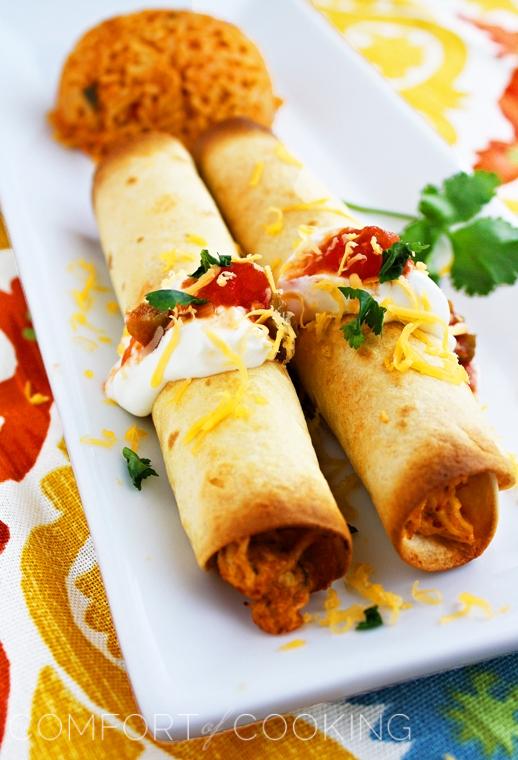 Baked Chicken Taquitos
Yield:
12 taquitos (3-4 servings)
Ingredients
3 ounces cream cheese, softened
1/4 cup salsa
1 tablespoon freshly squeezed lime juice
1 teaspoon chili powder
1/2 teaspoon cumin
1/2 teaspoon onion powder
2 cloves garlic, minced
3 tablespoons chopped cilantro
1-2 green onions, chopped
2 cups shredded cooked chicken
1 cup shredded sharp cheddar cheese
10-12 (6-inch) flour tortillas
Cooking spray
Sour cream, optional
Additional salsa, optional
Instructions
Preheat the oven to 425 degrees F. Line a baking sheet with a silicone mat or parchment paper.
In a large mixing bowl, combine all ingredients listed before tortillas. Mix thoroughly until well combined.
Warm the tortillas in the microwave to soften, about 20-30 seconds. Place a tortilla on a work surface. Spoon 2-3 tablespoons of the filling mixture down the middle of the tortilla. Roll the tortilla up tightly around the filling. Place seam-side down on a baking sheet. Repeat with the remaining tortillas and filling, spacing the assembled taquitos evenly on the baking sheet. Spray the tops lightly with cooking spray.
Bake 15-20 minutes, until crisp and golden brown. Serve with sour cream and additional salsa, if desired.
Enjoy!