All you need are 3 ingredients for these scrumptious ham and cheese rollups! Beyond delish dunked in mustard or horseradish sauce, and incredibly easy to make for weeknights and holidays!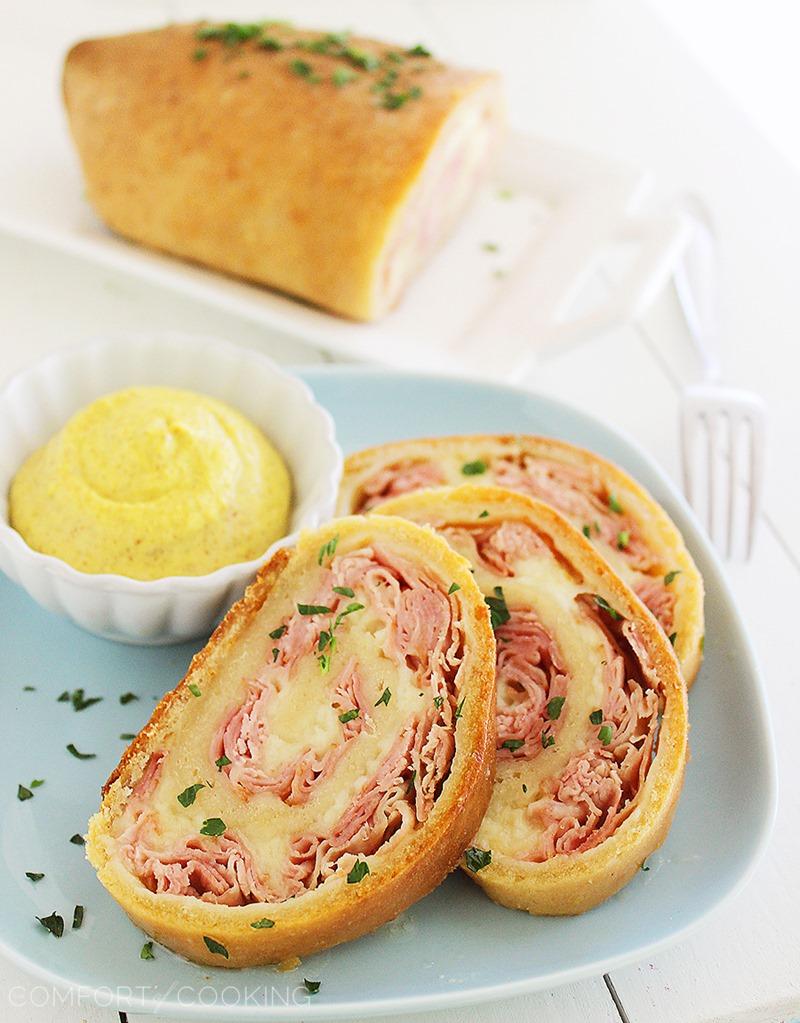 You may not know this, but I have a sort of Superman/Clark Kent-like thing going on in the kitchen.
At least I like to think it's that cool.
See, I get a "high" off of buying tons of goodies from the grocery store… fresh fruits and veggies, pastas and herbs, meats and sweets. Whole Foods is my playground. I also have an alarmingly short memory (pregnancy brain, maybe?) so end up forgetting half the things I bought. This makes un-bagging groceries exceedingly exciting. It's like getting a preview of what you get to eat in the next week!
But, after I've laid out all 10 million treasures and then put them away, I start thinking of ways to use as little of it as possible… to make the most mouthwatering meals!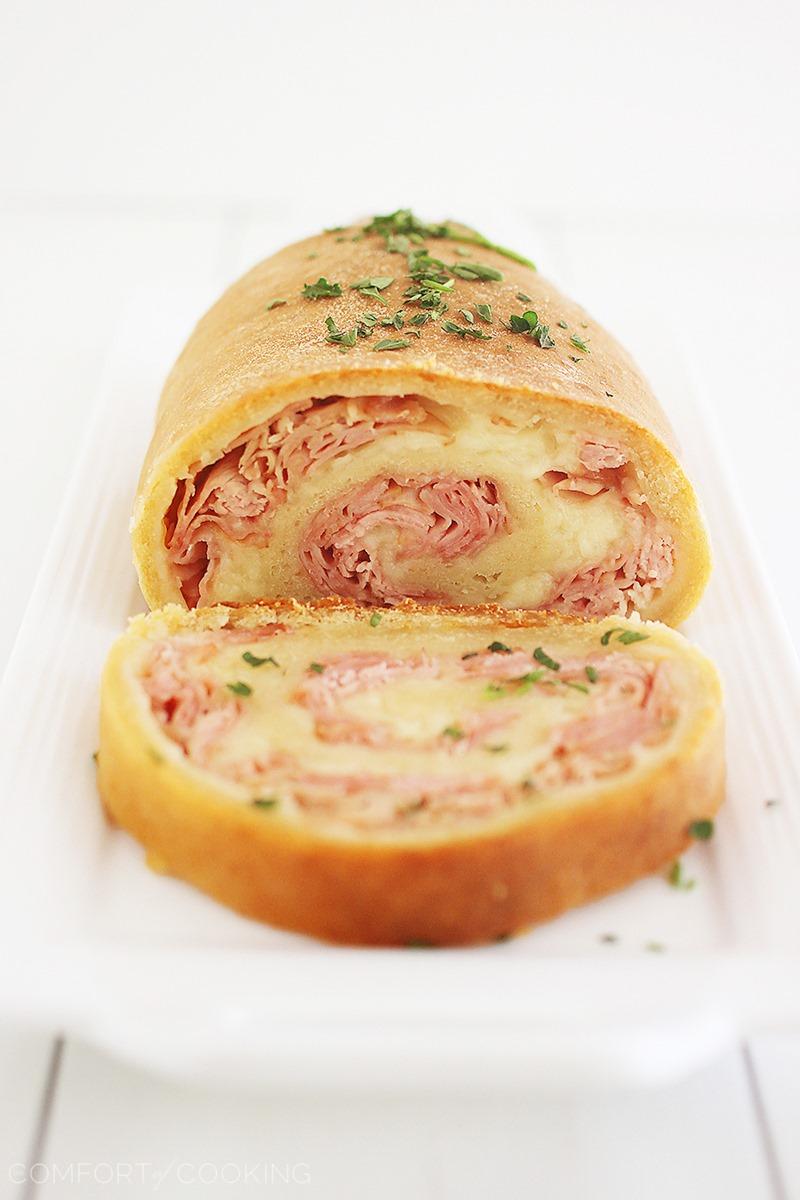 This is also the case when we have nothing to eat in the house. Which, with a 9-month-preggo and a guy with a garbage disposal-sized appetite, seems to be more often the case.
But, regardless of whether the fridge is fully stocked or I'm scrounging for supper, I always appreciate a quick and easy meal. Deli ham, shredded cheese, pizza dough and a spicy, grainy mustard are staples. We've always got 'em (and maybe you do, too!). So, dinner was decided.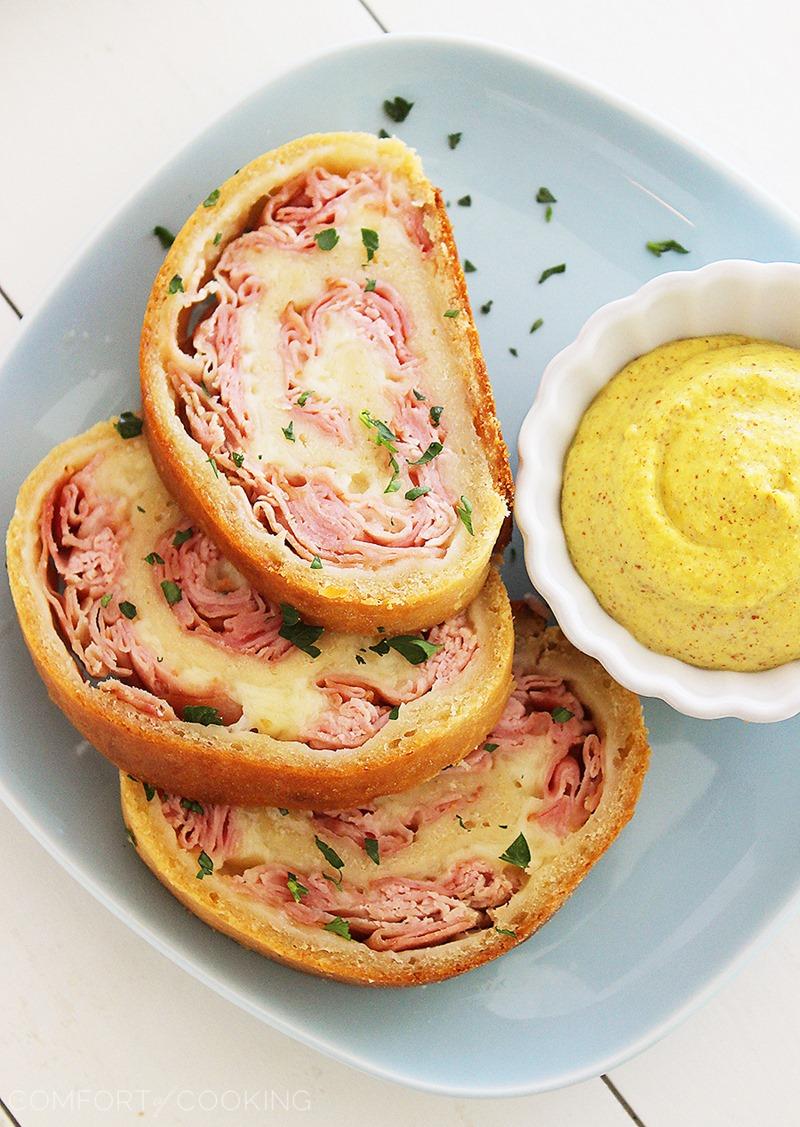 These super simple Ham and Cheese Rollups knocked us both off our seats! Just toss your ham and cheese onto a batch of stretched out pizza dough, roll it up tight, and pinch the edges to seal. In under an hour, it crisps up into a beautifully golden, gooey loaf!
Each slice is full of scrumptious, hearty lick-your-plate goodness. Crazy delicious dunked in your favorite spicy mustard and served with a big green salad on the side.
You've got to try it!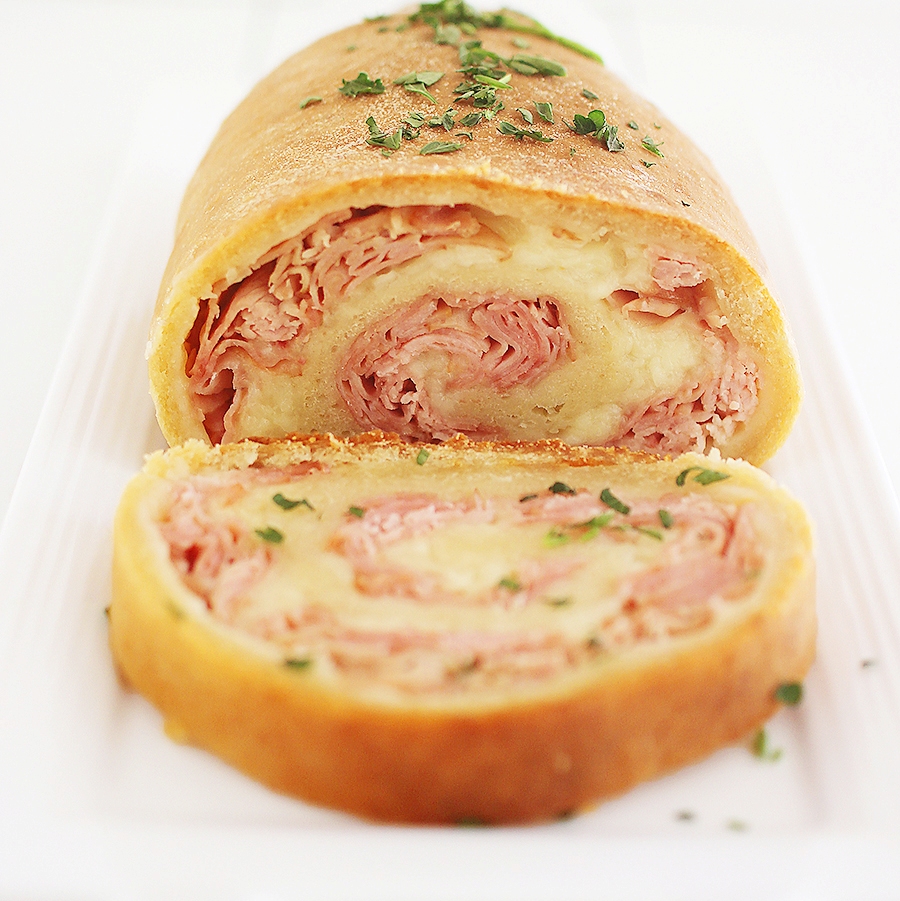 3-Ingredient Baked Ham and Cheese Rollups
Ingredients
1 ball pizza dough
8 oz. thinly sliced deli ham
1 cup shredded mozzarella cheese
For serving, optional:
Fresh parsley, for sprinkling
Mustard or horseradish sauce
Instructions
Preheat oven to 400 degrees F. Roll out pizza dough on a lightly floured surface. Press to form a 12 x 8-inch rectangle.
Arrange ham slices evenly over dough to within 1/2 inch of edges. Sprinkle evenly with cheese. Starting at one of the short ends, roll up dough to form log. Pinch seam together to seal. Place, seam side down, on a greased baking sheet.
Bake for 45-50 minutes, or until deep golden brown. Let stand 10 minutes before cutting into 8 slices with a serrated knife.
Serve with mustard or horseradish sauce, if desired.
Enjoy!