Smoky roasted bell peppers add a delicious twist to traditional pasta sauce. So simple, no fuss and no cooking needed. Toss with your favorite pasta and serve with a big salad!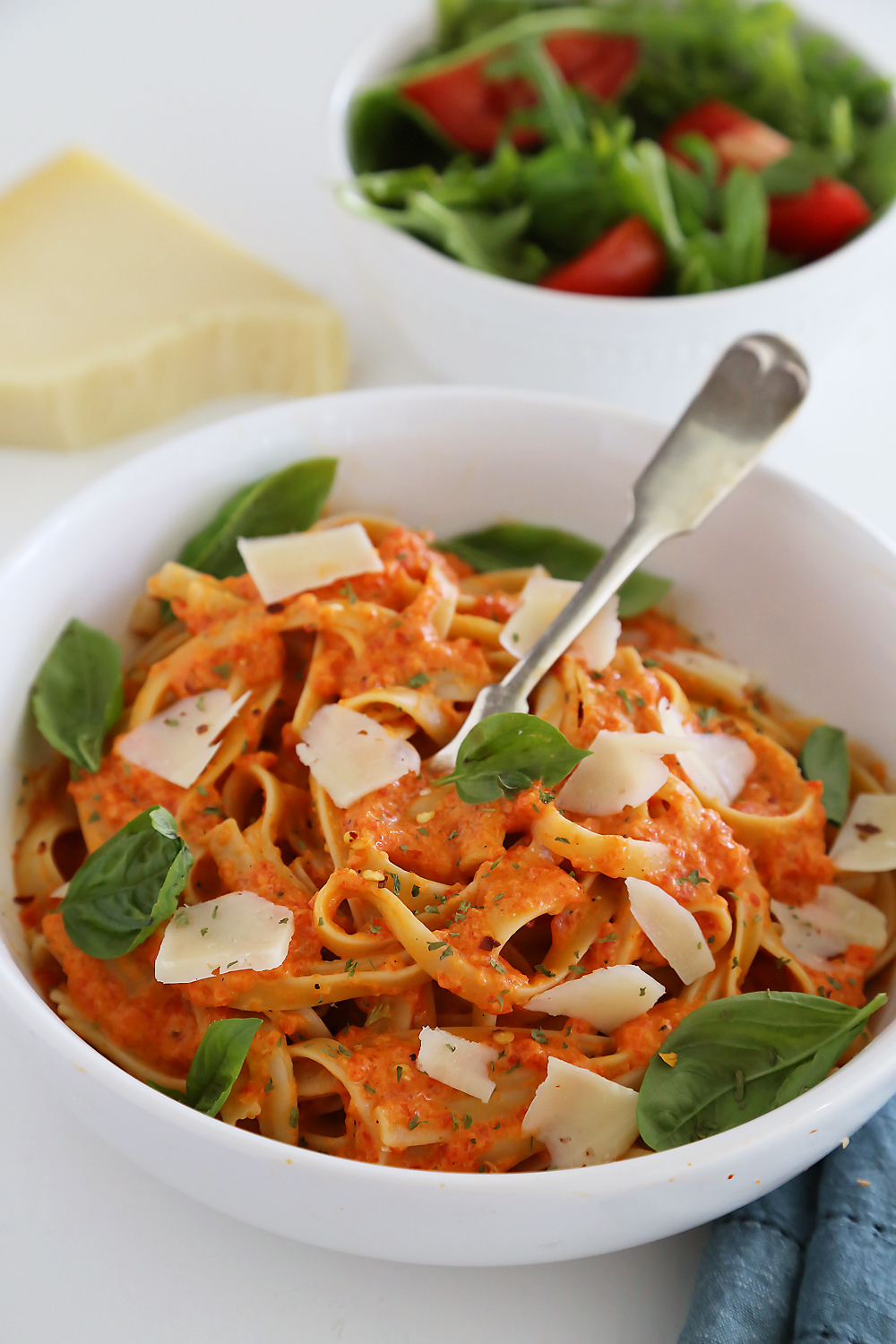 My motto in the spring and summer is "easy does it." The holidays and months surrounding them can be such a blur that, come spring, I just want to let my hair down. And in every sense of the phrase, I do!
This is especially true when it comes to my warm weather cooking. The simpler, the better. And with a bounty of beautiful fresh fruits and vegetables to choose from, I love incorporating those colors and flavors into my summertime meals.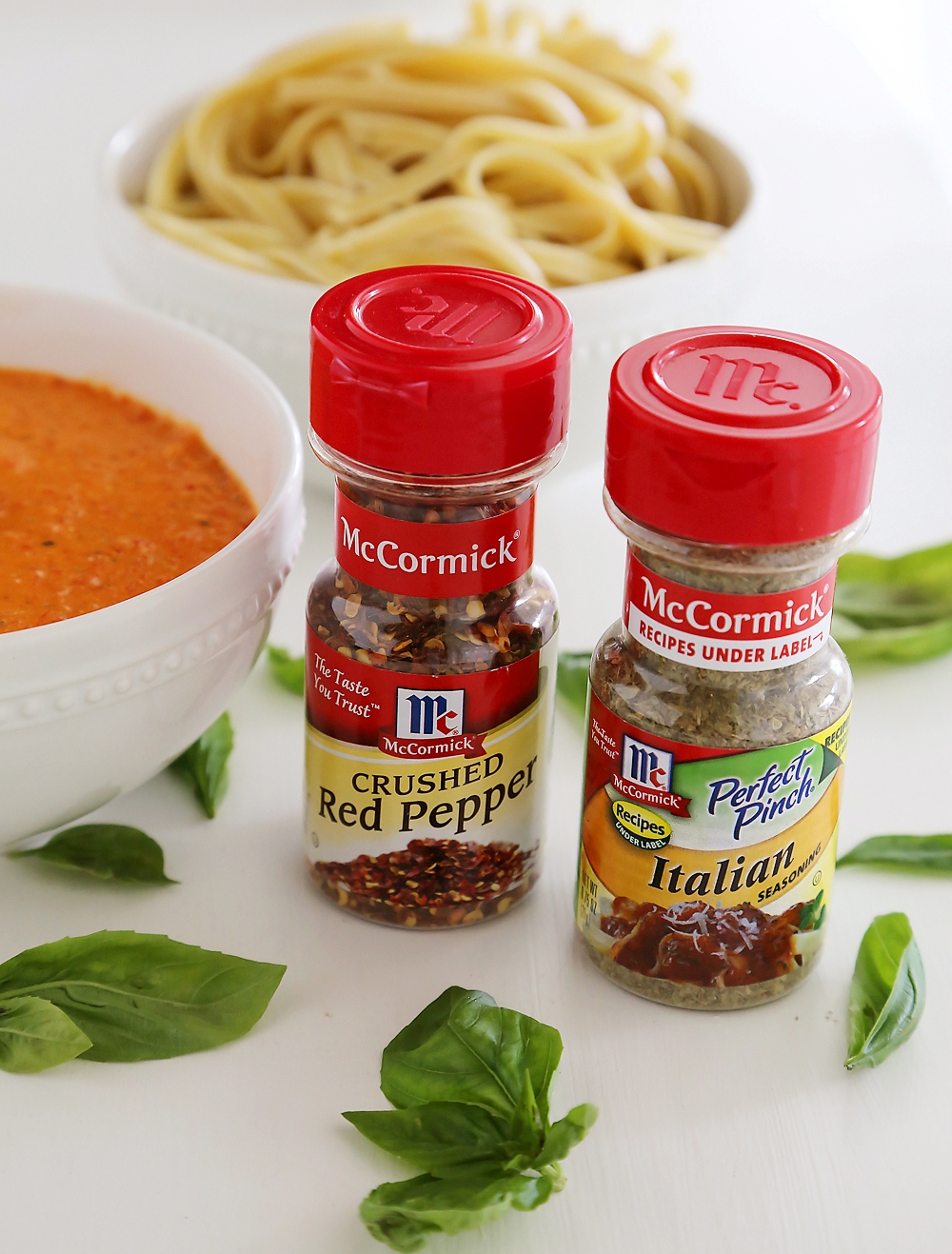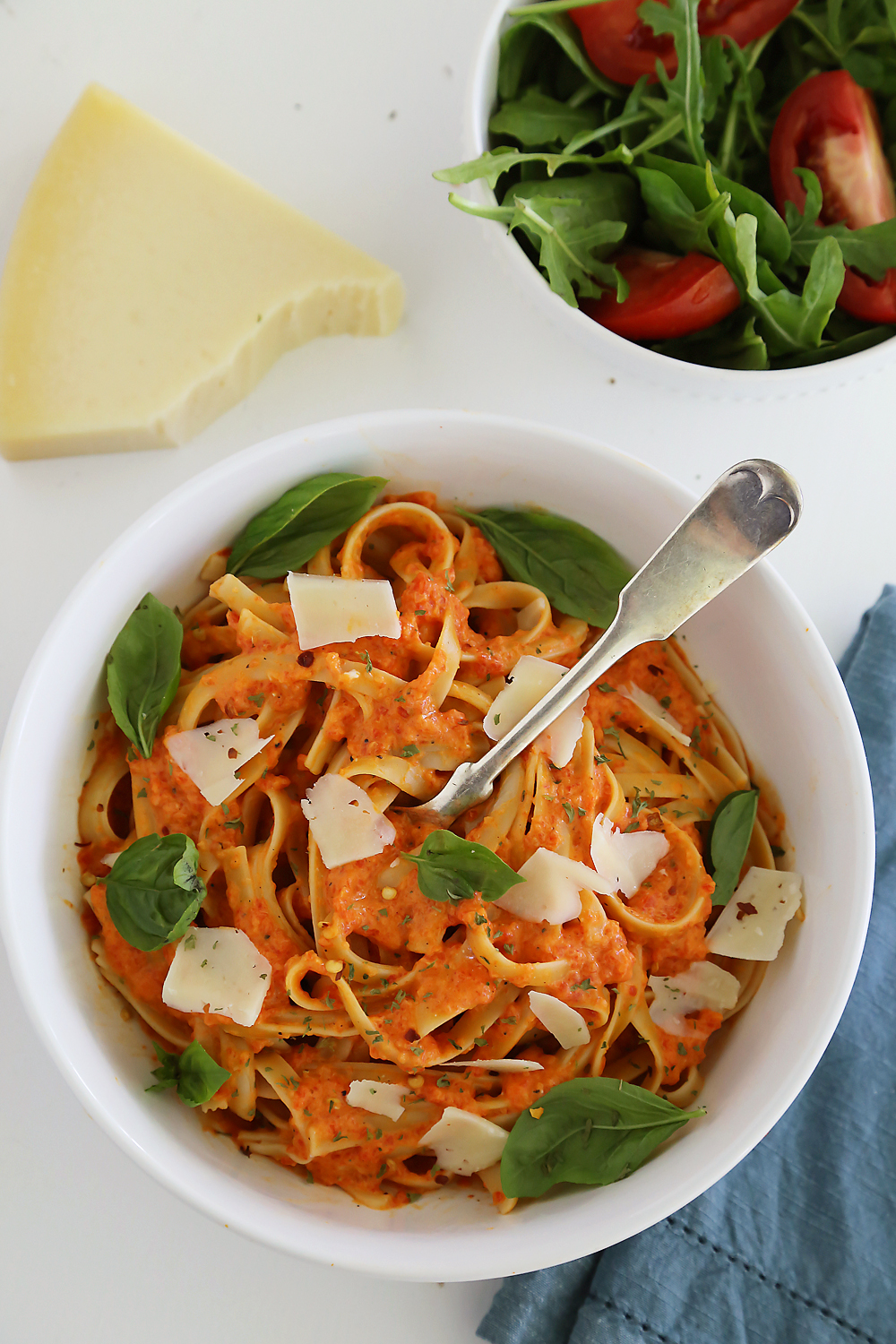 I tend to get somewhat tired of tomato sauces, since I make them so frequently. So, to change it up a bit, I used roasted red peppers, garlic, shallots and red wine vinegar for a tangy, slightly smoky and scrumptious sauce that doesn't require any cooking. You heard that right!
With McCormick spices like Italian Seasoning and Crushed Red Pepper Flakes added into the mix, this simple red pepper sauce has incredible flavor that still lets the goodness of the peppers shine through.
Simply blend all of the sauce ingredients in your food processor, and pour over hot cooked pasta. Swirl your sauce all throughout the hot noodles, and heap it all into a big serving bowl. Top with grated Parmesan and basil, and dig in!
This time of year, I love to puree fresh fruits and vegetables. I use them in everything from starters to soups, sauces, sides and refreshing summer sips. A great idea, inspired by McCormick! By blending and pureeing your fruits and veggies, you can also incorporate multiple flavors into one fantastic dish or drink.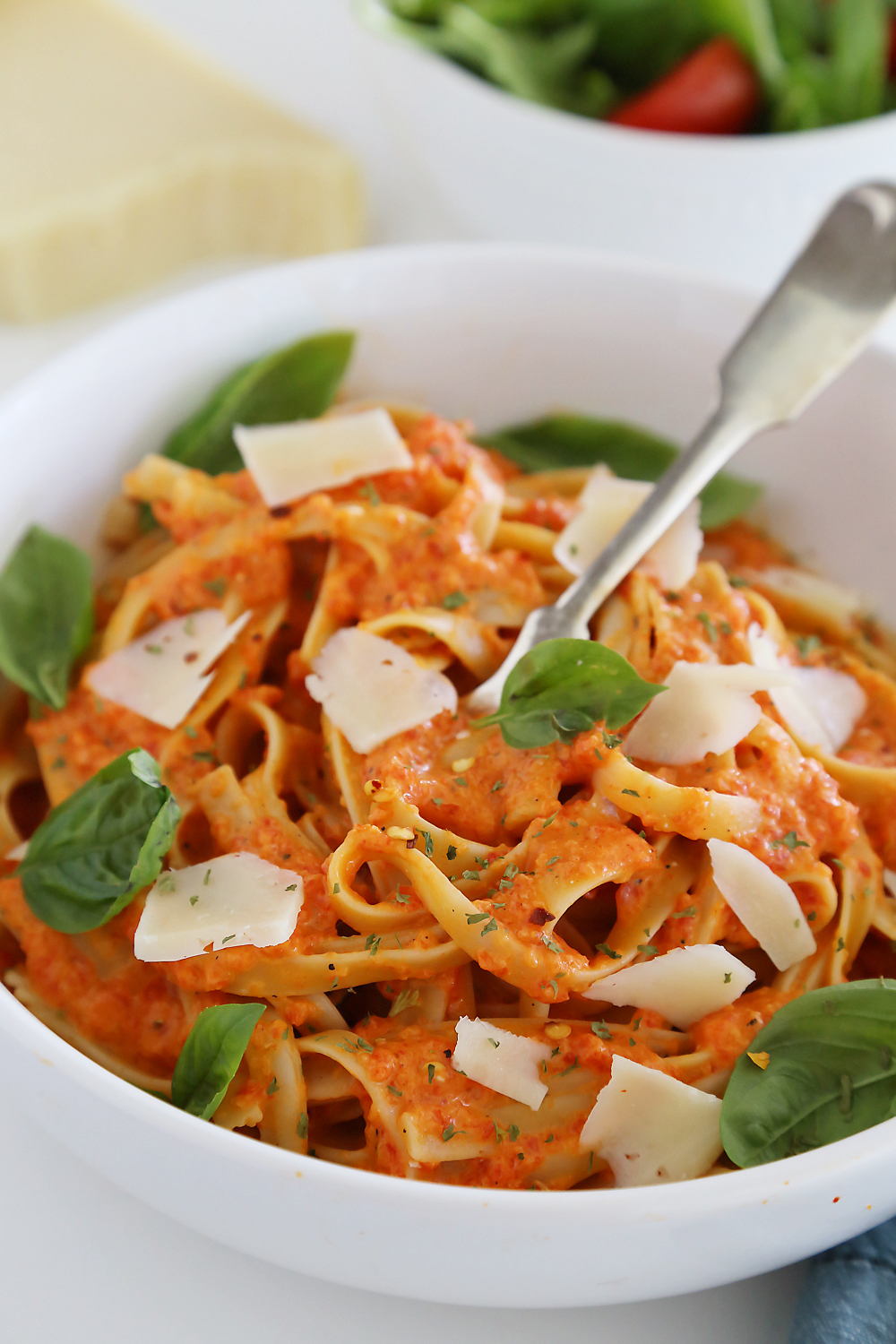 I know you will love this no-cook, no-fuss roasted red pepper pasta! This dish also makes a delicious canvas for tossing in (or serving alongside) your favorite grilled meats, too. I like to serve it with a large salad and garlic bread, but however you dish it, this foolproof weeknight meal tastes fabulous.
Also, if you like a little thicker sauce, you can even try adding some softened cream cheese!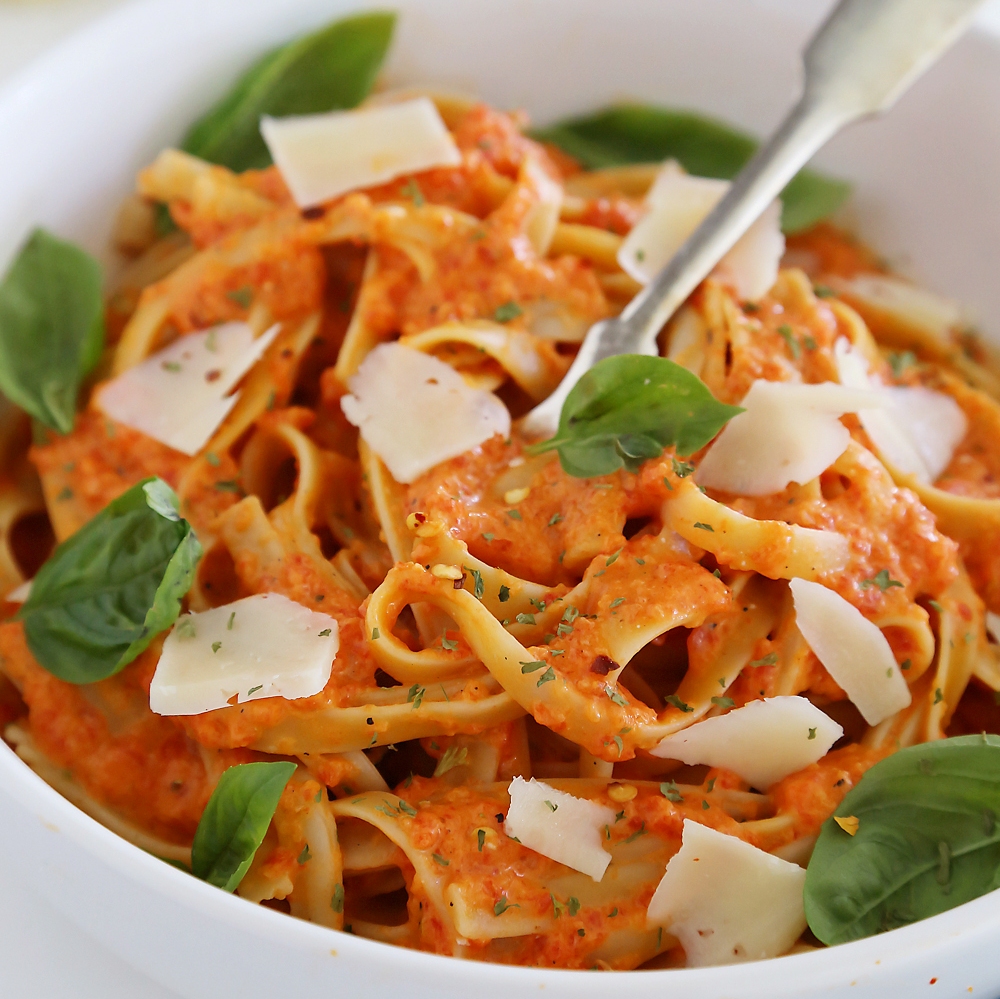 Creamy Roasted Red Pepper Pasta
Ingredients
For the Roasted Red Pepper Sauce:
For serving:
1 lb. fettuccini pasta
1/4 cup freshly grated parmesan cheese
1/4 cup fresh basil leaves
Instructions
For the Roasted Red Pepper Sauce:
In a large blender or food processor, combine all ingredients and blend for 1-2 minutes. Set aside.
For serving:
Cook fettuccini according to package directions, usually 10-11 minutes. Drain and return to pot. Pour roasted red pepper sauce over top, and toss until well combined.
Serve pasta in individual serving bowls. Sprinkle with fresh Parmesan and basil leaves, if desired.
Enjoy!