Crisp, buttery English muffins topped with tomatoes, eggs and gooey cheese are on the menu today! These protein-packed bites make the perfect weekend breakfast!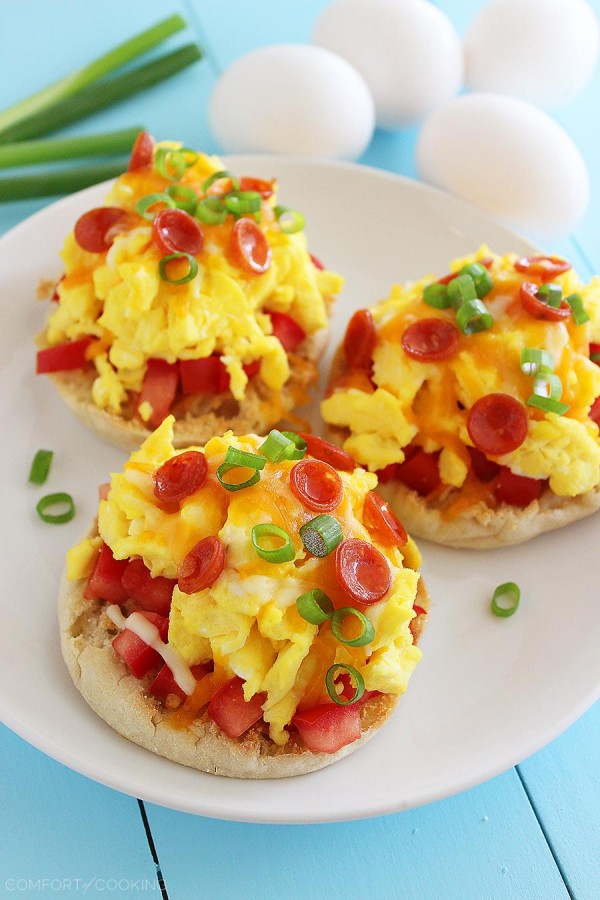 If there were any breakfast I'd say all of us take comfort in, it would be an English muffin. Hot, buttery and perfectly soft yet crisp, you can never go wrong with those nooks and crannies. Pile 'em high with fresh tomatoes, fluffy eggs and a few delicious fixin's, and you just described what I'd like to wake up to every Sunday morning!
Well, that and someone feeding them to me while also fanning me with a giant leaf. In bed. In pajamas. With my favorite trashy show on TV.
Yes, that would ideal.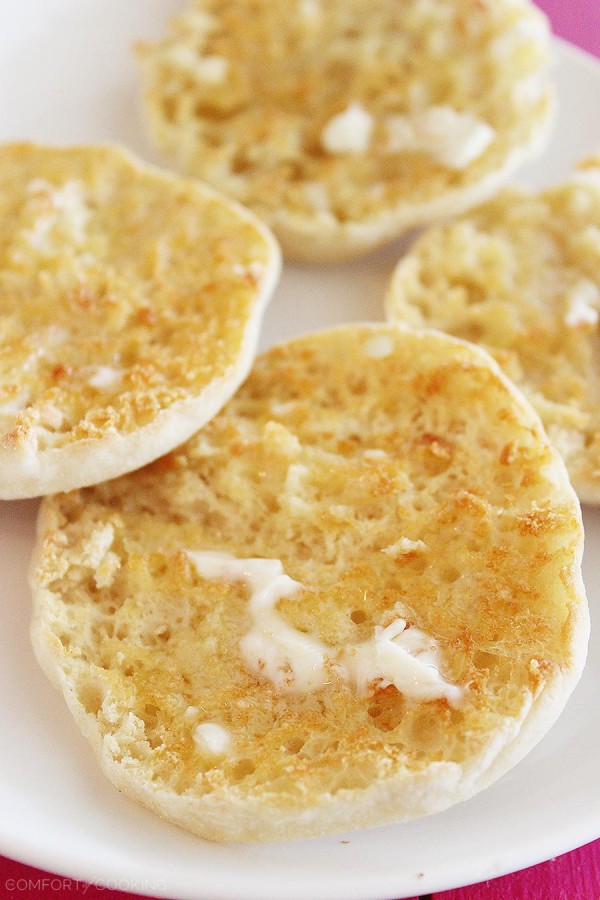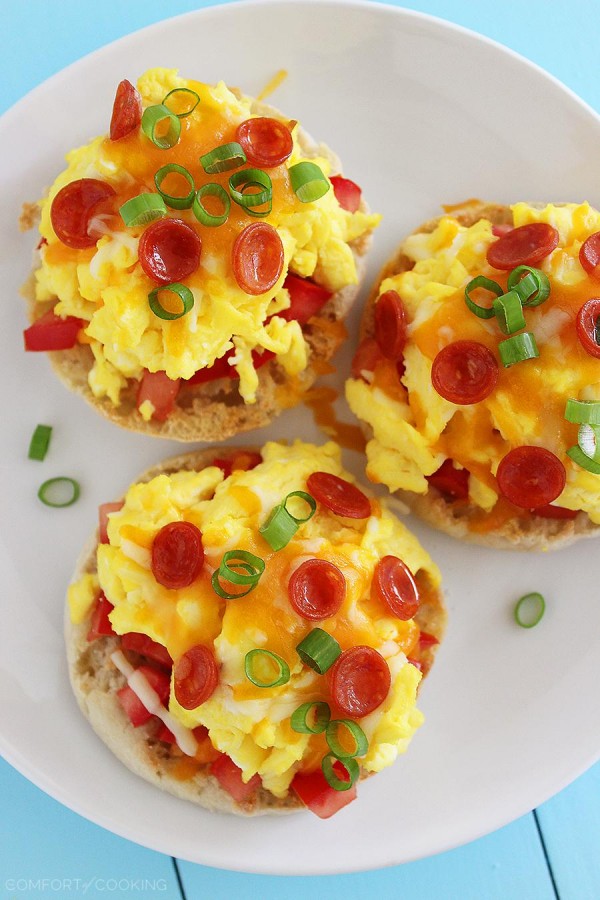 Honestly, these savory tomato, egg and cheese pizzas made for the MOST scrumptious breakfast I've had lately! Just toast your English muffin (try my homemade whole wheat muffin recipe) to a gorgeous golden brown and slather on bits of butter. Normally, I'd say stop right here. With butter and jam, any English muffin is simply deee-vine. But, we're about to make them even better.
Stir up a skillet full of scrambled eggs, and while they're sizzling, chop your tomato. Pile it onto the muffins, top with your eggs-cellent (I had to) eggs, and you know what comes next! The good stuff. Topped with a sprinkle of cheddar, pepperoni and green onions, these breakfast bites are total crowd pleasers. Or, you know, a crowd of one. That's what I prefer.
Don't be like me… enjoy these with someone special this weekend!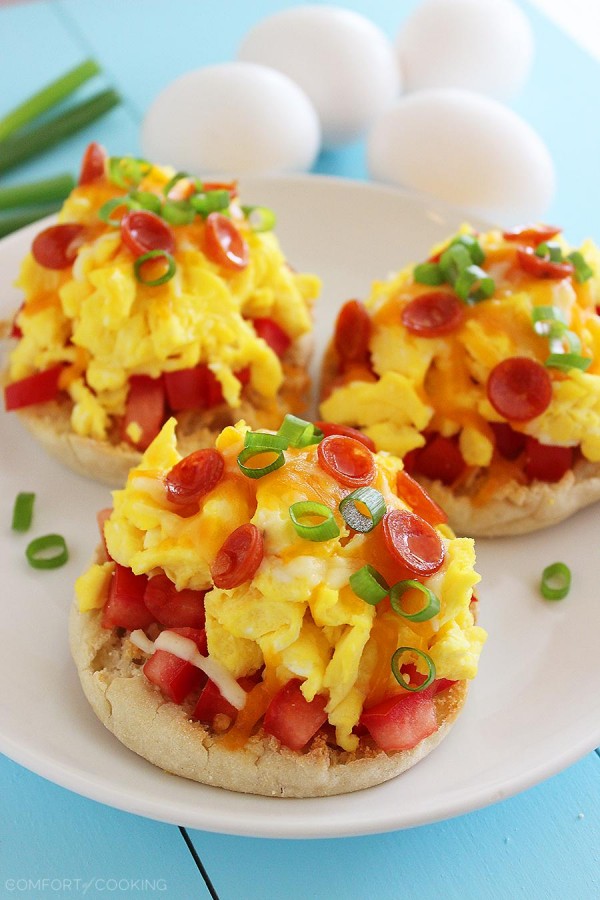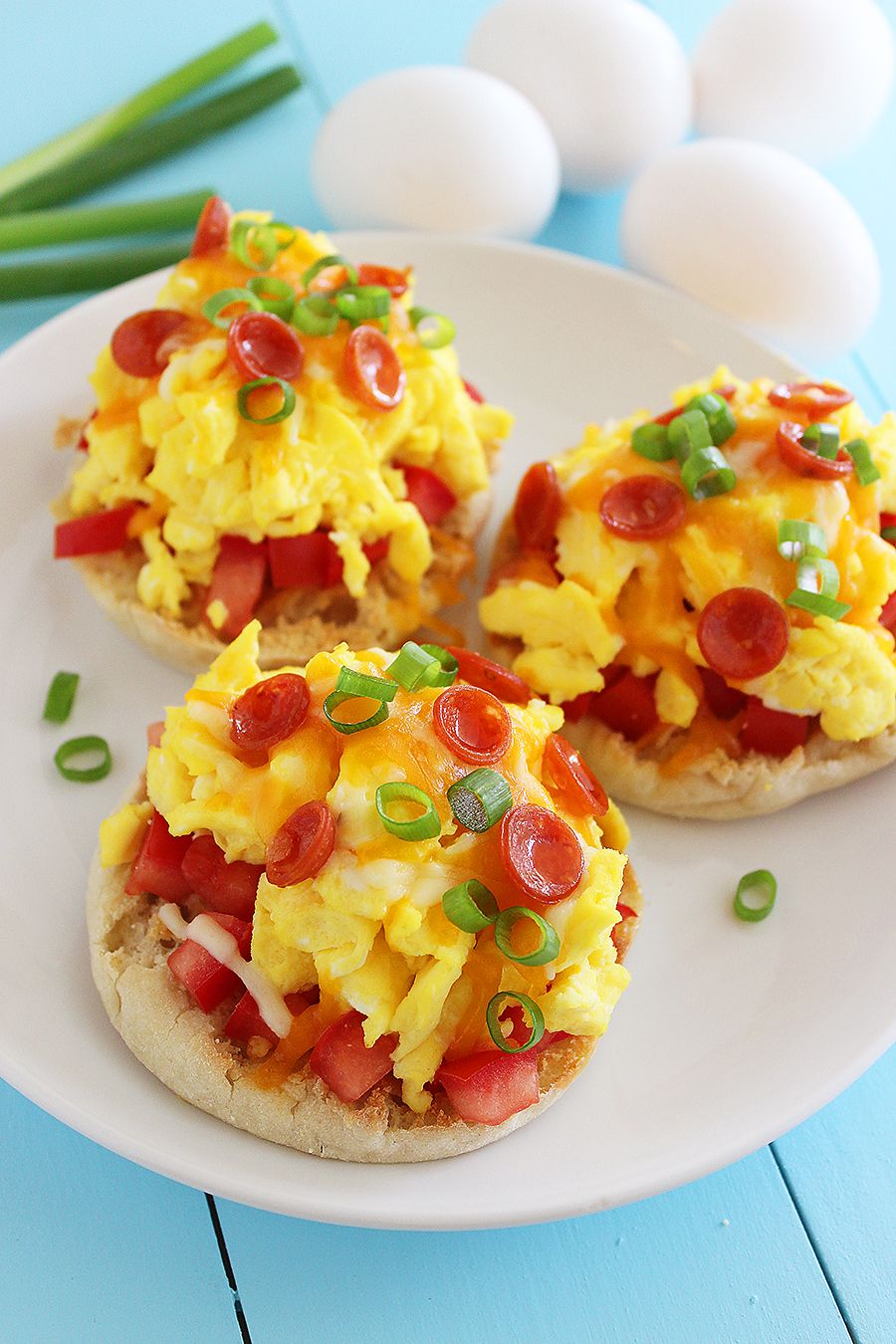 English Muffin Breakfast Pizzas
Ingredients
4 large eggs
2 English Muffins
2 Tablespoons butter
1 medium Roma tomato, chopped
1/2 cup shredded cheddar cheese
20 mini pepperoni, you can substitute with chopped bacon/ham
1 green onion, chopped
Salt and black pepper, to taste
Instructions
In a medium bowl, beat eggs until well mixed. Set a skillet over medium heat. Once hot, pour in eggs. Cook, stirring frequently, until eggs are set, 3 to 5 minutes. Remove from heat and sprinkle with salt and pepper, to taste.
Toast English muffins and spread with butter. Top with chopped tomato, scrambled eggs, shredded cheese, and mini pepperoni. Place on a baking sheet.
Preheat broiler. Place pizzas under hot broiler for 3-4 minutes, or until cheese is melted. Place pizzas on a plate and sprinkle with green onion. Serve warm.
Enjoy!