Cook up this creamy, cheesy pot full of goodness for dinner tonight! So comforting and delicious, and the kiddos will love it as much as the adults!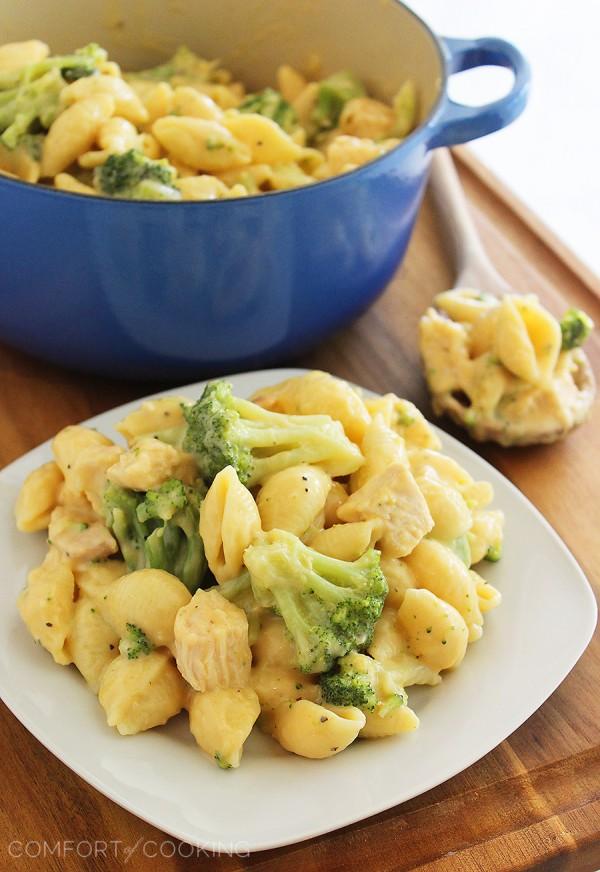 Can someone make this for me, pile it on a plate, and stick in a candle? Today is my birthday and I wish for more. No cake cravings on the brain here. Just a big bowl of this super comforting, creamy pot full of goodness. That's what's on my wish list!
Don't you just want to dive right in?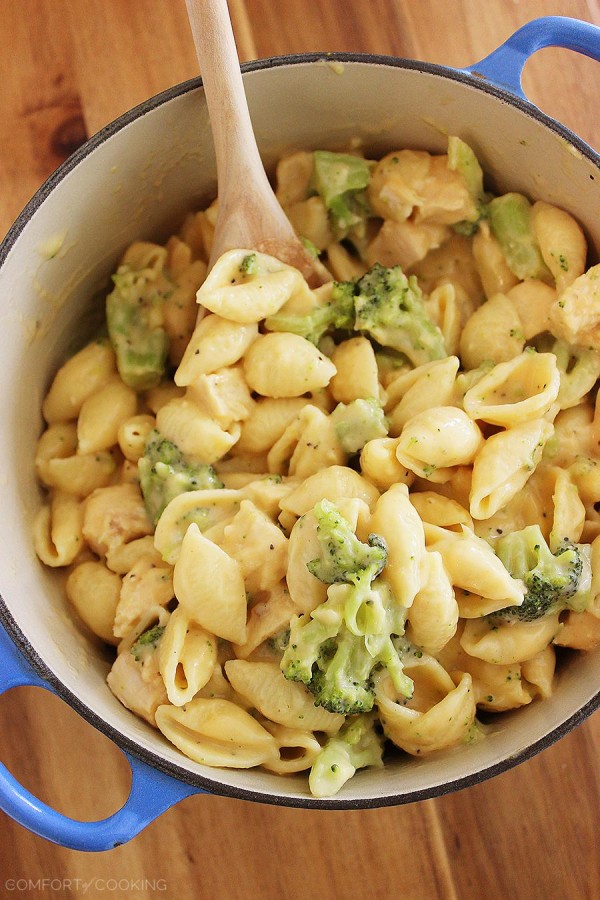 If comfort food were epitomized in one dish, I think this would fit the description pretty well! Soft noodles mixed with tender broccoli and chicken bites, all tossed in a luscious homemade cheese sauce? Yes, please! Every bite is big on flavor and just so darn GOOD. Eating this feels like getting hugged from inside. And who doesn't want that?
Once my 4-month-old becomes a foodie (any day now, little girl), I look forward to making her meals like this. So simple and irresistibly mouthwatering, it can easily become a favorite for kids and adults alike!
Grab your ingredients, do it up, and devour it. Your weeknights demand it. (And since this meal makes for great leftovers, next-day's lunch is decided, too!)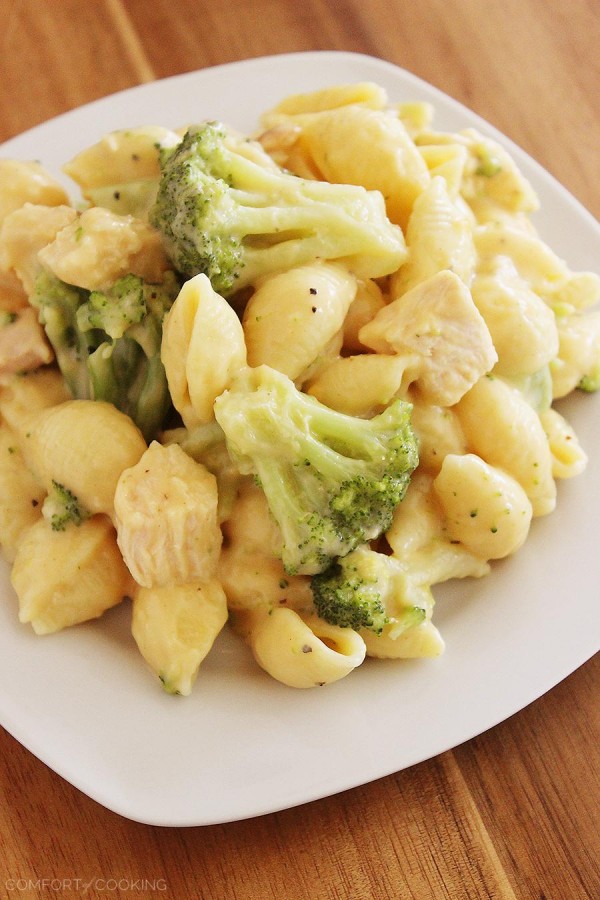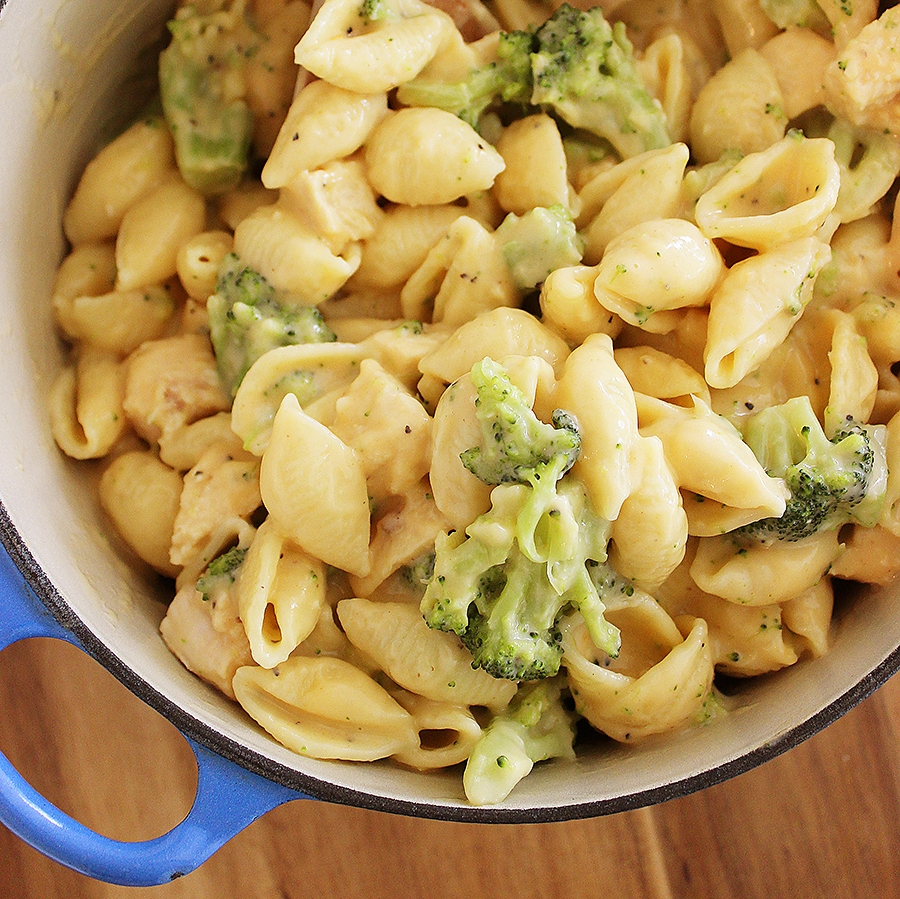 Creamy Broccoli Chicken Shells and Cheese
Ingredients
1 lb. boneless skinless chicken breasts, cooked and cut into bite-sized pieces
3 1/4 cups 9 oz. dry shells pasta
12 oz. broccoli florets
2 1/2 Tablespoons butter
1/4 cup all-purpose flour
3 cups milk
1/2 teaspoon onion powder
1/4 teaspoon garlic powder
Kosher salt and freshly ground black pepper, to taste
2 cups 8 oz. shredded cheddar cheese
1/3 cup 1 oz. shredded parmesan cheese
Instructions
Prepare chicken by cooking and cutting up*. Set aside.
Set a large pot of salted water to boil. Add pasta and cook according to package directions. Add broccoli to boiling water with pasta during last 3-4 minutes. Drain and set aside in a colander.
In the same large pot set over medium heat, melt butter. Stir in flour. Cook mixture, stirring constantly, for 1 minute. Whisk in milk, then season with onion powder, garlic powder, salt and pepper. Increase heat to medium-high and cook mixture, stirring constantly until it boils and thickens. Remove from heat and stir in cheeses until melted. Add pasta, broccoli and chicken, tossing to evenly coat.
Enjoy!