Isn't peanut butter the best? It makes a good sandwich on nights home alone, it gives you a zap of energy when you need it, and with bananas and bread, it calms your stomach naturally and effectively… This was especially true after one too many celebratory margaritas I had this weekend!
Funny thing is, I never knew how simple it is to make at home, and how unbelievably delicious it could be…
After whirling a cup and a half of dry roasted peanuts in the food processor, a thick peanut paste will form. Next, just blend in a bit of canola oil, vanilla extract (I like to use homemade) and honey. Voila! In less than ten minutes, you've made your very own dreamy, creamy peanut butter perfection. Great for slathering on toast, baking with, or eating straight from the bowl!
…Now 'scuse me while I go lick it clean.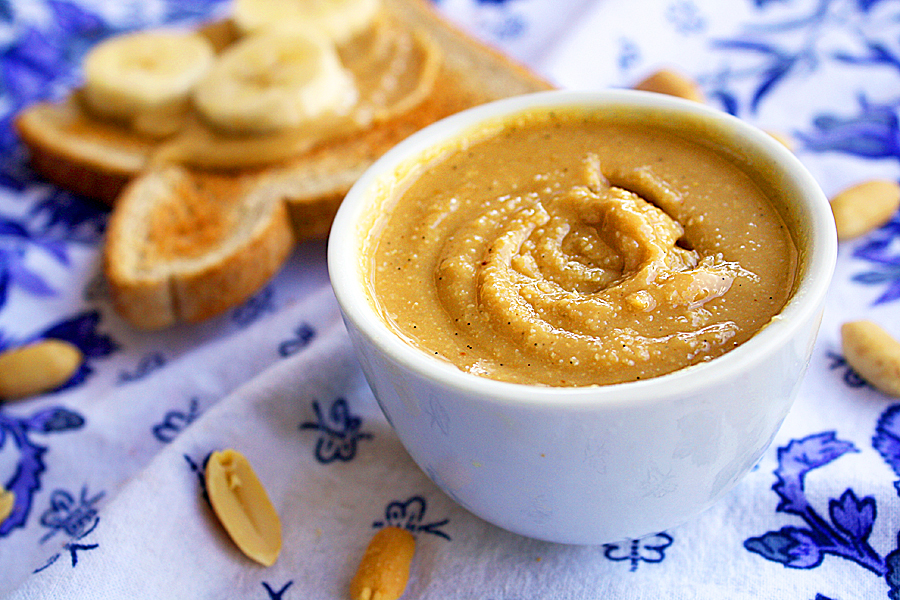 Homemade Vanilla-Honey Peanut Butter
Yield:
3 /4 cups peanut butter
Ingredients
1 1/2 cups dry, roasted peanuts
1 1/2 tablespoons canola oil
1 tsp. vanilla extract, homemade or store bought
1/4 cup honey
Instructions
Add peanuts to a food processor and blend until a thick nut butter forms, 5-7 minutes. Stream in oil and vanilla with the processor on, continuing to run it until the mixture is smooth – this took me about 5 minutes. You can add more oil if needed, just do it in small increments. Turn off processor, add honey, and turn processor back on. Blend until smooth.
Keep at room temperature for a week, or if keeping longer, refrigerate in a sealable container.
Enjoy!