These fresh, delicious turkey or chicken salad sandwiches are the most mouthwatering way to use your leftover Thanksgiving turkey! So easy, light and scrumptious. Visit the link below to get the recipe and enter to win a Safeway gift card for your holiday grocery shopping!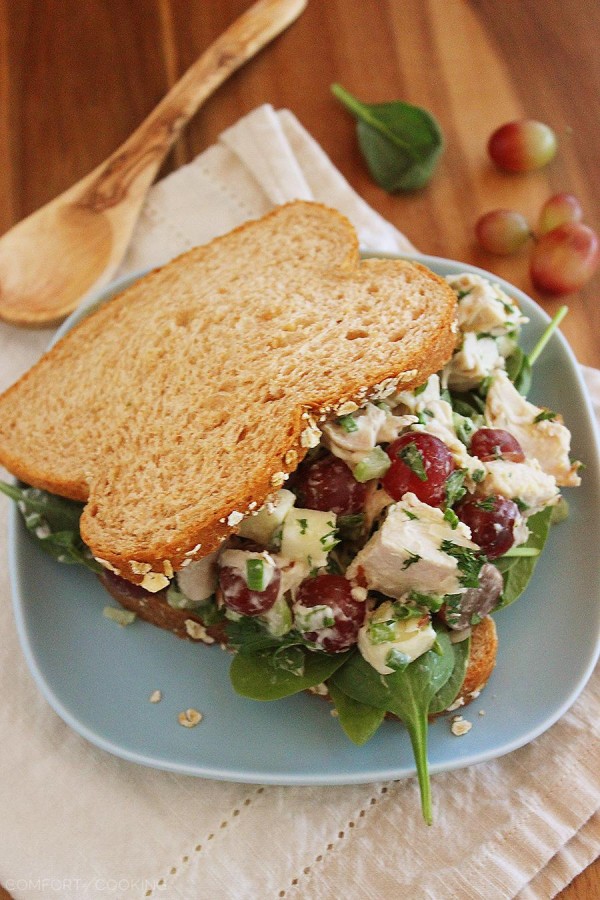 While Thanksgiving one of my favorite days of the year, my second favorite is undoubtedly the next day. Instead of moving hurriedly with herds of Christmas shoppers, my husband and I enjoy the cozy comforts of home. We cuddle up in soft pajamas and get all our shopping done in front of our laptops with hot mugs of cider or cocoa. We spend the day hanging glittery, cheery Christmas things and making the house feel merry. And, best of all, we make something delicious from our leftover goodies (mashed potatoes, stuffing, cranberry relish) from the day before. If we're lucky to have leftovers.
We have always resorted to the usual pile-it-all-together Thanksgiving sandwich/smorgasbord. Turkey, cranberries, stuffing and more, all piled into two pieces of bread that buckle under the weight. So, this year, I decided to be a bit more inventive and try something unique… which ended up being better than any Thanksgiving leftovers sandwich we have ever made!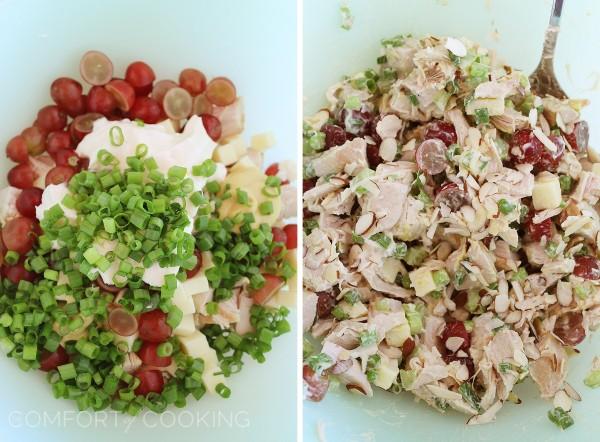 These sandwiches are a mouthwatering medley of tender cooked turkey (or chicken), crisp red grapes, celery, scallions, and a chopped white cheddar. You can also use mozzarella or any firmer cheese you prefer. I like to add sliced almonds for a nutty crunch, but you can omit them if you'd like. There really is no going wrong with this killer sandwich!
Of course, it's not a turkey salad sandwich without Hellmann's® Real Mayonnaise, though! A creamy mixture of light mayonnaise and tangy Dijon mustard make these easy, fresh sandwiches absolutely scrumptious… and keep them healthy yet hearty! Depending if you like a more creamy or dry sandwich, you can add more or less mayonnaise and Dijon.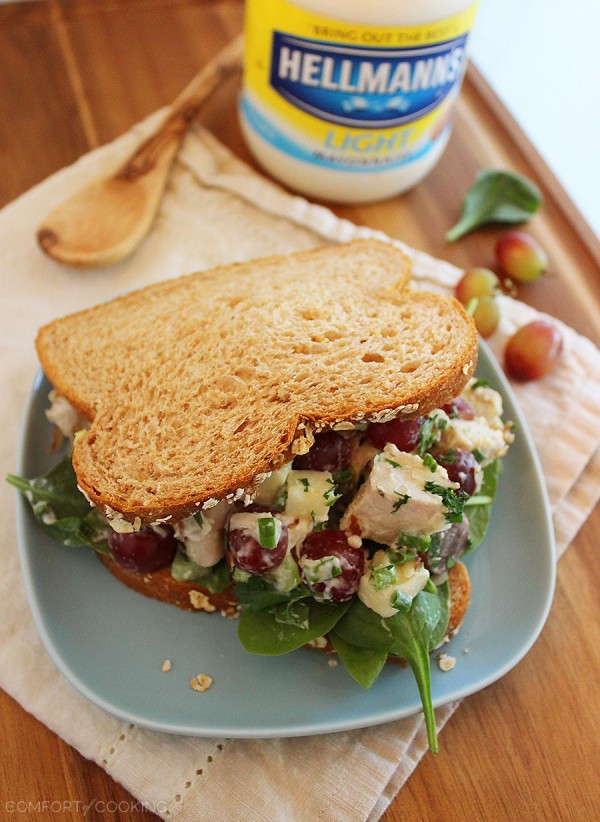 On the note of Thanksgiving, I think it's time for me to do a little "giving." First, I want you to know how much I appreciate you stopping by today! I cannot express how grateful I am for my readers and all of the opportunities that have come my way since starting The Comfort of Cooking almost five years ago. It's been a wonderful journey, and I hope you continue to follow along as I introduce some exciting new features in the coming year.
With that said, in partnership with Best Foods, I have a great giveaway for a Safeway gift card for you! Click below to enter the sweepstakes for your chance to win a $25 Safeway gift card, just in time for your holiday grocery shopping! Best of luck!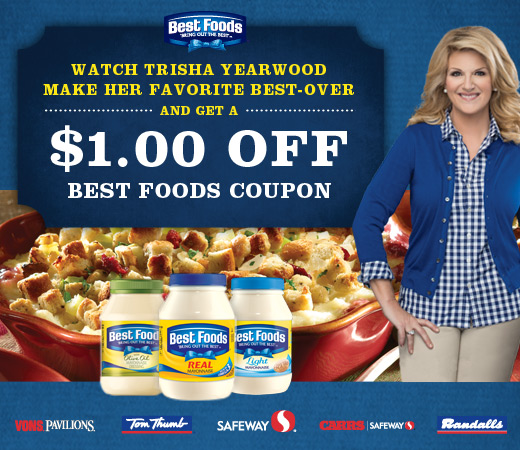 ---
 GIVEAWAY DETAILS
---
One Winner Will Receive:
One (1) $25 Gift Card to Safeway Stores
Safeway gift cards also valid at Vons, Pavilions, Pak'nSave, Randalls, Tom Thub, and Carrs
For Extra Entries:
Share Your Best-Over Recipe for up to 5 extra entries and $500 in Safeway gift cards
To Enter:
The Safeway & Best Food's The Comfort of Cooking Sweepstakes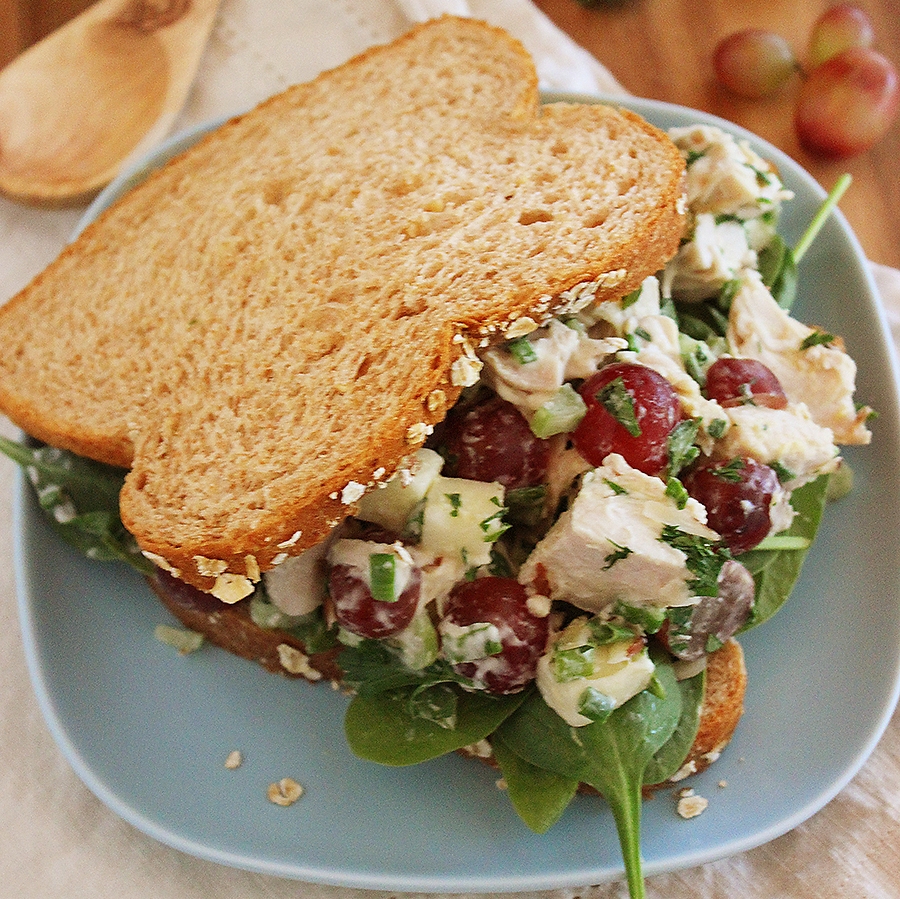 Chopped Turkey or Chicken Salad Sandwiches
Ingredients
1

pound

roasted turkey or chicken breast

chopped

1

cup

seedless red grapes

halved

2

celery stalks

chopped

1/2

cup

chopped scallions

4

ounces

white cheddar or mozzarella

cubed

1/3

cup

Hellman's Best Foods mayonnaise

2

Tablespoons

Dijon mustard

1/4

cup

sliced almonds

optional
For serving:
Baby spinach or lettuce leaves

Whole-grain sandwich bread or halved baguettes
Instructions
Combine all ingredients in a large mixing bowl and stir until well combined. Taste and adjust seasonings as desired. Add a little more (or less) of anything you like. Place spinach/lettuce on top of sandwich bread or baguettes and spoon turkey salad on top.

Refrigerate in a re-sealable container for up to 3 days.

Enjoy!