Is there any dish more comforting than a gorgeously golden, cheesy and fragrant French onion soup? Caramelized onions, beef stock and white (or red) cooking wine mingle into a luxurious medley in this classic French dish. Your home will smell heavenly!
This recipe was created for Holland House Cooking Wines. All opinions are my own.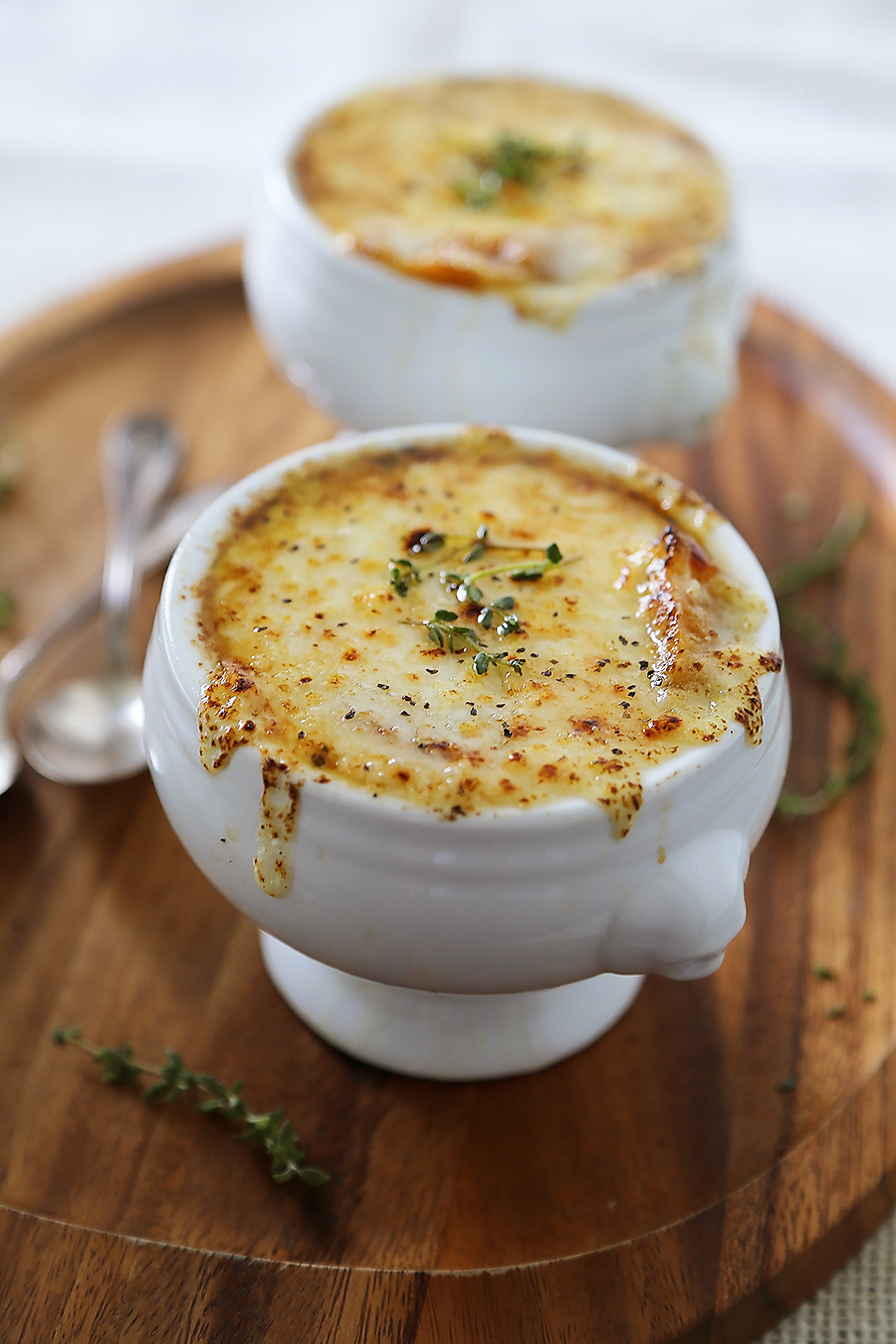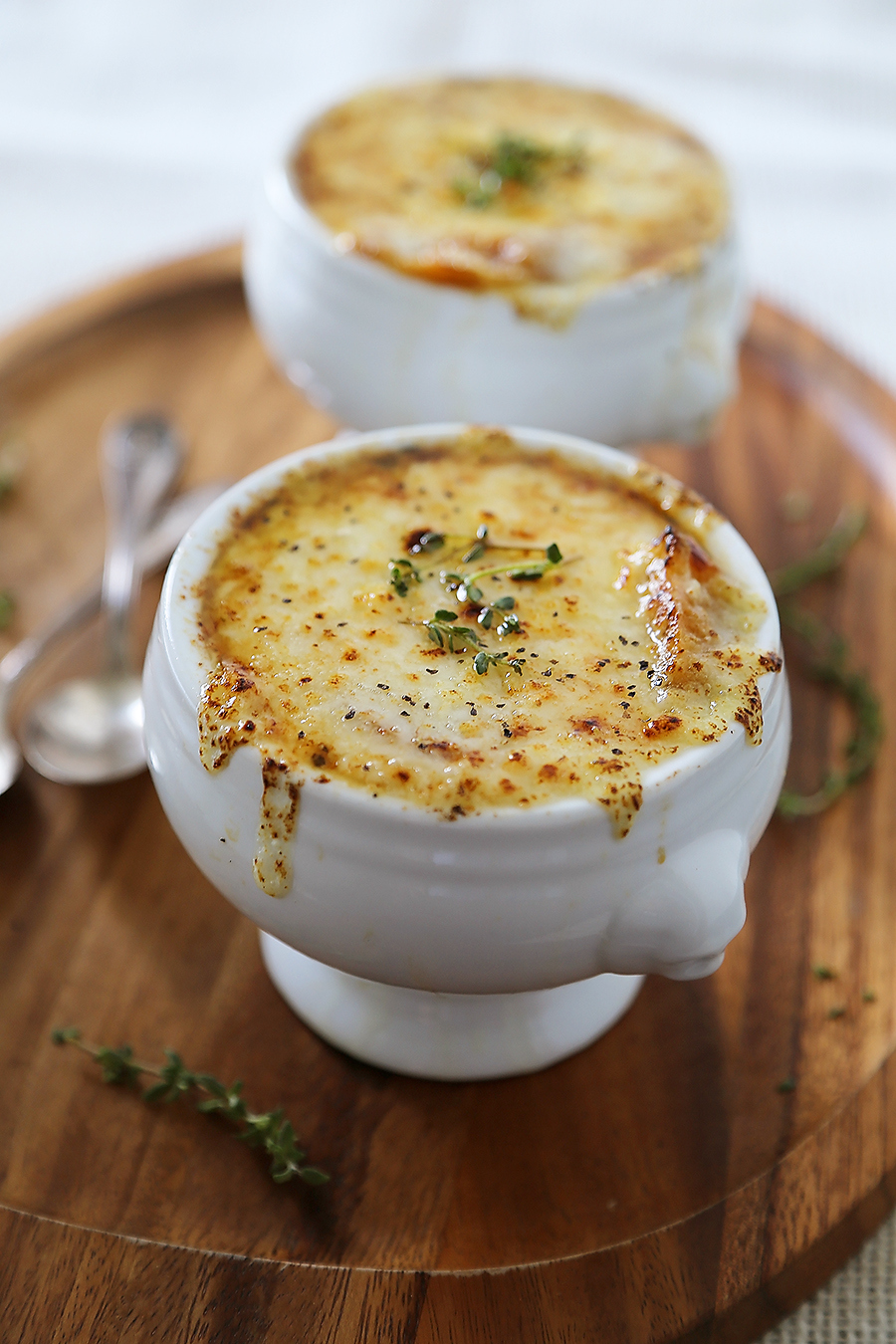 The trick to a truly amazing French onion soup, of course, lies within the rich flavor of caramelized onions. Specifically, the patience you have to sit there and stir, stir, stir, until your heaping pot of eye-watering onion slices melt into a soft, fragrant spoonful of luxurious goodness – and that is, undoubtedly, what will send your French onion soup over the edge. However, it takes a marriage of multiple ingredients to make this simple, rustic-looking soup really sing.
Though French onion soup might require the patience and eye for caramelizing onions, it's very beginner friendly, and was one of the first dishes I learned to cook… with zero experience in French cooking! It is easy to make and incredibly delicious with heaps of grated Swiss or Gruyere. I like to serve it with a light, lemony arugula salad or grilled vegetables. Don't even get me started on the fabulous fragrance of this soup that will permeate your home. It is intoxicating and mouthwatering.
I promise, and I guarantee, that the stirring will be worth it.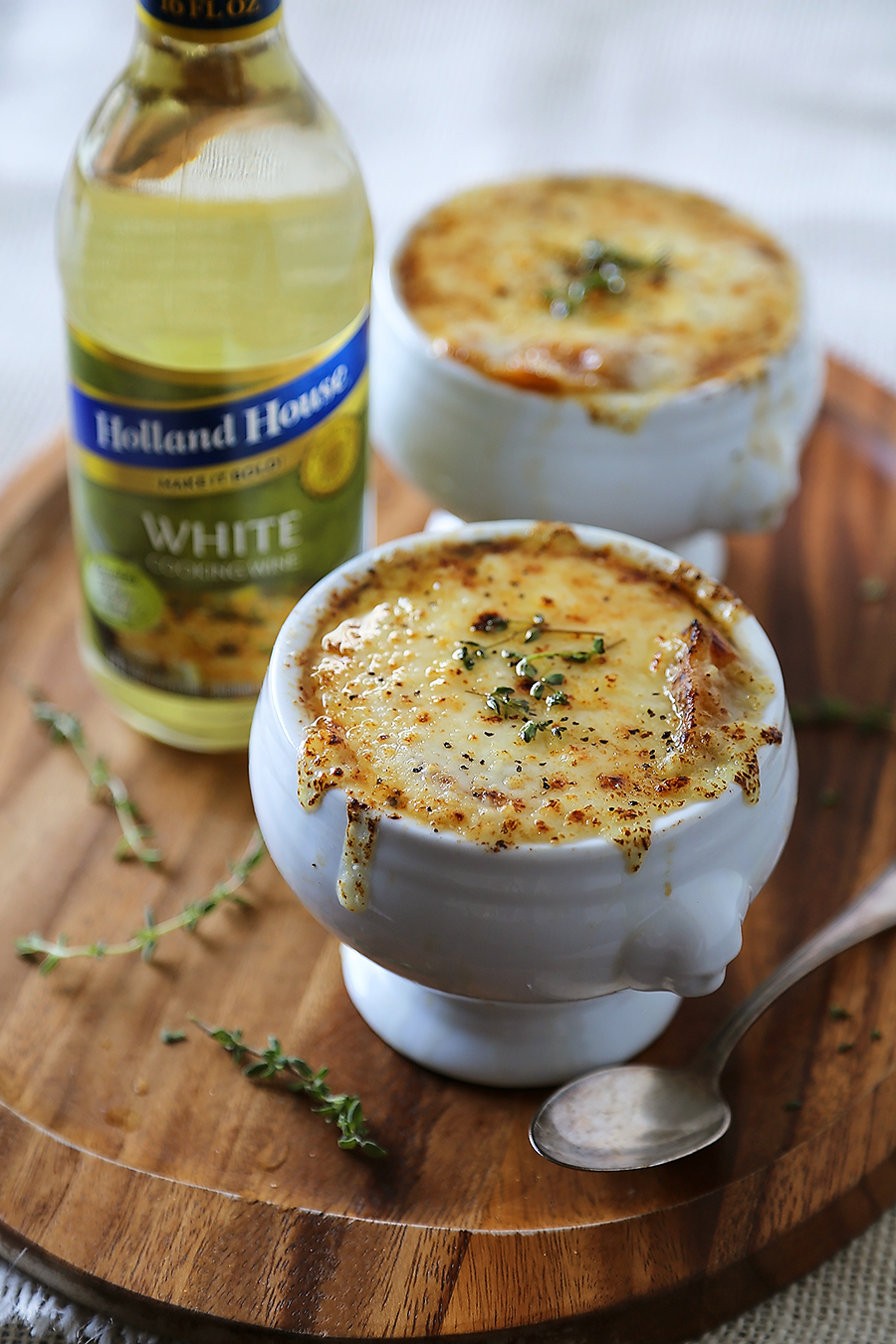 Your ingredients are simple – onions, olive oil, butter, salt, pepper and garlic. Once your onions have softened, season them with salt and pepper, and add a tablespoon of butter to further enhance the flavor magic happening in your pan. Once the onions have begun to brown, add your garlic and cook for an additional minute.
Now, my favorite part! The sizzle of deglazing a screaming hot pan.
I have used both Holland House White Cooking Wine and Red Cooking Wine to deglaze the pan and add incredibly rich, fragrant flavor to this soup. In this particular recipe, I used the white cooking wine, which has become a staple in my pantry. I love the bright, citrusy aroma it adds to an otherwise heavy beef broth soup, and it is so useful to be able to open and then store back on my shelf. No need to open a bottle of drinking wine, just to have it go to waste! These cooking wines are one of my must-have products for keeping easy, elegant dishes like this quick to whip up on a weeknight.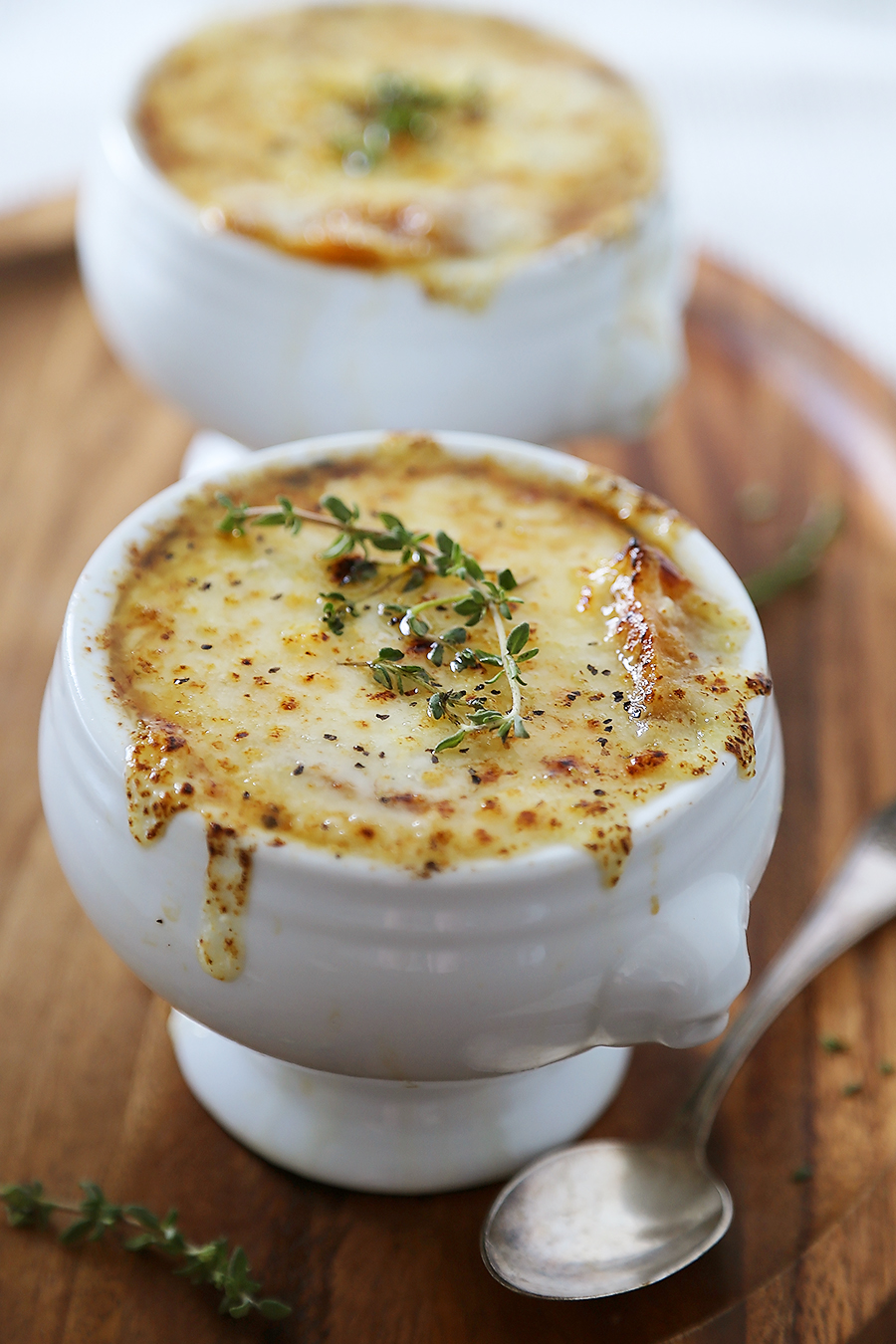 Once your cooking wine has been added, pour in your beef stock, bay leaves and thyme. Get the mixture bubbling to a simmer, and let it cook for an additional 25 minutes. It may be a little bit of a wait, but the longer cooking time will only make your soup more fragrant.
Meanwhile, toast some baguette slices and grate your Swiss or Gruyere cheese. Top the toasts with grated cheese and place on top of individually served bowls of soup. Stick the bowls on a baking sheet under your broiler to achieve even more melted cheese goodness! The bread will soak up the broth, and the cheese will sink into the soup, creating a luxurious taste sensation that can only be described as, "mmm."
Try it tonight, you will love this easy spin on everyone's favorite French classic!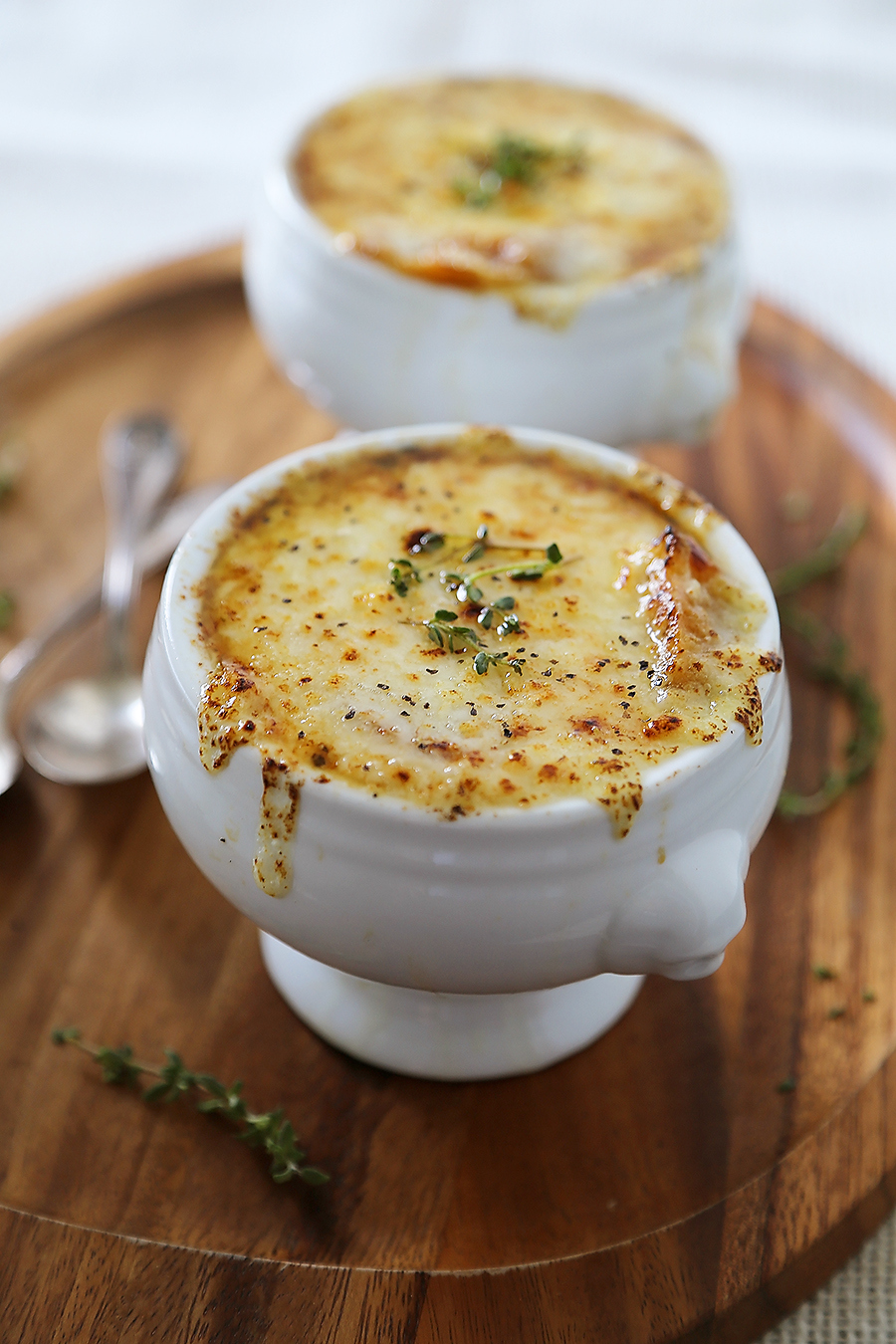 Easy French Onion Soup
Total Time:
1 hour
20 minutes
Ingredients
4 large yellow onions, peeled and thinly sliced
3 Tablespoons olive oil
2 Tablespoons unsalted butter
1/2 teaspoon kosher salt
1/4 teaspoon freshly cracked pepper
2 cloves garlic, minced
1/2 cup Holland House White Cooking Wine or Red Cooking Wine
8 cups beef stock, (two 32 oz. containers)
2 bay leaves
4 teaspoons fresh thyme OR 1 teaspoon dried thyme
1 loaf French bread OR baguette, sliced into 1-inch thick rounds
1 1/2 cups grated Swiss or Gruyere
Instructions
To caramelize the onions: Set a heavy-bottomed pot (about 5 to 6-quarts) to medium-low heat; add olive oil. Add onions and toss to coat. Cover pot and cook onions, stirring often, until softened, about 15 to 20 minutes. Season onions with salt and pepper. Increase heat to medium-high and add butter. Continue to cook, stirring often, until onions begin to brown, about 20 more minutes. Add garlic and cook for 1 more minute.
Pour in cooking wine to deglaze pan. Scrape up browned bits on bottom and sides of pot with a wooden spoon.
Pour in beef stock; add bay leaves and thyme. Bring to a simmer, cover pot and lower heat to maintain a low simmer. Cook for about 25 minutes.
To toast bread and serve: While soup simmers, brush both sides of French bread slices lightly with olive oil. Place slices on rack of a hot oven. Toast until lightly browned, about 5 to 7 minutes.
Remove and sprinkle toasts with grated cheese. Ladle soup into individual serving bowls, place bowls on a baking sheet, and top with cheesy toasts. Place back into your oven for 2-3 minutes more, or until cheese is melted and soup is bubbly.
Enjoy!