Decadent dark chocolate cupcakes with fluffy meringue ghosts make for one scrumptious, spooky Halloween treat!
But, before we get into these boo-tiful Halloween cupcakes, I have a giveaway winner to announce! Thanks to all who entered last Thursday's Sara Lee giveaway and left your kind comments on my cake jars. I wish I could pop one on each of your doorsteps with a little festive bow and a spoon for immediate enjoyment!
Without further a-boooo (okay, I'll stop), congratulations to the winner of the giveaway… Katie Reeve Smith! Wahoo! Katie, feel free to contact me with your address. And go use that gift card for some fabulous fall shopping, why dontcha? I'm thinking pumpkin everything.
Now, onto the cupcakes… perfect for Halloween and also for a deliciously belated birthday celebration! I rang in the big 2-8 over the weekend at a BBQ with friends, but what's a little extra indulgence to recover from the festivities? The cleanup after the party required a cupcake, y'all. It wasn't an option.
Inspired by McCormick and all their delicious, fun Halloween recipes, I created these spooky ghost cupcakes with glittery orange frosting and fluffy white meringue ghosts. Swirls of red and yellow food colorings made the pretty pumpkin hue easy to obtain, and for the eyes, toothpick dabs of black food coloring added an extra special touch!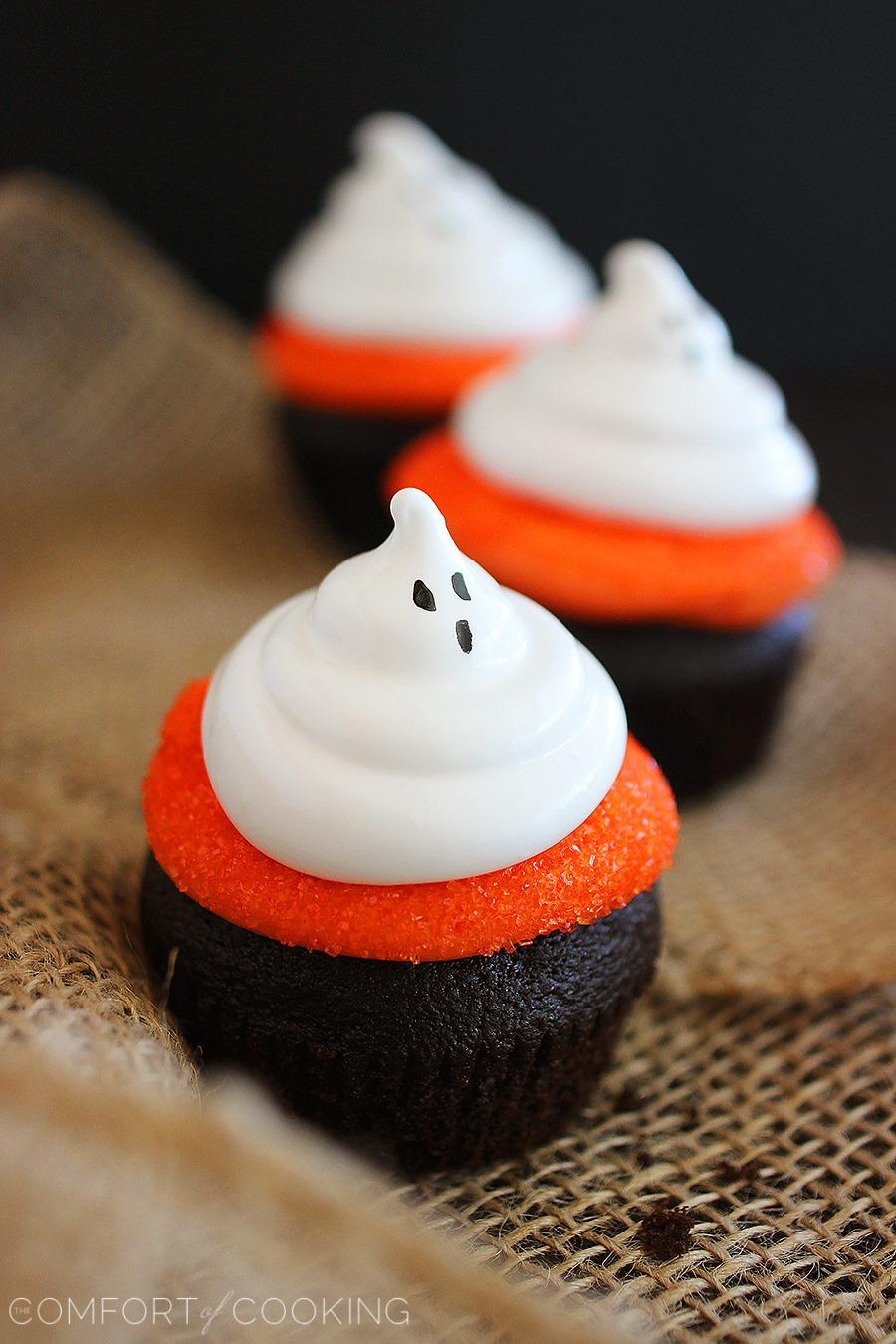 The dark chocolate cupcake is fluffy and moist, rising right to the occasion for two layers of luscious, decadent frosting! A sparkly coat of orange sugar crystals (found at most hobby, craft or cake decorating stores) gives the orange frosting gorgeous glittery pizzazz, too. But, let's be honest, people. The main event here is really the puffy little ghost meringues!
Aren't they darlin'? I mean… uh… terrifying?
Roll up your sleeves and recreate these spooky treats for your own Halloween festivities! They're easier than they look, eye-rolling delicious, and sure to impress even the most discerning goblins and ghouls!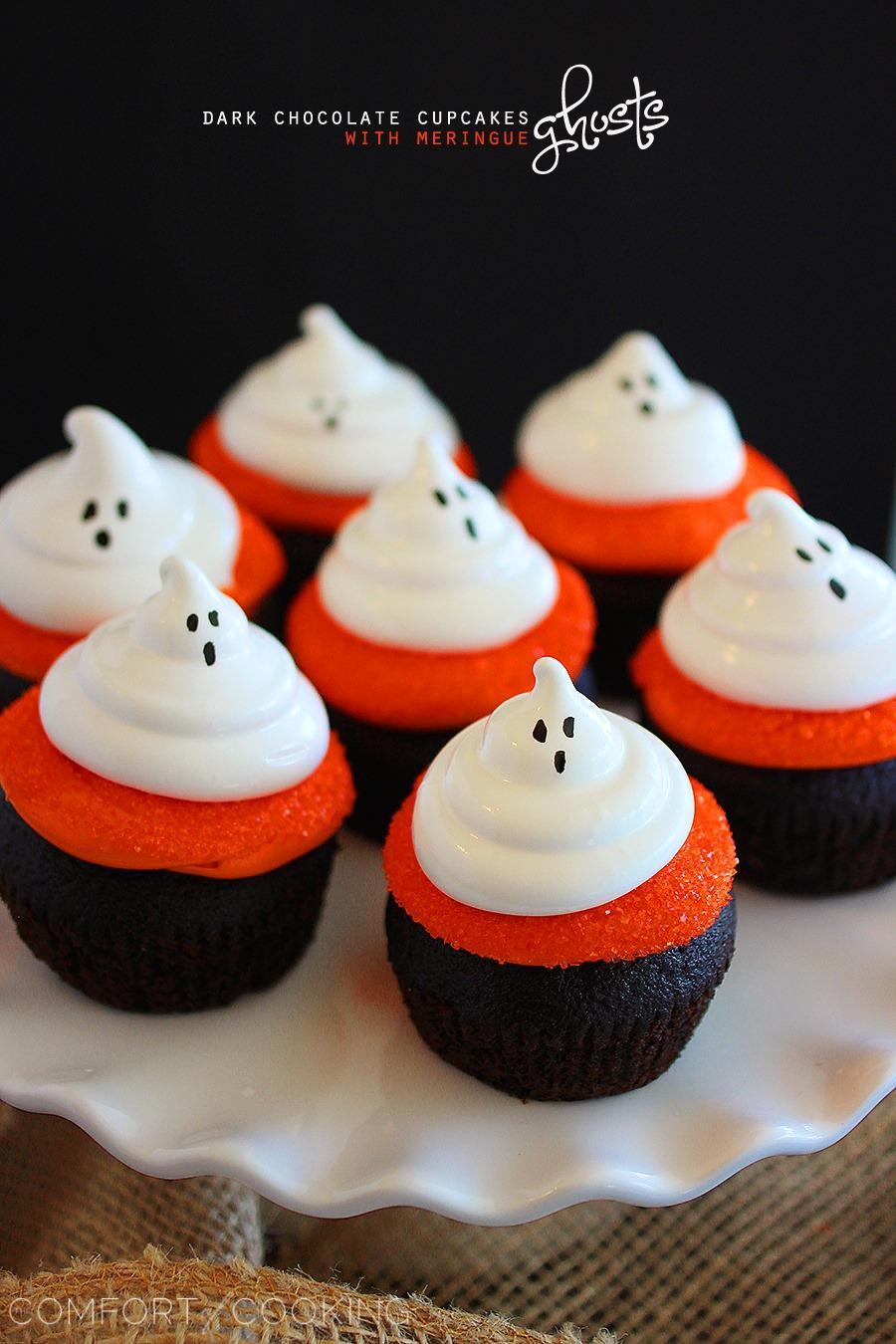 Dark Chocolate Cupcakes with Meringue Ghosts
Ingredients
For Dark Chocolate Cupcakes:
1 cup all-purpose flour
1/3 cup unsweetened cocoa powder
1/4 cup granulated sugar
1/2 cup packed light brown sugar
3/4 teaspoon baking soda
1/2 teaspoon baking powder
1/2 teaspoon salt
3/4 cup milk
1/2 cup canola or vegetable oil
1 teaspoon McCormick Pure Vanilla Extract
2 large eggs
For Orange Frosting:
For Meringue Ghost Frosting:
Instructions
For Dark Chocolate Cupcakes:
Preheat oven to 350 degrees F. Line a muffin pan with paper liners and lightly spray with nonstick cooking spray.
Into a large bowl, sift flour and cocoa powder together. Whisk in both sugars, baking soda, baking powder, and salt until well combined. Whisk milk, oil, vanilla and both eggs into the dry ingredients just until all ingredients are evenly incorporated. The batter will be runny. Divide batter evenly among muffin pan cups, filling each about 2/3-full.
Bake for 18-20 minutes, or until a toothpick inserted in the center comes out clean. Let cupcakes rest in the pan for 5 minutes, then remove to a cooling rack to cool completely before frosting.
For Orange Frosting:
In a medium bowl, mix white frosting with food coloring until desired shade is reached. Pipe frosting on top of cupcakes. Place 1/4 cup sprinkles on a small shallow plate, turn cupcakes upside down and press gently against sprinkles to coat evenly.
For Meringue Ghost Frosting:
Simmer 1 inch of water in a medium saucepan set to medium heat.
Place egg whites, sugar, cream of tartar, and salt in the bowl of a stand mixer. Place bowl over the saucepan, making sure the bottom is not touching the water. Heat mixture for about 6 minutes, whisking constantly, until sugar dissolves and the mixture is hot to the touch (about 120 degrees F).
Transfer bowl to a stand mixer fitted with the whisk attachment. Whisk on medium speed for 1 minute. Increase speed to high and whisk until stiff, glossy peaks form, 5-10 minutes more. Add vanilla and whisk until just incorporated, about 1 minute.
Pipe frosting on top of cupcakes with a wide round tip. With a toothpick dipped in black food coloring, add eyes and a mouth to the meringue ghosts.
Serve immediately or store in an airtight container at room temperature for up to 3 days.
Enjoy!