Buttery soft, fudgy chocolate brownies made in under 10 minutes! Just one bowl and a handful of pantry staples to the BEST brownie ever. These are constantly requested by friends and family – everyone loves them. Add your favorite mix-ins like nuts, marshmallows or chocolate chips. Amazing with vanilla ice cream!
I have a problem. The trouble with no having any sweets in the house is, I always have the ingredients to make these irresistibly buttery, chocolaty brownies. You only need pantry staples and a handful of minutes to make them. And, even though I'm crunched for time as a new homeschool teacher (yay?), I usually have both.
We have loved this easy cocoa brownie recipe for over 10 years. This recipe needs one bowl, less than 10 minutes to prepare, and is completely foolproof. The brownies turn out soft, fudgy and melt-in-your-mouth good every time. Especially with a scoop of vanilla ice cream! These brownies have been my reliable go-to when the chocolate craving hits, or for a quick dessert for guests. Everyone loves them.
The steps are simple:
• Preheat your oven and coat a square baking dish with cooking spray.
• Whisk butter and sugar in a medium bowl.
• Stir in two eggs and vanilla extract.
• Stir in flour, cocoa, salt and baking powder.
• Bake for 30 minutes, let cool and cut into squares.
Keep reading for full ingredient list + recipe, below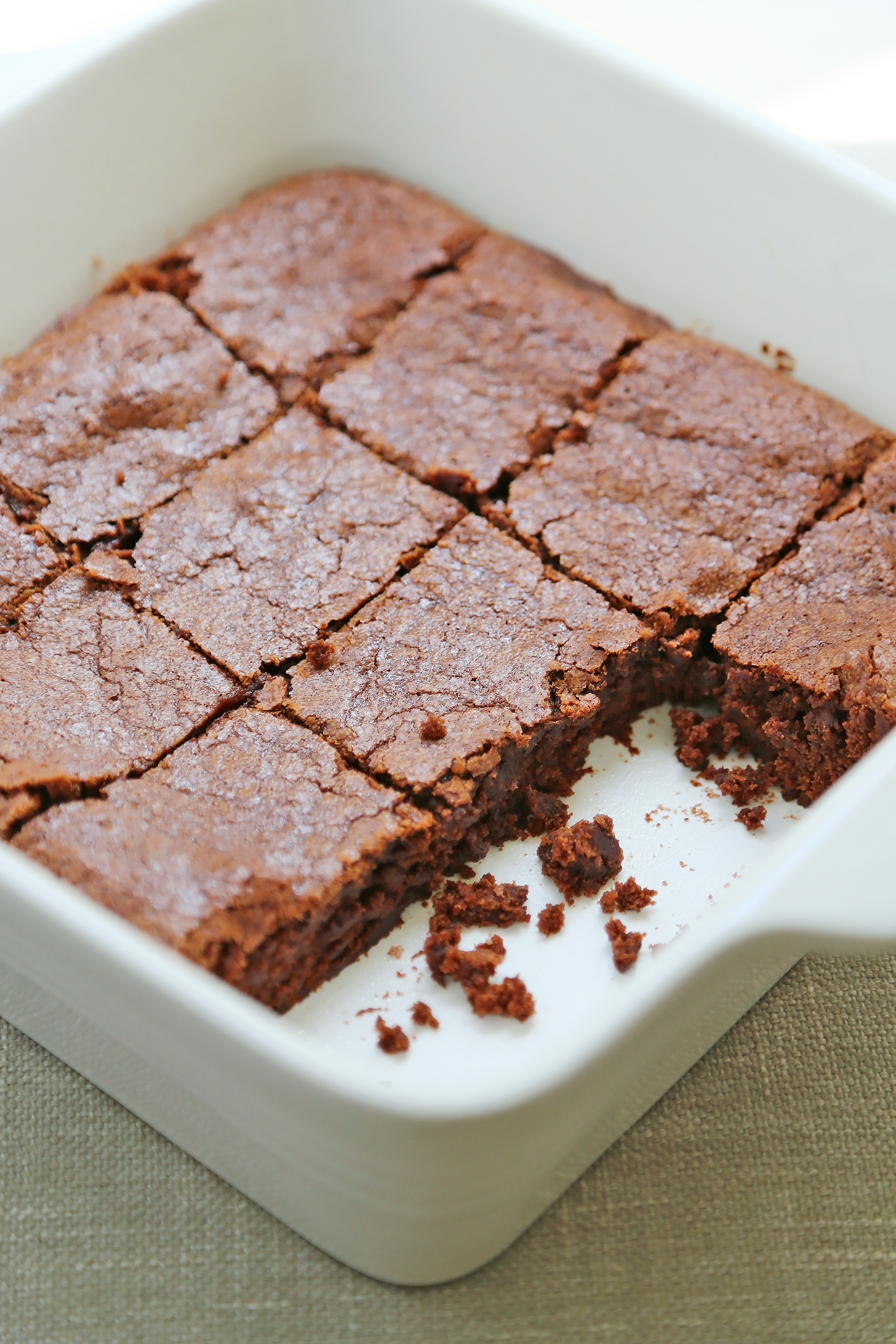 If you need a fast dessert to comfort your cravings and satisfy friends and family, THIS is it. These take hardly any time, are super addictive and my family's all time favorite. I am begged to make them every other week, and they fly off the platter.
Wanna get creative with serving? Add a carton of vanilla ice cream for scooping, or whipped cream, and toppings like nuts, chocolate chips or peanut butter chips, M&M's, cookie pieces, crushed peppermints so everyone can make theirs unique. Or, just enjoy these brownies as the simply scrumptious treat they are.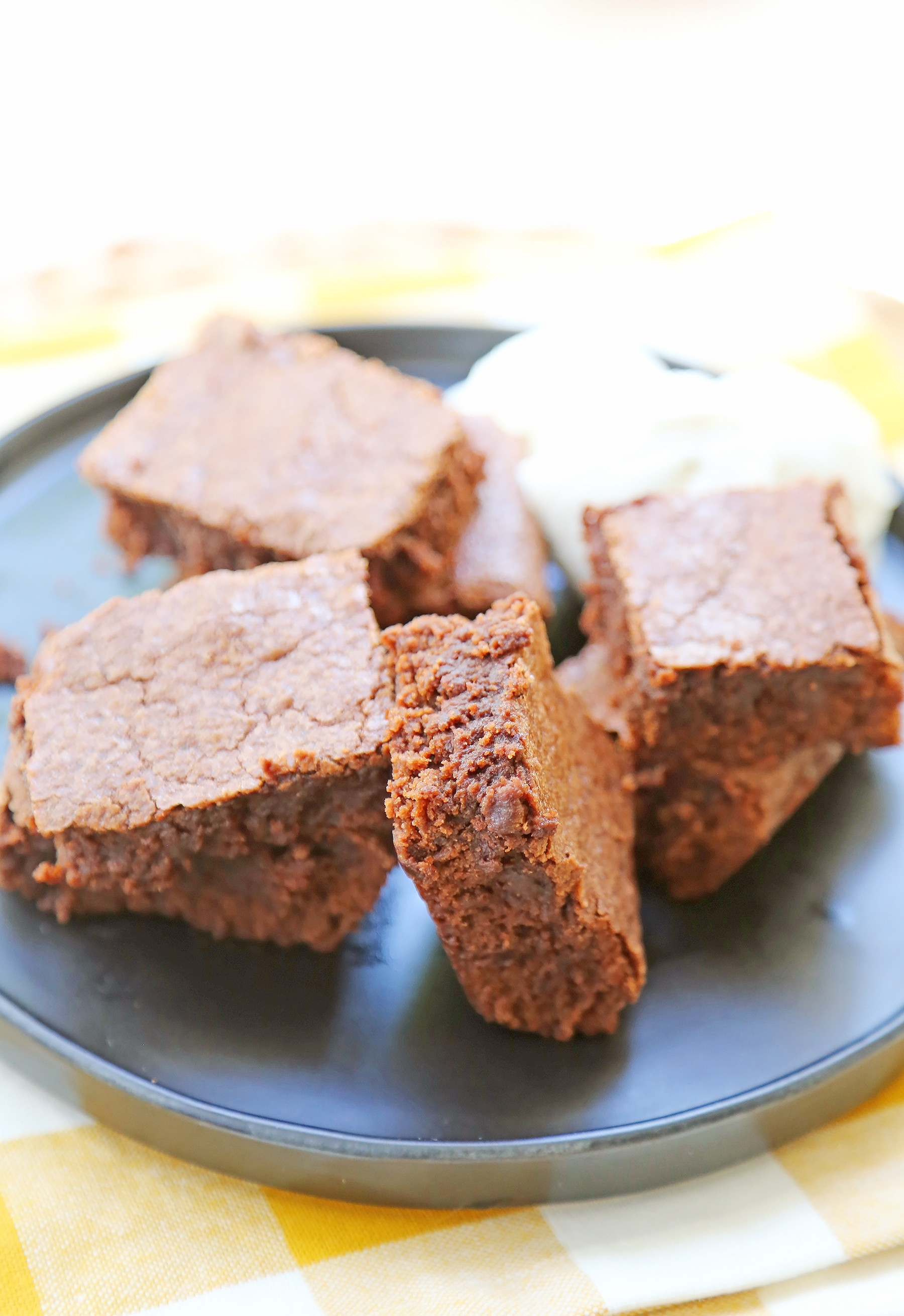 Looking for more brownie recipes? Try these!
• Easy Chocolate Chunk Caramel Brownies
• Ooey Gooey S'mores Brownie Bars
• Easy Pumpkin Swirl Chocolate Brownies
• Incredible 3-Ingredient Nutella Brownies
• 3-Ingredient Salted Chocolate Brownie Fruit Tart
Craving a different type of dessert recipe? I've got you covered!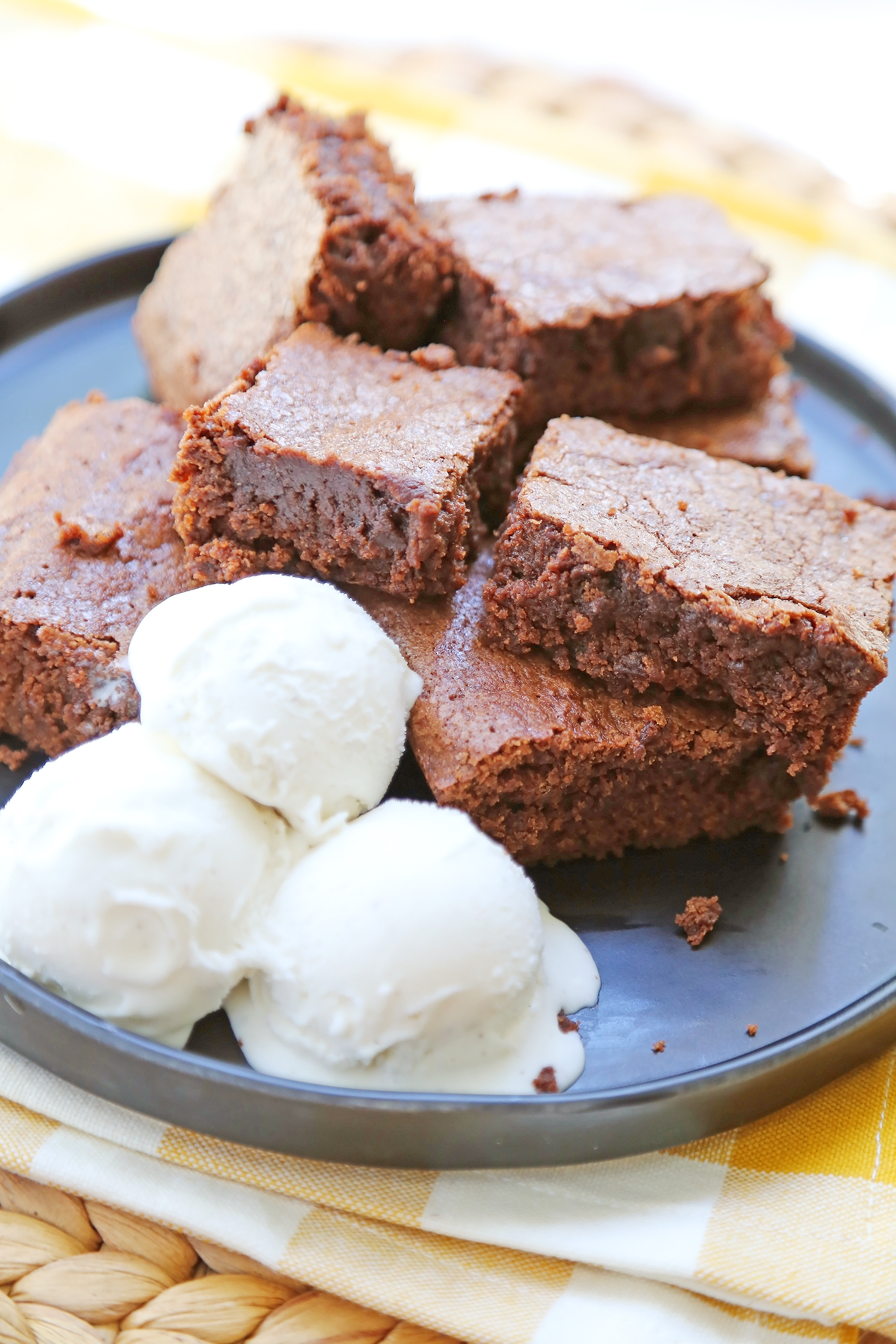 These brownies are our go-to when a chocolaty craving hits. They're SO simple to make with pantry ingredients that we always keep on hand – butter, sugar, flour cocoa, vanilla and eggs. A quick, rich one-bowl brownie is sure to hit the spot. You and your family will love these!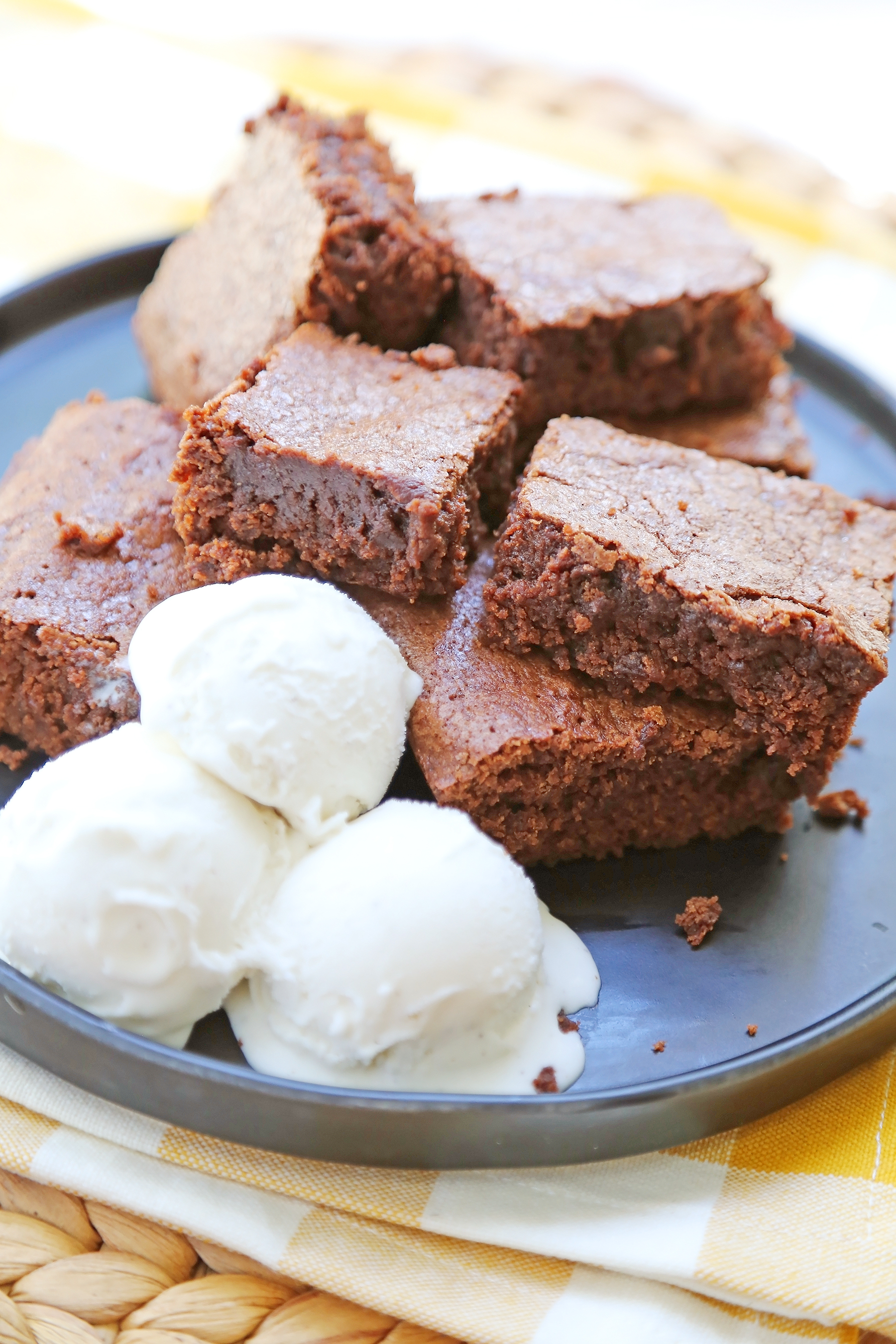 Best Ever Cocoa Brownies
Ingredients
1/2 cup (1 stick) unsalted butter, melted
1 cup granulated sugar
2 large eggs
1 teaspoon vanilla extract
1/3 cup unsweetened cocoa powder
1/2 cup all-purpose flour, cake flour also works!
1/4 teaspoon kosher salt
1/4 teaspoon baking powder
Instructions
Preheat oven to 350 degrees. Coat a 9-inch square pan with nonstick cooking spray.
Whisk together butter and sugar. Stir in eggs one at a time, then vanilla. Gently stir in cocoa, flour, salt and baking powder. Spread batter into prepared pan.
Bake for 28-30 minutes. Cool for 10 minutes before cutting.
Enjoy!
Notes
TIP
If your batter seems a little stiff, you can add 1 Tbsp. milk to thin it out.
The flavor of these brownies can be amplified by sprinkling a little salt on top of the batter, before baking.

Want to receive our latest recipes straight to your email inbox? Click here to subscribe!