I can't believe this is the first cupcake post on here. I mean, who is writing these posts anyway? Certainly not me. The real me is obsessed with light, buttery, delicate cupcakes fresh out of the oven… or even not so fresh. Just give me one!
Lover of cupcakes I may be, but even though Los Angeles is scattered with many beautiful little bakeries, I've never had a cupcake from one of their shiny display cases or plucked one from a cute pink box. This disturbed me just a little bit. I mean, I felt like I have been missing out on something major, here!
Then again, I thought, maybe it's just the look of the professionally-piped frosting or the especially-golden, buttery soft cake beneath that draws the crowds. I don't know. But I was determined to recreate in my own kitchen what I thought a REAL cupcake made with tender, loving care, and without my usual method of mix-in-a-box, to taste like.
Success! The lovely Monet over at Anecdotes and Apple Cores had it all right. As much as everyone likes to try new flavors and varieties, there's just something so special about a vanilla cupcake. However, there's really no need for all that butter and egg, which can upset even the most sturdy stomachs.
So, her solution: Well, yes you need a little bit of butter, but only 1/4 cup. The real secret is buttermilk. It keeps all the rich, buttery flavor without all the fat, and you still have a delicate, moist and utterly delectable cupcake.
As for the frosting, I turned to my trusty Joy of Cooking for a sweet and simple solution. By using Neufchatel cream cheese, you cut out 33% of the fat in typical cream cheese frosting, but keep the same rich flavor. For the piping, I used a 16-inch disposable pastry bag and Wilton 1M tip, both bought from Michaels.
All in all, these cupcakes were a decadent little treat, and I didn't feel so guilty about indulging in them. Now, I don't feel like I'm missing out on anything at the LA bakeries, because I can bake up a pretty good cupcake at home!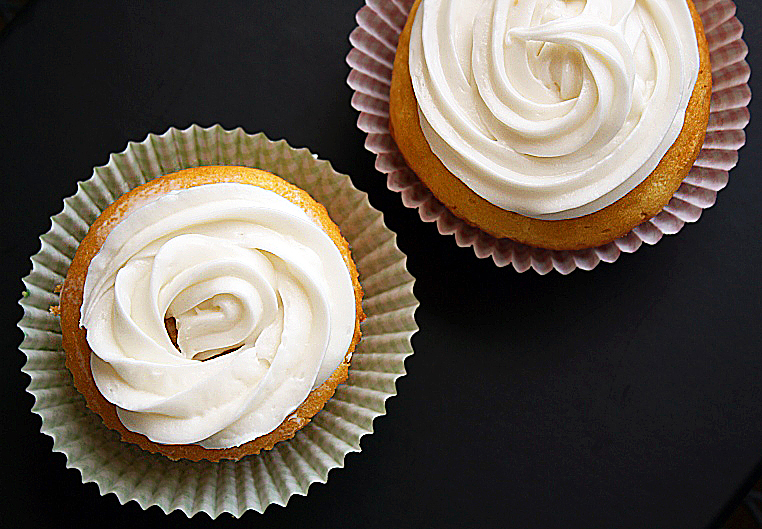 Vanilla Cupcakes with Cream Cheese Frosting
Ingredients
Vanilla Cupcakes
1 1/3 cups all purpose flour
1/2 tsp. baking soda
1/2 tsp. baking powder
1/4 tsp. salt
1/4 cup butter, room temp
1 cup sugar
1 large egg
1 tsp. vanilla extract
1 cup buttermilk
Cream Cheese Frosting
8 oz. light cream cheese, room temperature
5 tablespoons butter, softened
2 teaspoons vanilla extract
2-2 1/2 cups powdered sugar, sifted
Instructions
Vanilla Cupcakes:
Preheat your oven to 400 degrees and line a 12-cup muffin tin with paper cups. In a small bowl, whisk together your dry ingredients until well combined.
In a large bowl, using a mixer, cream together butter and sugar. Add in the egg and vanilla, and beat until smooth. Add half of the flour mixture, stir, pour in buttermilk, stir, and then add the remaining flour. Stir until well combined.
Distribute evenly in muffin cups, filling about 2/3 full. Bake for 18-20 minutes. Allow to cool completely before frosting.
Store in the refrigerator for up to five days.
Cream Cheese Frosting:
Allow cake/cupcakes to cool completely before frosting.
Beat cream cheese with butter and vanilla until combined. Gradually add powdered sugar. Continue to add more powdered sugar until you reach a consistency and sweetness that fits your taste.
Recommended: Fit a large pastry bag (around 16 inches) with a Wilton 1M tip and add frosting to fill the bag about halfway full. Start the swirl from the center. As you near the outside, release pressure and press the tip against the swirl to make it look "seamless."