If you're looking for a girl to pull up a chair at the poker table, help you work on your car, or go camping in the dirt with, you won't find her in me. I'm not into many things that guys are into. I wear pink, my nails are always polished, and yes, there are many more pillows than necessary on my bed.
But, I also don't like clothes shopping very much (food shopping is the exception), I enjoy going to and watching baseball games (go Sox!), and I love a saucy, messy plate of barbecued meat.
You see this deliciousness? This is what happens when Mark and I go to the store for milk and bread. We inevitably forget what we were there for and end up leaving with a rack of ribs, a bag of brown sugar, and a head full of ideas. Then, we spend the early evening outside, drinking wine, playing cards and grilling those bad boys for dinner!
So, yea, for a moment after I sink my teeth into the manly hunk of meat before me, I do feel like one of the boys. I feel like I can drive a stick-shift truck and smoke a cigar (even though I'd be pretty scared to do either), and go muddin'. But then, my husband, also covered in barbecue sauce, reaches across the table and dabs big globs of red off my forehead and cheeks.
Well, maybe I got a little overly excited. But hey, a girl can wear pink and indulge in a rack of ribs, too!
I know you'll absolutely love this recipe – We sure did! The sweet and sticky barbecue sauce was our own creation, and it had just the right amount of kick to compliment the ribs.
The ribs were slow-baked, quickly grilled and came out so juicy and tender, very meaty, and not too fatty, which is usually the case with lean baby back cuts – The meatier, the better! To top it off, they're pretty inexpensive, too.
I really hope you try this recipe, even just as a cooking time guideline, the next time you have a barbecue, or if you're just in the mood for some finger-lickin' good food! I guarantee you'll keep going back to this technique, and these ribs, again and again!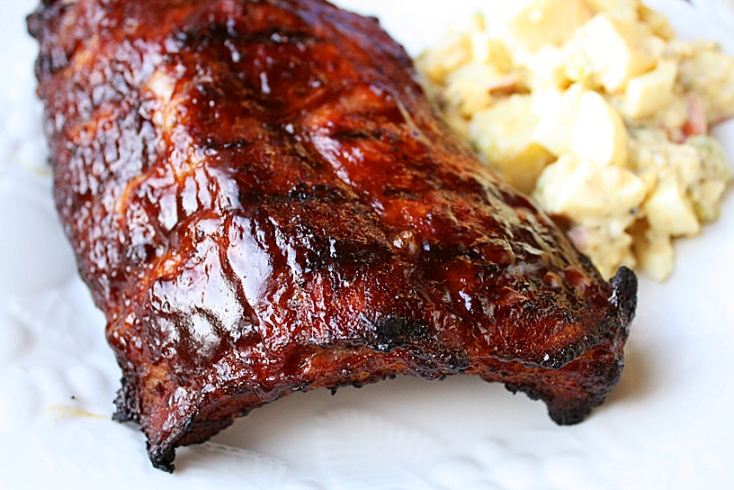 Barbecued Baby Back Ribs
Yield:
2 to 4 (half to 1 pound servings per person)
Ingredients
2 lbs. pork baby back ribs
for the rub:
1/3 cup light brown sugar
1 tbsp. each: paprika, chili powder, cayenne powder, garlic powder, onion powder, salt, freshly ground pepper
for the BBQ sauce:
1/2 cup brown sugar
1 tsp. dry mustard
1/4 cup ketchup
1/4 cup soy sauce
1/4 cup Worcestershire sauce
1/4 cup onion, minced
2 cloves garlic, minced
1 tbsp. salt
1 tbsp. freshly ground pepper
Instructions
Combine the sugar and spices for the rub in a large bowl. Remove ribs from packaging and pat dry with paper towels. Cut ribs into two sections, if desired. With your hands, pat spices all over ribs, coating generously and evenly. Add to the bowl. Cover and refrigerate for at least 4 hours, up to 2 days.
When ready to cook, preheat oven to 275 degrees F.
Line a large baking sheet with aluminum foil. Section off a piece of foil large enough for each half of the ribs, and cover ribs tightly. Precook for 2 to 2 ½ hours, until the meat easily pulls away from the bone.
Meanwhile, combine all BBQ sauce ingredients in a medium saucepan set to medium-high heat. Bring to a boil. Reduce heat and simmer 10 minutes. Remove from heat and set aside.
Remove ribs from oven and discard aluminum foil; place on a platter. Heat grill to high heat. Once hot, place ribs on grill, brush with barbecue sauce, and cook 5 minutes; turn over, brush again, cook 5 more minutes. Transfer ribs to a cutting board and cut up to serve. Place on a serving plate and brush with barbecue sauce.
Enjoy!
Notes
• Select baby back ribs that are 2 pounds or less for the most tender, juicy meat.
• Plan on 1-pound servings for two people, or half-pound servings for four people.
• If serving before a meal, cut up ahead of time, arrange on a large plate and serve with barbecue sauce and lots of napkins!