One of the things I like most about growing my own basil is that it is so easy to take care of and can be added to a number of dishes I make at home. However, though I've garnished many a pasta sauce and chicken parmesan with the fragrant herb, until this past Friday I had never thought that basil could be used as an ingredient to a refreshing strawberry cocktail.
Surfas, a gourmet and restaurant supply store in Los Angeles, not only has all the interesting cooking gadgets and gizmos a foodie like me could dream of, but they also host free cooking demonstrations, and in this case, drink mixing demonstrations, at their store. Well, a hands-on class in how to prepare unique and delicious mixed drinks popped up this week, and not ones to turn down free booze, my husband and I attended.
We weren't sure what to expect, but we were immediately greeted with a cocktail and stood at a large table lush with all kinds of herbs, berries, juices, and liquor. Before we knew it, we were making our own countless combinations with blackberries, raspberries, rosemary, basil, rum, vodka… you name it!
Of all the drinks we made though, this strawberry cocktail was my personal favorite. It's very fragrant and not at all too sweet, with a little bite from the vodka and a refreshing tang. This is the perfect spring-to-summer cocktail, whether you're just playing cards on your deck or hosting a party for friends. Of course, the vodka is optional… but encouraged! *wink, wink*
Don't be afraid to experiment with this one and add any different combination of berries, herbs or liquor!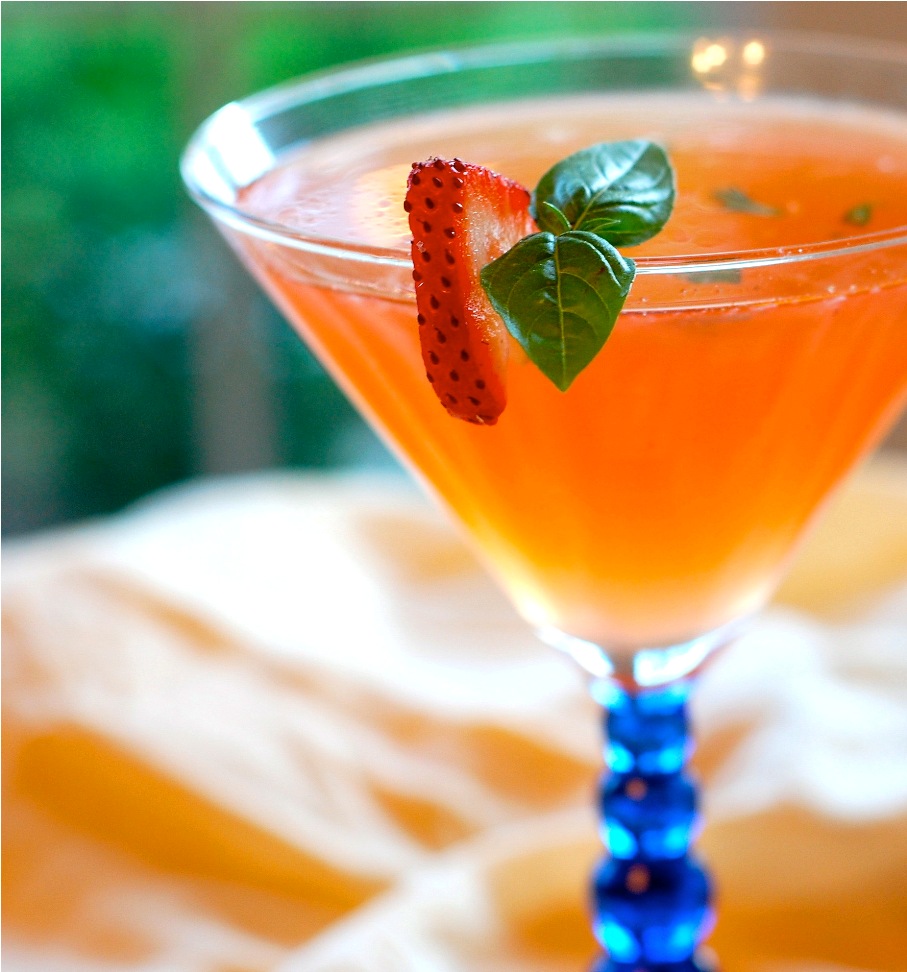 Strawberry Basil Cocktail
Ingredients
1 medium to large strawberry, cut into small chunks
4 fresh basil leaves
1.5 oz 1 shot orange juice
1.5 oz. tonic water
1.5 to 3 oz. 1-2 shots vodka or rum, optional
Ice
You will need
Cocktail shaker
Muddler, or similar tool
Instructions
Add strawberry and basil to a cocktail shaker, and with a muddler or similar tool, mash the strawberry and basil into a paste. Add orange juice, tonic water and vodka. Add ice to fill shaker and shake vigorously for 1-2 minutes.
Strain into a glass and garnish with a strawberry and a few flecks of basil, if desired.
Cheers!