This blog started with a loaf of homemade bread, and since then, I've had great fun experimenting with all different varieties of bread – the sweet and savory, warm and doughy, and those that are just plain great for a sandwich or dunking in a bowl of soup.
The hearty texture and flavor of this bread makes it perfect for both. And even though it's hard to think about soup at this time of year, it is picnic season. And picnics need sandwiches.
Sandwiches like ham and cheddar with spicy mustard, or tuna with bean sprouts and cucumber, or maybe a nice mozzarella and basil on slice of fluffy, crisp bread fresh out of your oven.
Most of the spring picnics I go on are on a beach somewhere a decent drive from the city smog, but this year I'd like to find a nice, quiet park, buy a cheapo badminton set and eat a good homemade sandwich in the grass. In fact… maybe that will be the plan for this weekend! Isn't it amazing the ideas that a simple loaf of bread can conjure up?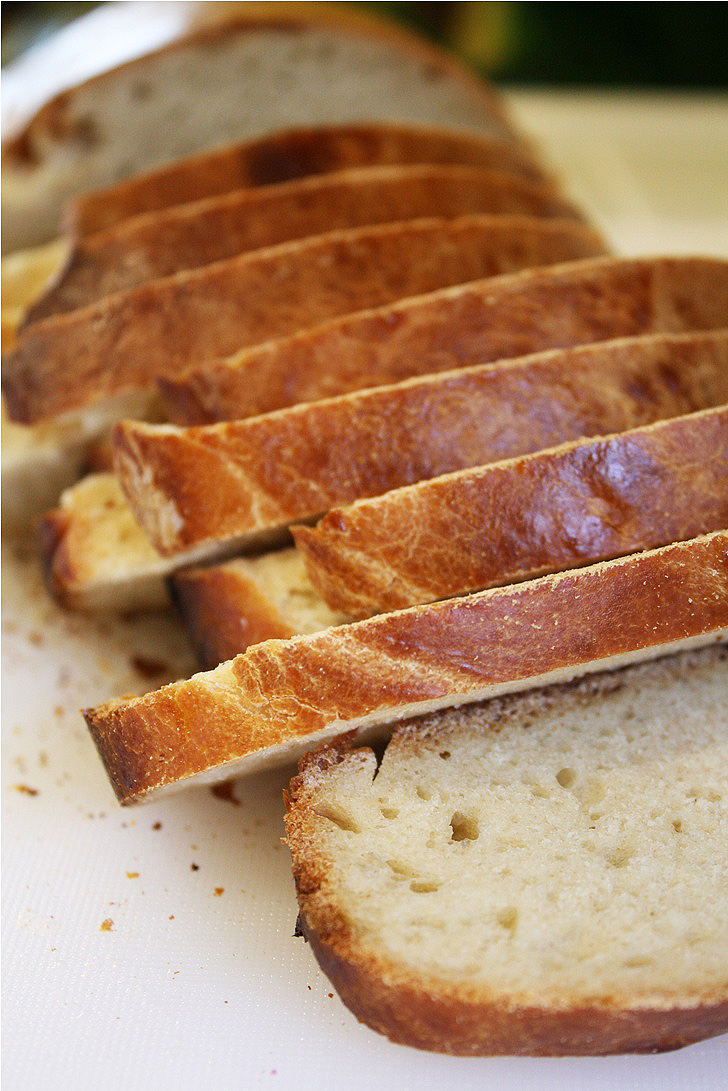 Buttermilk Honey Bread
Ingredients
3/8 cup (or 1/4 cup + 2 tbsp.) warm water
1/2 tbsp. instant yeast
1/2 tsp. sugar
3/4 cups buttermilk, warmed or brought to room temp.
1 tbsp. unsalted butter, melted
1 1/2 tbsp. honey, warmed until runny
1/2 tbsp. salt
3 – 3 1/4 cups all-purpose flour
1 egg beaten with 1 tbsp. milk, for egg wash
Instructions
In a large bowl, combine the water, yeast, sugar, buttermilk, butter, honey, salt. Mix and add 2 cups of the flour. Mix with your hands until a dough has formed. Adding the remaining flour 1/2 cup at a time until a smooth dough is formed that clears the sides of the bowl. Continue kneading until dough is smooth and elastic, about 4-5 minutes. Transfer the dough to a lightly greased bowl, turning once to coat, and cover the bowl with a clean towel. Let rise at room temperature until doubled in bulk, about 60-75 minutes.
Turn the dough out onto a lightly floured work surface and gently punch it down. Grease a loaf pan. Cover the loaf lightly with a towel and let rise until fully doubled in bulk, about 45 minutes.
Preheat the oven to 375 degrees. Center a rack in the oven. Just before putting the loaf in the oven, brush the tops with the egg wash. Place the pans on the center rack and bake about 45 minutes, rotating 180 degrees halfway through the baking time. If the tops brown too quickly, cover loosely with aluminum foil. Remove the loafs immediately to a cooling rack. Let cool completely before slicing.
Enjoy!