Well hello there, sports fans! I'm back in the swing of things after a brief trip to Chicago to visit family, and have I got a fun, city-inspired treat for you…
I just hopped off the plane a few hours ago, and while I'd love to say I've already been back in the kitchen and baking up a storm, there's a big suitcase full of clothes on the bed proving that there are more productive things I should be doing at the moment… like sharing this incredibly easy and irresistible pretzel recipe with you!
So, let's get to it.
I'm still not sure what inspired me to make pretzels last week, but I can attribute it to two possible things: First, it could be the Modern Marvels "SnackFood Tech" episode that left us in a trance-like state after they featured an amazing little gadget that ties 2,000 pounds of pretzels an hour. Or, it could be the fact that pretzels just remind me of the good, old-fashioned fare and happy times at the Fenway Park baseball games we used to go to every spring.
Whatever memory may to be to blame, I'm sure glad I stumbled across it because these pretzels were very easy to prepare, and such a scrumptious snack with a side of spicy mustard. Not only would they make for a pretty popular bite at barbecues, but they'd also be great for a kids' birthday party, a casual get-together with friends, or as a yummy snack to savor while watching the game at home.
Now, I've got to finish unpacking and start dreaming up more delicious recipes.
I hope you enjoy this one, and as always, please let me know how it turns out if you give it a go!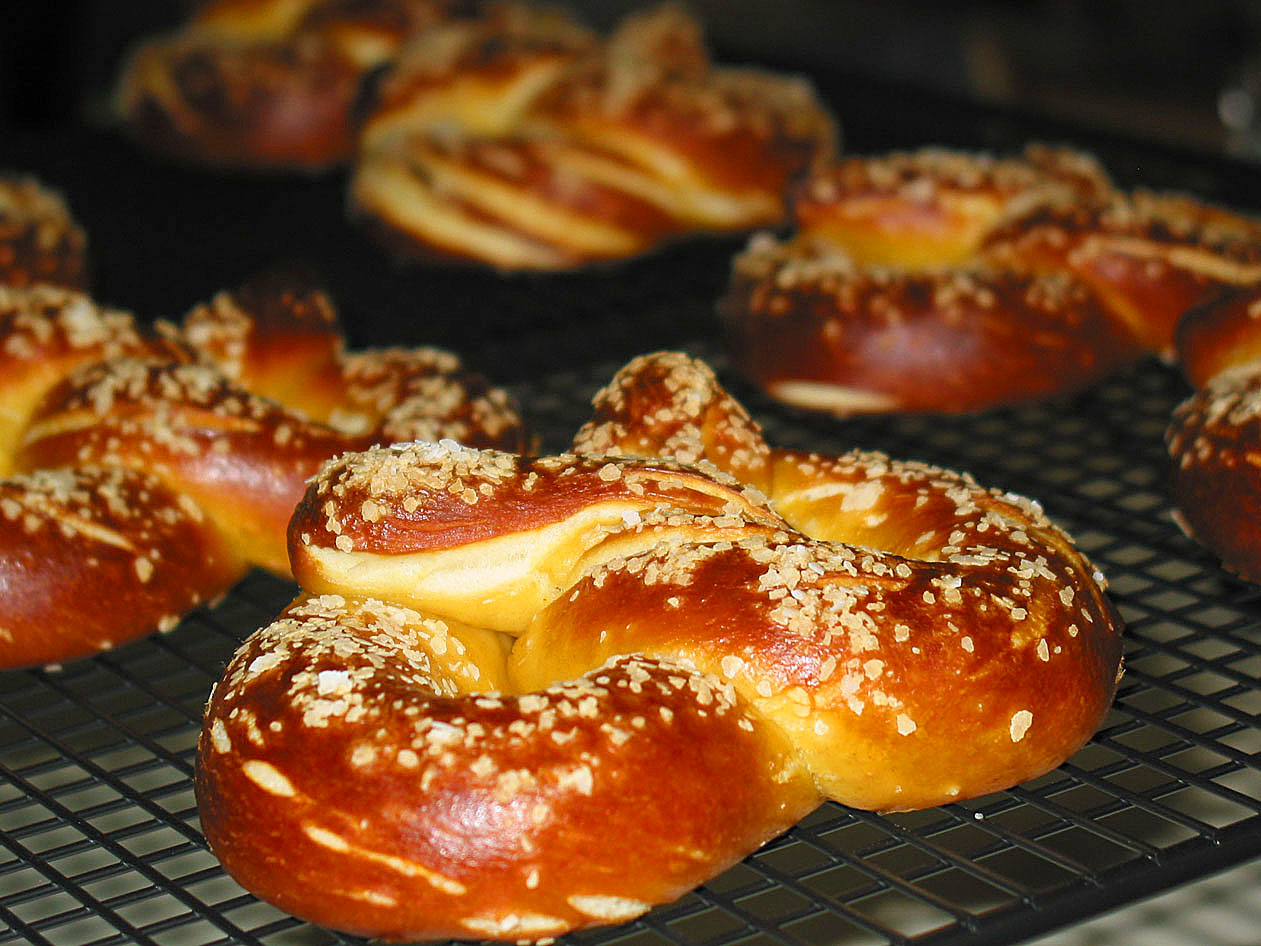 Soft Pretzels
Ingredients
4 teaspoons active dry yeast
1 teaspoon white sugar
1 1/4 cups warm water
5 cups all-purpose flour
1/2 cup white sugar
1 1/2 teaspoons salt
1 tablespoon vegetable oil
1/2 cup baking soda
4 cups hot water
1/4 cup kosher salt, for topping
Instructions
In a small bowl, dissolve yeast and 1 teaspoon sugar in warm water. Let stand until creamy, about 10 minutes.
In a large bowl, mix together flour, 1/2 cup sugar, and salt. Make a well in the center; add the oil and yeast mixture. Mix and form into a dough with your hands. If the mixture is dry, add one or two tablespoons of water. Knead the dough until smooth, about 7 to 8 minutes. Lightly oil a large bowl, place the dough in the bowl and turn to coat with oil. Cover with a clean kitchen towel or plastic wrap and let rise in a warm place until doubled in size, about 1 hour.
Preheat oven to 450 degrees. In a large bowl, dissolve baking soda in hot water.
When risen, turn dough out onto a lightly floured surface and divide into 12 equal pieces. Roll each piece into a rope and twist into a pretzel shape (Here is a useful tutorial). Once all of the dough is all shaped, dip each pretzel into the baking soda solution and place on a greased baking sheet. Sprinkle with kosher salt.
Bake in preheated oven for 8-10 minutes, until browned.
Enjoy!