Try this delicious twist on traditional deviled eggs. They're creamy, salty and scrumptious with a little kick from fresh jalapeño!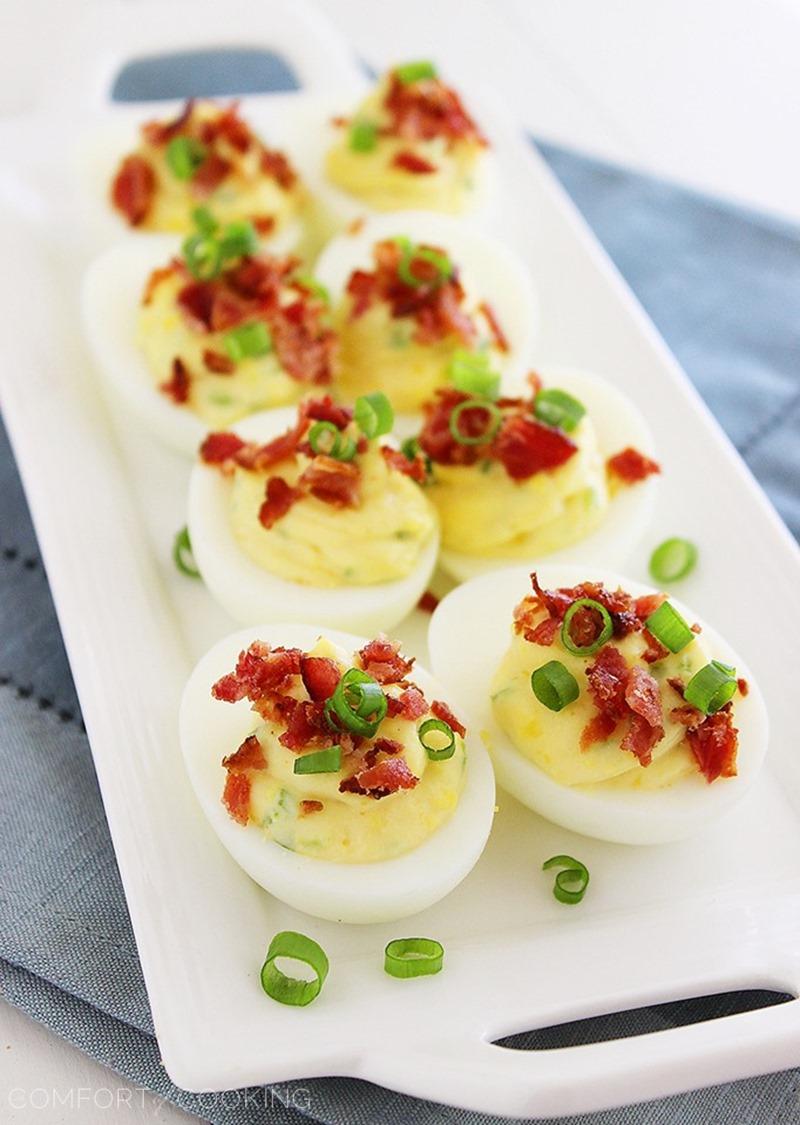 Predictable food at parties isn't always a bad thing. You need a good sandwich or fried finger food to round out the other stuff that not everyone's going to like! It's all about a little variety. That's why I love to put crowd-pleasing spins on comfort food classics. You know everyone's gonna try at least one because it looks familiar. And I'd bet plenty of people would go back for seconds!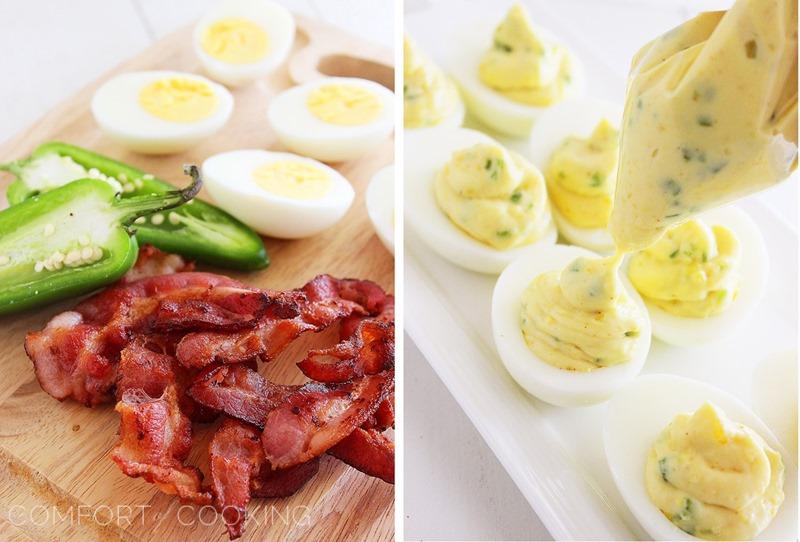 These spicy, creamy deviled eggs with jalapeños and bacon are a delicious twist on traditional deviled eggs! Just boil up some fresh eggs and gently scoop out the yolks into a bowl. Mash 'em up with mayonnaise, or plain yogurt if you prefer, vinegar, ground mustard, and a pinch of sugar and salt. Mix in your minced jalapeno for a little kick, then pipe the mixture into your hollowed egg whites – using a plastic bag with the end snipped keeps this quick and easy!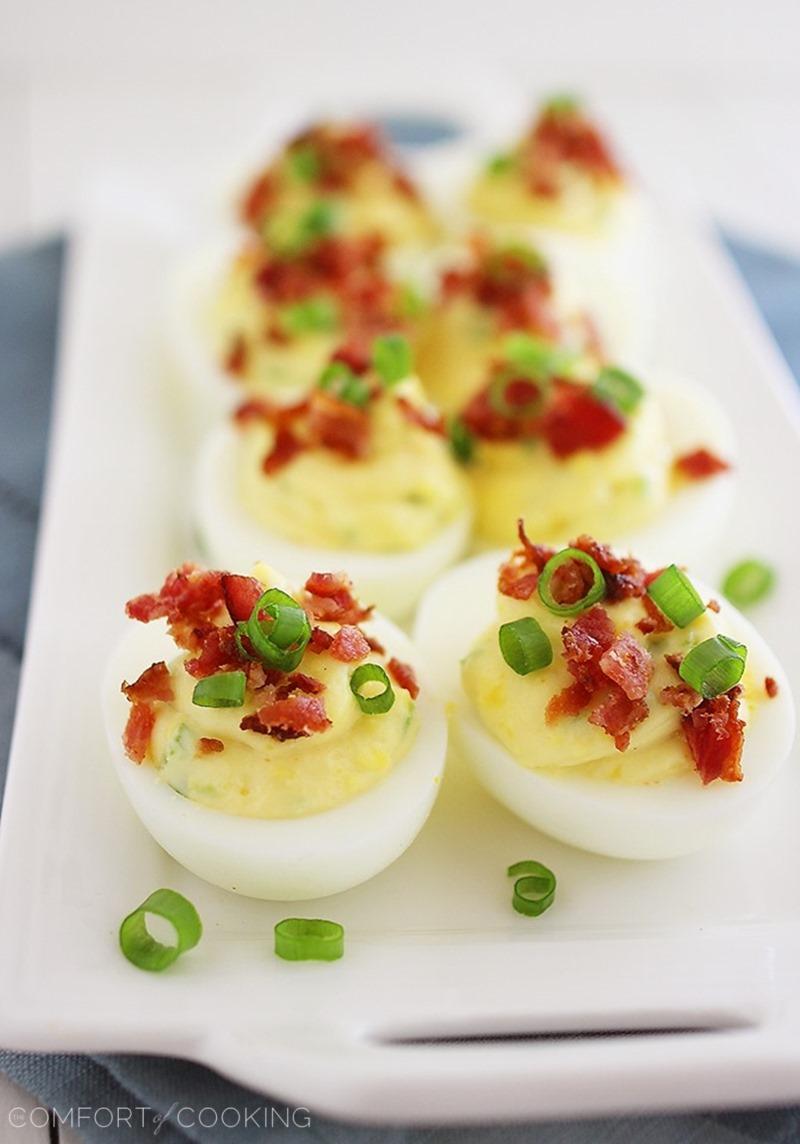 For Easter munching, party feasting and al fresco lunching, these deviled eggs are eggs-cellent!
Come on, I had to.
Topped with crispy, salty bacon and sliced scallions, it's impossible not to go back for another. You're gonna absolutely love 'em. And if these sound good, you'll love my zesty Guacamole Deviled Eggs, too!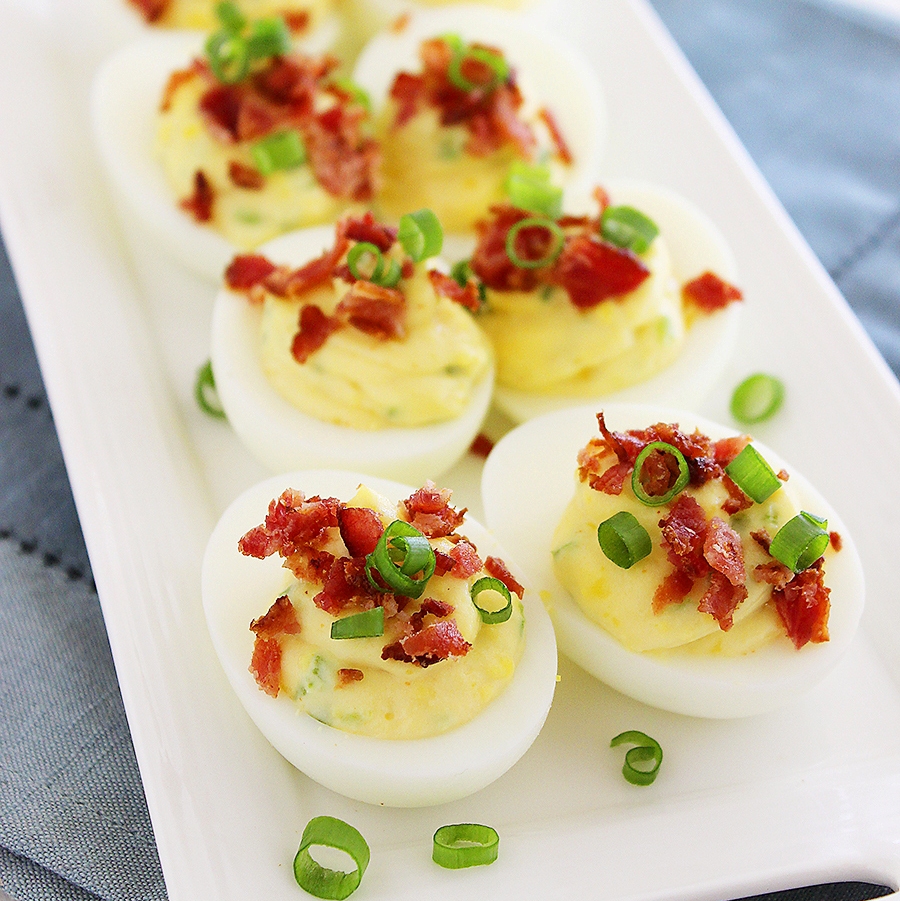 Bacon-Jalapeno Deviled Eggs
Ingredients
12 large eggs, hardboiled and peeled
1 cup light mayonnaise or plain yogurt
2 teaspoon white vinegar
1/2 teaspoon ground mustard
1/4 teaspoon each sugar and salt
1 jalapeno, seeded and minced
6 strips bacon, cooked 'til crisp and crumbled
3-4 scallions, sliced
Instructions
Slice hard boiled eggs in half lengthwise, removing yolks to a medium bowl. Mash yolks with a fork and add mayonnaise, vinegar, ground mustard, sugar and salt. Stir until well combined. Add minced jalapeno.
Fill each egg white hole with the mixture.* Sprinkle with crumbled bacon and sliced scallions. Chill until ready to serve.
Enjoy!