These fresh, crunchy cucumber bites with a heavenly garlic-herb cream will be the hit of every party! They are so easy to make, colorful and perfect for any occasion between Christmas and backyard summer bashes.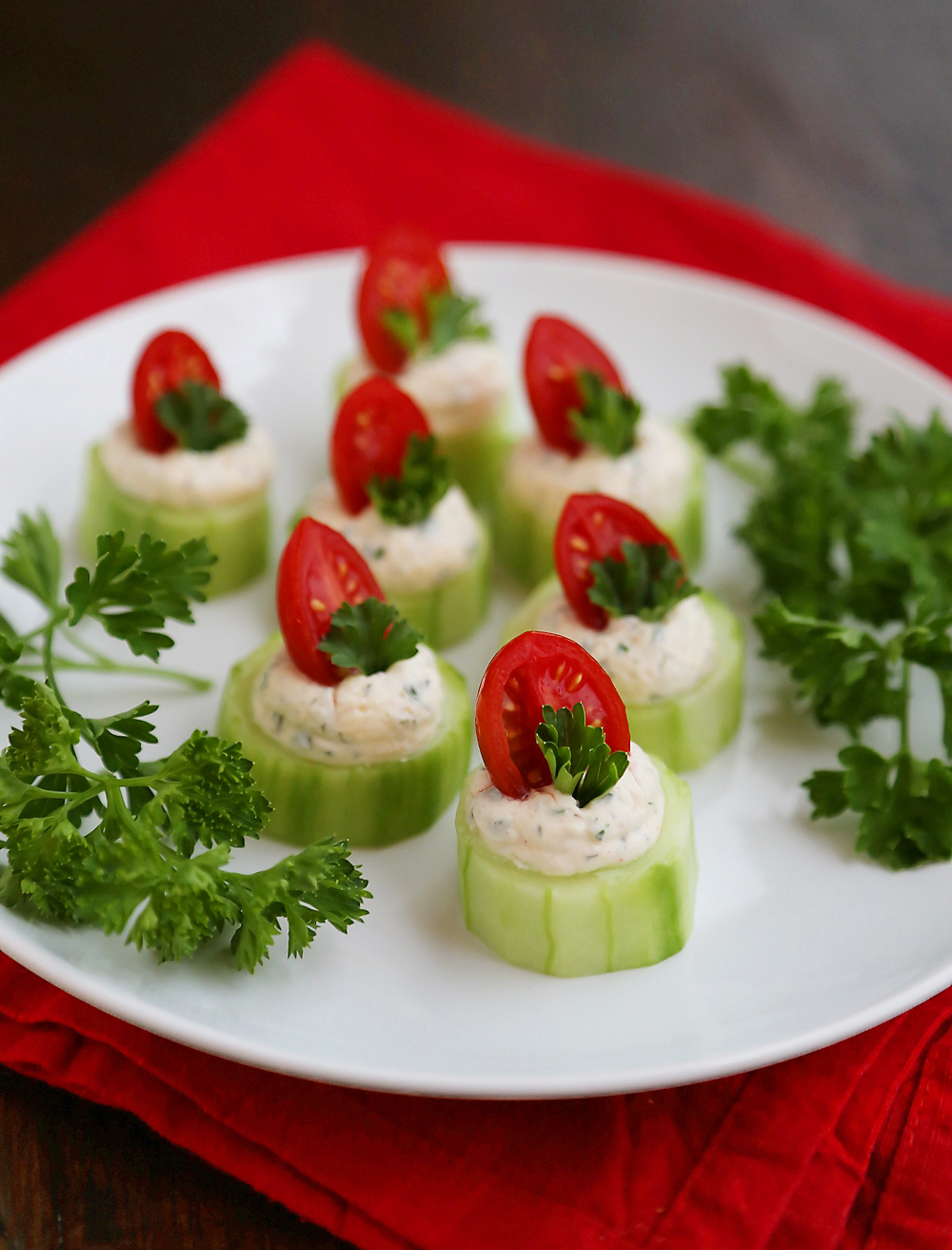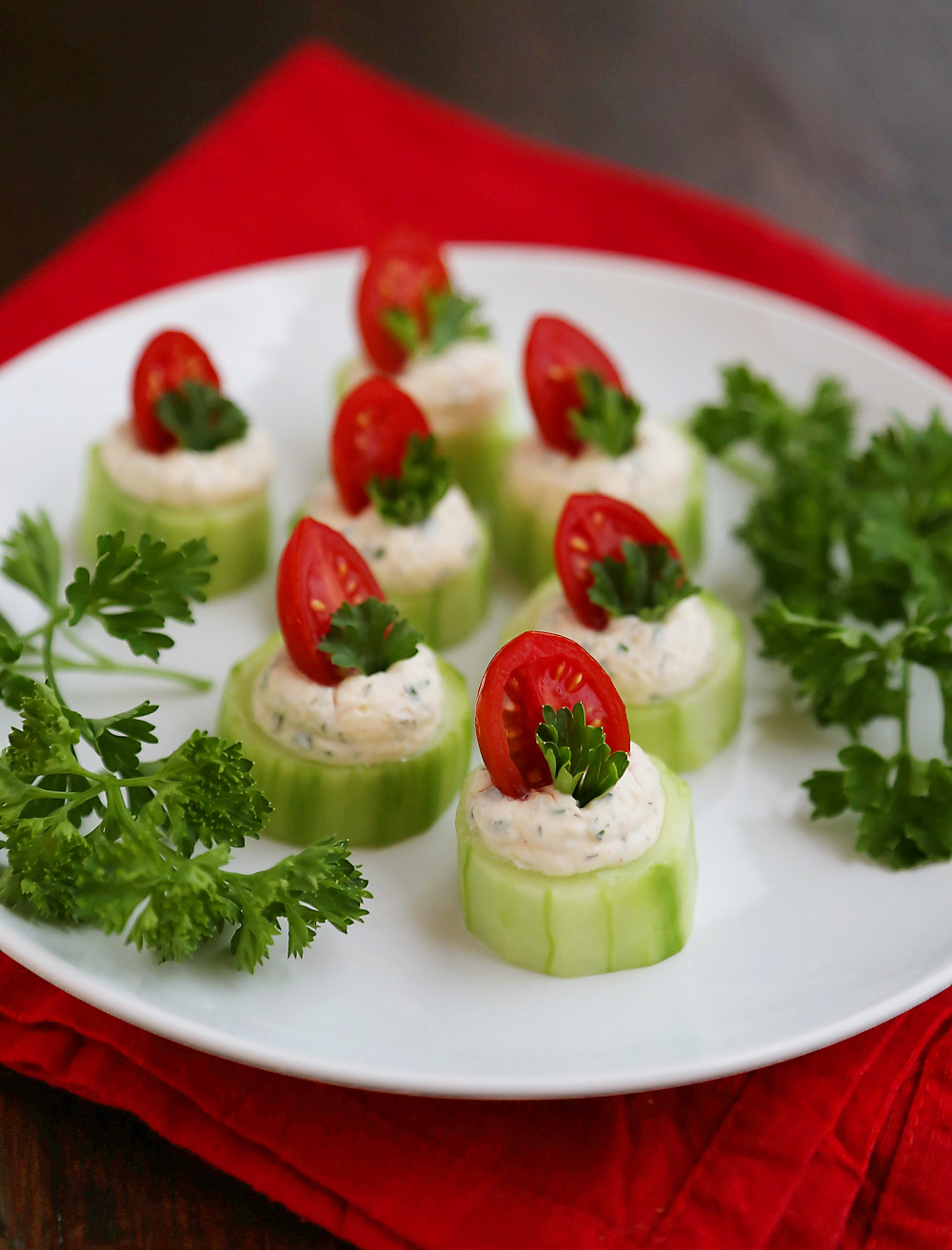 Last weekend, my good friend enlisted me to create some festive, elegant appetizers for her marriage celebration. I was more than happy to bring a little something to the table, and when she said she wanted savory, I knew just the thing. Healthy yet colorful, Christmas-hued cucumber bites with a creamy herb-Parmesan garlic spread. Easy and delish!
Let's just say that, by the time I got to the party (a smidge late, I admit), I did not see these cucumber bites anywhere. But, I was reassured by an earlier guest that my apps made a fabulous but fleeting appearance with the others. I was a bit bummed to not see them with the amazing spread, but more flattered that these little bites seemed to be such a big hit!
They really couldn't be easier to make, either. Simply chop up a couple English cucumbers and hollow out with a small melon baller. Make your scrumptious herb spread by whipping cream cheese with sour cream, fresh garlic and parsley, Parmesan, and a handful of dried spices. Pipe it into your cucumber slices, and top with a tomato and sprig of curly parsley. And easy, elegant and amazingly yummy appetizer, done in no time.
These delicious bites would be perfect for parties year round! For any occasion from Christmas to backyard parties, girls' nights to weddings, and every big and small celebration in between, cucumber bites are the way to go for pleasing a crowd. Try them for your next bash!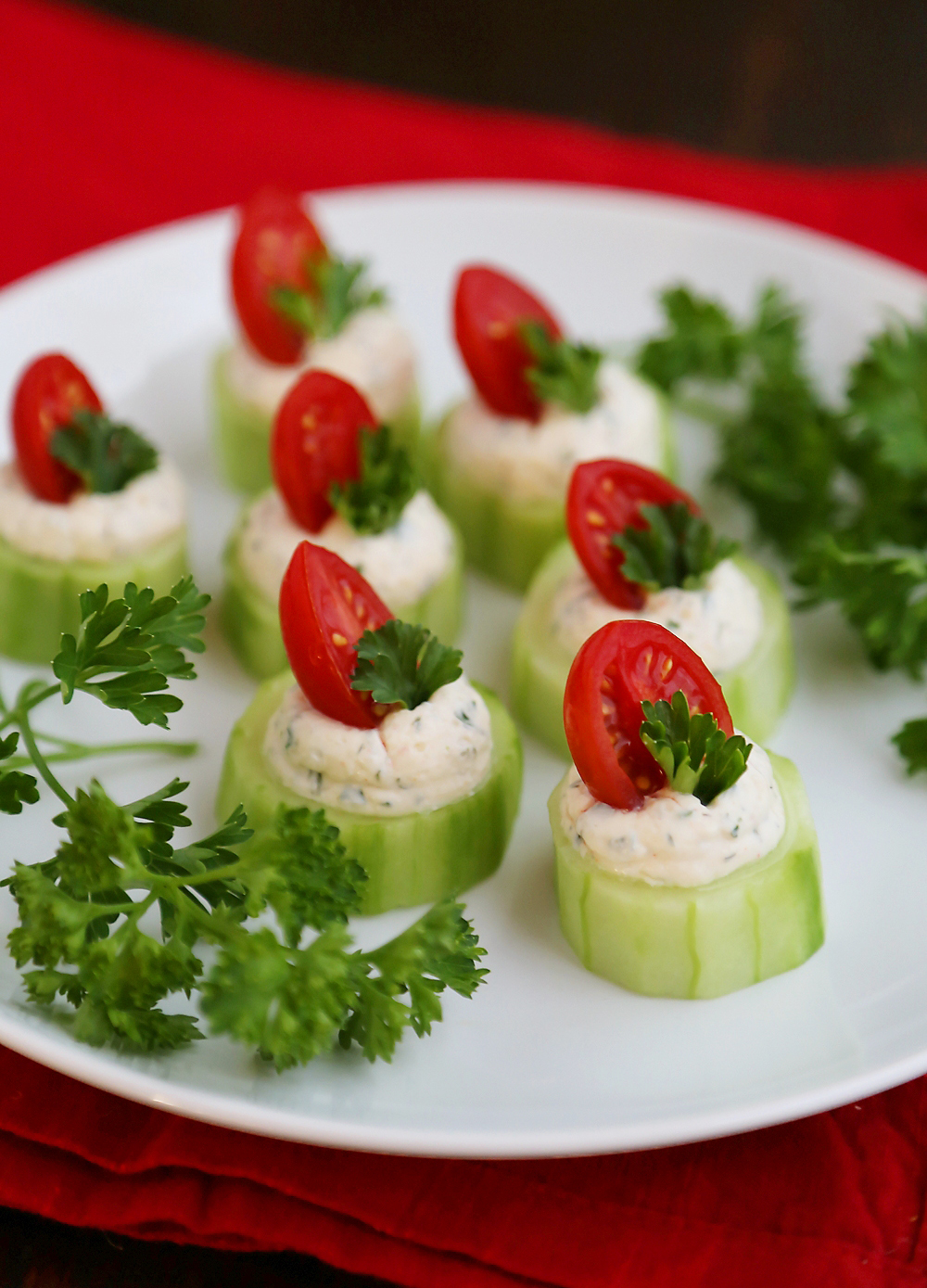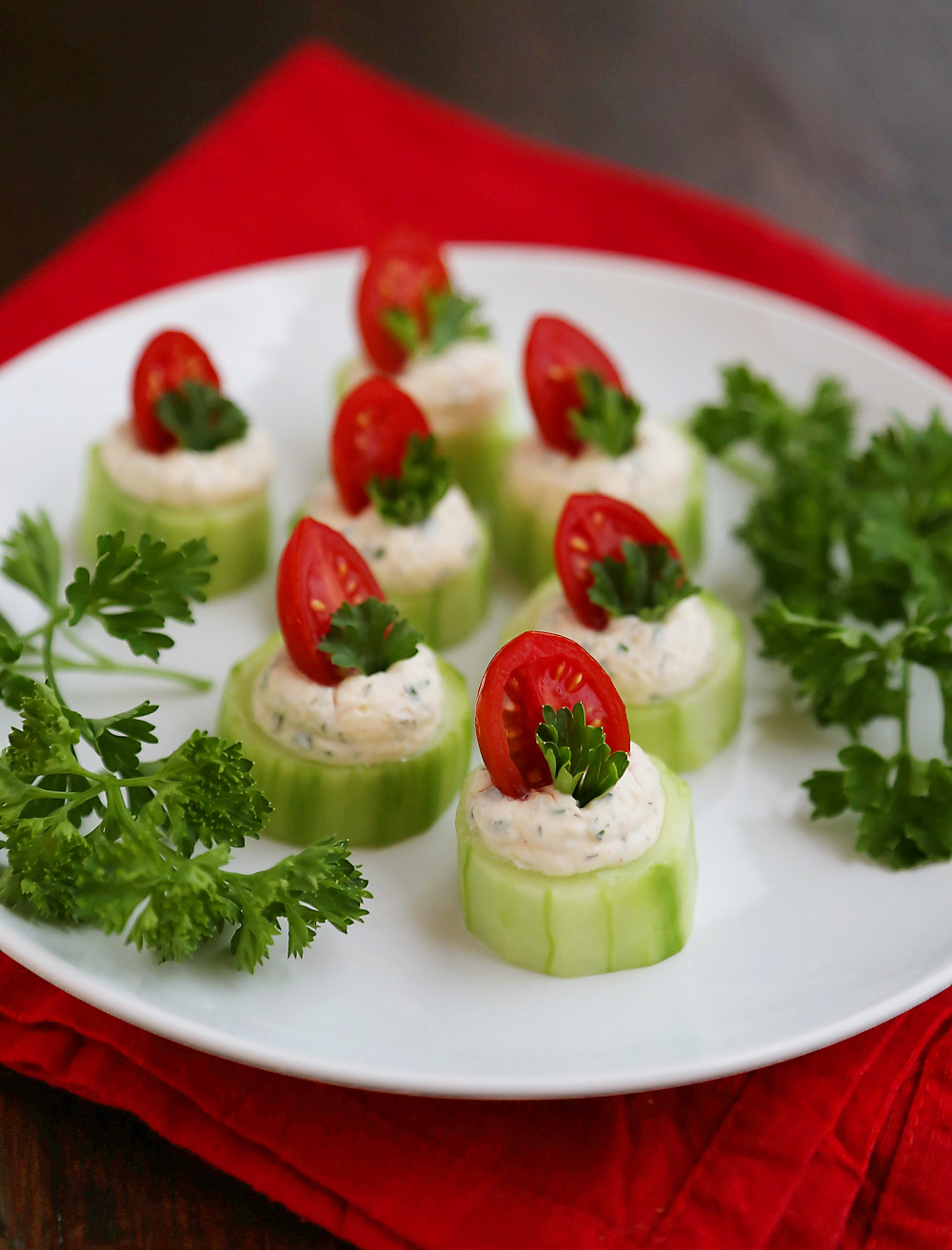 Cucumber Tomato Bites with Creamy Parmesan Herb Spread
Ingredients
For assembly and garnish:
2 English cucumbers, cut into 1/2-inch pieces
1 pint cherry or grape tomatoes, halved lengthwise
1 bunch curly parsley
For the herb spread:
2 (8 oz.) packages cream cheese, softened
1/4 cup sour cream
1/4 cup minced fresh flat leaf parsley
2 cloves garlic, minced
1 teaspoon onion powder
1/2 teaspoon paprika
2 teaspoons dill weed
1/2 teaspoon kosher salt
1/2 cup freshly grated Parmesan
Instructions
In a large mixing bowl, with an electric mixer, beat all ingredients for herb spread until smooth and creamy. Set aside while you prep the cucumber and tomatoes.
Gently hollow out a small scoop of the cucumber slices with a melon baller. Spoon herb spread on top of cucumber slices. Or, spoon herb spread into a pastry bag fitted with a large tip, and pipe on top. Top each bite with one tomato half and a small leaf of curly parsley.
Cover and refrigerate until ready to serve.
Enjoy!