Eggs nestled in crisp ham and sprinkled with basil really give meaning to a GOOD morning! Make 'em for mornings on the go or as an easy weekend breakfast!
When we have family and friends visiting, I don't like to spend a whole lot of time in the kitchen. Whereas I could bury my head into a complicated quiche or cinnamon rolls, I opt for easy and give myself a break and my guests all of my attention. After all, it's more important to take time to catch up than impress with a frou frou dish!
These egg cups, nestled inside crisp Black Forest ham, are the epitome of "easy does it" for those slow, lazy weekend mornings. Just press the ham into a muffin pan, crack in an egg and bake it up. What results are these beautiful little bundles of joy that truly bring meaning to a good morning.
Sprinkle 'em with salt and pepper, and if you'd like, a little fresh basil, scallions or parsley. Make a stack of buttery toast, put on a pot of coffee, and breakfast is done. Simple, nutritious and absolutely delicious!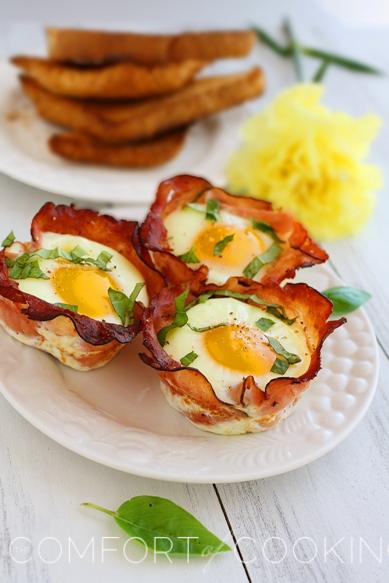 Crisp Ham and Egg Cups
Ingredients
Nonstick cooking spray
4 slices Black Forest or Virginia ham
4 large eggs
Salt and pepper, to taste
Fresh basil, scallions or parsley, optional
Instructions
Preheat oven to 400 degrees F.
Lightly coat 4 muffin cups with nonstick cooking spray. Fit 1 slice of ham into each muffin cup (ham will hang over edges of cups). Crack 1 egg into each cup. Bake in middle of oven until whites are cooked but yolks are still runny, about 13 minutes. Season eggs with salt and pepper and remove cups carefully. Sprinkle with chopped basil, scallions or parsley.
Enjoy!