Make your next lazy morning sizzlin' with this super flavorful, simple potato hash with bell peppers and onions!
Unlike a lot of people I know, I'm a morning person. Don't go getting me up before 7am, but anytime after and I'll usually feel brighter than the sunshine itself! This also means, of course, I am NO nightowl. Go ahead and shake your moneymaker at the club 'til dawn… I'll be tucked up in bed asleep before Jeopardy. Oh, hey little youngster, can I offer you a hand knitted blanket or a Werther's caramel?
Being a morning person means I need my fuel, and nothing does the trick like an egg, fruit and a little starch. Okay, who are we kidding… a lotta starch some mornings. Some mornings. If I had it my way, every morning. But a girl's still gotta rock a bikini while it's blazing hot down South! Can I get an amen?
Once swimsuit season's a thing of the past and sweaters are here to stay for a few months, I'll indulge a little more (and easily be able to hide the evidence). That means more of this crisp, flavorful deliciousness in a pan for long breakfasts and lazy brunches. Besides, who says you can't have onions and garlic before lunchtime? Just don't go kissin' around!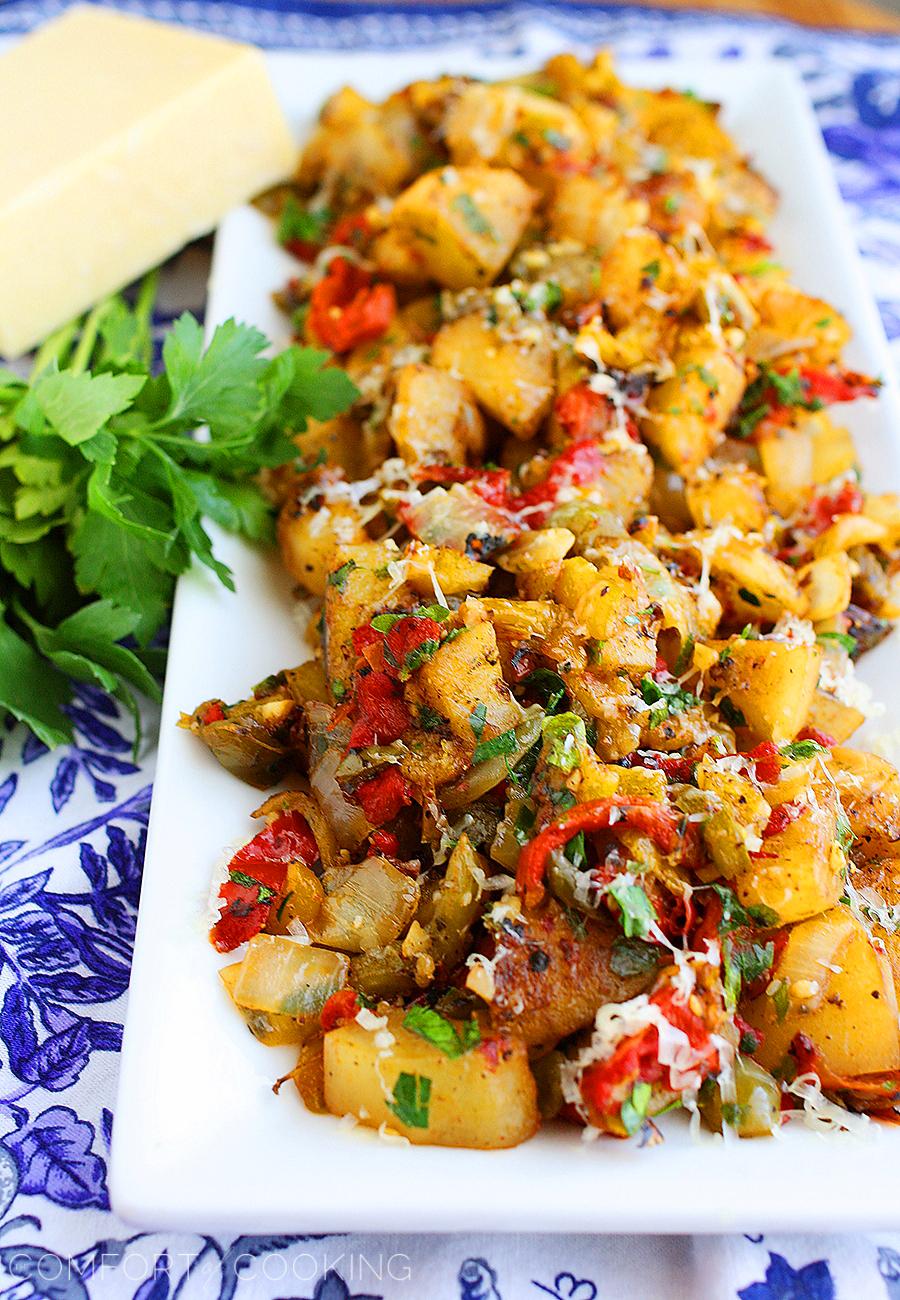 Potato Hash with Bell Peppers and Onions
Ingredients
2 Tbsp. olive oil
1 Tbsp. unsalted butter
4 large or 6 medium potatoes, peeled and cut into ½" cubes
1 onion, diced
1 red bell pepper, diced
2 tsp. fresh parsley, chopped
3 garlic cloves, minced
Salt and pepper, to taste
1/4 cup freshly grated Parmesan cheese
Instructions
Preheat the oil and butter in a large nonstick skillet over medium heat. Add potatoes, toss to coat with oil, and place a lid on the pan. Allow the potatoes to cook covered for 10 minutes.
Remove the lid and increase the heat to medium high. Add onion and bell pepper. Cook for 15 minutes, stirring occasionally, until the potatoes and vegetables turn golden brown.
Add the parsley and garlic; cook for 2 minutes. Season with salt and pepper. Sprinkle with Parmesan and serve immediately.
Enjoy!