So fresh, easy and delicious. Toss aside that seasoning packet and enjoy this scrumptious spin on Ramen noodles in a super comforting, flavorful soup!
Though bunk beds and cheap beer may always be quintessentially college, Ramen noodles are anything but! That is, unless you prefer to get your entire daily value of sodium in a "seasoning packet"… which I did more than few times between procrastinating and studying!
Toss that icky packet aside and let me show you the true potential of Ramen noodles! They start out crisp and crunchy, but bathed in broth give way to soft and starchy, slippery noodles that drink up every bit of flavor you add to them. And in this tasty soup, they're the super-cheap star at just 50 cents per package!
With a smattering of fragrant, freshly chopped vegetables, diced tomatoes, seasonings and a little spice, this soup was both simple and scrumptious! Perfect for a weeknight dinner or work lunch, since it's still delish the next day.
Plus, ain't it just the prettiest pot full of deliciousness you ever did see?
If you're craving a tasty twist on Asian soups (it tastes quite a bit like pho), or just something easy and mouthwatering, this soup is for you! With fresh lime juice, cilantro and green onions to top it off, it's light and refreshing while also comforting and warming. Add Sriracha or chili garlic paste for extra spice. Or, for a little punch of protein, add chopped cooked chicken, fish or steak!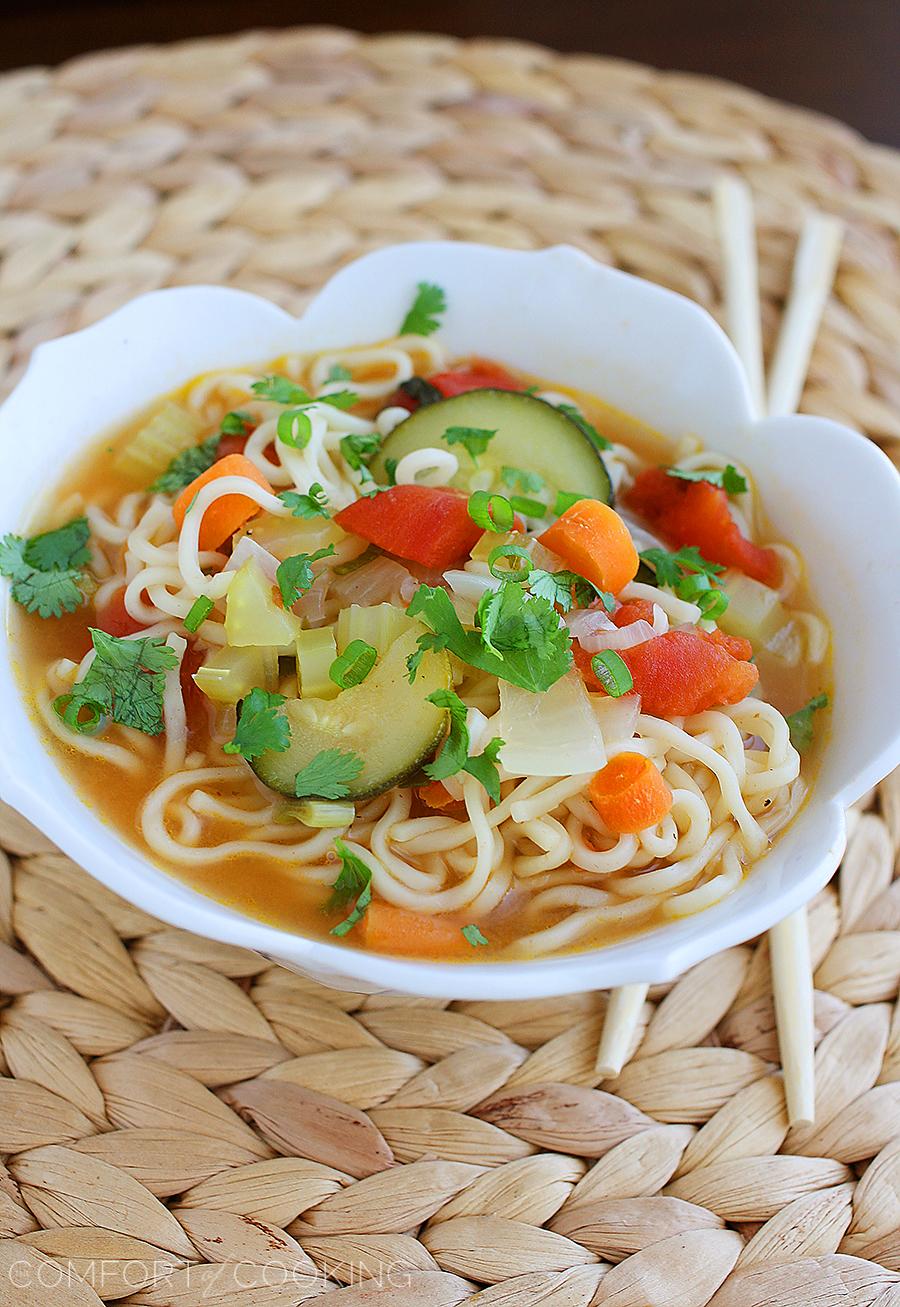 Ramen Vegetable Soup
Ingredients
1 Tablespoon olive oil
1 medium yellow onion, medium diced
2 carrots, medium diced
1 stalk celery, medium diced
1 zucchini, medium diced
Salt and pepper
1 can, 14.5 ounces diced tomatoes, drained
3 1/2 cups chicken or vegetable broth
1 cup water
1 fresh lime, juiced
2 packages (3 oz. each) ramen, broken into quarters , (discard seasoning packet)
Sriracha sauce to taste, optional
1 handful cilantro, chopped
4 green onions, chopped
Instructions
In a large pot, heat olive oil over medium. Add onion, carrots, celery and zucchini; sauté until soft, about 6 minutes. Season with salt and pepper. Add tomatoes, broth, water and lime juice; bring to a boil. Add ramen, reduce heat and simmer until noodles are tender, 3 minutes. Season with salt, pepper and Sriracha sauce if desired. Serve immediately and top bowls with cilantro and chopped green onions.
If serving next-day or as leftovers, store soup in pot in refrigerator, place over medium heat and add enough water to cover vegetables. Bring to a boil then reduce heat and simmer until warmed through.
Enjoy!