No donut pan required! Hot out of the oven and ready for breakfast, these baked cinnamon sugar doughnuts are soft, sweet bites of heaven.
How is it that a doughnut can cure just about any ail? Oh, you had a rough day? No worries, here's a glazed. A not so great review at work? Help yourself to a chocolate frosted. A sack full of worries heavy on your back? Just top 'em with sprinkles.
WHYYYYY must doughnuts tempt us away from the Kashi and closer to the ooey, gooey custard filling?
It's been just enough time that I've been pouring over making a batch of delicious homemade doughnuts and not doing anything about it, until I just had no choice. So, the day has come. Lucky you.
It's been about 2 weeks, 3 days, 8 hours and 5.238 seconds since I made these doughnuts, but the inner pastry fiend in me thinks that's way too long. My primary care physician, however, would disagree.
A little in-motion donut dunking action to further whet your appetite! Just TRY to stop watching.
This recipe from Mel's Kitchen Café, is sensationally simple for a baked doughnut and just as tasty as the two-buck ones at your local bakery. Banish your bulky fryer and all the calories that come with it for these sweet and fluffy doughnuts made at home!
The texture is cakey and terrifically moist, and worth every ounce of effort you put in. As a special treat for someone or just to hog them all to yourself (oink!), these doughnuts are an absolutely delicious way to welcome any morning!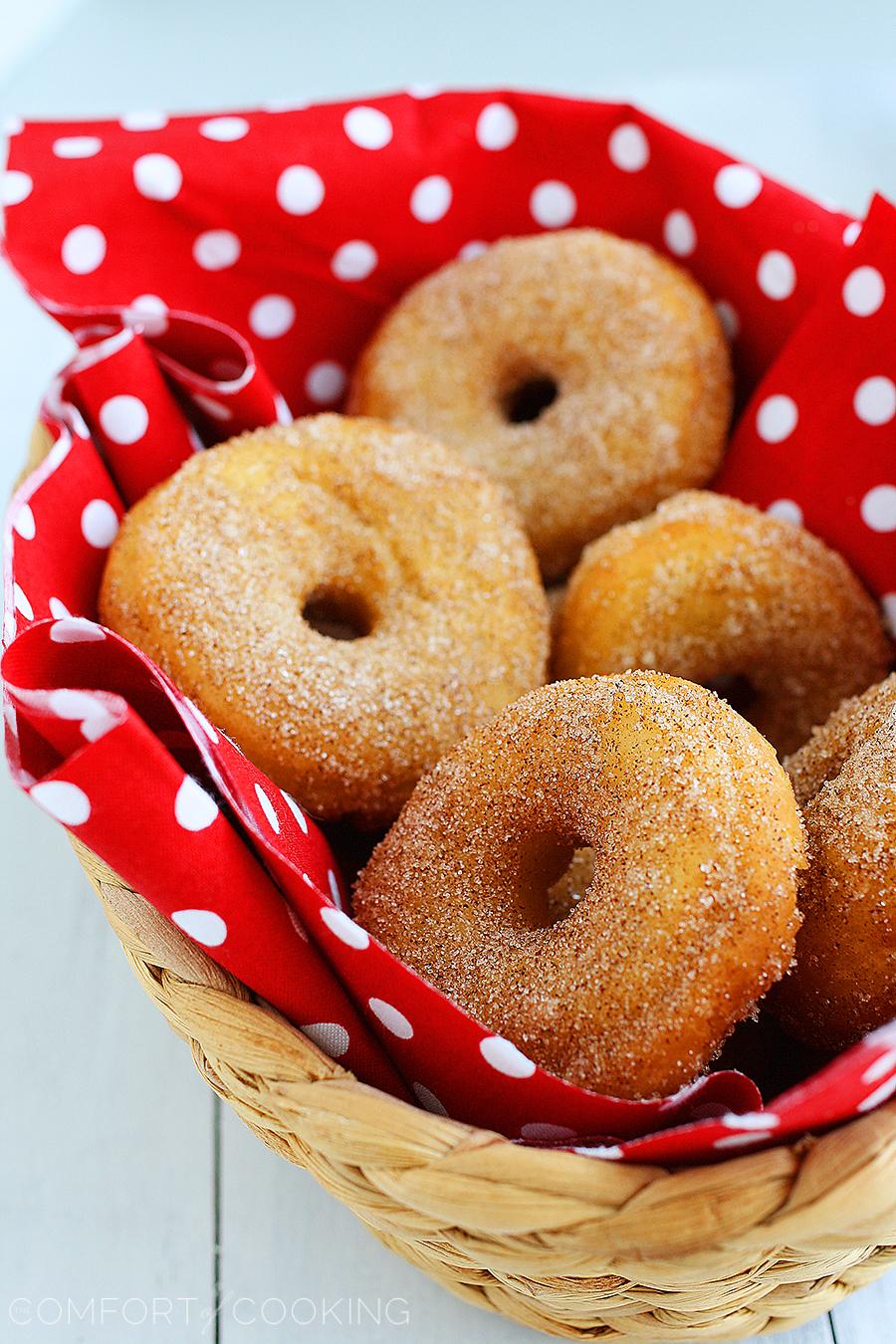 Baked Cinnamon Sugar Doughnuts
Yield:
1 1/2 dozen doughnuts
Ingredients
1 1/3 cups warm milk, 95 to 105 degrees
2 teaspoons instant yeast
2/3 cup granulated sugar
2 tablespoons softened butter
2 large eggs
5 cups all-purpose flour
A pinch or two of nutmeg, freshly grated
1 teaspoon salt
1/2 cup butter, melted
1 1/2 cups granulated sugar
1 tablespoon cinnamon
Instructions
Place warm milk in the bowl of an electric mixer. Stir in the yeast and sugar. Add the butter, eggs, flour, nutmeg and salt. Beat the dough with the dough hook attachment (or with a wooden spoon and eventually your hands) for 2-3 minutes at medium speed. Adjust the dough texture by adding flour a few tablespoons at a time or more milk. The dough should pull away from the sides of the bowl and be very soft and smooth but still slightly sticky – don't overflour! Knead the dough for a few minutes (again, by mixer or by hand) and then transfer the dough to a lightly greased bowl. Cover the bowl and let the dough rise for about an hour or until it has doubled in size (the exact time will depend on the temperature of your kitchen).
Punch down the dough and roll it out to about 1/2-inch thickness on a lightly floured counter. Using a doughnut cutter or a 2-3 inch circle cookie cutter, cut out circles in the dough. Carefully transfer the circles to a parchment- or silpat-lined baking sheet and stamp out the smaller inner circles using a smaller cutter. Be sure to make the holes large enough that as the doughnuts rise again and bake, they don't fill in the doughnut hole with the puffiness of the dough. Cover the tray with lightly greased plastic wrap. (At this point, you can refrigerate the doughnuts overnight or proceed with the recipe.) Let the doughnuts rise for about another 45 minutes, until they are puffed and nearly doubled.
Bake in a 375 degree F oven until the bottoms are just golden, 8 to 10 minutes. Start checking the doughnuts around minute 8. They should still be pale on top, not golden and browned, and just barely baked through.
Remove the doughnuts from the oven and let cool for 1-2 minutes. Dip each one in the melted butter and toss or sprinkle with the cinnamon and sugar. Serve immediately.
Enjoy!