I'm a morning person who really enjoys breakfast, and when I have it I usually have it on the sweet side. Whether it's pancakes with maple syrup, cereal with blueberries, or a strawberry smoothie, I love a fruity, flavorful morning meal. However, sometimes I like to change it up with something savory, like a vegetable frittata, sausage muffins, or these crispy scallion potato pancakes!
These savory pancakes are so simple and quick, and they're as delicious with a dollop of sour cream as they are with a plate of eggs and bacon. To serve four people, just peel and grate about four potatoes and mix with an egg white, scallions, salt and pepper. Place them in a hot pan with some oil, and press down firmly to get them golden brown and crispy. Once they're done cooking, you can serve them as is or cut them into wedges for easy eating. These little hot cakes are so scrumptious with sour cream or, since they taste similar to hash browns, ketchup.
Enjoy the rest of your quick morning breakfasts this week, but take the time to try these some slow weekend morning. You and whomever else is lucky enough to eat these with you will be very happy you made them!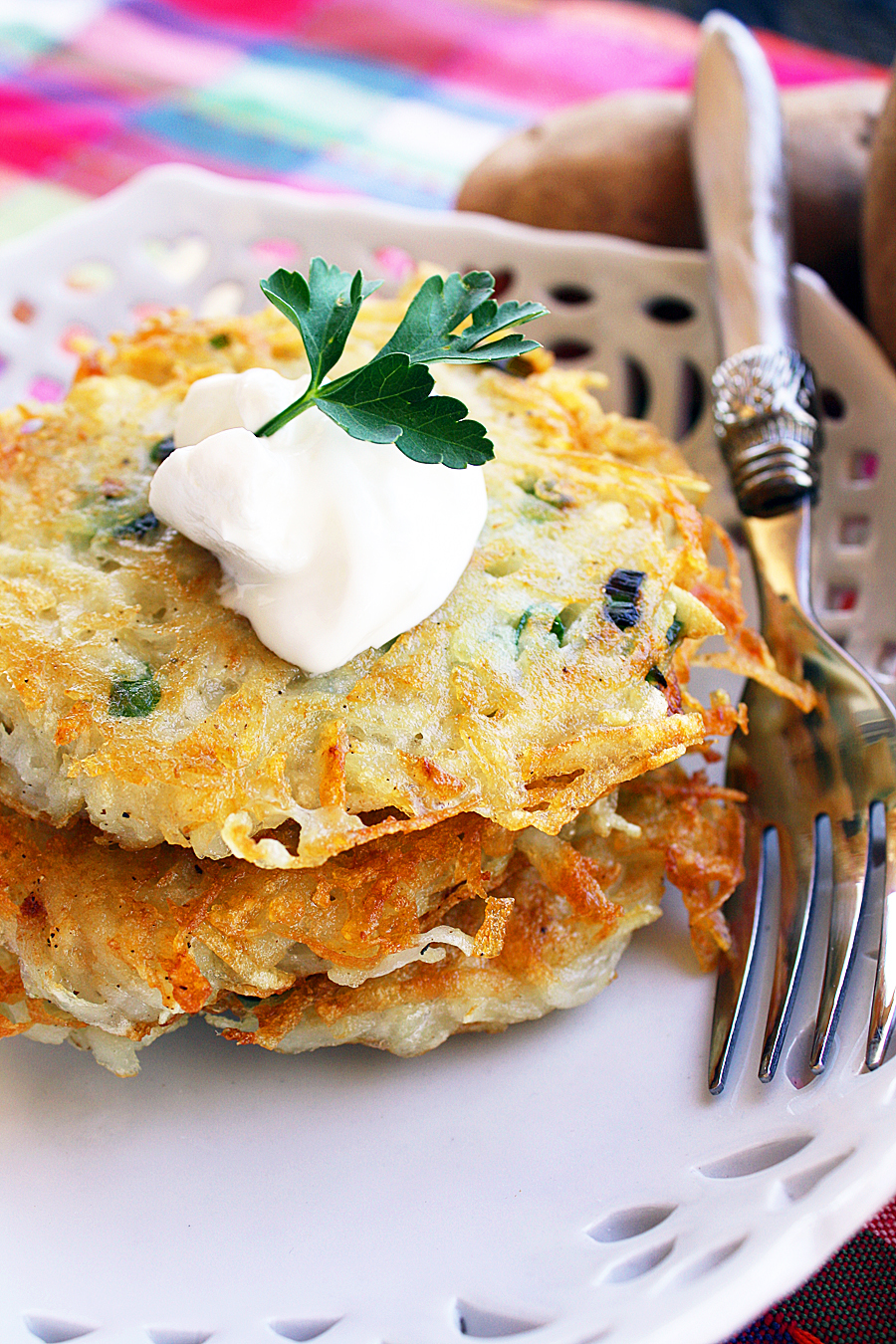 Crispy Scallion Potato Pancakes
Ingredients
2 pounds baking potatoes
4 scallions, finely chopped
1 egg white
1/2 teaspoon kosher salt
1/4 teaspoon freshly ground black pepper
1/4 cup vegetable oil
Instructions
Peel potatoes and shred on the large holes of a box grater. Squeeze the shredded potatoes dry.
In a large bowl, using 2 forks, mix the shredded potatoes with the scallions, egg white, salt and pepper.
Set a 10-inch nonstick skillet over high heat. Add oil to skillet. Add the potato mixture to the skillets and press into firm cakes. Press the cakes firmly and cook until they are browned and crisp on the bottom, about 5 minutes per side. Slide the cakes onto a work surface. Cut into wedges and serve.
Enjoy!