There are two things I had been meaning to do for quite some time. The first was to visit the Smart & Final store that I've lived close to for almost four years, but had never stepped inside. And the second was to experiment with phyllo pastry. The flaky, delicate dough has been on my list for a while and I've had plenty of recipes in mind!
And, okay, there's a third thing here which was to share with you a spring inspired dessert with buttery light pastry, homemade vanilla pudding and my favorite fruits. Make way, chilly breeze, for a bunch of fresh and fun treats from my kitchen. In here, it's springtime!
When Smart & Final contacted me about joining a challenge to create an original recipe with one of their frozen products, I jumped at the chance. My local store was lovely, clean and bright ("like CostCo without the membership," my husband and I agreed) and full of everything and more that you'd expect to find in a grocery store, but at less expensive prices.
I had never used phyllo dough before making these tartlettes, but I can tell you one thing: There's no need to buy the prebaked phyllo cups because they're easy as pie to make yourself! Just do like I did and brush the dough's layers with melted butter, cut out rounds and pop 'em into muffin pans. While they're baking and then cooling, you can make your luscious, velvety vanilla pudding and prepare your favorite fruits for topping the mini tarts. I used sliced strawberries and kiwi, and a few plump blackberries.
The crisp phyllo shells filled with creamy, fragrant vanilla pudding and juicy summer fruits make these little tarts perfect for brunch, snacks or an after-dinner dessert. Try them once the warm weather hits to impress guests, add something special to a party, or simply to treat yourself!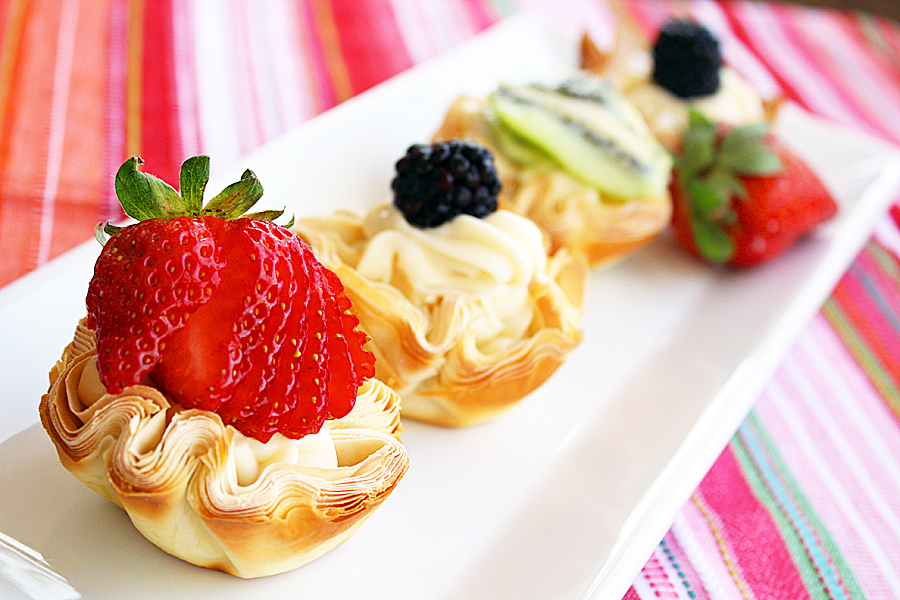 Fresh Fruit Phyllo Tartlettes
Yield:
30 tartlettes (baked in a mini muffin pan)
Ingredients
Phyllo Cups:
1 package frozen phyllo dough, 2 rolls, thawed
4 tablespoons melted butter
Vanilla Pudding:
2 1/2 cups milk, divided
Pinch salt
1/2 cup sugar 3 tablespoons cornstarch 2 egg yolks
1 teaspoon vanilla extract
1 tablespoon butter or margarine
To assemble the tarts:
Prepared phyllo cups
Prepared vanilla pudding
Fresh fruit, I used sliced strawberries and kiwis, and blackberries
Instructions
Phyllo Cups:
Preheat oven to 375 degrees F.
Lay one sheet of phyllo dough out on a cutting board. Brush lightly with butter. Carefully lay another sheet of dough over the first and repeat with butter and remaining dough. Using a 2" round biscuit or cookie cutter, cut out rounds and gently press, butter side down, into mini muffin pan cups.
Place on the oven's center rack. Remove the pan after it has baked for five minutes. Press the center down, carefully, if it is beginning to puff up. Place back in the oven and bake for five more minutes or until golden brown. Remove from oven. Remember that the cups will continue to brown a bit as they cool. Transfer cups to a rack and cool completely.
Vanilla Pudding:
Place 2 cups milk and salt in a saucepan. Sprinkle sugar on milk and do no stir; heat over medium-high. Quickly combine cornstarch with remaining milk; add egg yolks and mix well. When milk comes to a full boil, remove saucepan from the heat and stir in cornstarch mixture. Pudding will begin to thicken. Return to the heat and cook for 1 minute. Remove from the heat; stir in vanilla and butter. Allow to cool completely.
To assemble the tarts:
Spoon two teaspoons of the vanilla pudding into each cup, top with fruit and serve. The phyllo cups will remain crisp for about three hours at room temperature.