These light, lemony no-bake bites topped with fresh strawberries are easy to make and totally addicting!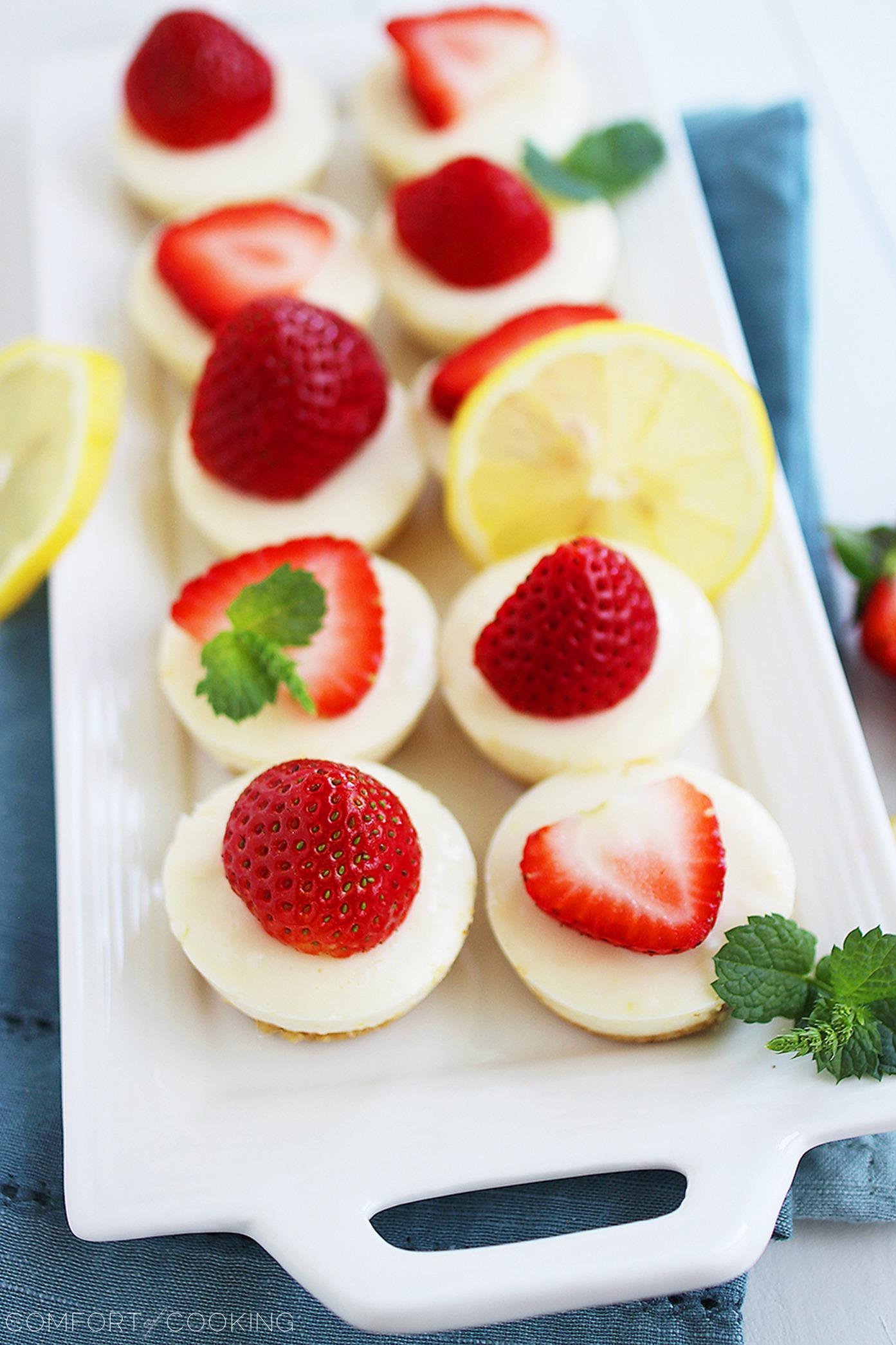 What are your favorite ingredients to cook and bake with in the summer? For me, it's fresh, colorful fruits and vegetables like strawberries, zucchini, lemon and bell peppers. I do much more stovetop cooking than hot-oven baking in the summer, though, since firing up my oven during Austin's scorching summers is low on my list. But with these no-bake bites, I can make my dessert and enjoy it without breaking a sweat!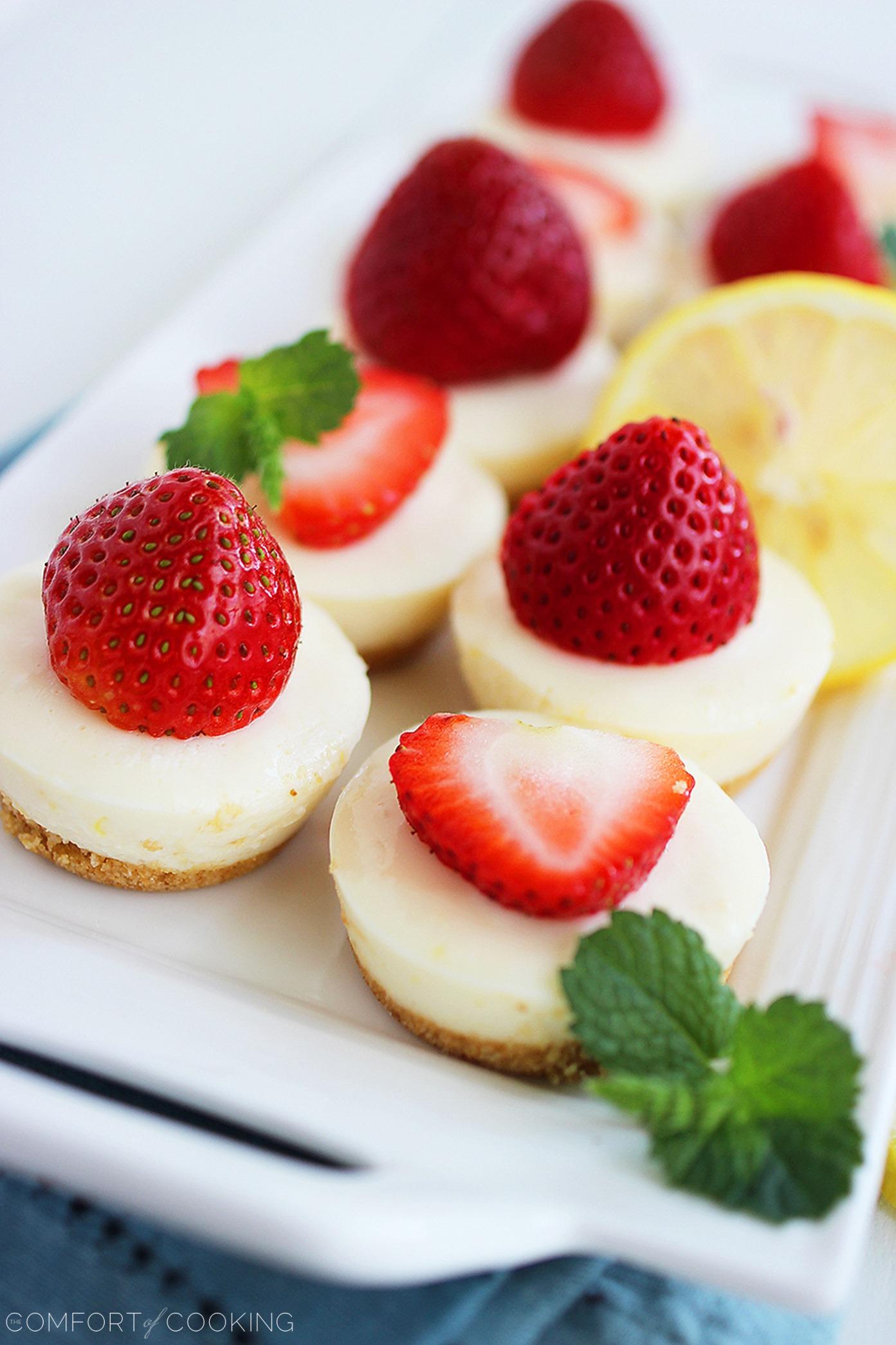 These little bites are absolutely addicting. They're light and lemony, with a buttery graham cracker crust and a soft, custardy filling made with Philadelphia Cream Cheese. Of course, I had to use the very best!
Philadelphia Cream Cheese is made with fresh, local milk from nearby farms and is combined with pure cream to make for a silky smooth base. Due to Philadelphia's high standards and commitment to developing delicious, quality cream cheese, they've been America's favorite since 1872. They have amazing new flavors out now, like Spicy Jalapeno and Honey Nut with real jalapenos and pecans, which I can't wait to pair with fresh summer fruits and veggies from my favorite Austin farmer's market!
You've gotta love really good desserts made with real, wholesome ingredients! You can check out many more delicious, easy Philadelphia recipes at the Real Women of Philadelphia community page.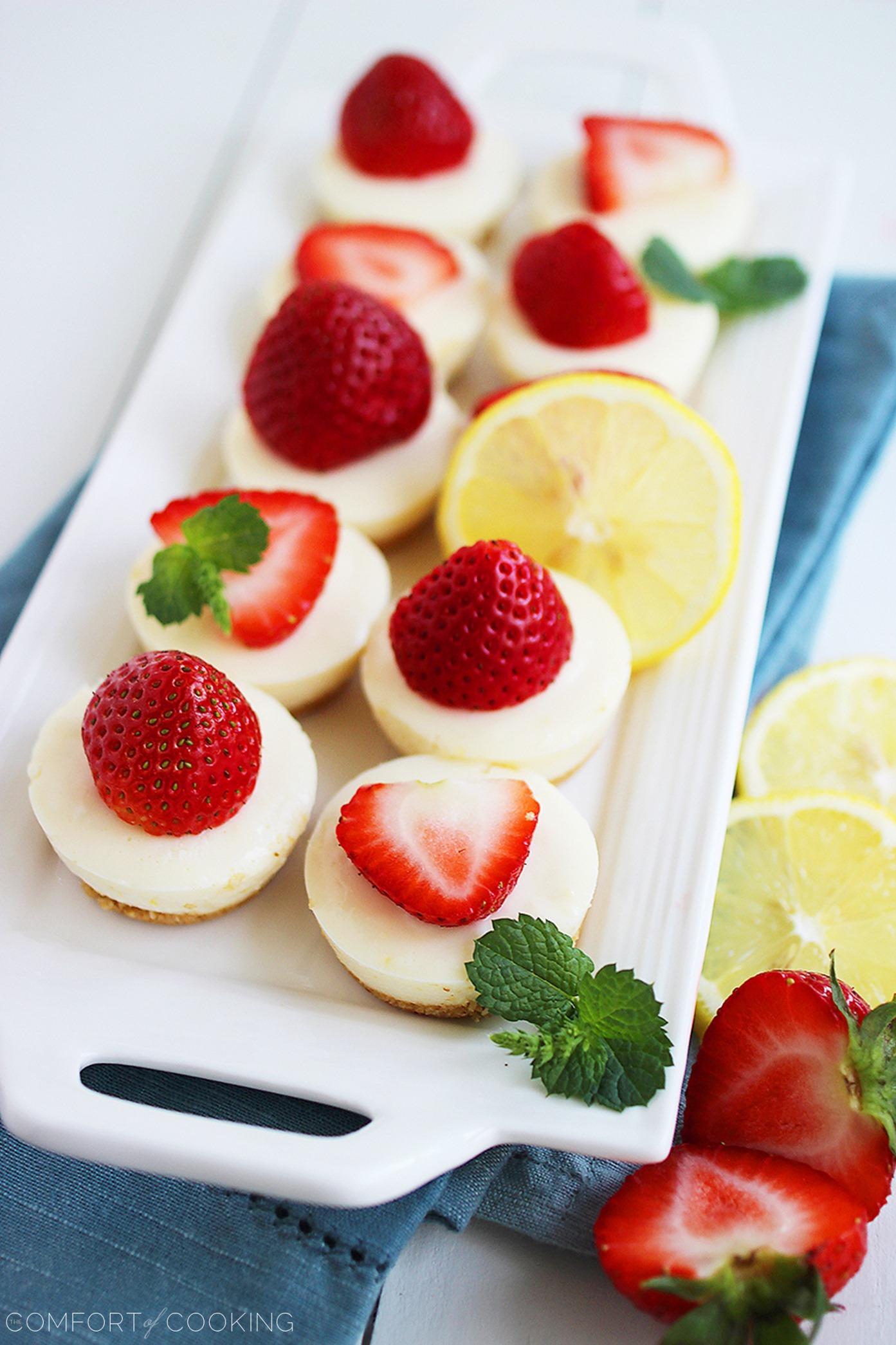 But, back to these blissful lemon bites! It is impossible to stop at one, and that's a fact. Citrusy and smooth, with a slight chew from the graham cracker crust and a tangy-sweet bite from the strawberry topping, these are my must-make for every BBQ and summer occasion!
One bite and I think you'll agree that they need to make an appearance at yours, too! That is, if you have the self control to not eat them all first…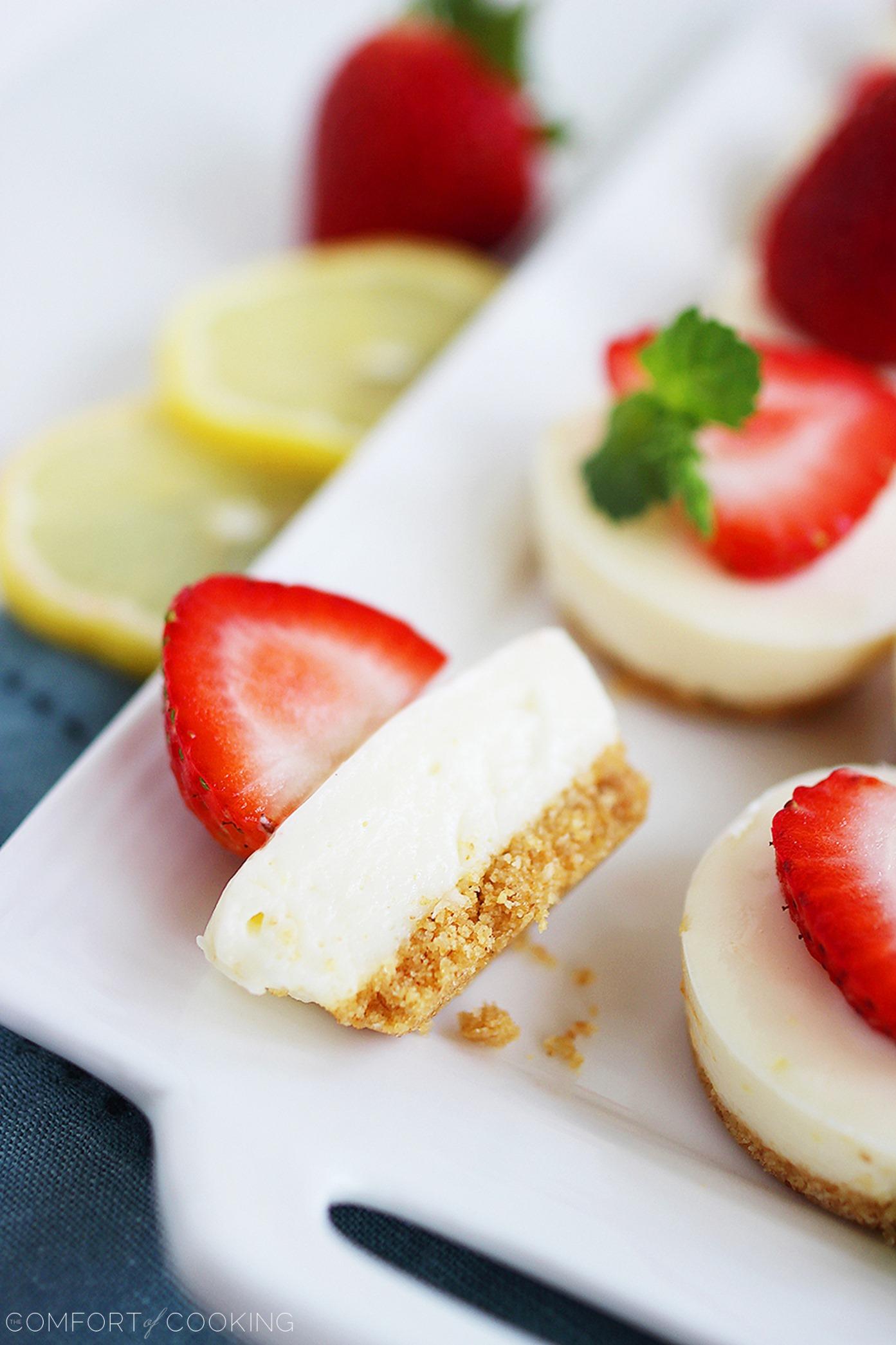 I know you'll enjoy these light, summery bites just as much as we did! They're easy and fun to make, and everyone from adults to kids will agree that they're the perfect summer dessert, appetizer or snack. No hot oven required!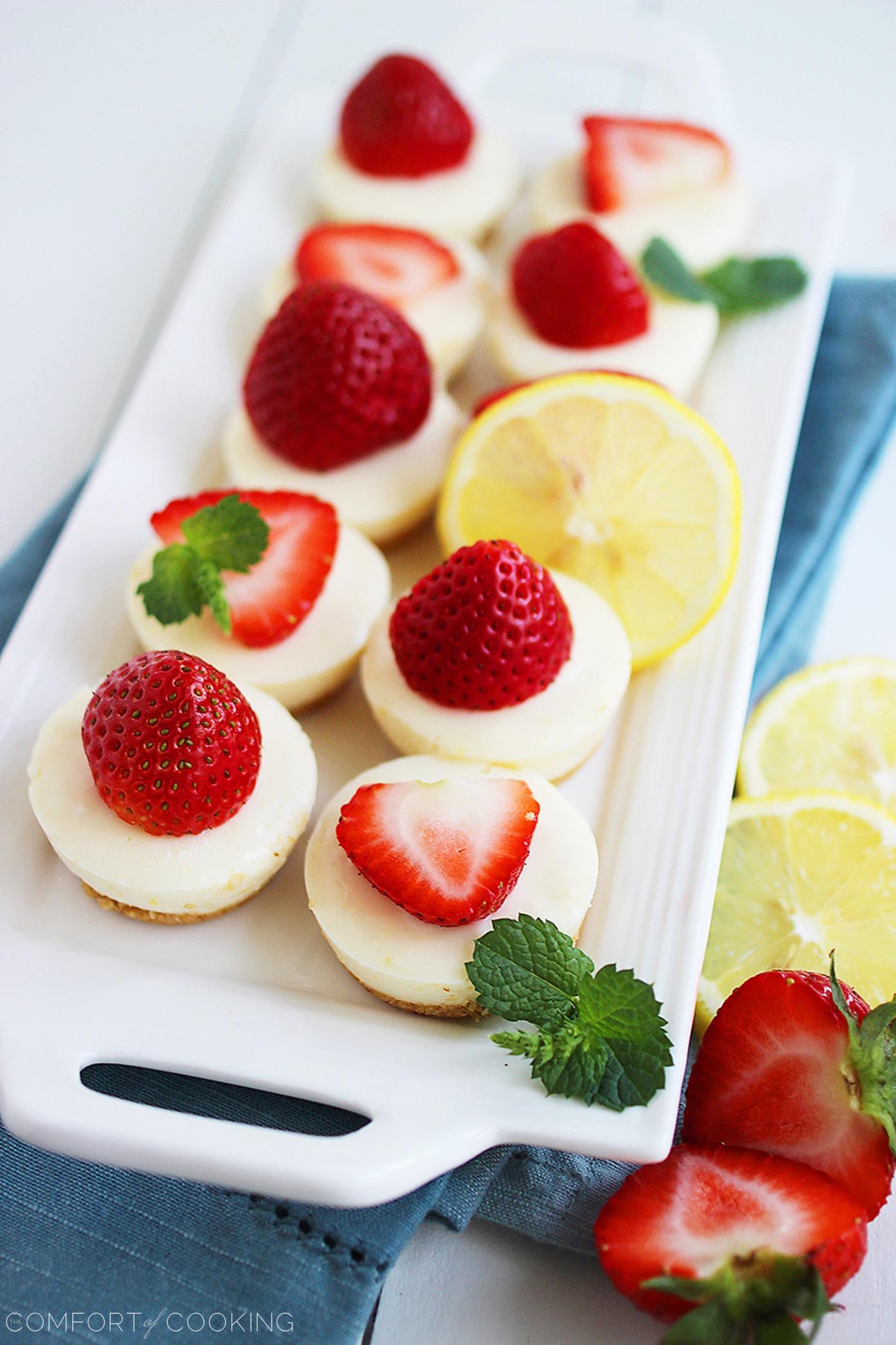 No-Bake Strawberry Lemonade Bites
Ingredients
For the crust:
4 graham cracker sheets, 8 squares
2 Tablespoons melted butter
1 Tablespoon brown sugar
Nonstick cooking spray
For the filling:
8 oz. Philadelphia 1/3 Less Fat Cream Cheese, softened until very soft*
14 oz. can fat-free sweetened condensed milk
1/4 cup egg beaters all-whites, or regular egg beaters*
2 teaspoons powdered gelatin
3 Tablespoons boiling water
1 teaspoon lemon zest, from 1 lemon
1/2 cup fresh lemon juice, from 3-4 lemons
For garnish:
12-24 small strawberries, sliced
Instructions
For the crust:
In a food processor or blender, process graham crackers until very fine. Add butter and brown sugar, processing to combine.
Spray the cups of one 24-cup (or two 12-cup) mini muffin tin generously with nonstick spray. Spoon a heaping teaspoon of graham cracker mixture into each cup. Press down firmly with a flat-bottomed shot glass to form the crust. While making the filling, place muffin tin(s) into refrigerator to chill.
For the filling and garnish:
In a large bowl, beat together softened cream cheese, sweetened condensed milk, and egg beaters until smooth and creamy, about 2 minutes. In a small bowl, whisk together powdered gelatin and boiling water until dissolved. Let cool for 2 minutes (no longer – this is crucial), then add into the cream cheese mixture along with lemon zest and juice. Beat until fully combined.
Fill each mini muffin tin cup with a heaping tablespoon of filling, right to the top. Place filled muffin tins into the refrigerator to firm up, at least 8 hours or overnight.
To remove chilled bites, run a blunt knife around the outside of each cup to pop it out. Top with half a strawberry, sliced in half or thin slices, as you prefer. Store in the refrigerator in an airtight container, up to 5 days. Freeze for up to 3 weeks.