I just love a frilly, festive and colorful dessert. They're just much more fun to eat, don't you think? Like savoring an absolutely delicious work of art… Not that these are art, but boy are they delicious!
To celebrate the just-passed Christmas season, and looking forward to the New Year ahead, I give you one of my favorite colorful and simply mouthwatering cakes. Red velvet. The name just oozes decadence and softness, everything that embodies this tasty, heavenly treat.
The cake itself is very moist thanks to a generous dose of buttermilk, and the cocoa powder (use one of good quality; I prefer Valrhona) sends each bite right over the scale of good and into amazing!
Combined with a bit of frilly, fluffy cream cheese frosting, the flavor of these red velvet cupcakes is a bit of melt-in-your-mouth heaven on earth.
As a gift for someone special, a delicious accessory to your New Year's party dessert table, or simply a kitchen experiment, these cupcakes will definitely please. Until recently, my favorite cake flavor was boring old vanilla, but now that this red velvet recipe has come into my life, that has all changed. Try them for yourself and I think you'll agree!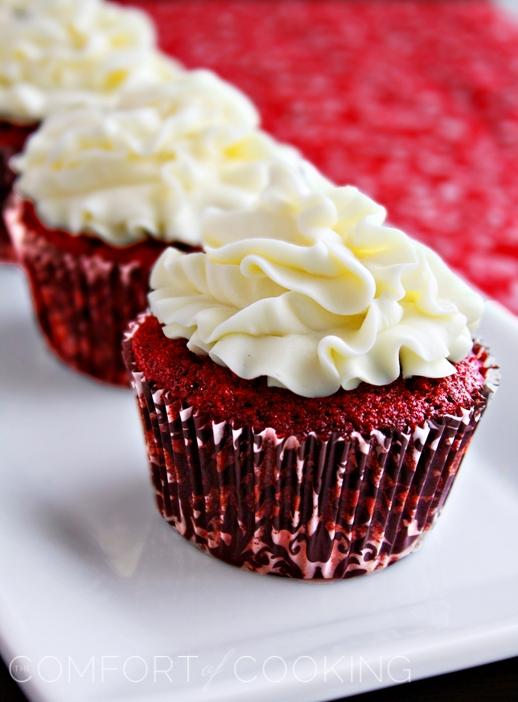 Red Velvet Cupcakes
Ingredients
1/4 cup butter, softened
3/4 cup white sugar
1 egg
1/2 cup buttermilk
1 tablespoon red food coloring
1/2 teaspoon vanilla extract
3/4 teaspoon baking soda
1-1/2 teaspoons distilled white vinegar
1 cup all-purpose flour
2 tablespoons unsweetened cocoa powder
1/2 teaspoon salt
Instructions
Preheat oven to 350 degrees F. Grease 10 cups in a muffin pan or line with 10 paper baking cups.
In a large bowl, beat the butter and sugar with an electric mixer until light and fluffy. Mix in the eggs, buttermilk, red food coloring and vanilla. Stir in the baking soda and vinegar. Combine the flour, cocoa powder and salt; stir into the batter just until blended. Spoon the batter into the prepared cups, dividing evenly.*
Bake in the preheated oven until the tops spring back when lightly pressed, about 15 minutes. Cool in the pan set over a wire rack. When cool, arrange the cupcakes on a serving platter and frost with desired frosting (I used my basic cream cheese frosting recipe).
Enjoy!
Notes
Tip: For cupcakes that rise right to the top with no spill-over, fill the liners 3/4 full; a large cookie scoop helps