How was your weekend? Good, I hope. Mine was fun but a little lonely, as my husband has been away on business in Texas. However, I made the best of the last few days by lining up a bunch of feel-good treats for myself… Saturday was a stroll through the Santa Monica farmer's market, then a warm bubble bath and a teenage favorite, Moulin Rouge (sigh). Sunday, I baked some cinnamon rolls, devoured a hundred more pages of The Help and stretched out my stresses at yoga.
It was a nice few days of quiet. Except, no matter how many things I had to keep me busy, I still spent some time missing my sweetie.
Some people have said that eating bread pudding is like receiving a good, warm hug. So, since I've been wanting to try bread pudding and, frankly, could have used a hug, I knew it was the perfect dessert to snuggle up with.
After toasting a cut-up loaf of French bread, soaking it in a mixture of egg, milk, brown sugar, bourbon, vanilla and raisins, it was ready to bake. Drizzled with a little caramel sauce, I scarfed on a serving while reading outside and enjoyed every warm, flavorful bite.
The bourbon in this bread pudding is very subtle and was really complimented by the sweetness of the brown sugar and my homemade vanilla extract. The juicy raisins added a slight tartness, and the caramel… Do I really need to explain the pure bliss that is caramel sauce? I think you know.
Even though this delicious dessert (or breakfast) can't help a heart in need of her husband, it certainly gave me the temporary feeling of being "hugged." I can't wait to enjoy this with him when he gets back, and I know you would really enjoy it, too!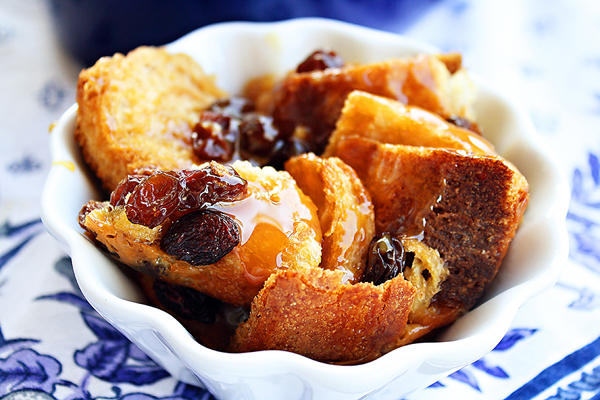 Bourbon Bread Pudding with Caramel Sauce
Ingredients
1 8-ounce loaf unsliced French bread
1 cup milk
1/4 cup firmly packed brown sugar
1/8 cup bourbon
1 teaspoon vanilla extract
1 egg
1/3 cup raisins
Cooking spray
1/4 cup caramel sauce, homemade or store-bought
Instructions
Trim crust from bread using a serrated knife, and discard crust. Cut bread into 1-inch cubes. Arrange bread cubes in a single layer on a baking sheet. Bake at 350° for 12 minutes, or until toasted.
Combine skim milk, brown sugar, bourbon, vanilla extract, and eggs in a bowl; stir well. Add bread cubes and raisins; toss gently. Cover and chill 45 minutes.
Spoon mixture into a 9-inch square baking dish coated with cooking spray. Cover and bake at 350° for 20 minutes. Uncover and bake an additional 10 minutes or until pudding is set.
Pour caramel sauce a small, microwave-safe bowl. Microwave for 30 seconds, or until warm. Serve with bread pudding.
Enjoy!