Pure vanilla extract from the store can be pricey staple if you use it as often as I do. Luckily, though, there is a great alternative to spending a lot of money or reverting to imitation extract. It's called homemade! And it's easy to do. Seriously easy.
Last month, I stumbled across this great tutorial from Elaine at The Italian Dish for making the extract, but there's really no need to follow a strict recipe. Homemade vanilla extract only requires a bottle with a cap and two ingredients: Vodka and 3-4 vanilla beans of your choice (I used Bourbon beans but here's an informative post about many different kinds).
All you do is this: Halve and split open your vanilla beans with a paring knife (Elaine has beautiful photos demonstrating how to do this). Plop the split beans into a bottle, about 4-5 oz. in size. Fill to the top with vodka (I used Svedka), shake gently and store in a cool, dark cabinet. When you're running low, just fill up the bottle with more vodka, and eventually add some fresh vanilla beans. It will last for years.
The extract needs 6-8 weeks to fully develop before it's ready to be used. However, after about 5 weeks, I have grown impatient and made chocolate chip cookies, pancakes and strawberry-vanilla jam with it, and the smell and taste have been more pronounced than with any store-bought variety I've ever used. It's really amazing.
Whether as a gift for friends or family, or just to experiment, try this for yourself and you'll be happy you did!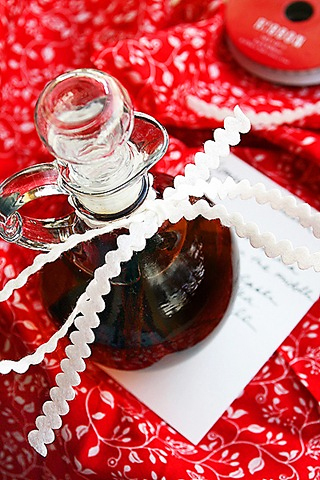 Homemade Vanilla Extract
Ingredients
3-4 vanilla beans, recommended: Madagascar, Bourbon
About 1 cup vodka, recommended: Svedka
Glass bottle with a tight fitting cap
Instructions
Use kitchen scissors or a sharp paring knife to cut each vanilla bean in half, then lengthwise down each bean, opening them up.
Put vanilla beans in a glass jar or bottle with a tight fitting cap. Cover completely with the vodka.
Give the bottle a good shake every once in a while. Store in a cool, dark cabinet.
This lasts for years. You can keep topping it off with vodka once in a while as you use it, just remember to give it a good shake. Eventually, add some fresh vanilla beans.
Enjoy!