You make plans and life laughs. That seems to be the motto for the way things have gone in the past two weeks: My husband and I planned to stay with his family in New Jersey for just five days of the holiday, but due to a few feet of unexpected snow, we ended up staying an additional twelve before flying home on January 3.
Pizza, wine and lots of laughs helped medicate our frustration and make the best of the unexpected bump in the road. Later, I made a pot of chili for 10 and baked blueberry muffins, shopped for cute ornaments, threw snowballs, slurped on soup, played board games and spent a lot of time talking over tea. Our New Year was spent clutching Kleenex and tending to colds, sleeping late and gathering our things for the flight home. However, regardless of the fact that nothing worked out exactly as planned, it all couldn't have gone better.
So, now that I'm refreshed, rejuvenated and full of ideas, let's get back to bringing you simple, scrumptious recipes – like this crème brulee – that you can make easily and quickly in your own home.
Crème brulee is often regarded as a tricky, complex dessert demanding just the right tools: shallow, scalloped dishes, a kitchen torch, a mixer for blending the ingredients to just the right consistency. They are not necessary. Not one bit.
A few standard-sized round ramekins, a broiler (either a convection or toaster oven are fine), and a baking dish are all you need. Yes, really.
I always say that anything truly good takes a bit of effort. So, while this brulee isn't completely foolproof, it is a surprisingly simple dessert for a careful, concise home cook to whip up. And it's just as delicious as any crème brulee I've had at a restaurant before.
Imagine soft, pillowy cream speckled with the fragrant caviar of vanilla beans, topped with a broiled brown sugar crust that yields an incredibly satisfying sound when tapped with a spoon.
Garnished with a few berries and enjoyed with a friend, this is one classic, decadent dessert you'll go back to again and again. No restaurant reservation – or kitchen torch – necessary.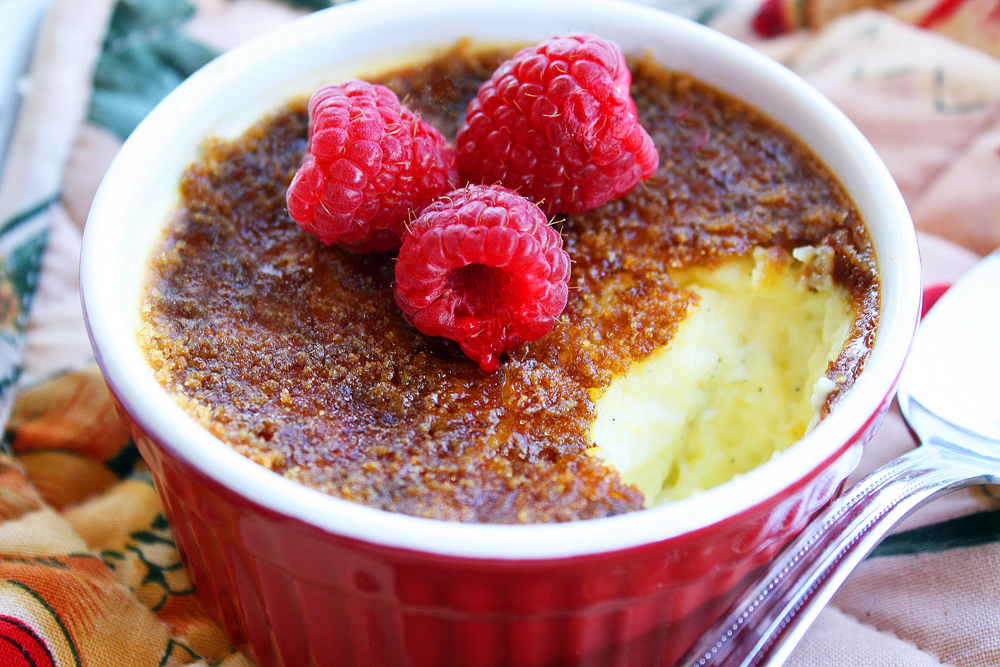 Crème Brûlée
Ingredients
2 cups heavy cream
5 egg yolks
1/2 cup sugar
1 tablespoon vanilla extract
1/2 cup light brown sugar
Instructions
Preheat oven to 275 degrees. Whisk the cream, egg yolks, sugar, and vanilla extract together in a bowl. Mix it all up until it gets nice and creamy. Pour this mixture into ramekins. (It will evenly distribute between four 7-ounce dishes.)
Place the ramekins in a baking pan. Fill the baking pan with hot water, about halfway up the sides of the ramekins. Place the pan with the ramekins in the oven for 45 minutes to an hour or so. After 45 minutes, check them every ten minutes. You'll know they're done when you can stick a knife in one and it comes out clean. Remove the ramekins from the baking pan, set them on the counter, and let them cool for 15 minutes or so.
Then, put them in the refrigerator and let them chill overnight.
Sprinkle a thin layer of the light brown sugar on the top of each. Make sure it's a THIN layer, but also make sure it completely covers the custard.
Preheat your toaster oven to "Broil" and place ramekins in broiling tray filled with water (add as much water as possible to keep ramekins cool), let brown sugar caramelize (about 2min), then place ramekins in a fresh water filled baking tray to cool for a minute.
Garnish with berries, if desired.
Enjoy!