If ever I were to succumb to death by chocolate, I would want it to be from these cupcakes. Keep your brownies, biscotti, cookies and cakes. These cupcakes will be waiting for me in heaven… I just know it.
But instead of death, let's talk about life, here and now. "Here" is a decadent little cupcake to celebrate the one-year anniversary of The Comfort of Cooking, happening "now"! Hooray, let's celebrate! Cupcakes for all!
I'm feeling good about the year that's passed, and looking forward to many more. On January 6, 2010, the day that I started my first entry, I wasn't sure why I was writing, what I would write about, or who would read it besides my mom. However, since then I have come to find the answers to all of those questions. I've also been blessed with sweet and supportive readers, gained the confidence to take more risks in the kitchen, and learned a heck of a lot about cooking, baking and everything in between!
So, while I would like to but can't hand-deliver cupcakes to every reader who has been kind enough to stop by and leave their two cents (sense? cents? I've never known), I hope you know how much I appreciate all of your support. Now, let's get drooling over some chocolate…
Soft, crumbly and moist, these cupcakes were a cinch to whip up and absolutely divine to devour. With the Valrhona cocoa powder and vanilla bean paste that I received as Christmas gifts from my mother-in-law, these cupcakes were little a slice of luxury in under half an hour.
If you have the occasion to make these cupcakes, or if you're just a chocoholic like me, I can't recommend this recipe enough. Gulp 'em down with a glass of milk, and you'll think you've died and gone to scrumptious, sinful chocolatey heaven.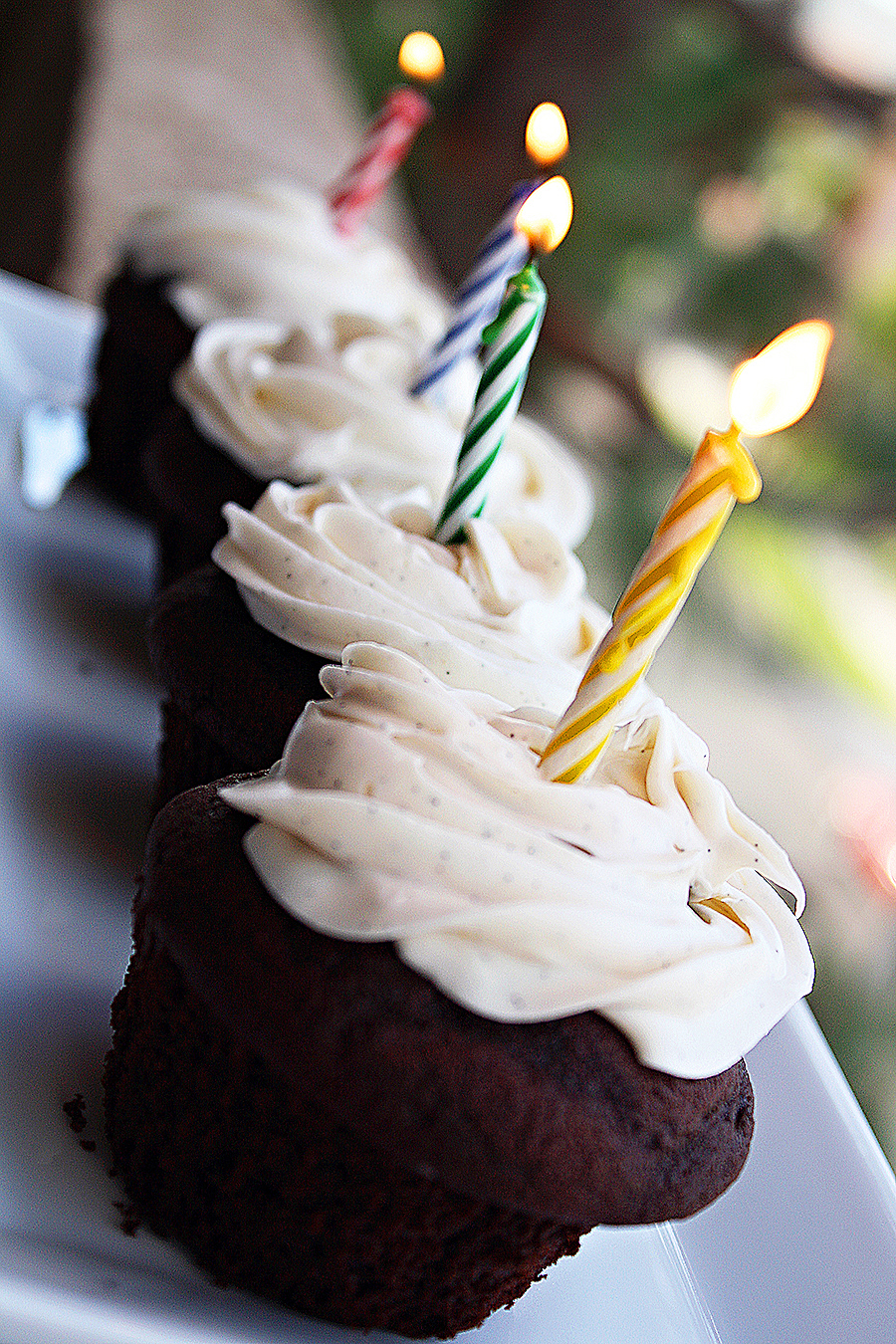 Chocolate Cupcakes with Vanilla Bean Buttercream
Yield:
16 cupcakes / 3 cups frosting
Ingredients
Chocolate Cupcakes
1/2 cup Dutch-processed cocoa powder
1 cup boiling hot water
1 1/3 cups all purpose flour
2 teaspoons baking powder
1/2 teaspoon salt
1/2 cup unsalted butter, room temperature
1 cup granulated white sugar
2 large eggs
2 teaspoons pure vanilla extract
Vanilla Bean Buttercream
2½ sticks unsalted butter, softened
1 vanilla bean, halved lengthwise, or 1 Tablespoon vanilla bean paste
2½ cups confectioners' sugar, 10 ounces
Pinch of salt
1 teaspoon vanilla extract
2 Tablespoons heavy cream
Instructions
Chocolate Cupcakes
Preheat oven to 375 degrees. Lightly butter or line 16 muffin cups with paper liners.
In a small bowl, stir until smooth the boiling hot water and the cocoa powder. Let cool to room temperature. In another bowl, whisk together the flour, baking powder, and salt.
Then, in the bowl of your electric mixer, or with a hand mixer, beat the butter and sugar until light and fluffy. Add the eggs one at a time, beating until smooth. Scrape down the sides of the bowl as needed. Beat in the vanilla extract.
Add the flour mixture and beat only until incorporated. Then add the cooled cocoa mixture and stir until smooth.
Fill each muffin cup about two-thirds full with batter and bake for about 18-20 minutes or until risen, springy to the touch, and a toothpick inserted into a cupcake comes out clean. Remove from oven and place on a wire rack to cool.
Once the cupcakes have completely cooled, frost with icing. You can either spread the frosting on the cupcakes with a small spatula or if piping, use a large Wilton 1M open star tip to make lovely swirls.
Vanilla Bean Buttercream
In a standing mixer fitted with the whisk attachment, beat the butter at medium-high speed until smooth, about 20 seconds. If using a vanilla bean, using a paring knife, scrape seeds from vanilla bean into butter. If using vanilla bean paste, add instead. Beat mixture at medium-high speed to combine, about 15 seconds.
Add confectioners' sugar and salt; beat at medium-low speed until most of the sugar is moistened, about 1 minute. Scrape down the bowl and beat at medium speed until mixture is fully incorporated, about 30 seconds; scrape bowl, add vanilla and heavy cream, and beat at medium speed until incorporated, about 20 seconds, then increase speed to medium-high and beat until light and fluffy, about 4 minutes, scraping down bowl once or twice.
Use to frost cupcakes or cakes.
Enjoy!