When I think of baking with apples, my mind immediately rushes to warm, gooey tarts, muffins and pies rich with the sweet scent of the crisp, fall season fruit. But, since I have such an abundance of it and have already done plenty of predictable apple desserts, I wanted to try something new… and this time, with cookies!
Snickerdoodles are one of my favorite cookies, and some of the simplest to make, only requiring butter, flour, sugar, eggs, cinnamon and the most basic ingredients to create a fantastically soft, rich sensation of fluffy flavor in every bite. With a bit of shredded apple, though, this experiment made for a really scrumptious spin on a classic cookie that's wonderful just as is.
Soft, sweet, and undeniably delicious dunked into a cup of hot tea, these apple cinnamon snickerdoodles should definitely make an appearance in your fall baking this season! I know they'll be popping out of my oven plenty this year, and if friends and family are lucky, into a box and onto their doorsteps!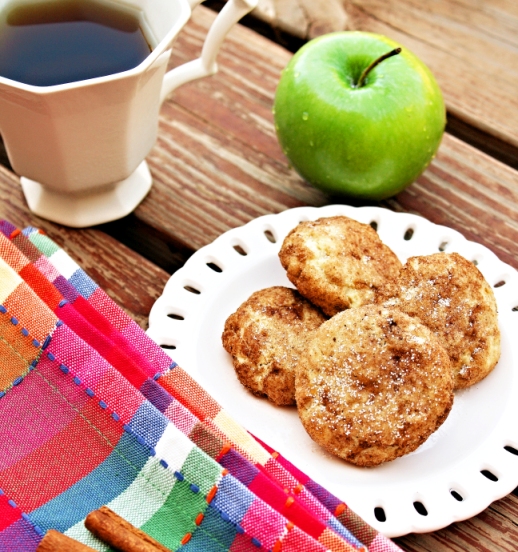 Soft Apple Cinnamon Snickerdoodles
Ingredients
1 stick 1/2 cup unsalted butter, softened
2/3 cup light brown sugar
2/3 cup white granulated sugar
2 large eggs
2 cup all-purpose flour
2 Tbsp. cornstarch
1 tsp. baking soda
1/2 tsp. table salt
1/8 tsp. ground nutmeg
1 small apple, shredded (I used Gala)
1/2 cup white granulated sugar
3 Tbsp. ground cinnamon
Instructions
Preheat your oven to 350°F.
With a mixer, cream butter on medium-high speed until soft and smooth.
Add both sugars to the creamed butter and mix until fully incorporated. With the mixer on medium-high speed, add the egg to the mixture and beat until the batter looks uniform.
In a separate bowl, combine the flour, cornstarch, baking soda, salt and nutmeg. Gently fold into the batter until just combined. Fold in shredded apples.
Prepare a greased or parchment lined cookie sheet. Form balls of dough and roll them around in the cinnamon sugar mixture. Place the dough balls on the sheet, about 3 inches apart. Use your fingers to press and flatten the dough slightly.
Bake for 8-10 minutes, or until the cookies are light golden brown. They should be soft and chewy. Remove cookies from sheet and cool on a wire rack.
Enjoy!