Since Thanksgiving is near and my family is traveling today to spend the holiday with us, I figured what better time to celebrate with something sweet! As much as I love the traditional apple pie, I'm a big lover of cake, and especially cake truffles. Tiny little mounds of cake encased in a crunchy coating of white chocolate candy are the antidote to all your ails. Try one and you'll trust me!
You may have seen and tasted plenty of variations of cake truffles, but you've never had them like this. The rich, moist pumpkin cake that goes together quickly is swirled with candy coating, covered in chopped walnuts and, just like that, they're all devoured before you know it!
The recipe is super simple, great for families to make together, and just about as delightful as getting a fresh pot of pretty yellow mums for the fall season! You're bound to enjoy whipping up a batch of these beauties as much as you will enjoy eating them, or giving them away to a grateful family member or friend.
Enjoy the holiday, foodie friends!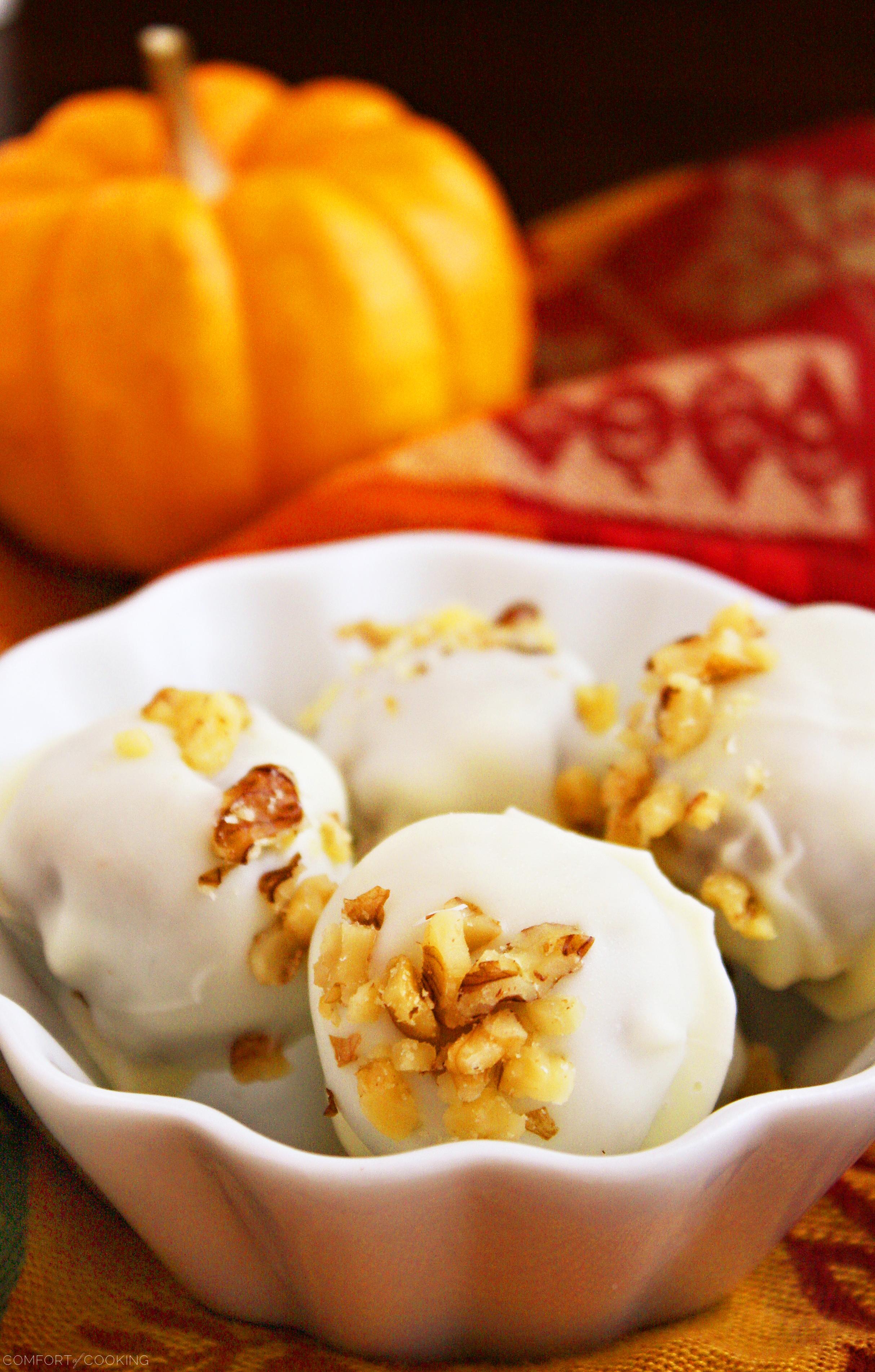 Pumpkin Cake Truffles with White Chocolate and Walnuts
Ingredients
1 package (18 1/4 oz.) spiced cake mix
1 package (4-serving size) vanilla instant pudding mix
1 cup pumpkin puree
1/2 cup oil
1/2 cup water
3 eggs
1 1/2 teaspoons cinnamon, ground
1 teaspoon ground ginger
1 teaspoon cloves, ground
1 teaspoon pure vanilla extract
1 14 oz. package white chocolate-flavored candy melts
Chopped walnuts, optional
Instructions
Preheat oven to 350°F. Beat all ingredients in a large bowl with electric mixer on low speed just until moistened, scraping side of bowl frequently. Beat on medium speed 2 minutes or until well blended, then pour into greased and floured 13 x 9-inch baking pan. Bake 30 to 35 minutes, or until toothpick inserted in center comes out clean. Cool completely in pan on wire rack.
Line two large baking sheets with wax paper and set aside. Scoop out small mounds of cake with your hands and roll into small dumpling-sized balls, then place on the baking sheets.
Melt the candy melts according to the package instructions, either in the microwave or a double boiler. Coat each cake truffle evenly in the candy coating and space evenly on the baking sheet, sprinkling with walnuts immediately, if desired.
Allow cake truffles to harden in the refrigerator at least 30 minutes, or overnight.
Enjoy!