Silky, rich cheesecake tart with a 5-ingredient filling – the perfect simple summer dessert! Top with sliced peaches, mangoes or fresh berries. A great anytime, go-to dessert and can be frozen days ahead of serving!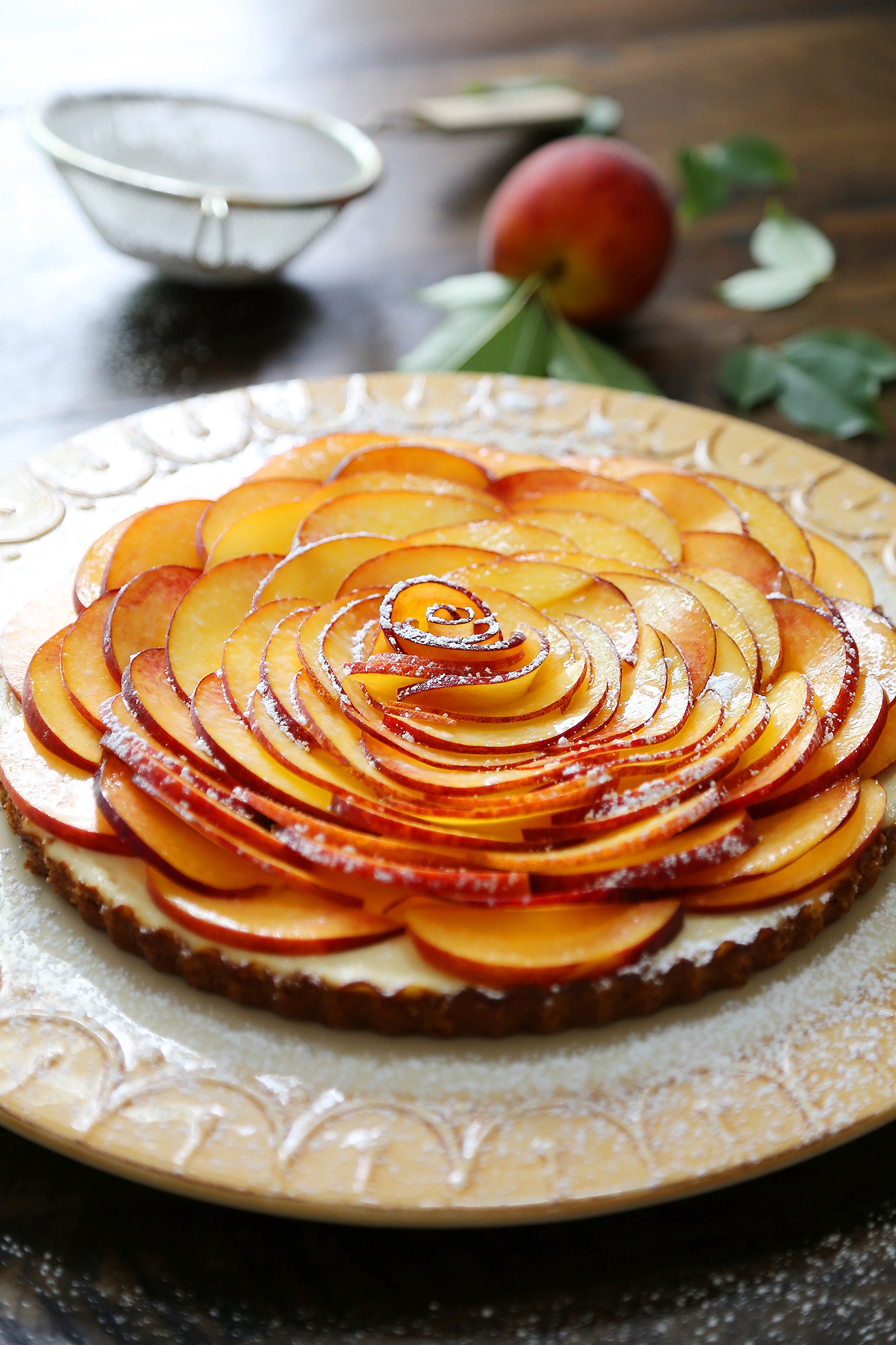 Finally! I have found my go-to dessert that is SO simple, delicious and hardly any cleanup (a definite win).
All I need are 7 ingredients, plus a bunch of sliced peaches or berries. I can make it a few days in advance of sharing, and it only has wholesome ingredients I already have on hand.
Helloooo, summer bbqs and potlucks!
It's not just for summer, though. You could easily serve this impressive dessert any time of year. Did I mention it was really, really simple?
Behind the scenes, I've been working for months on perfect the perfect cheesecake for you. But, I've finally found something much more foolproof, delicious and fun to make. And I'm so excited to share it with you!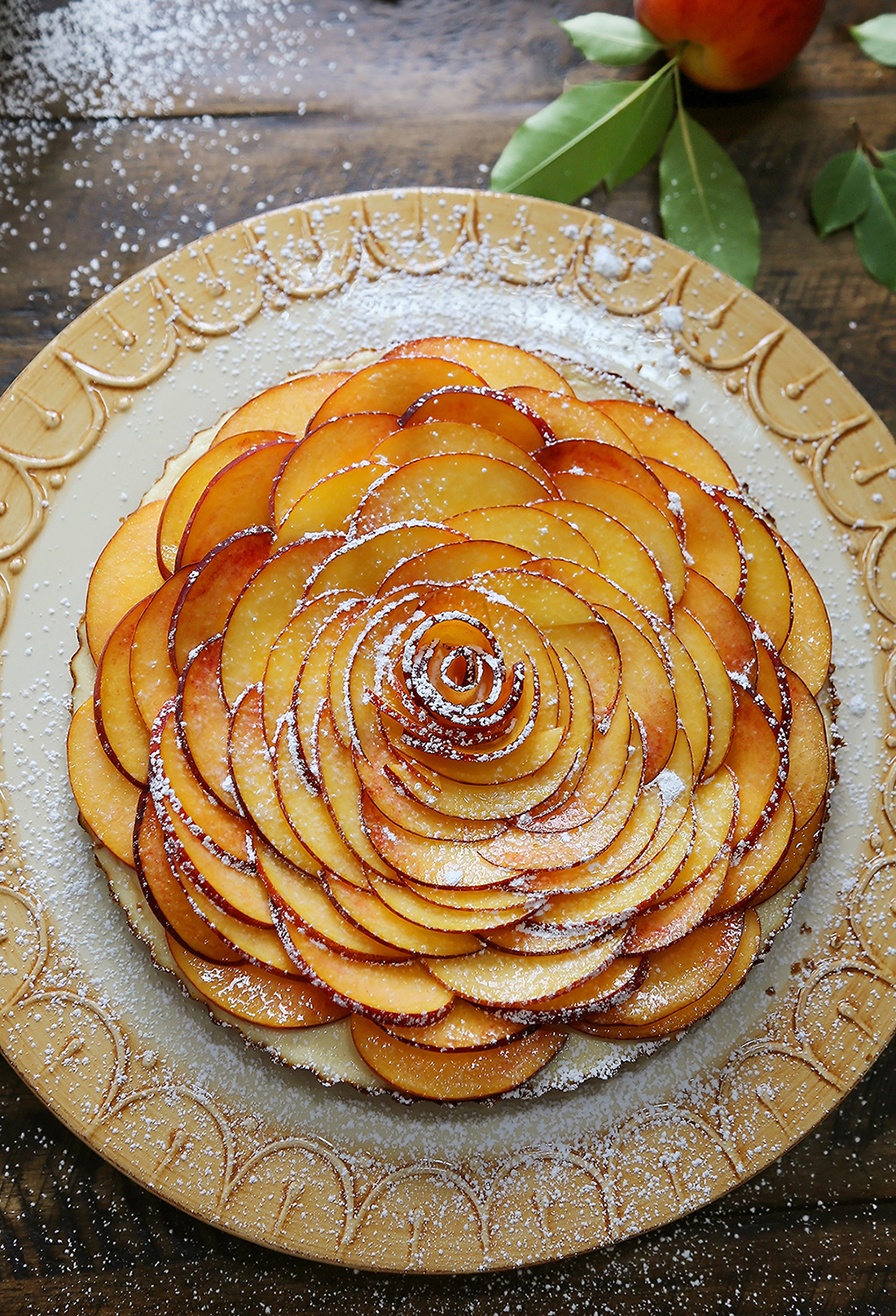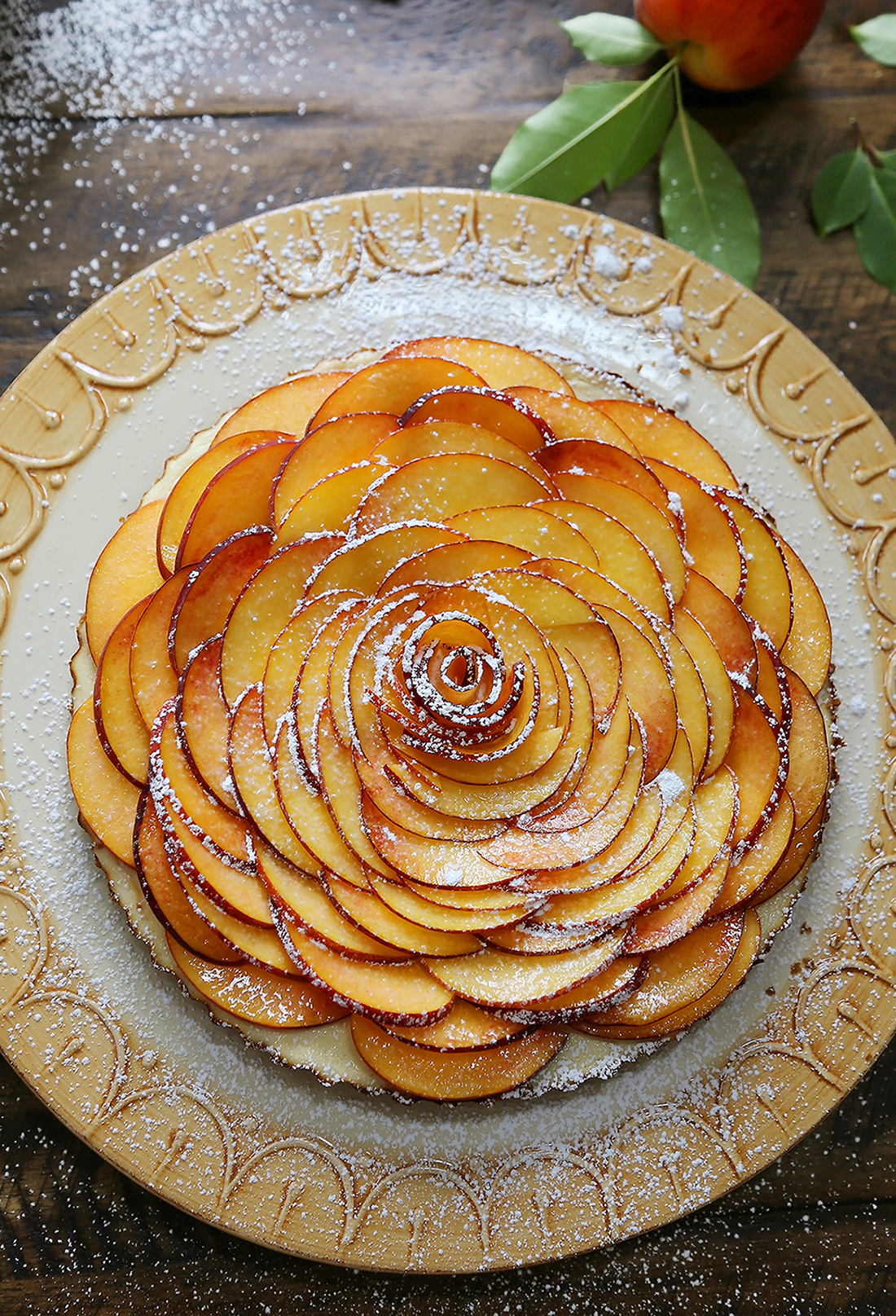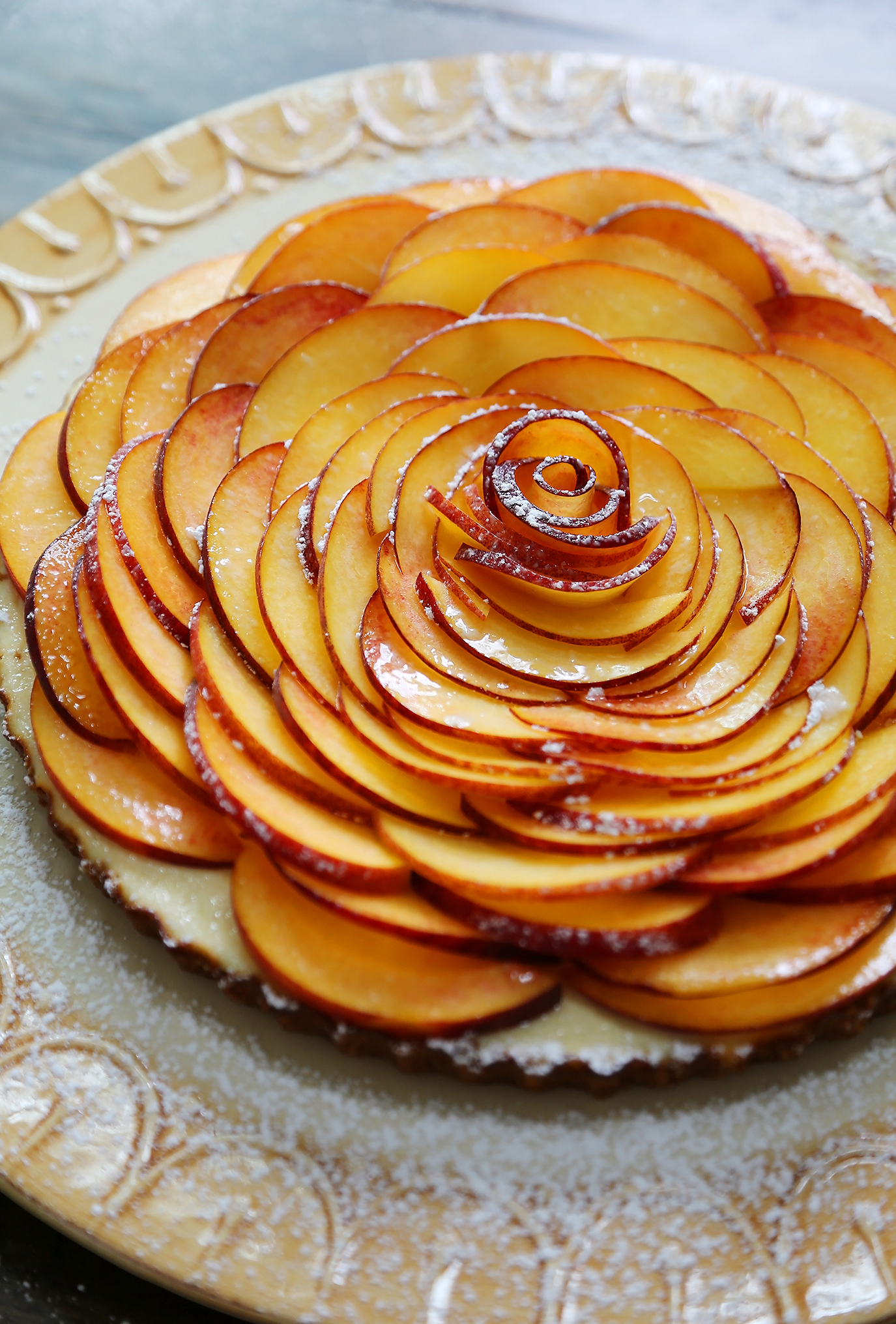 The base is a 2-ingredient buttery graham cracker crust, baked for 10 minutes. Meanwhile, whip up your one-bowl cheesecake-style custard. This is a mixture of cream cheese, Greek yogurt (or sour cream), honey, vanilla and an egg. Pour it in, bake it for 15 minutes, and let it cool on your counter a few minutes before freezing. Going from hot-to-cold so quickly can cause cracks in a creamy tart like this. But, don't worry – you can easily hide any blemishes with a beautiful fruit topping!
I like to freeze it until firm (1-2 hours), and then add my fruit topping before serving. This ensures the fruit doesn't develop ice crystals or brown spots.
This tart is scrumptious served frozen, chilled, or at room temperature. Since there is a just-right ratio of custard to crust, you can also be sure it won't melt on a picnic table before serving.
Slice it up, and serve at your next potluck, barbecue, or get-together with friends and family!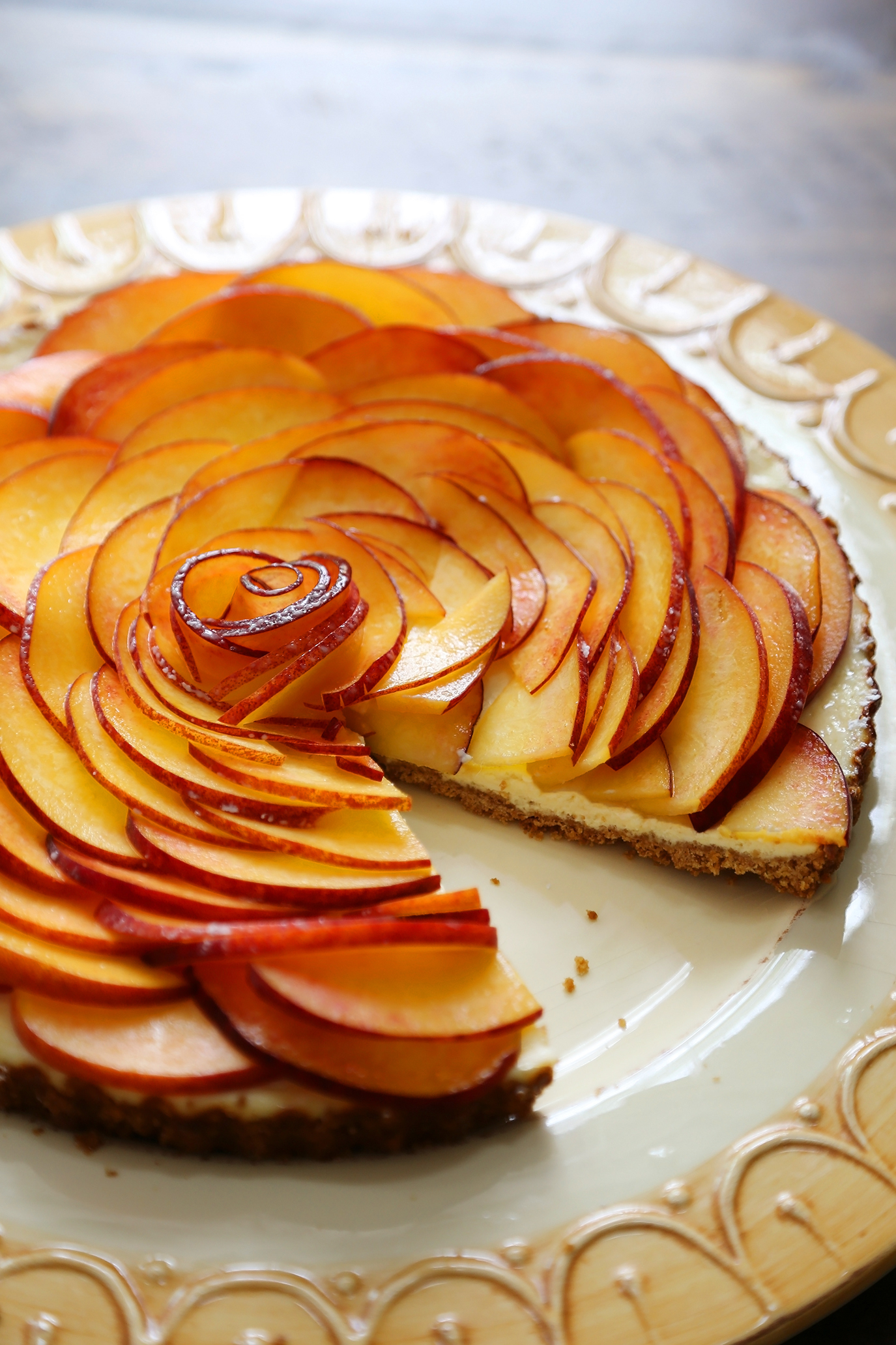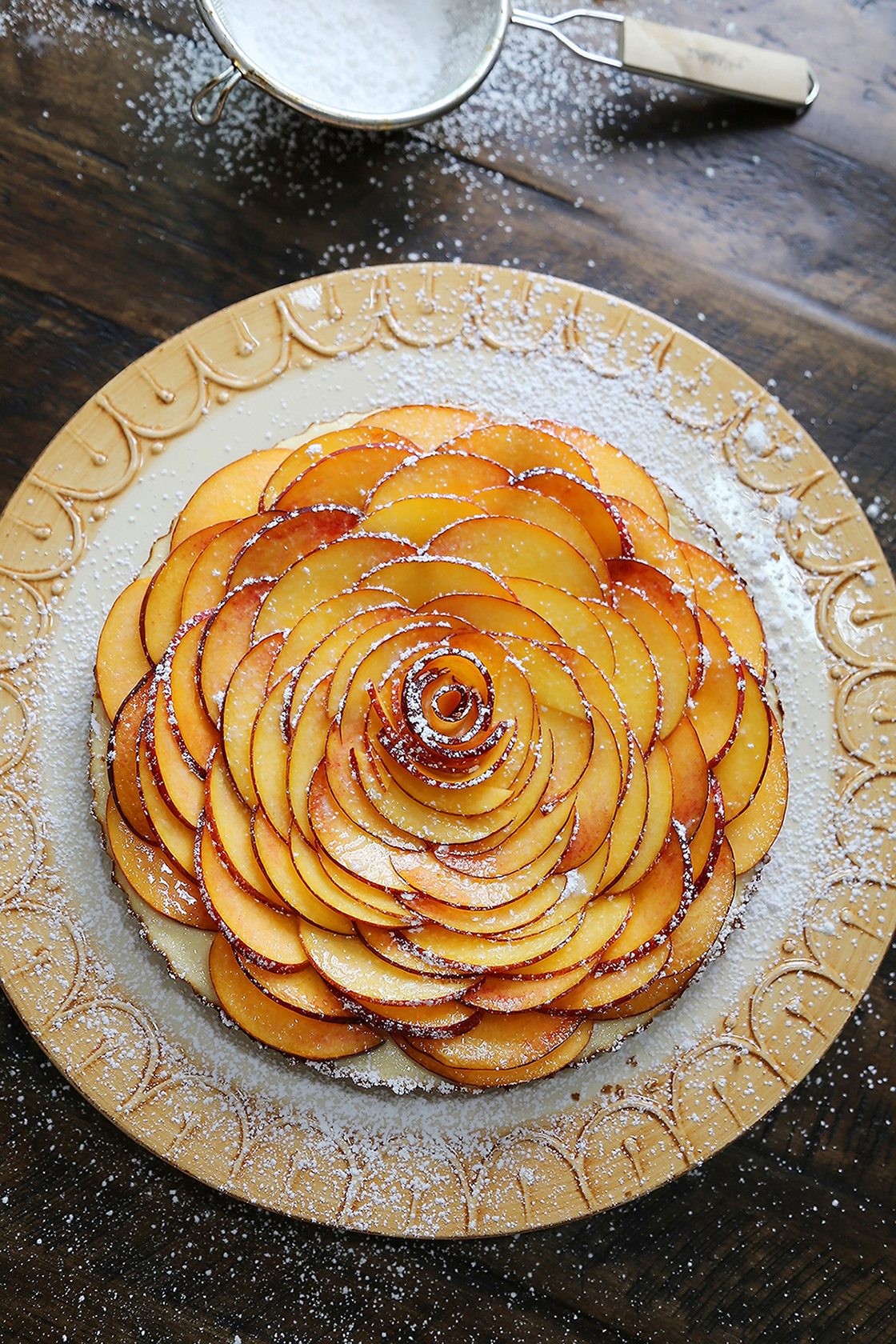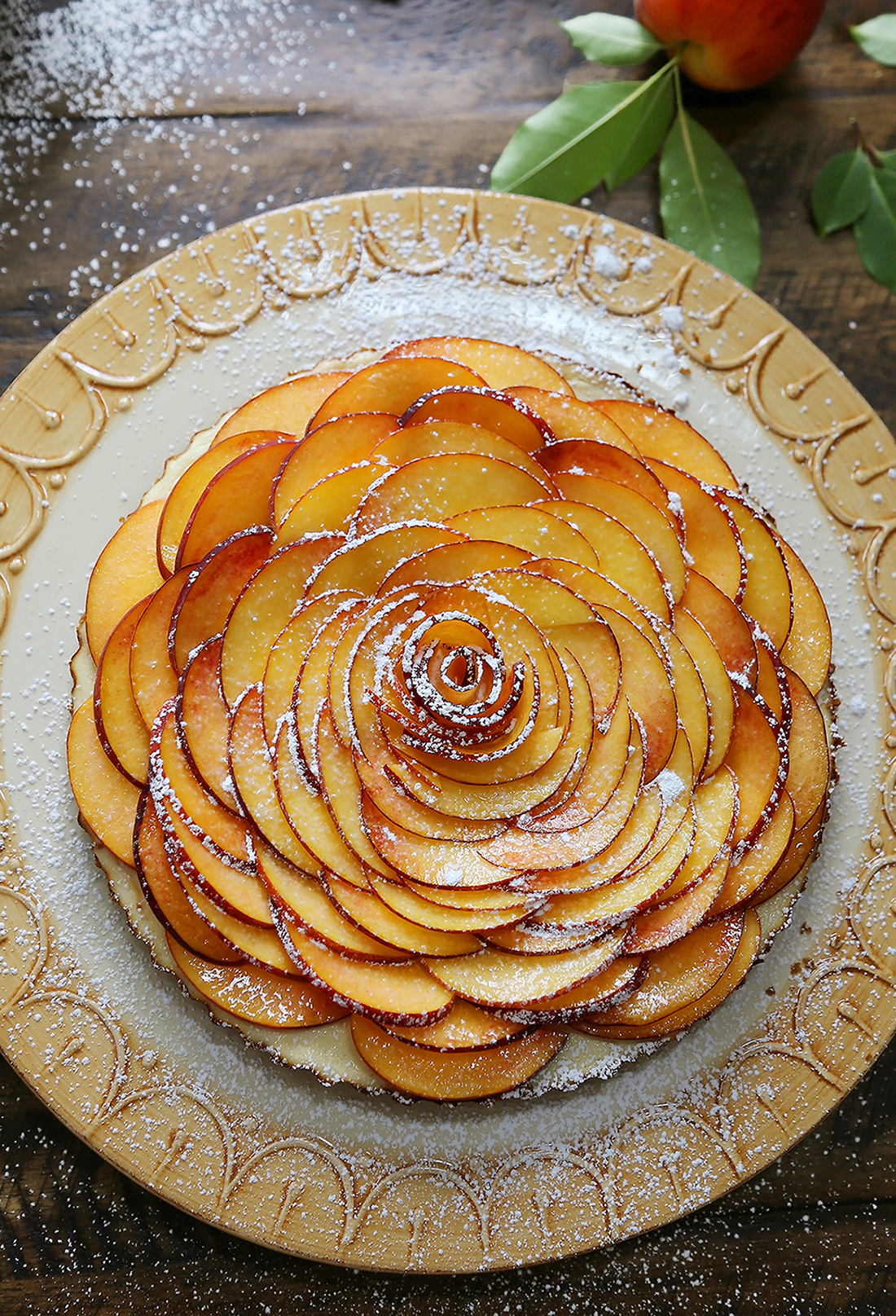 Creamy Peach and Honey Tart
Ingredients
12 graham cracker sheets, crushed into fine crumbs
6 Tbsp. butter, melted
1 8 oz. package cream cheese, softened
1/4 cup Greek yogurt or sour cream
2 Tbsp. honey
1 tsp. vanilla extract
1 large egg
2-3 firm, ripe peaches, thinly sliced
Instructions
Preheat the oven to 350 degrees F.
Combine graham cracker crumbs with butter in a medium bowl. Press crumb mixture into the bottom and up the side of a 9-inch springform or tart pan. Bake crust for 10 minutes. Remove from oven; set aside.
In a medium bowl, mix cream cheese, yogurt, honey, vanilla, and egg until smooth. Pour into crust and bake for 15 minutes. Let cool slightly then loosely top with plastic wrap. Place in freezer to chill for at least 15 minutes.
Arrange peach slices over custard, working from the outside in. Remove tart from pan, cut into wedges and serve.
TIPS
Instead of peaches, top with strawberries, blueberries, kiwi, mangoes, or your favorite fruit!
Tart can be frozen up to 4 days ahead of serving. Add fruit just before serving.