Crispy, tender steamed potstickers, made easily in one skillet! Dunk them in a delicious homemade dipping sauce to really bring out the chopstick-lickin-good flavor. These make a perfect meal or easy side dish to grilled meats and vegetables.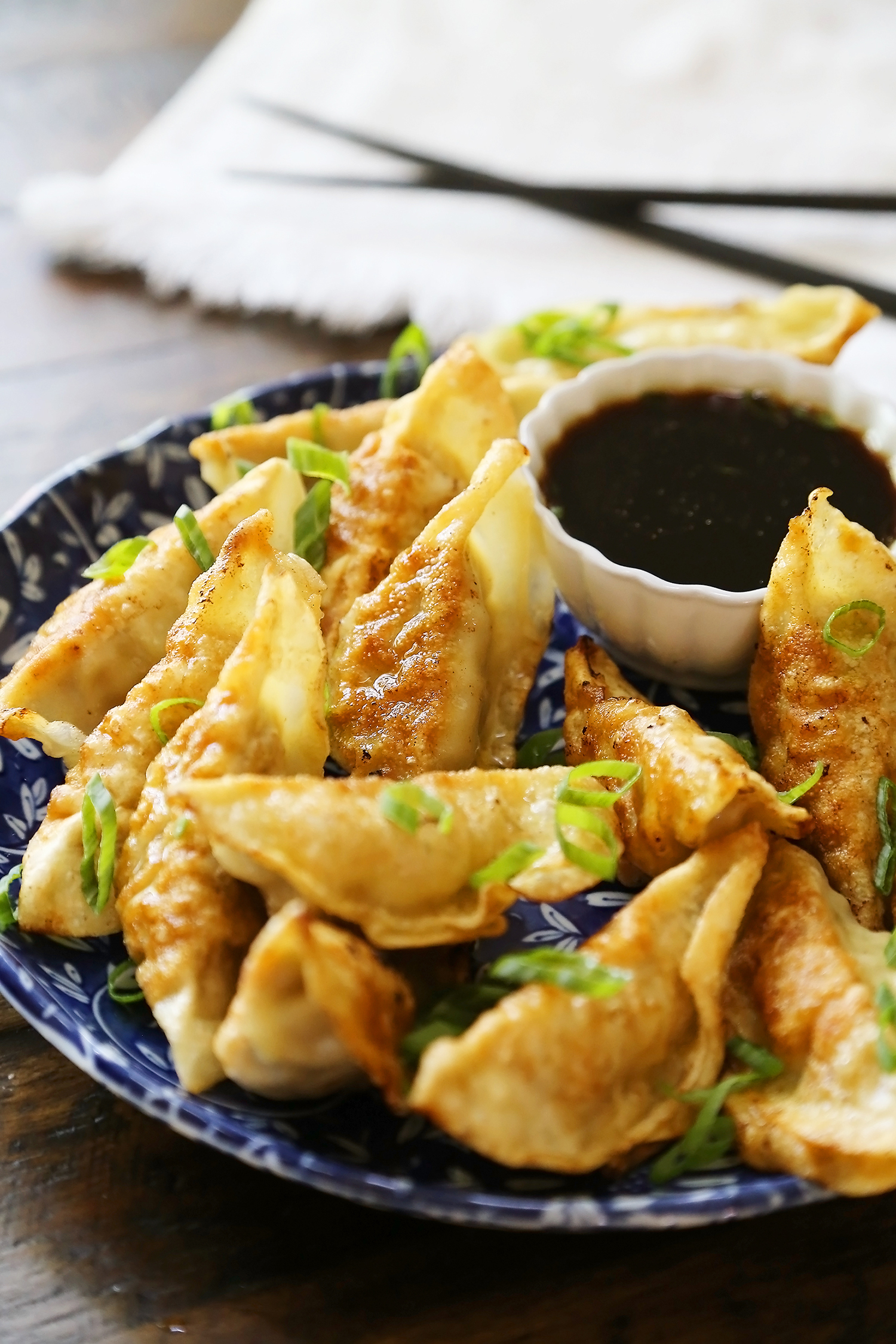 When we're in a dinner rut and nothing sounds good, I often reach for frozen dumplings as a simple, flavor packed break from our everyday meals. Every bite is crispy, salty, melt in your mouth good, steamed or pan fried, and dunked in a delicious sauce of sesame oil, soy, chili flakes and rice vinegar. We love to serve them as a main course for cozy, carb loaded date nights in, or they stretch further as a side dish with grilled meats, green salads and heaps of hot noodles.
I understand there are many recipes for homemade gyoza, potstickers, or whatever-you-call-em dumplings, which are clearly best made by professionals (not me). But, for these delish dumplings, I'm all about quickness and ease! Buy a frozen batch, cook for your hungry people, and you can enjoy them any night of the week, with hardly any cleanup. Sound okay? Okay.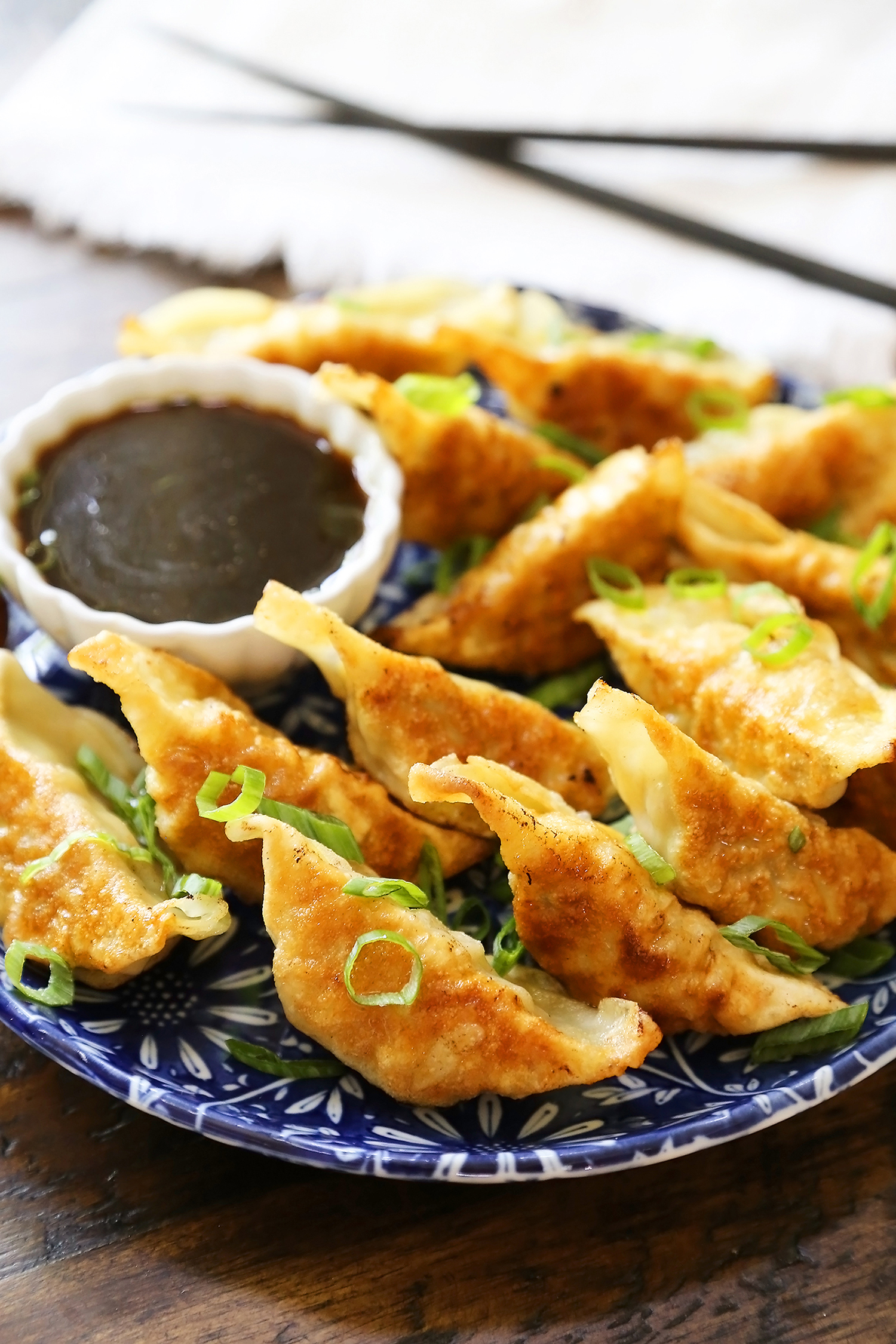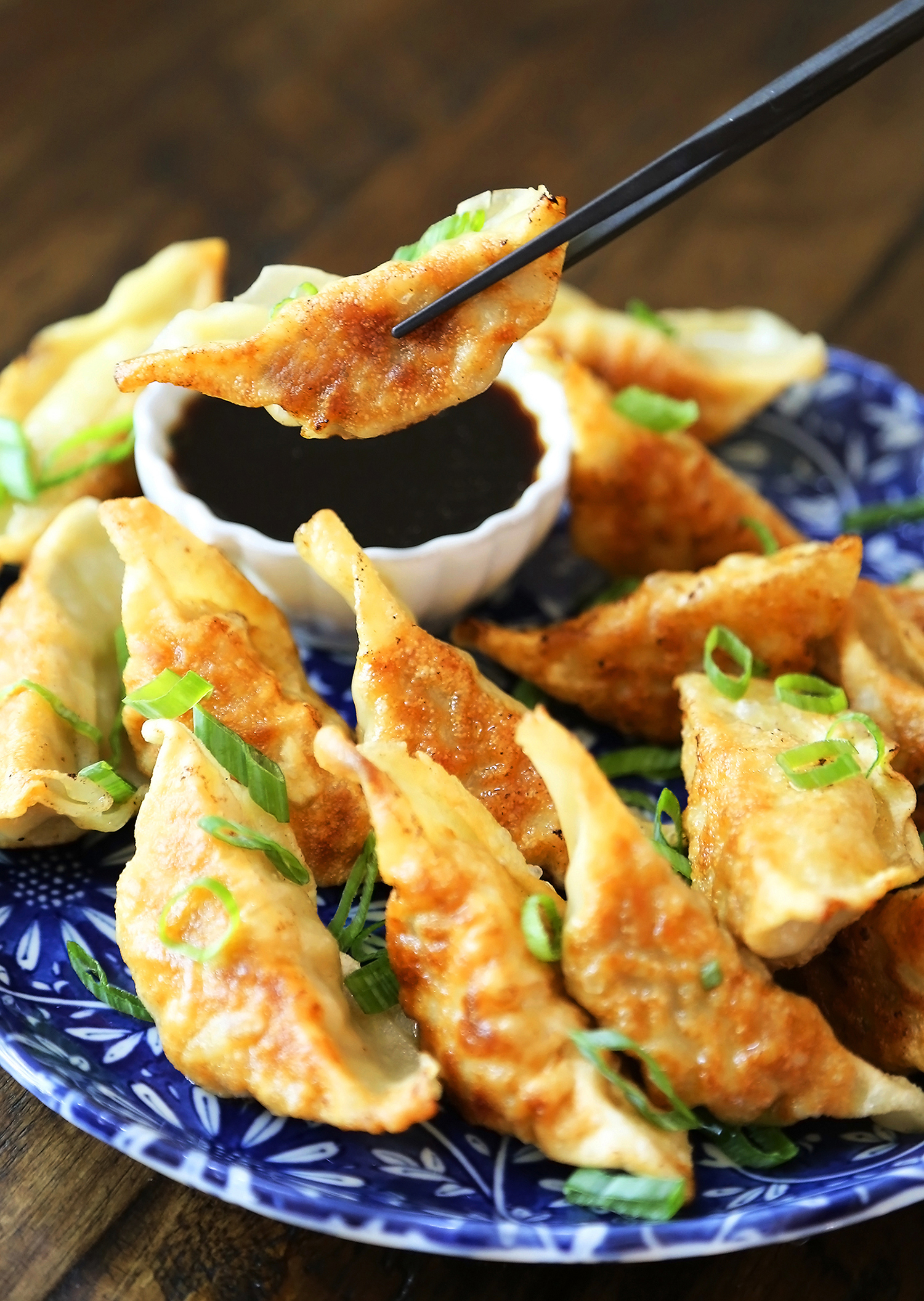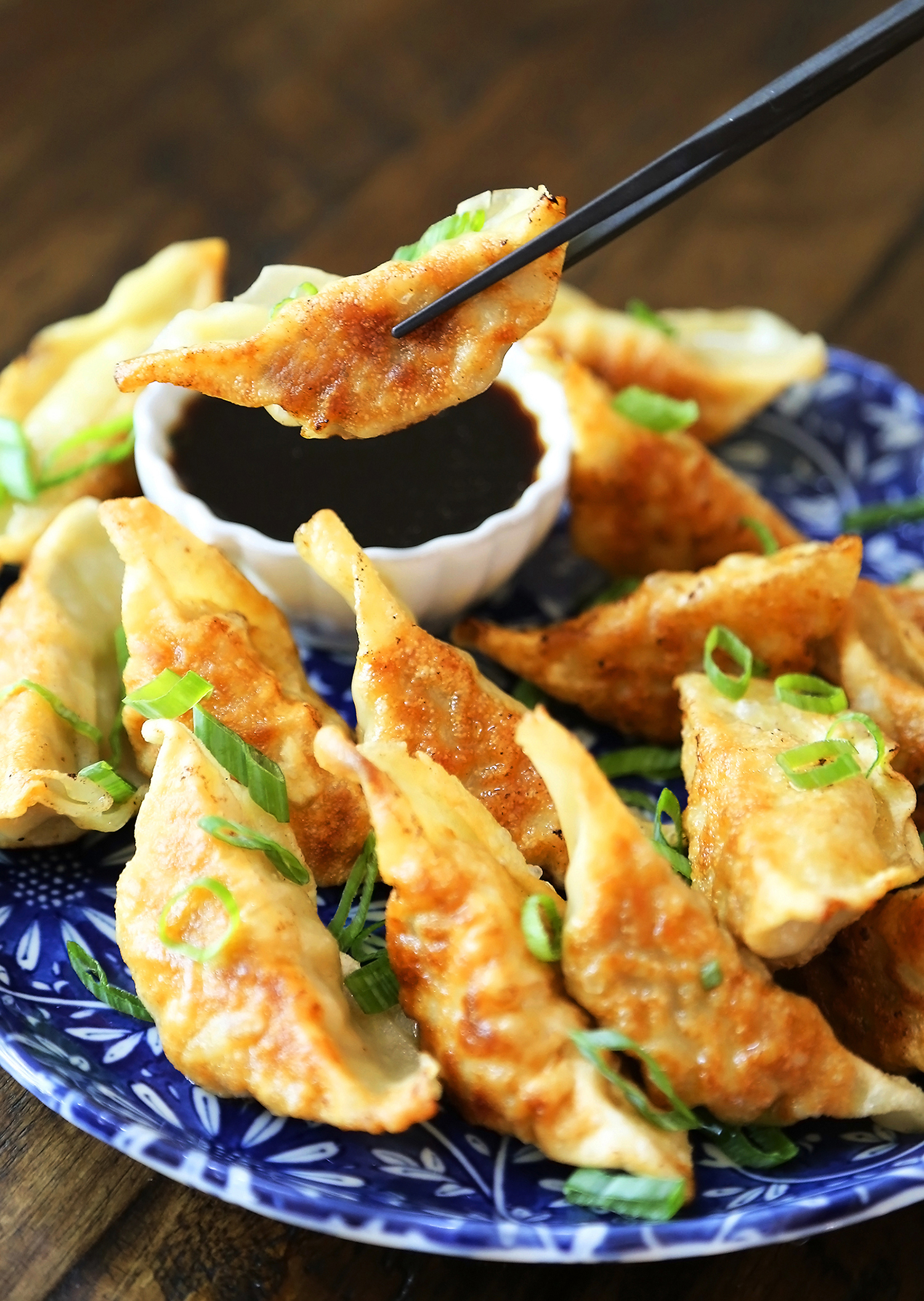 Our favorite brand is Trader Joes for both pork and veggie gyoza, and most grocery stores will also carry frozen dumplings. I prefer to first steam the dumplings (right from the freezer; no need to defrost), then lightly fry them in oil for golden crispness that helps "pick up" the scrumptious dipping sauce.
Without this sauce, which my husband first introduced me to, these dumplings are sadly not the same. It really compliments the chopstick-lickin-good flavor of the dumplings, whatever flavor you choose. It can only be described as perfect with potstickers – tangy, salty, sweet, and dripping with deliciousness.
Cook up a batch and see how easy and elegant dinnertime can be!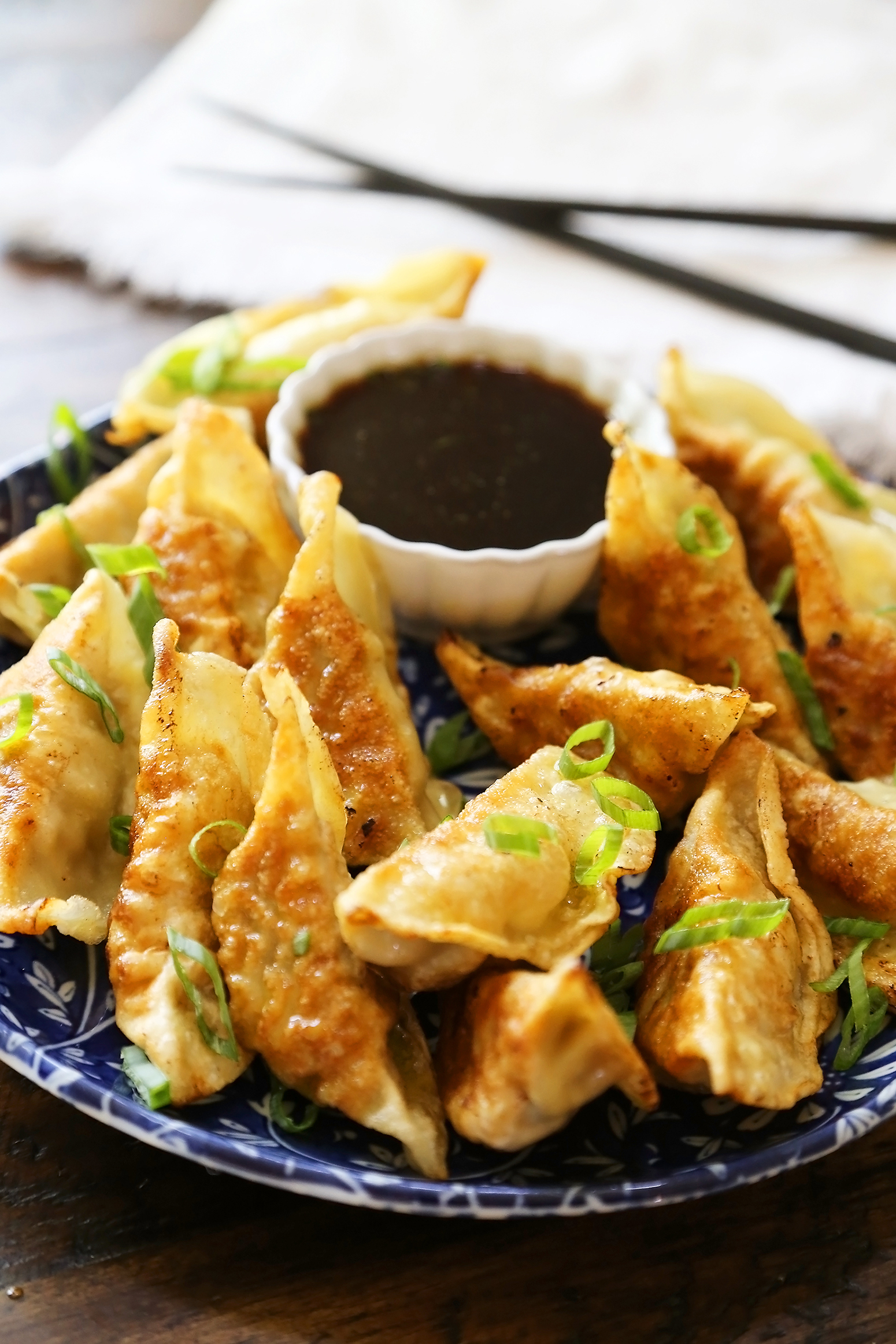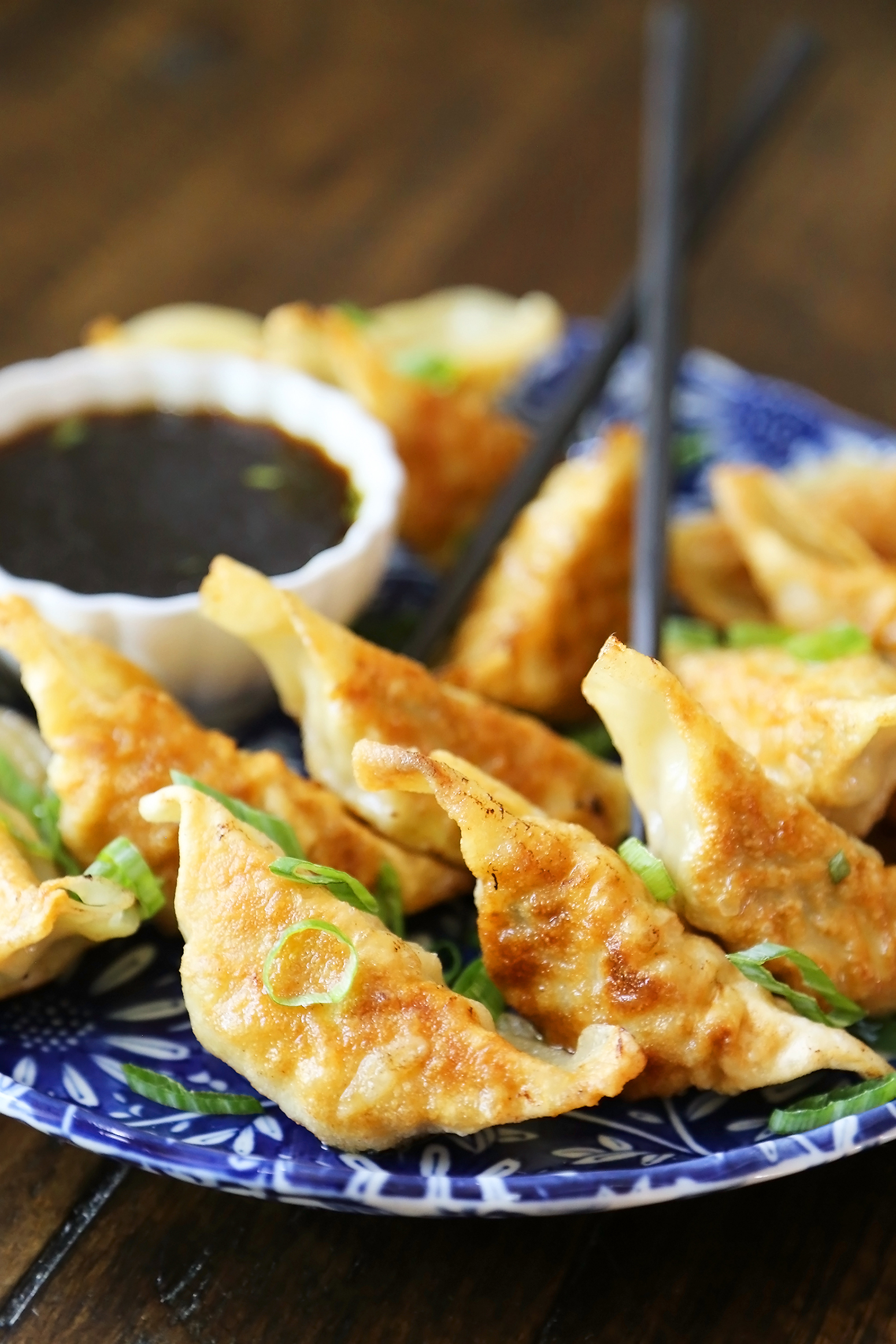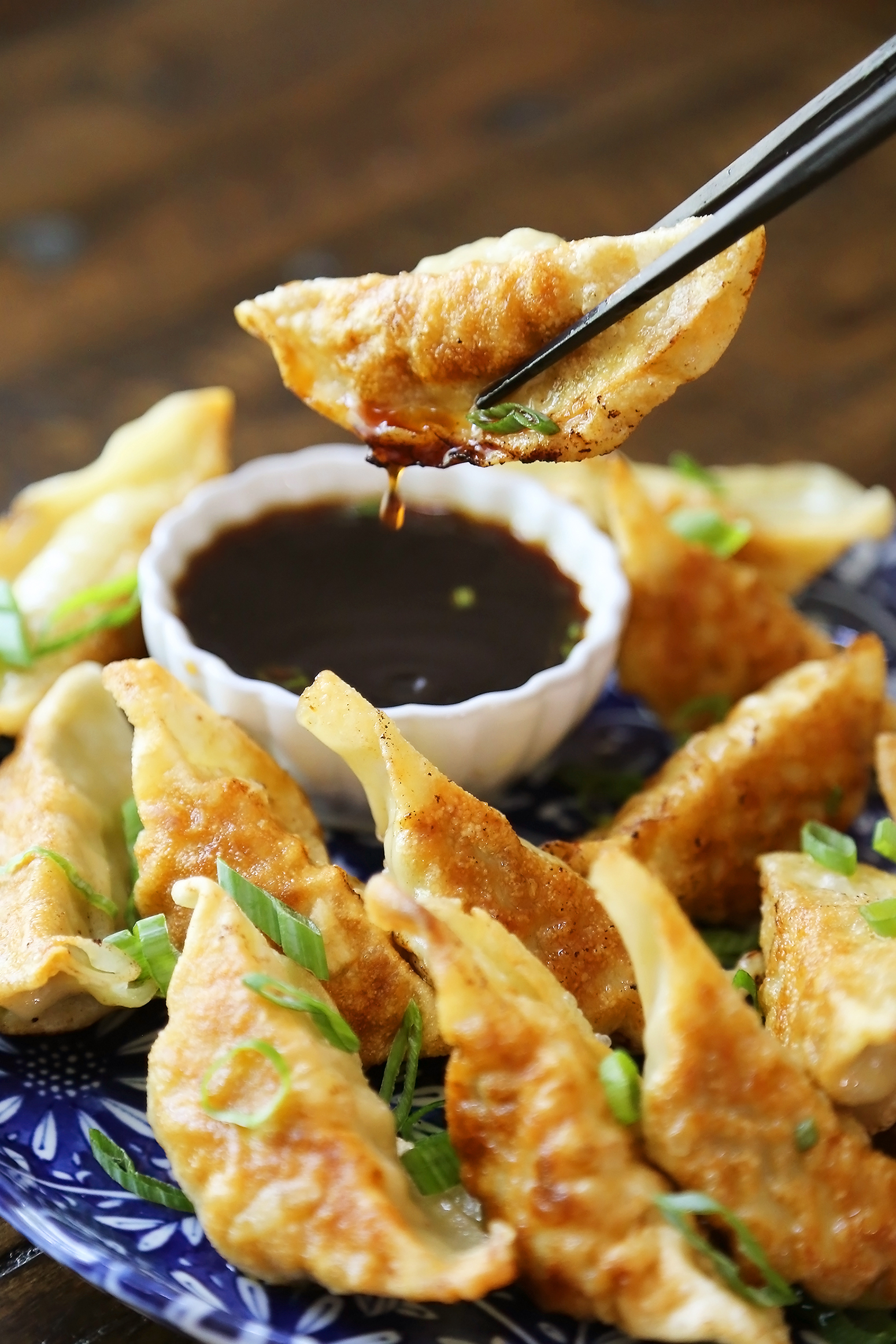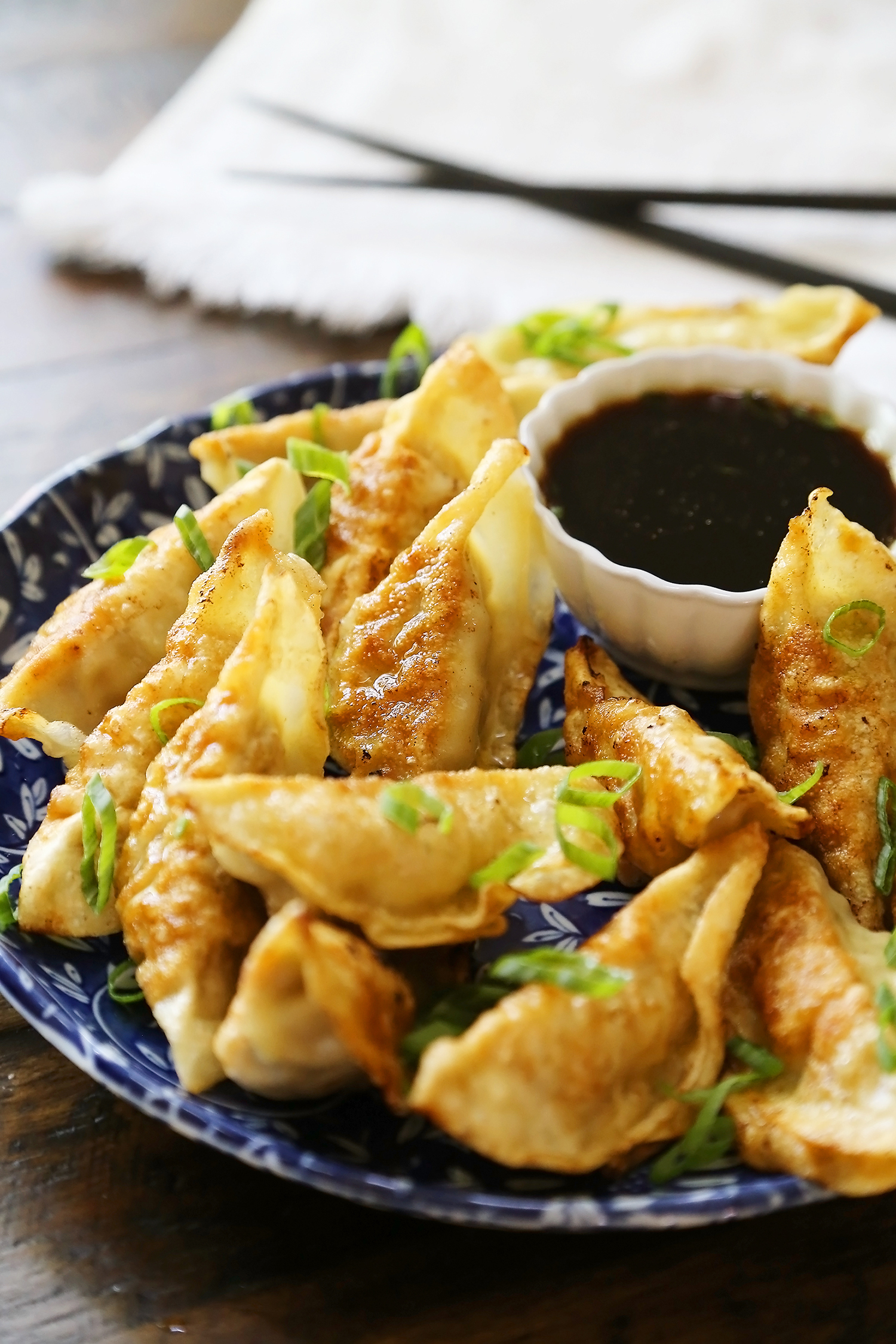 Easy Asian Dumplings with Soy-Ginger Dipping Sauce
Makes 4 servings / approx. 16 dumplings
Ingredients
For the Asian Dumplings:
1 (16 oz.) package frozen Asian dumplings/potstickers/gyoza
2 cups water
1/2 cup canola oil, for pan-frying
For the Soy-Ginger Dipping Sauce:
1 clove garlic, minced
1/4 cup soy sauce
1/4 cup water
2 Tbsp. rice wine vinegar
2 Tbsp. green onions, sliced diagonally
2 tsp. sesame oil
1 tsp. granulated sugar
1/4 tsp. grated fresh ginger
1/4 tsp. Sriracha, optional
Instructions
For the Asian Dumplings:
In a large covered skillet set to medium-high heat, add 2 cups of water. Bring to a boil; reduce heat to a low simmer. Add dumplings, cover and simmer for 3-5 minutes, until softened and steamed through. Remove dumplings to a paper towel-lined plate.
Pour out water and wipe skillet clean. Add 1/2 cup oil and set to medium-high heat. Add dumplings to hot skillet and fry on each side, 3-5 minutes each, until golden and crispy. Remove to a serving plate.
For the Soy-Ginger Dipping Sauce:
Combine all ingredients in a medium bowl; stir well to combine. Serve with hot dumplings.