Bake a batch of these light, lemony cheesecake cups this weekend for a scrumptious, low-carb sweet treat everyone will love! They're absolutely addictive!
First it was oranges, then it was grapefruit, and now? Now, only pure, cheek-puckering citrus will cut it for this lemon-lovin' lady taking up residence in my belly. Seriously. If my grocery store were experiencing a severe shortage of lemons, they can just follow the trail of yellow fruit to my home. I feel like I could peel and devour them whole!
It's a problem.
Is that weird? Yeah, that's weird.
Better just stick to lemon desserts. Enter these fabulous little lemon cheesecake cupcakes!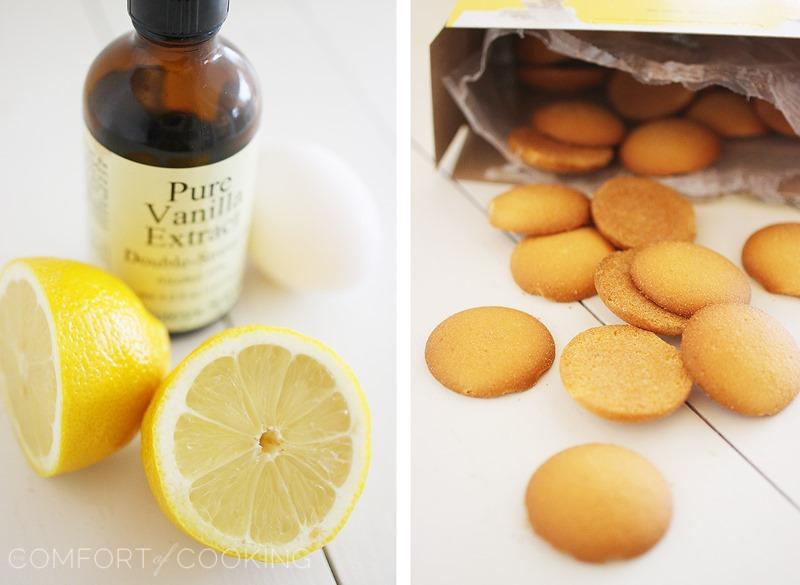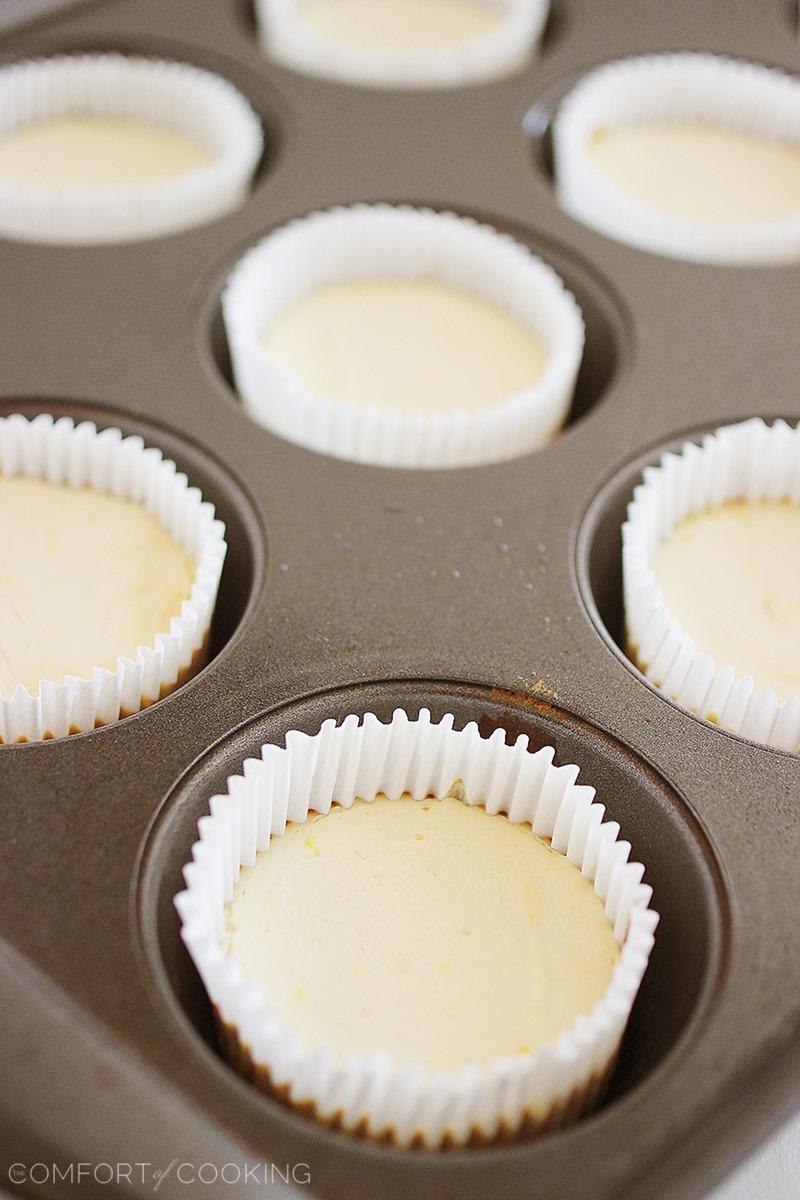 In one word, these are cheesecake cups are incredible. And creamy and delicious, and oh my god, so addictive (oops). And not only to me and my lemon obsession as of late! I believe I saw hubby snag more than a few, too.
The man isn't big on cheesecake, but toss on whipped cream and raspberries, and he'll eat anything. I'm talking anything.
That probably doesn't sell this dessert very well.
So, what I'm trying to say is, you need these. And I'd commit a crime for a plateful of these cheesecake cups. Straight up, yo. I mean, maybe not really. I might speed to the grocery store a little. Is that bad?
These cupcakes so easy, lusciously creamy and low-carb, with a citrusy tang and subtle sweetness. A vanilla wafer acts as the bottom "crust" and makes each little bite all the better. With a dollop of light Cool Whip, they're mouthwateringly good!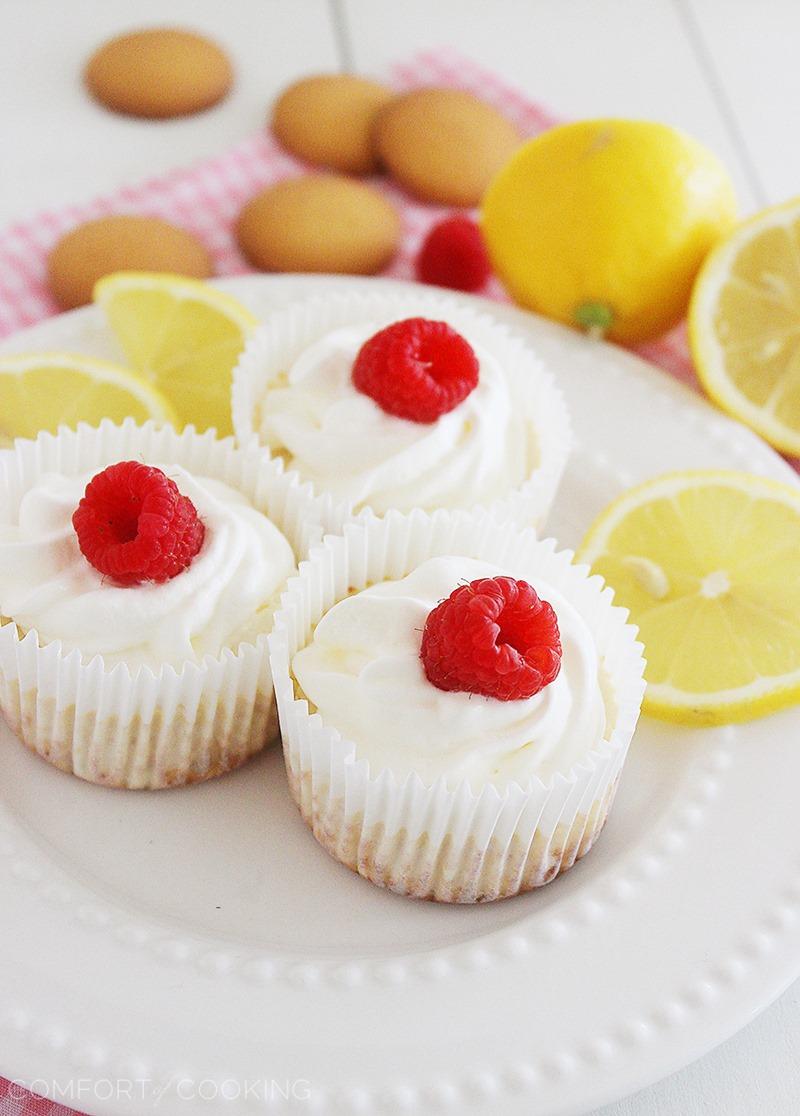 Bake a batch for your next girls' night, baby/bridal shower, or to add a little summery sweetness to any day. These skinny-mini lemon cheesecakes are absolutely delicious, with all the flavor of a full-fat cupcake but just 108 calories per serving.
Though it may still be cold where you are, the sun is shining in Austin and it's got me in a bright, lemony mood! Get in your kitchen for some springtime-inspired baking, too – you're just gonna love these!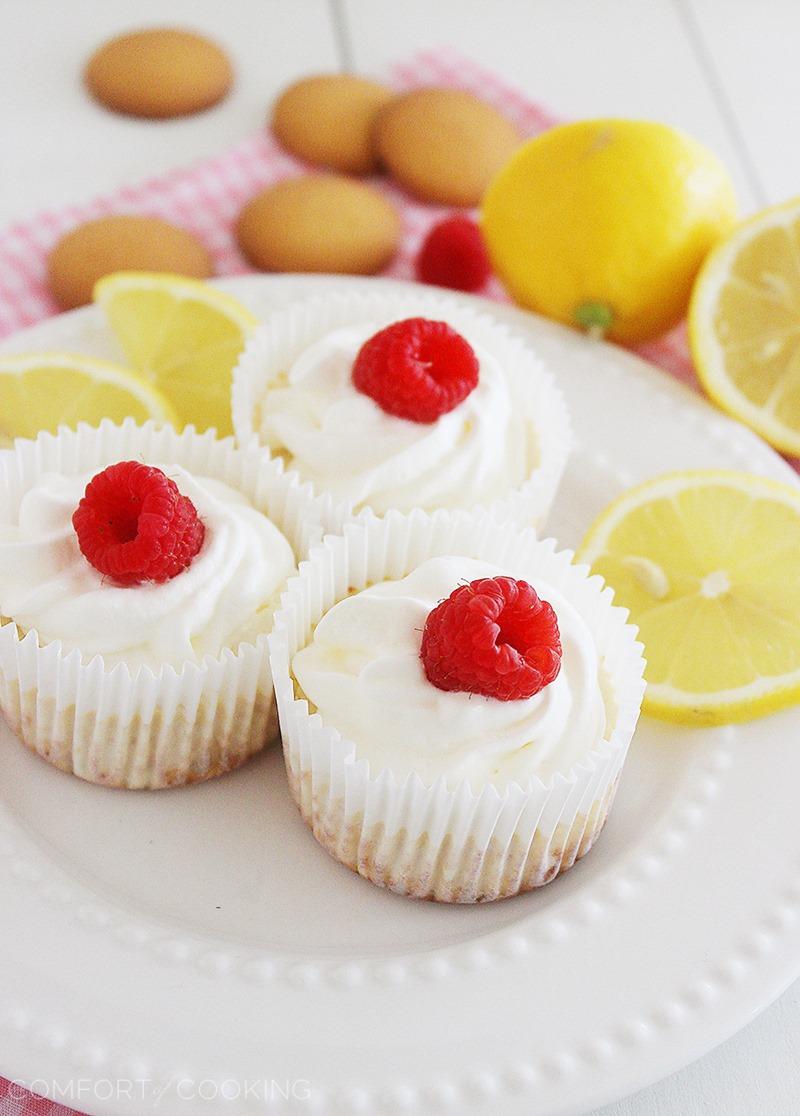 Skinny Lemon Cheesecake Yogurt Cupcakes
Ingredients
12 reduced-fat vanilla wafers
1 8 oz. package reduced-fat cream cheese, softened
1/4 cup granulated sugar or sugar substitute
1 1/2 teaspoons vanilla extract
3/4 cup fat-free plain yogurt
2 large egg whites
3 Tablespoons lemon juice
1 Tablespoon lemon zest
1 Tablespoon all purpose flour
12-24 fresh berries, your choice (I used raspberries and blackberries)
12 Tablespoons Cool Whip Lite, optional
Instructions
Preheat oven to 350 degrees F.
Line a standard 12-cup muffin tin with paper liners. Place one vanilla wafer at the bottom of each liner.
Using an electric mixer, beat cream cheese, sugar and vanilla on medium speed until smooth. Beat in yogurt, egg whites, lemon juice, lemon zest and flour until well blended. Pour into cupcake liners, filling half way.
Bake for 25 minutes, or until center is almost set. Cool to room temperature. Chill a 2-3 hours in your refrigerator before removing cheesecakes from muffin cups.
Top with fresh berries and 1 Tablespoon each of Cool Whip Lite, if desired.
Enjoy!