Colorful, healthy and full of fresh flavors! This vegetarian Greek salad with chickpeas, olives, feta, tomatoes, onion and garlic is tossed in a light lemon dressing. For extra protein, add grilled chicken or fish, or cooked quinoa.
In my house, eating fresh is fun and delicious. It's fun because in the springtime, my fridge gets packed full of a whole lot more colorful fruits and veggies – and there's more to pick from and play with.
And, it's delicious because… well, just look at that bowl full of gorgeous Greek goodness!
Dishes like this are why I love playing with my food. Sometimes, a mix of whatever you have in your cabinets and fridge can turn into a seriously scrumptious meal (or side dish). Yes, cabinet clean-out meals can also end up as flops. And they DO, in my kitchen. But, that's why pizza delivery exists, right? Lazy nights and cooking fails.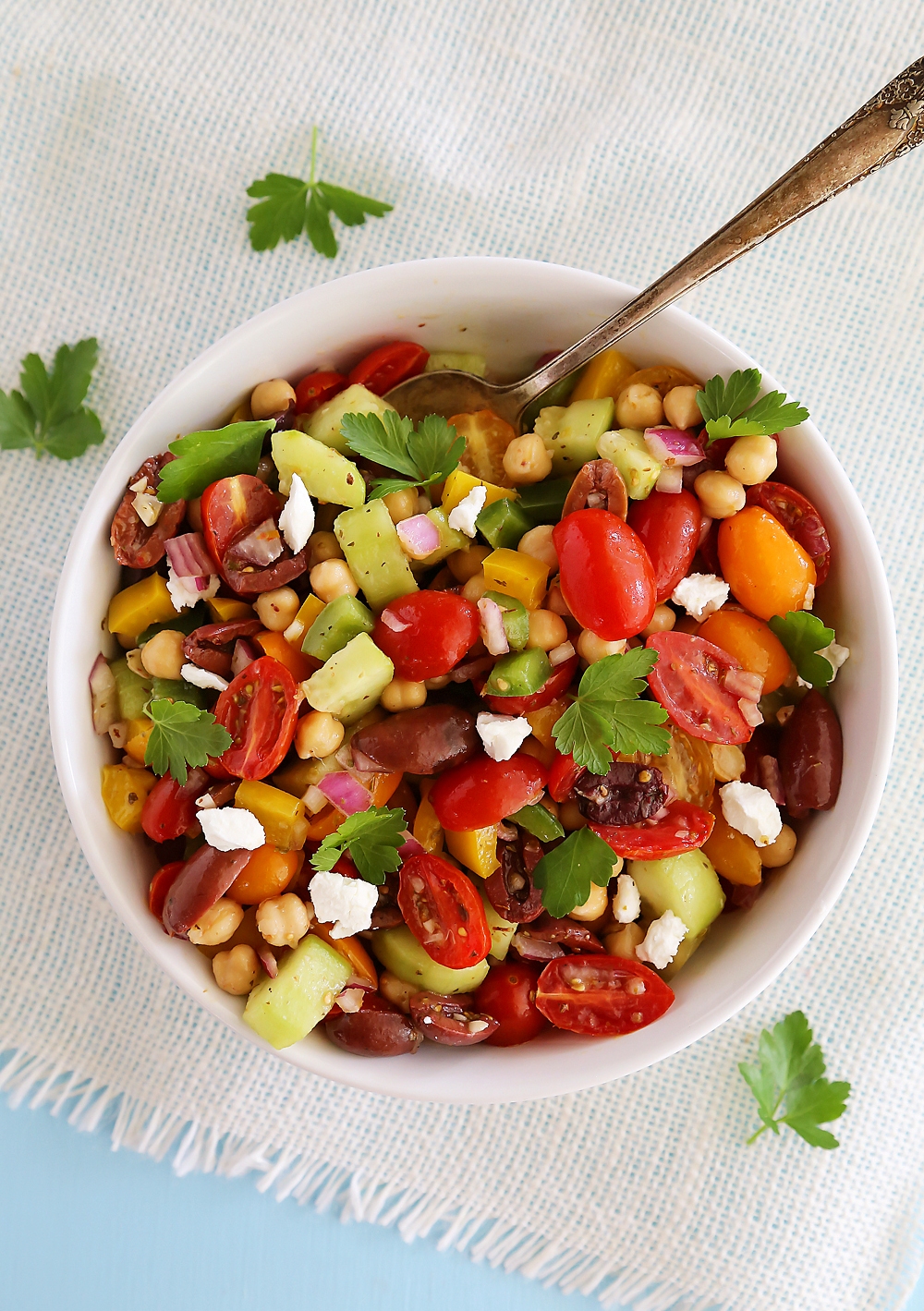 The only thing I love more than making something out of nothing is sitting down to share it with someone special! This sensational, colorful salad made a mouthwatering meal with juicy grilled chicken and slices of my crusty bread on the side. Salty olives, creamy feta and crisp cucumbers, bell peppers and tomatoes combine to create a medley of fabulous flavors in this Mediterranean dish!
The best thing about this salad is, it's virtually foolproof! Add more of anything you like (I tend to go heavy on the tomatoes), and less of anything you don't like (I skimp a little on the olives). Chickpeas add a little bulk to this light veggie salad, but feel free to omit them if you'd prefer.
However you dish it up, I know you'll love this one for weeknights, backyard parties and any occasion in between!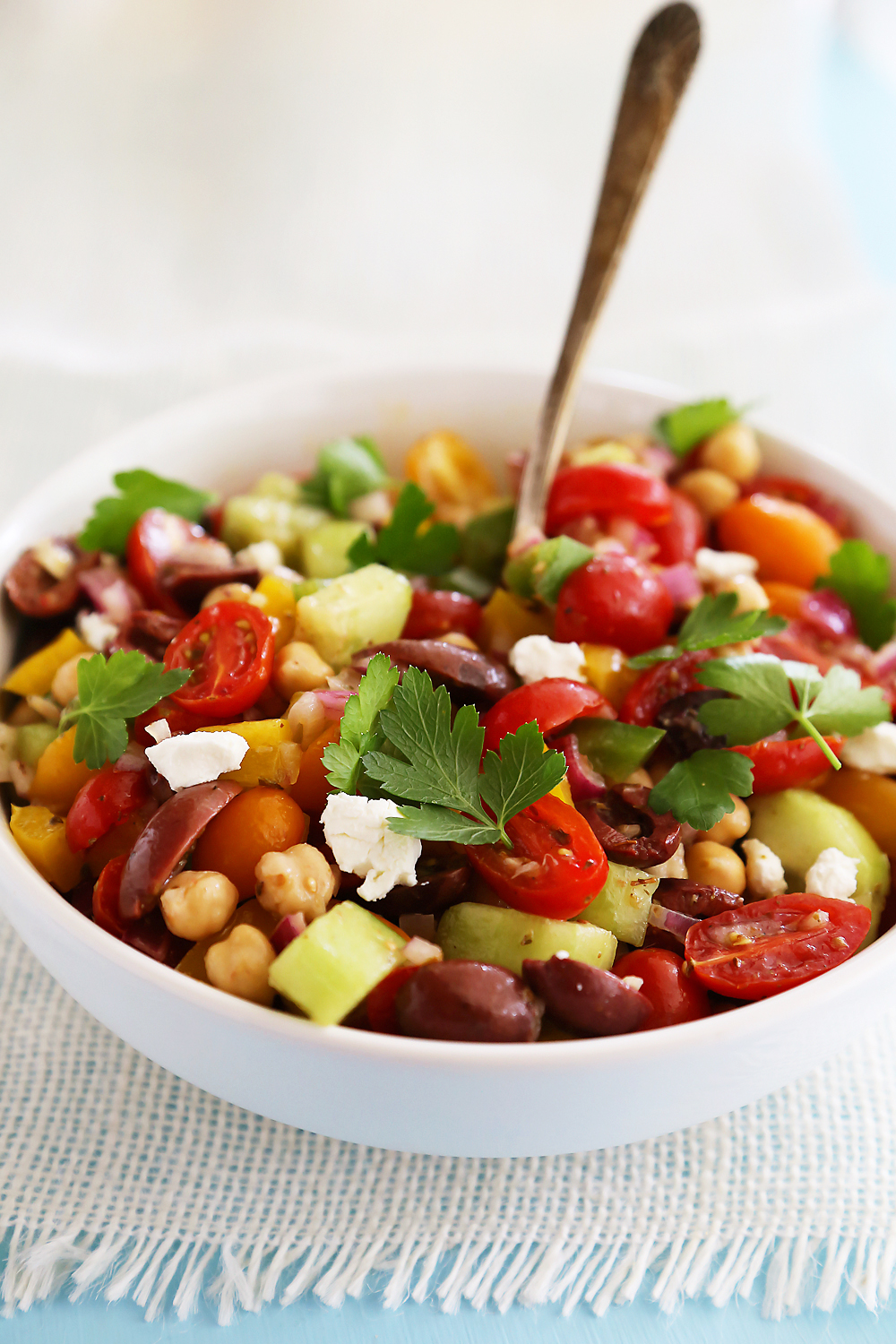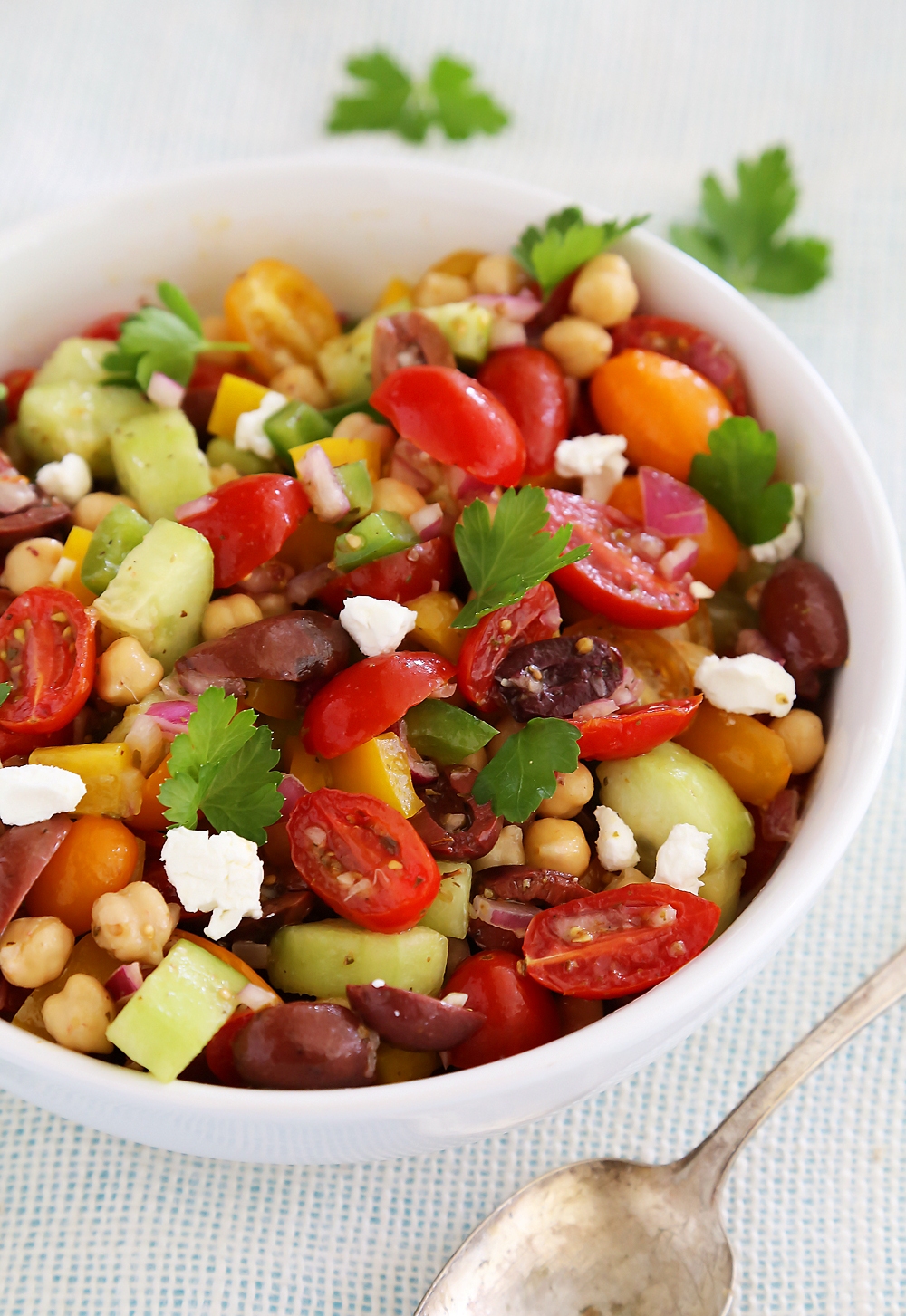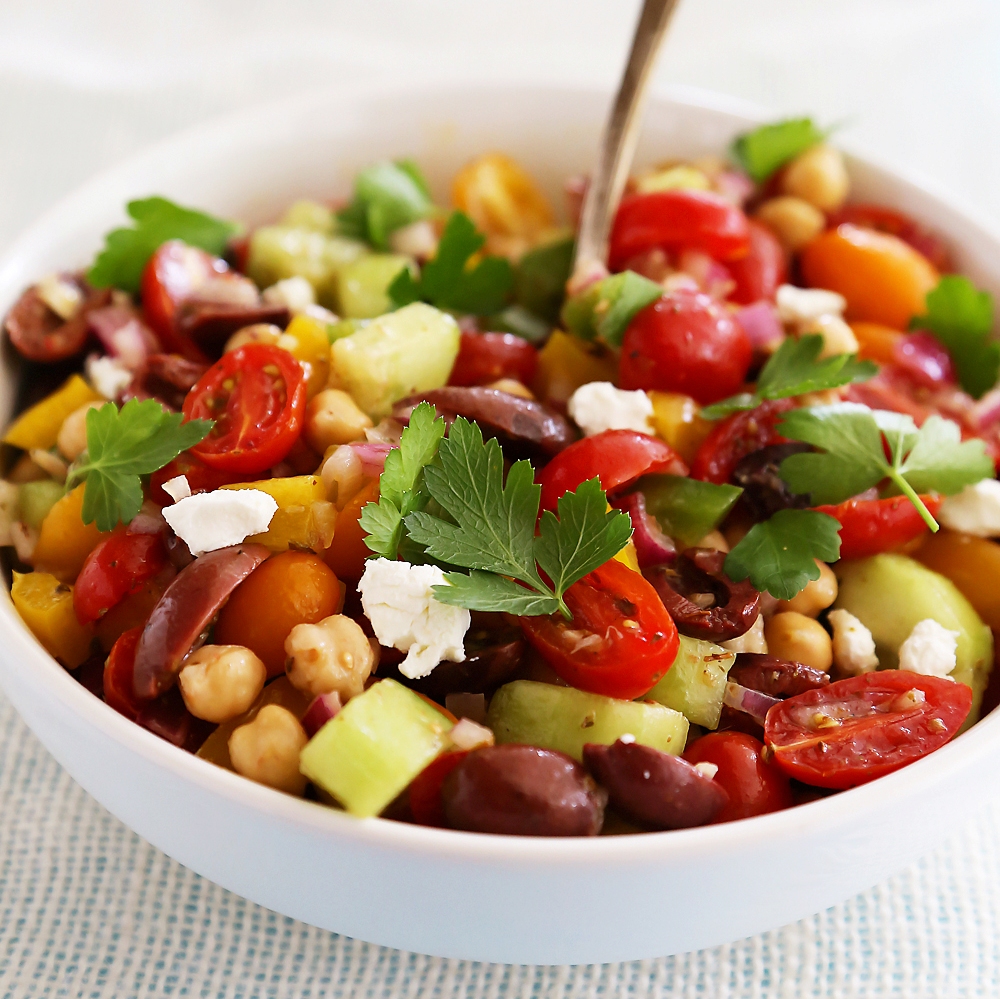 Chopped Chickpea Greek Salad
Ingredients
For the salad:
1 15 oz. can chickpeas/garbanzo beans, well drained
1 yellow bell pepper, chopped
1 green bell pepper, chopped
1 cucumber, sliced and quartered
1 small red onion, chopped
1 pint grape tomatoes, halved
1/3 cup pitted kalamata olives, halved
4 oz. feta cheese, crumbled, or cut into 1/2 inch cubes
For the dressing:
2 Tablespoons fresh lemon juice, from about 2 lemons
2 teaspoons olive oil
1 teaspoon dried oregano
2 cloves garlic, minced
Kosher salt and freshly ground black pepper, to taste
Instructions
Add all salad ingredients to a large bowl and toss to combine.
In a small bowl, whisk lemon juice, olive oil, oregano and garlic. Pour over salad and toss to thoroughly combine. Season with salt and pepper to your taste.
Refrigerate 1 hour to marinate, or serve immediately. Best served within 3 days after making.
Enjoy!