Fluffy, salty 5-ingredient pretzels made quick & easy with pizza dough – no rising! With spicy mustard or a zesty homemade cheese sauce (recipe included), these soft pretzels are the perfect any-day indulgence.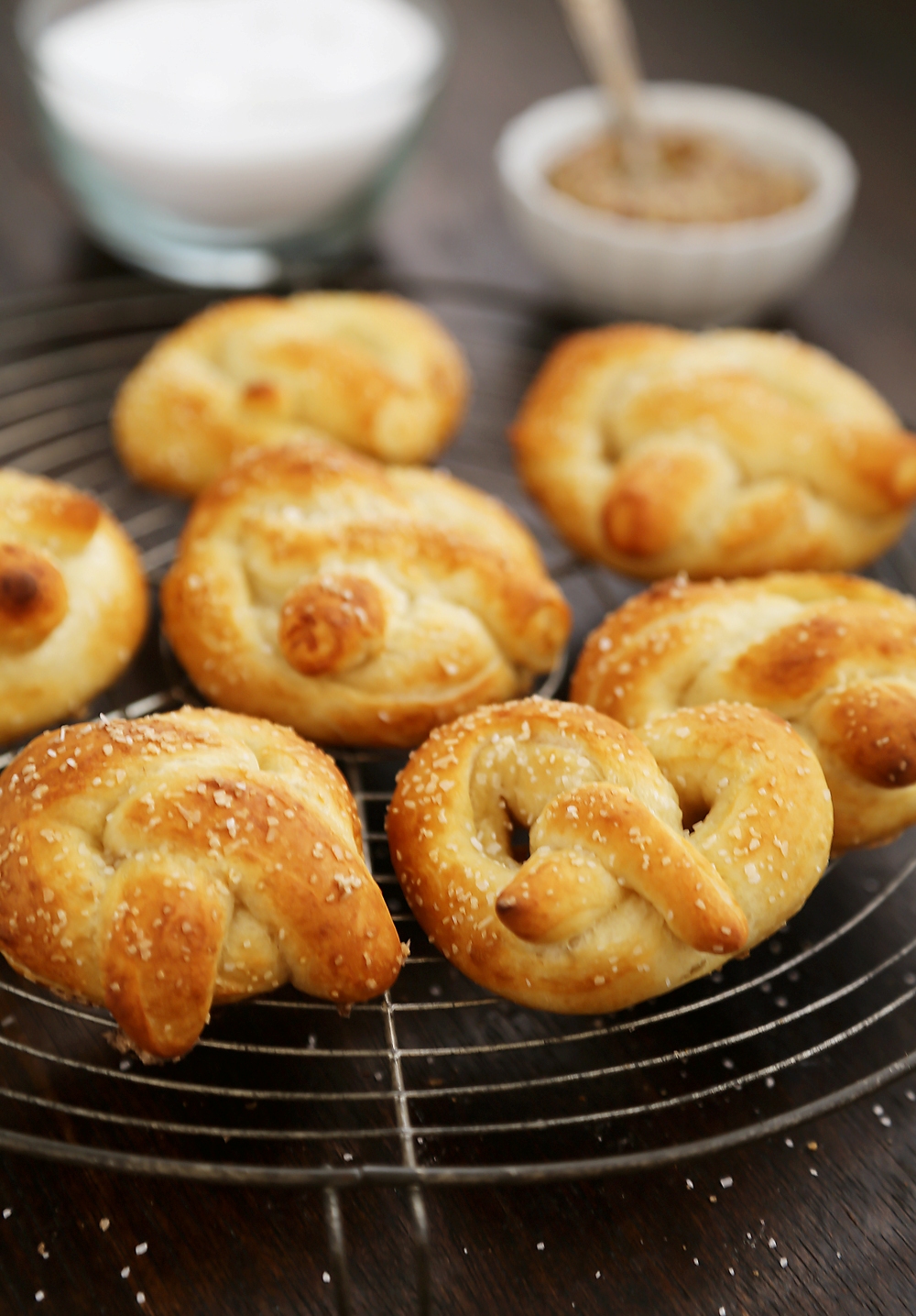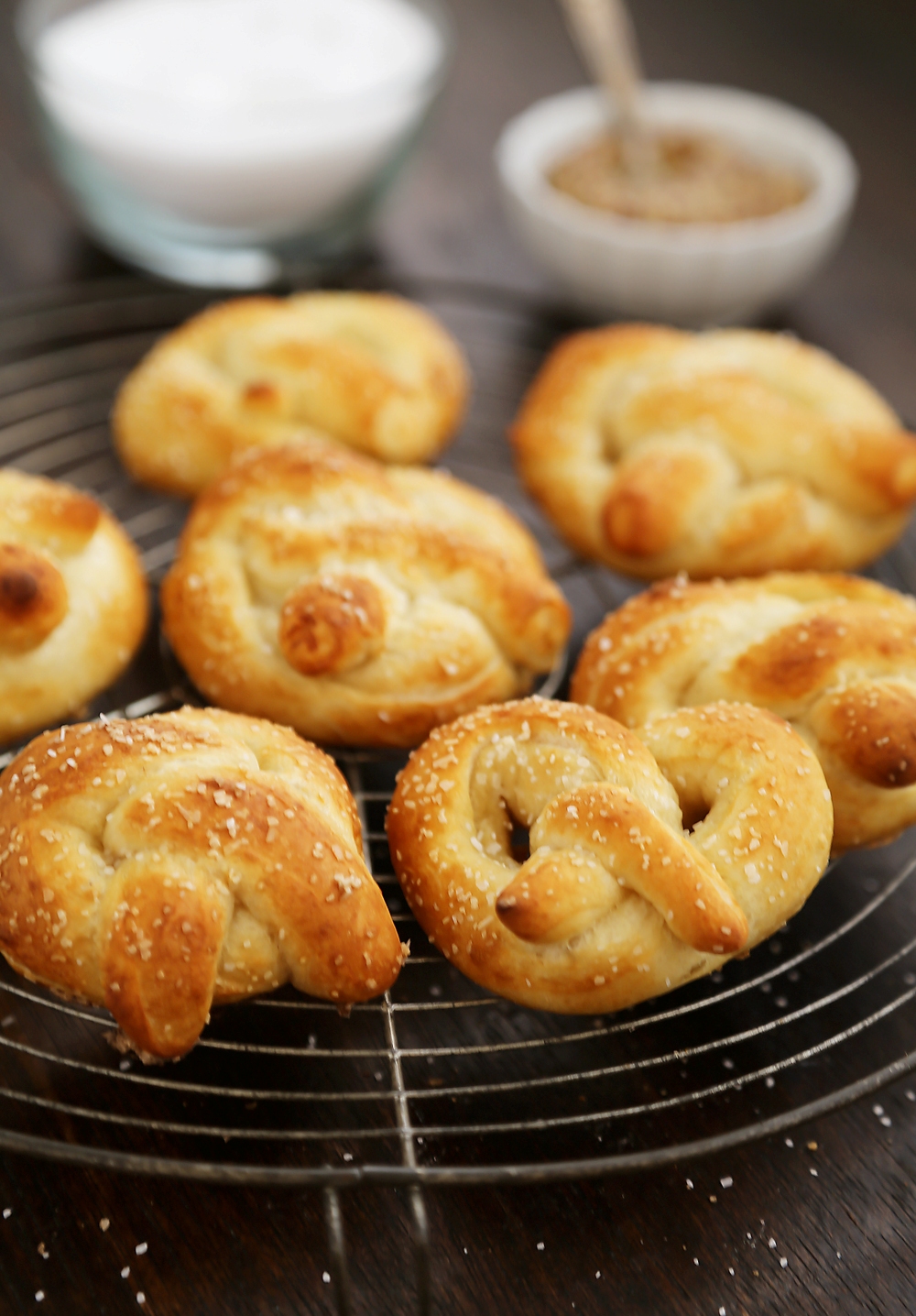 When it comes to sporting events, I honestly only attend for the good company of friends and the platefuls of delicious food. Sometimes, I forget about them altogether… like the Superbowl this year! Missed it completely. But, for good reason. I was adventuring through Belgium during the football festivities, snacking on warm waffles, flaky pastries and guzzling glasses of the best-ever beer and wine. The Belgians sure do it right! And you could say I definitely got my carb fix during those delicious five days in Europe.
However, before I took off, I decided to have a little fun with everyone's favorite football snack by making them homemade! I didn't just want to make them homemade, though, I wanted to make them dangerously easy and the perfect size for party-snacking, unlike those store-bought varieties as big as your head! Who needs a pretzel THAT large, anyway?
You will love these palm-sized soft pretzels with a deliciously zesty cheese dip, made quickly and easily with pizza dough. No fuss, no rising, and baked to golden perfection in no time at all. They are so unbelievably yummy and addictive!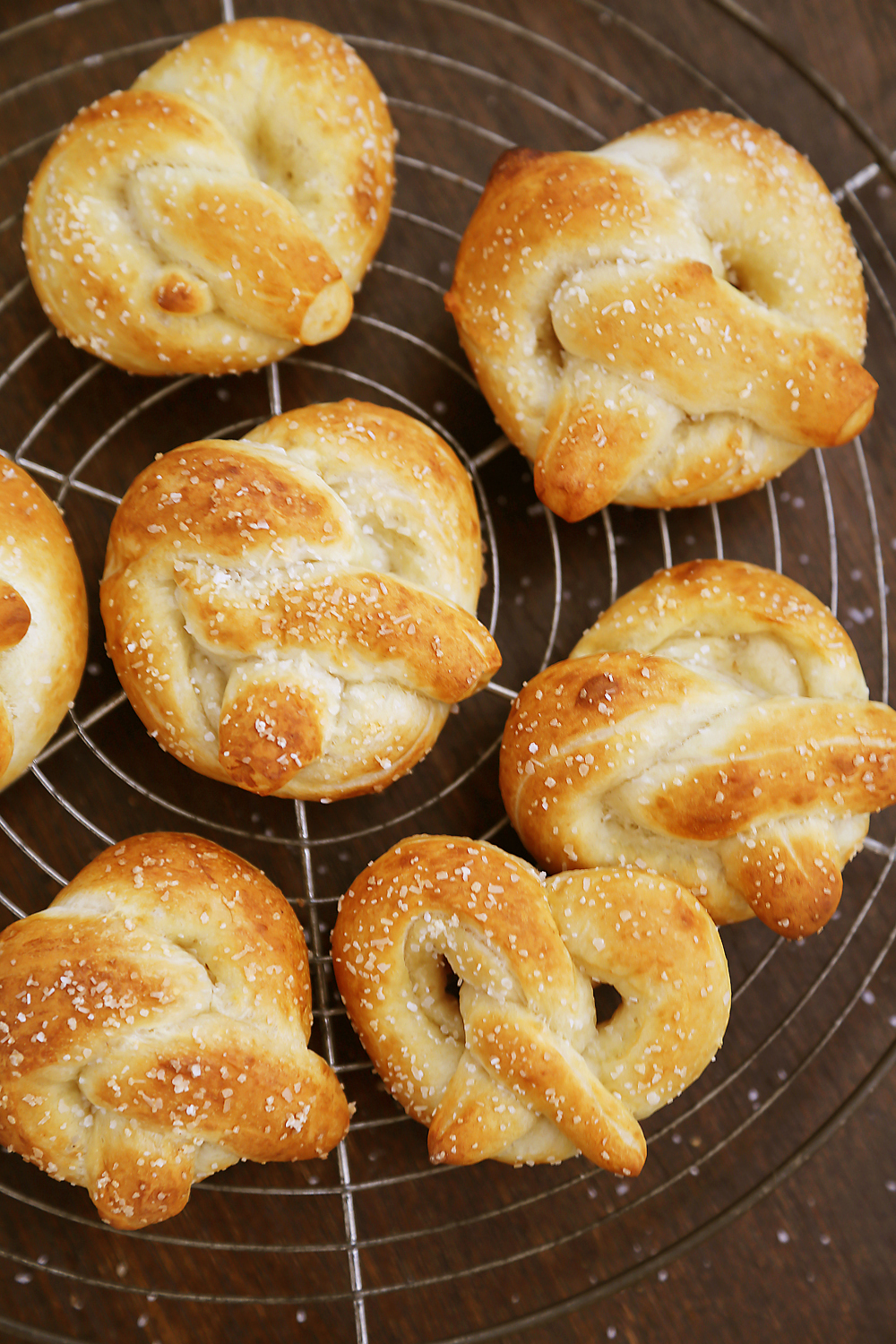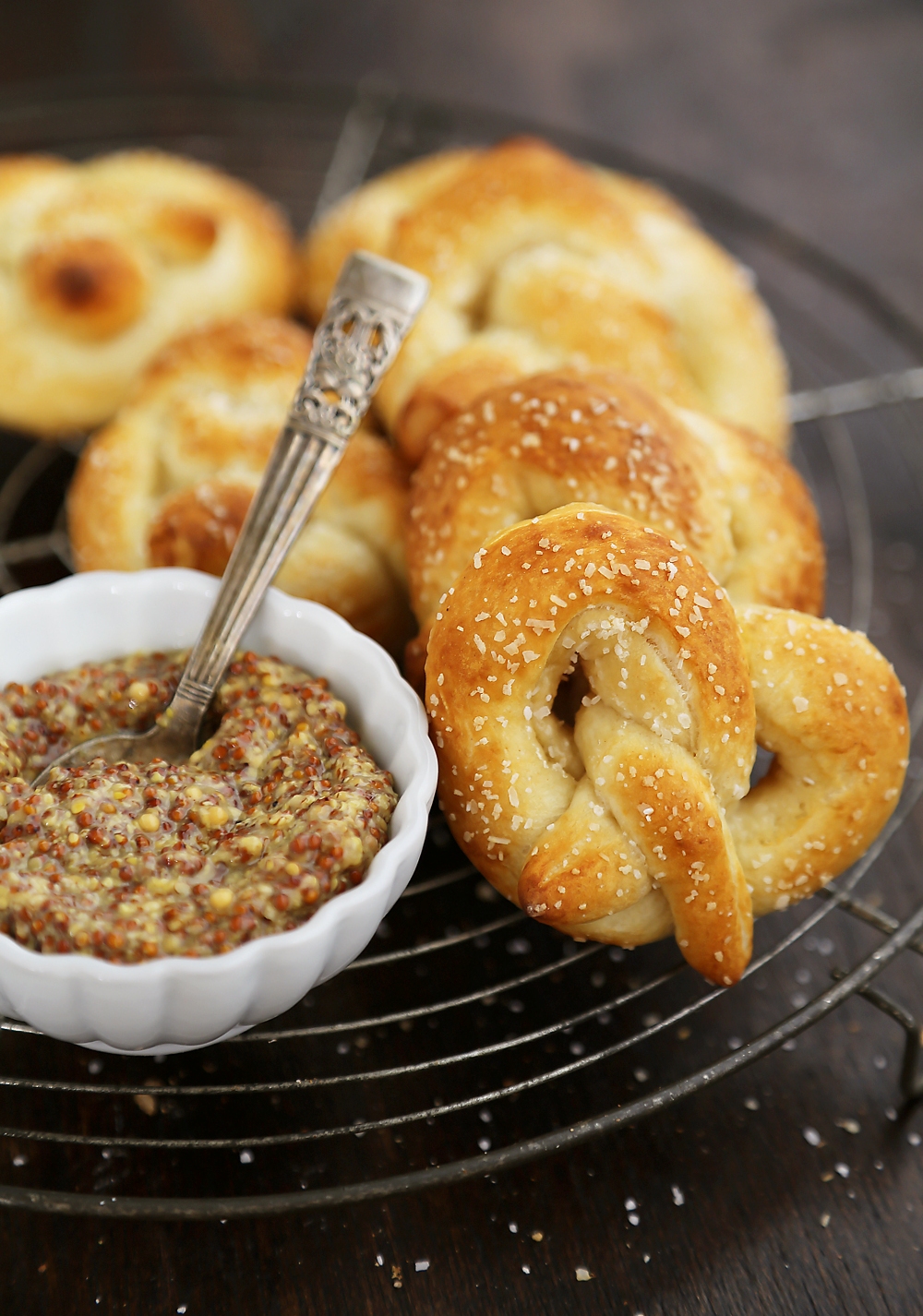 Just how simple are these scrumptious, super soft pretzels? I'll tell you!
Simply grab a ball of your favorite pizza dough, or make one from scratch with my recipe here. Let it come close to room temperature, so that it's softer and more pliable. This will make for easier pretzel forming, and I've included a link to a video below, which demonstrates how to shape the pretzels. It can be somewhat tricky at first, but once you get the hang of it, you'll be on a roll!
Once your pretzels are formed, dip them in a mixture of baking soda and water. The chemical reaction will help form the perfectly salty flavor and golden color of the pretzels. Place them on a parchment-lined baking sheet, sprinkle with coarse salt, and pop in your oven. The hardest part is waiting! But, I recommend distracting yourself by making a creamy cheese sauce.
For the cheese sauce, just melt butter, whisk in flour and cook for a few minutes. Add some milk (any will do), and whisk it all together until slightly thickened but viscous. Add your favorite shredded cheese (I prefer cheddar for this), and stir until it's well combined. You can always whisk in more milk if the sauce is too thick. If you're bringing to a party, I'd recommend finding a way to keep the cheese warm so it doesn't turn globular and lose its smooth, dippable gooey texture.
These perfectly fluffy, soft pretzels are also amazing with a coarse stone ground mustard or beer cheese! You just cannot go wrong. Bake a batch this weekend and your friends will fall to their knees!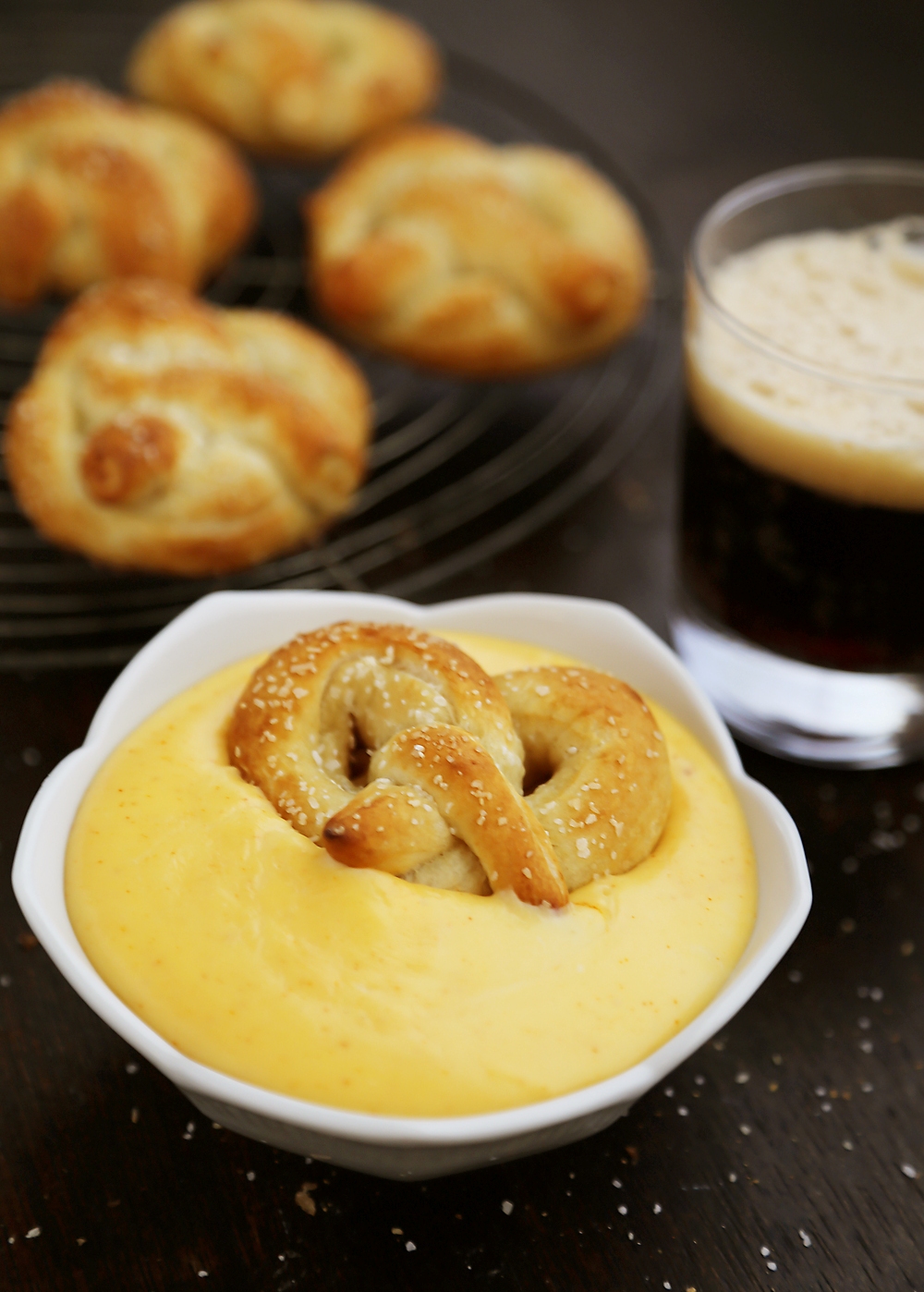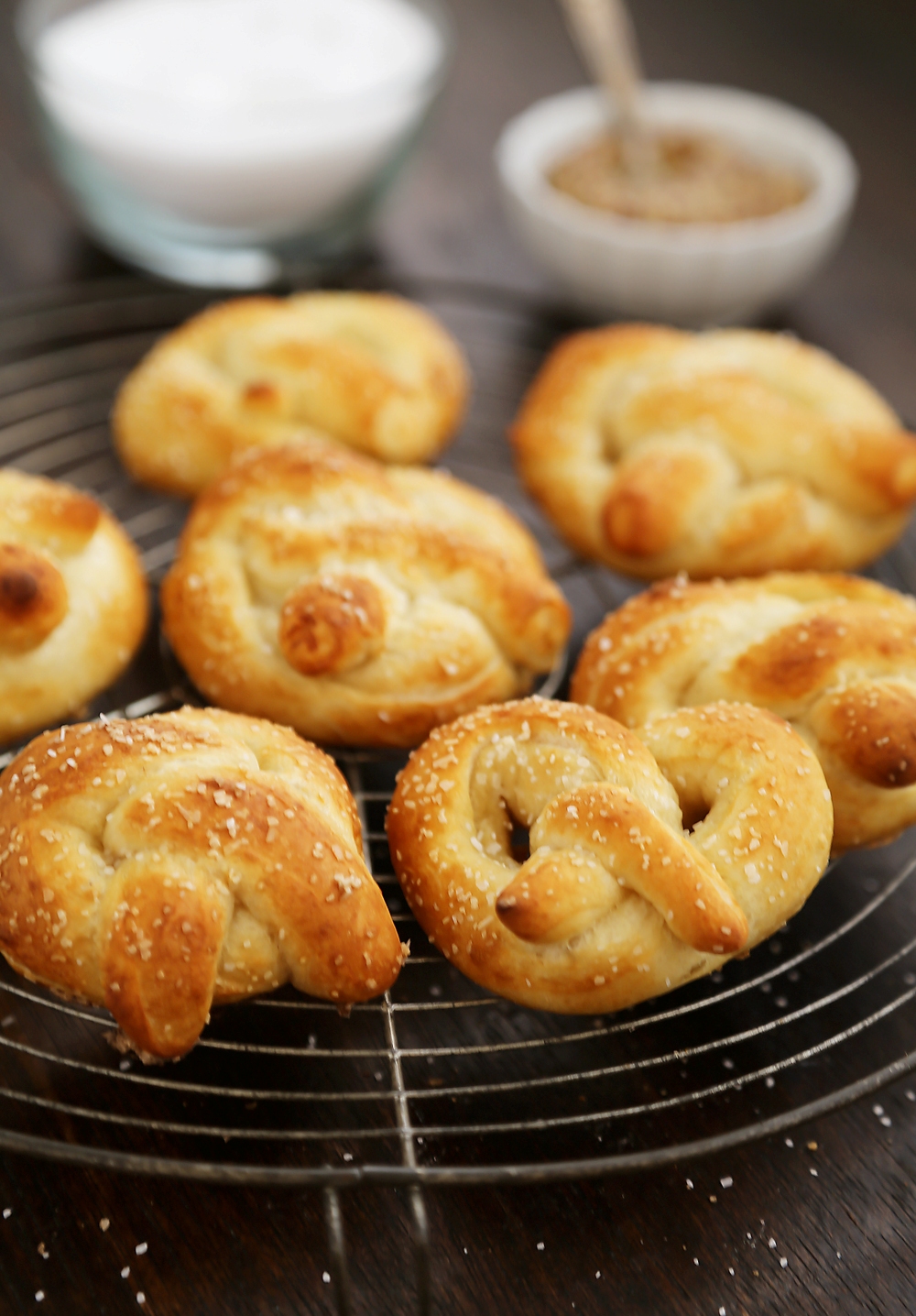 Easy Mini Soft Pretzels + Cheese Sauce
Ingredients
For the soft pretzels:
1 ball pizza dough,, store bought or homemade
About 1/4 cup flour,, for dusting work surface
1/2 cup baking soda
4 cups hot water
1-1/2 Tablespoons kosher salt,, for topping
For the cheese sauce:
1 Tablespoon butter
1 Tablespoon all-purpose flour
3/4 cups milk
3/4 cups shredded cheddar
1/4 teaspoon cayenne pepper, or to taste,, optional
Instructions
For the soft pretzels: If using frozen pizza dough, let thaw in your refrigerator overnight.
Preheat oven to 450 degrees F. Line two large baking sheets with parchment paper.
Place pizza dough on a well-floured surface. Divide dough ball into 8-10 portions. Roll each piece into a 24" inch long rope and twist into a pretzel shape (handy video here). Place on the prepared baking sheets.
In a large bowl, dissolve baking soda in 4 cups hot water. Dip each pretzel into the baking soda-hot water mixture and place pretzels on baking sheets. Sprinkle with kosher salt.
Bake in preheated oven until risen and golden brown, 7-8 minutes.
For the cheese sauce: In a medium pot or pan set to medium heat, melt butter. Whisk in flour; cook for 1 minute. Whisk in milk and cook until bubbly and slightly thickened. Remove from heat and stir in cheese until melted and well blended. Stir in cayenne pepper, if desired. Serve warm with soft pretzels.
Enjoy!