Homemade peanut butter cookies with scoops of vanilla ice cream, with fresh bananas mixed right in! Perfect for parties or after school snacking, and so easy to make. You will love these peanut butter-banana treats!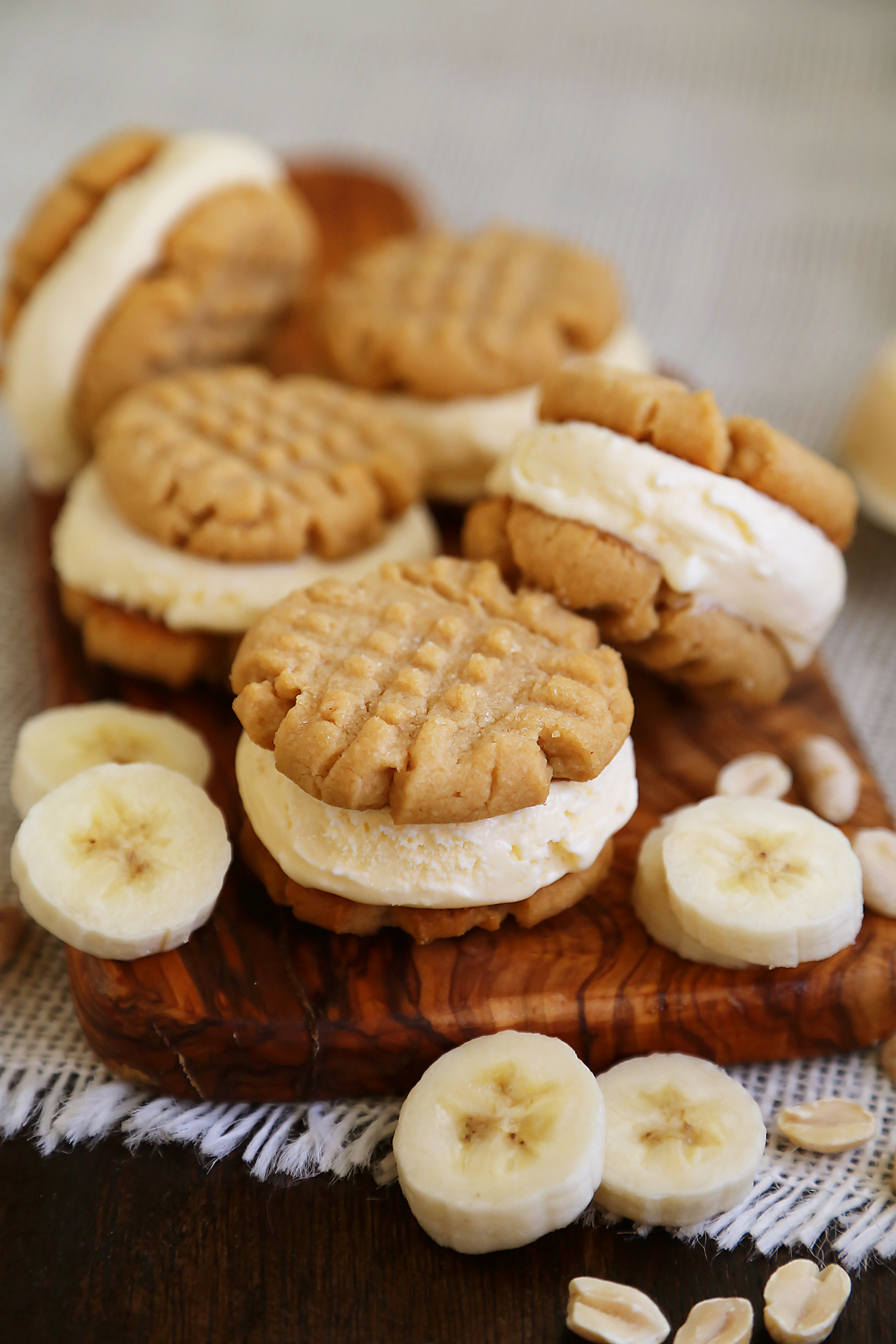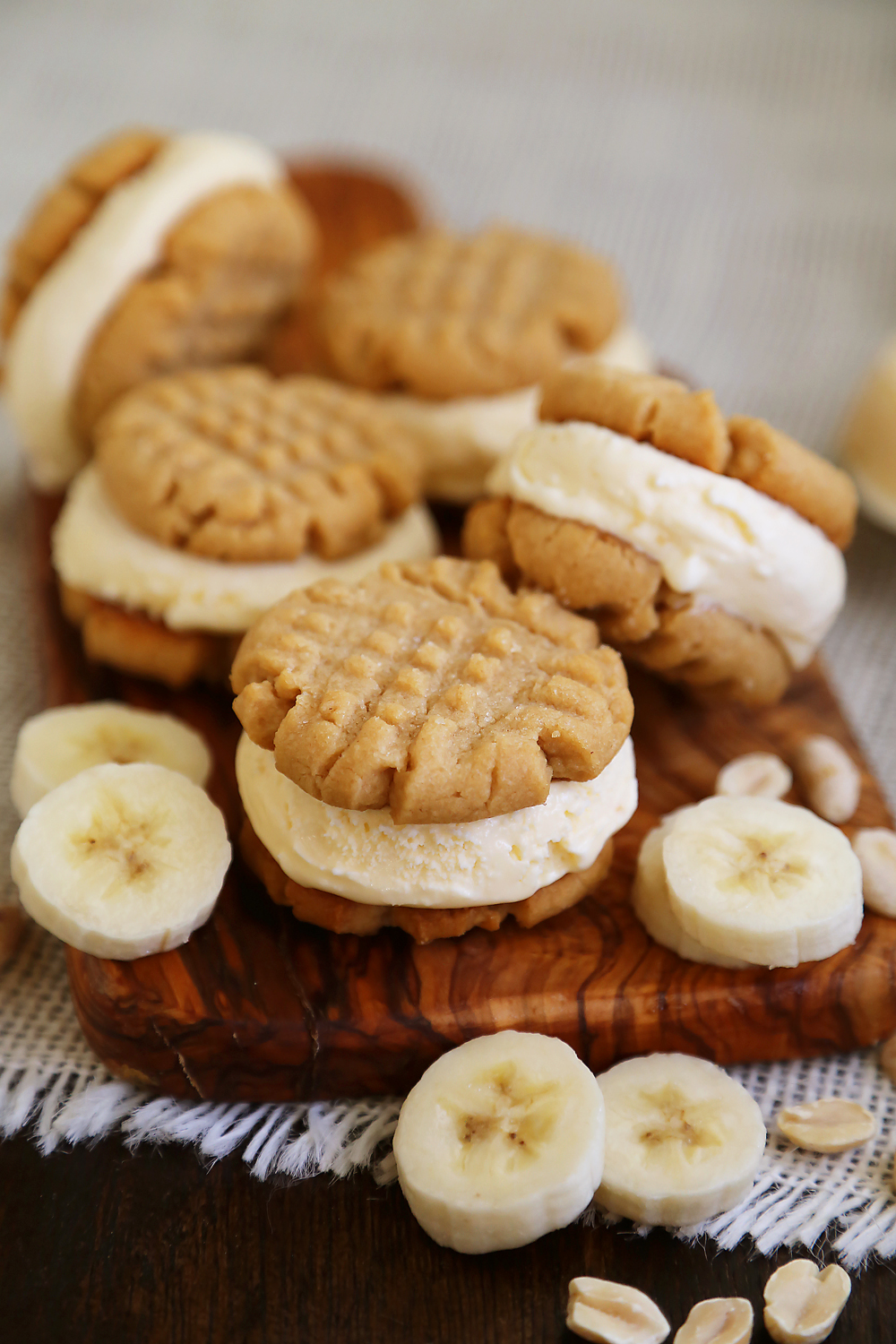 What is it about the combination of peanut butter and banana that is just so scrumptious? Whether on a sandwich, served as bite-sized snacks, or blended into a pie, you cannot go wrong with the classic combination of creamy peanut butter and sweet banana slices. Now, I have another irresistible idea for you featuring this happy marriage of flavors – and this one includes ice cream!
I can hardly believe I haven't shared my favorite peanut butter cookie recipe with you until now. So, I thought that I would not only share that melt-in-your-mouth cookie, but a fun way to really amp up the flavor. Enter my all-time favorite light ice cream swirled with fresh banana bits and sandwiched between two peanut butter cookies.
Perfect for after school snacking, post dinner indulging, party snacking, or any occasion that brings peanut butter lovers together.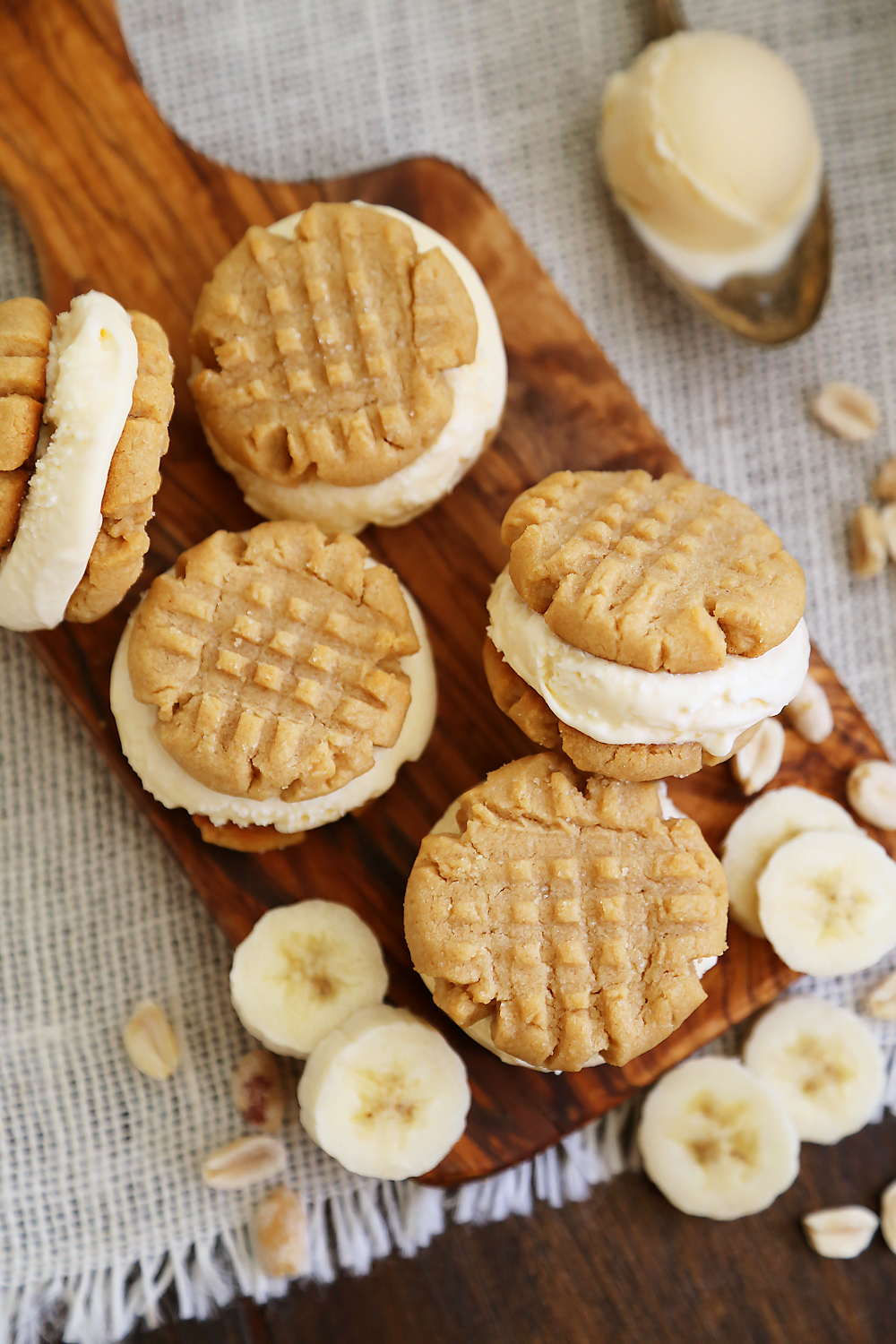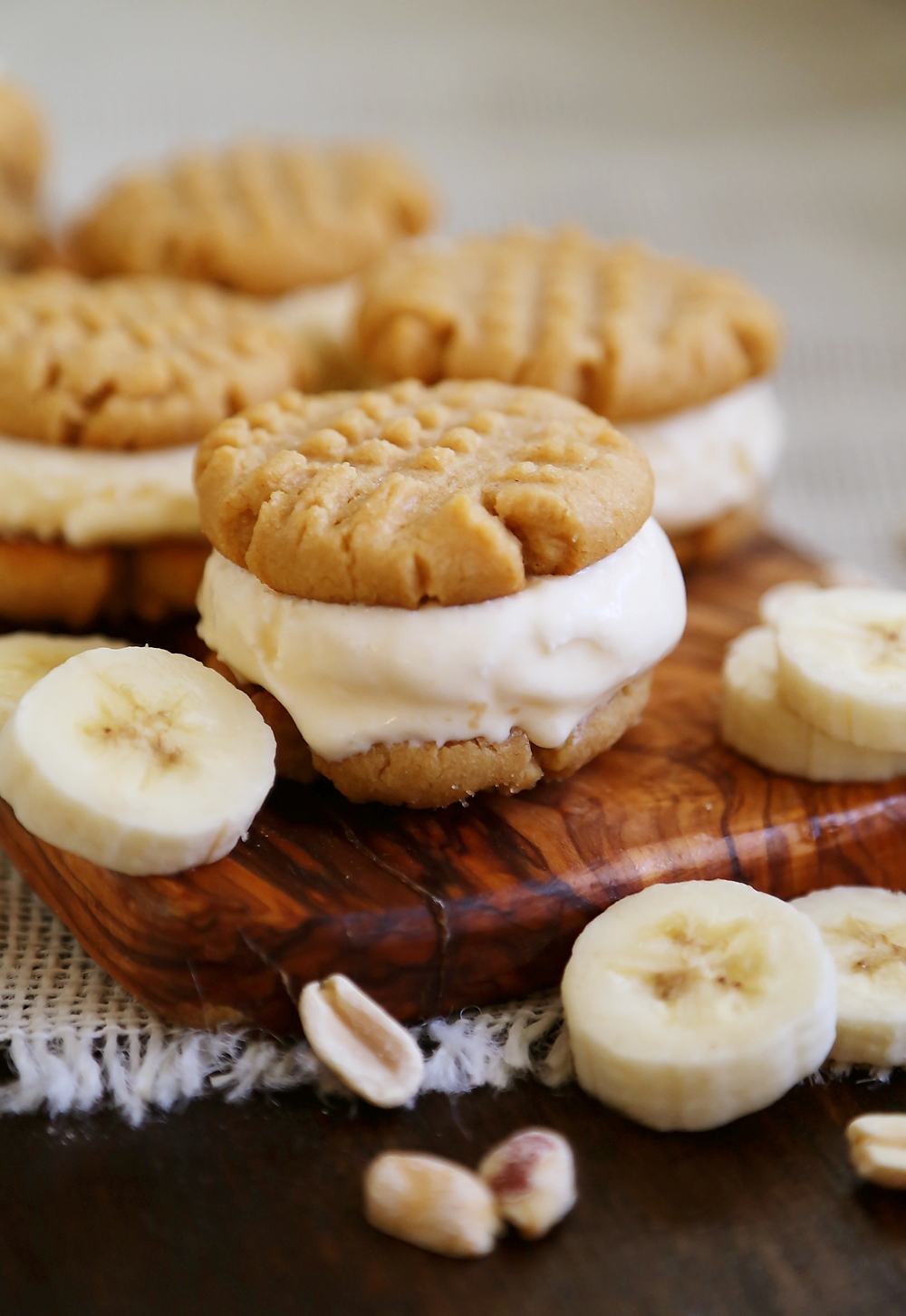 This recipe is not only about making a peanut butter cookie better, but it's about turning an already terrific ice cream into an irresistible treat!
You'll rarely find me strolling the grocery store without a carton of Dreyer's Slow Churned Classic Vanilla light ice cream in my cart. It is, hands-down, a brand I cannot live without, and the vanilla flavor – with its rich, creamy texture and warm fragrance – is always the one I reach for. It tastes like pure decadence on its own (with half the fat and one-third the calories of regular ice cream), but can be made even better with a few simple additions. Just today, I enjoyed a bowl with a drizzle of chocolate sauce and toasted Texas pecans – heaven!
Combining the vanilla ice cream with chopped bananas is definitely my most recent favorite twist on the classic flavor! Simply let your ice cream soften a bit, then chop a couple bananas and fold them into the ice cream with a rubber spatula. You can also use a large food processor for this. Once the banana and ice cream are well blended, scoop out the ice cream and sandwich it between two peanut butter cookies. If you're not serving right away, pop them in your freezer until ready.
Kids and adults alike will love these tasty peanut butter-banana treats anytime of year. I hope you enjoy this recipe, and let me know how it turns out for you, if you try it!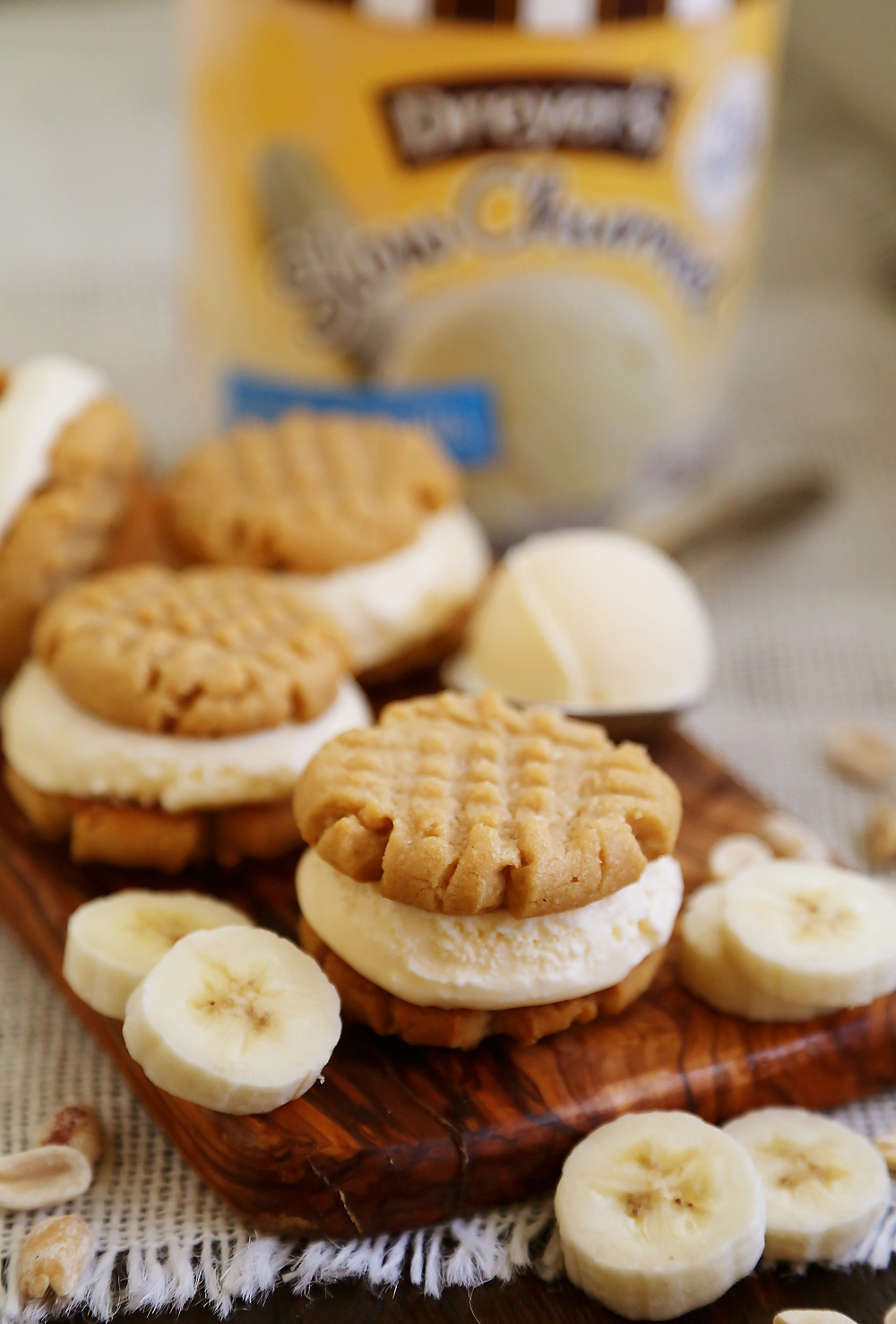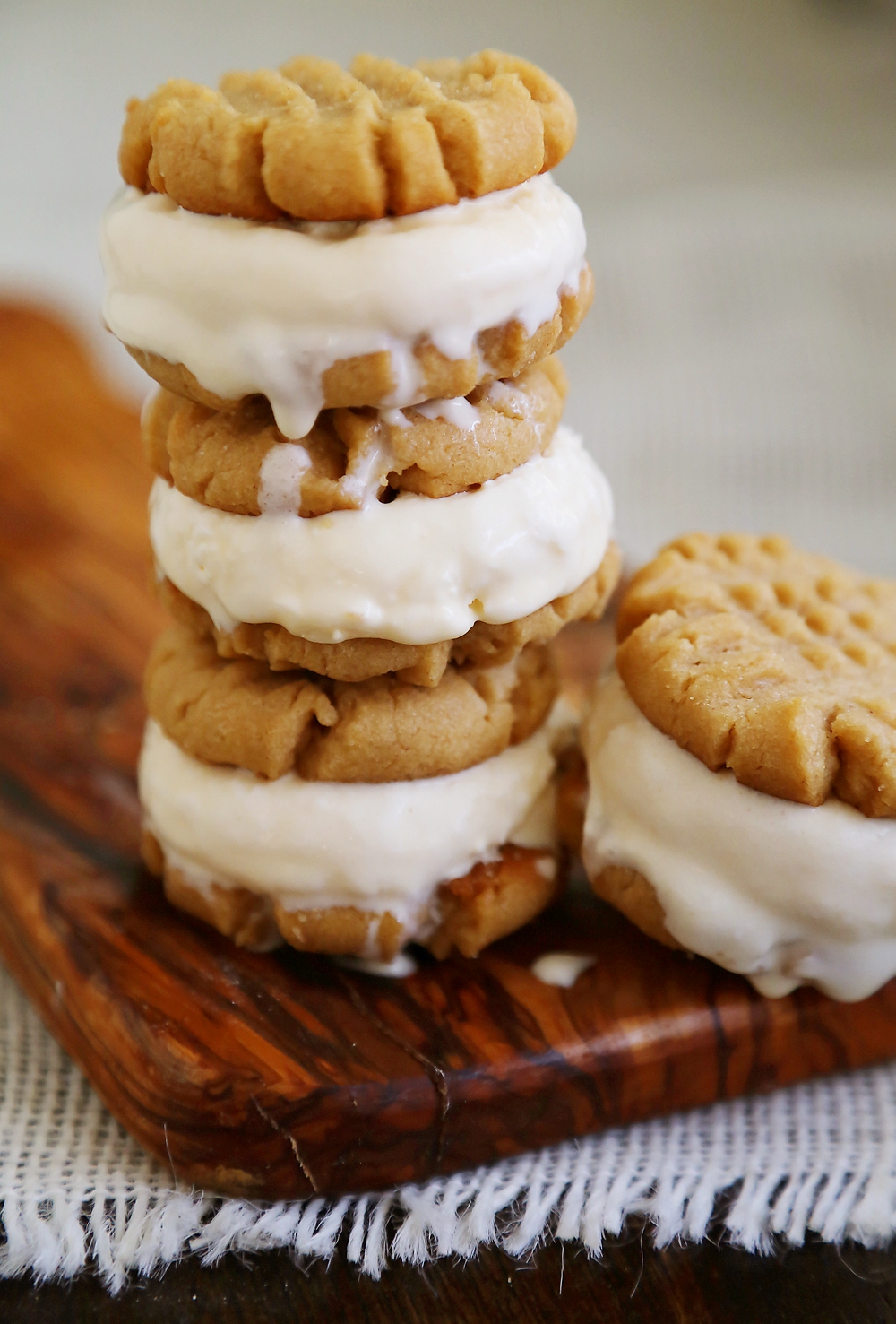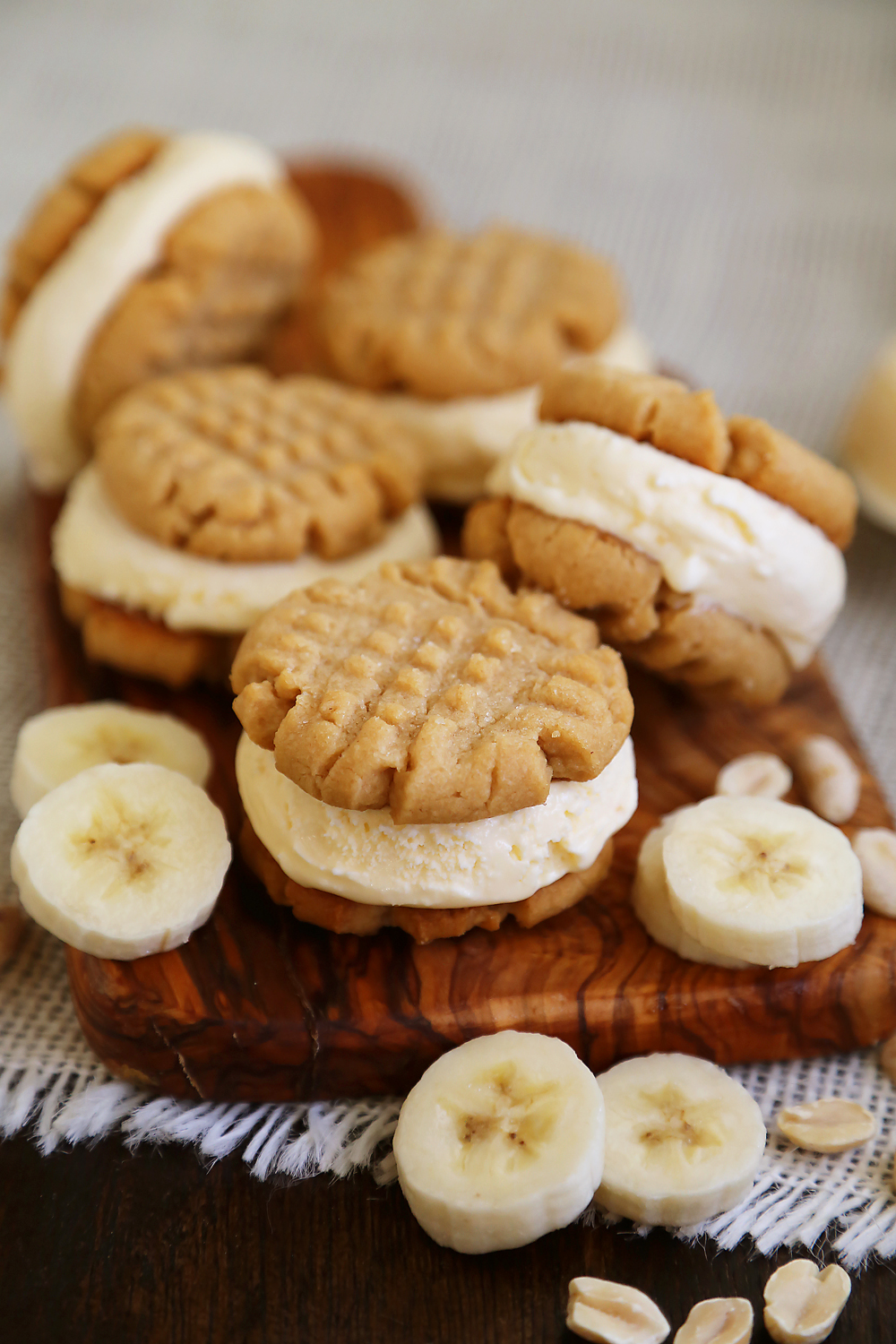 Peanut Butter Cookie + Banana Ice Cream Bites
Ingredients
For the cookies:
1/2 cup unsalted butter, softened
1/2 cup creamy peanut butter
1/2 cup granulated sugar
1/2 cup light brown sugar
1 large egg
1-1/2 cups all-purpose flour
1/2 teaspoon baking soda
1/2 teaspoon baking powder
1/4 teaspoon salt
For the banana ice cream:
1 1.5 qt. container Dreyer's Slow Churned Classic Vanilla Light Ice Cream
2 bananas, chopped
Instructions
For the cookies:
Preheat oven to 350 degrees F. Line a large baking sheet with parchment paper.
In a large bowl with an electric mixer, mix butter, peanut butter and both sugars on medium speed, until well blended. Add egg and beat well. In a separate bowl, whisk flour, baking soda, baking powder and salt. Add to butter mixture, blending well.
Scoop walnut-sized (about 1-inch) balls of dough and place on prepared baking sheet. Gently flatten with a fork dipped in sugar, making a crisscross pattern on each.
Bake 8 minutes. Let rest on pan for a few minutes, then remove to a wire rack. Cool completely before adding ice cream.
For the banana ice cream:
Combine ice cream and banana until well blended. Scoop 1 tablespoon ice cream onto 1 cookie. Top with another cookie, gently pressing together to make a sandwich. Place on a baking sheet and freeze for 1 hour, or until firm.
Enjoy!